With a fourth album, a comeback tour and a second series on Netflix, Kate Nash is a straight-talking feminist force
Words  Anna Wall
Photographer  Katrin Braga
Stylist  Carlee Wallace
MUA  Meredith Lacosse
Hairstylist  Tania Becker
When singer-songwriter Kate Nash headed for Los Angeles, she surely couldn't have predicted just how well the notoriously-tricky crossing-the-pond gamble would pay off. Already a critically and commercially lauded London star, Nash's move to the USA marked the beginning of a whole new phase: a burgeoning acting career, riotous Girl Gang gatherings, and a comeback tour to mark a fourth studio album.  
Nash's first single, 'Foundations', was the unpredicted British anthem of 2007. Those straight-talking lyrics on bitter relationships and drunken regrets resonated with us all; delivered in a trusty London accent, they felt like a fresh wave of nineties Brit-pop. Her debut album Made Of Bricks topped the UK charts, followed by two more successful LPs.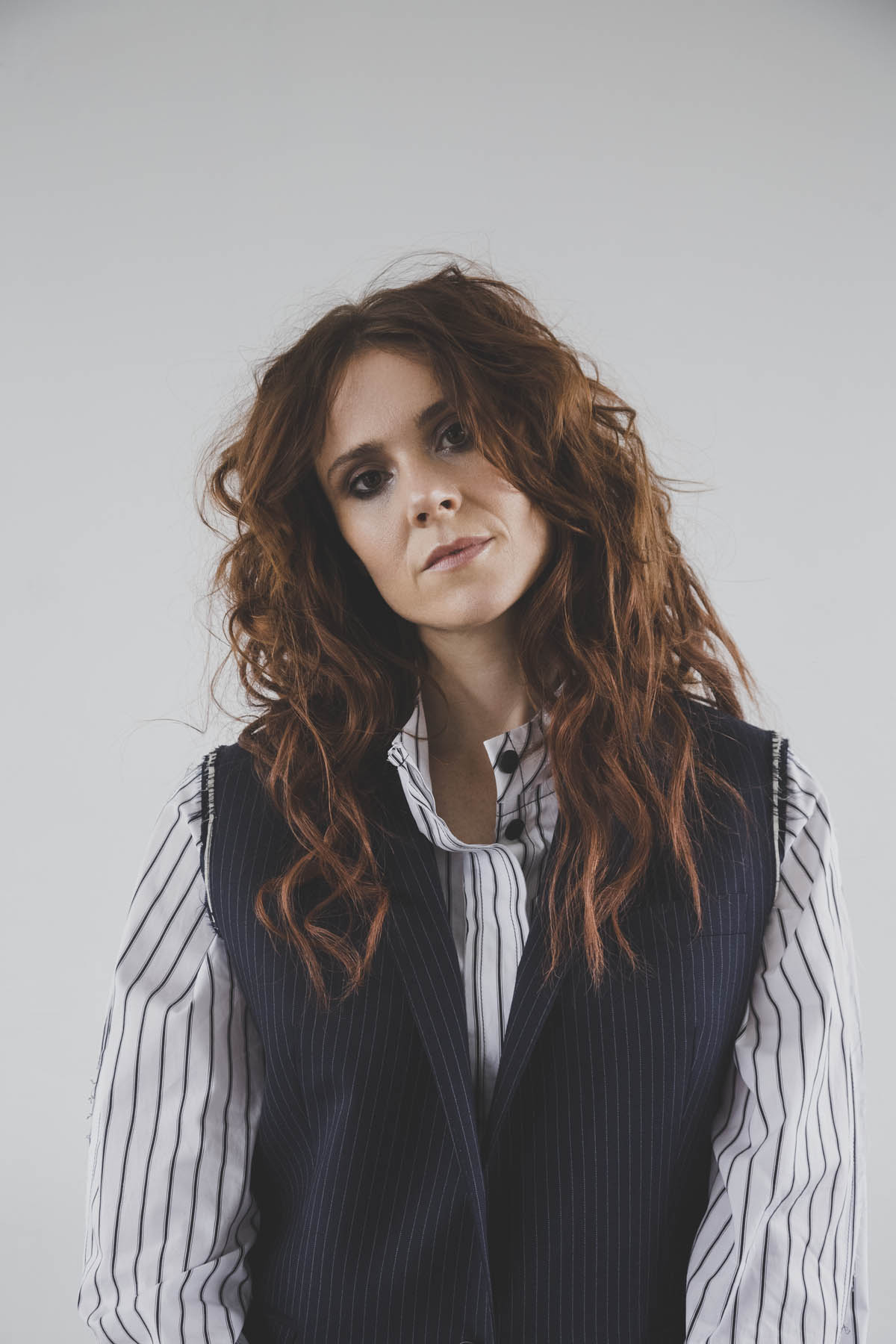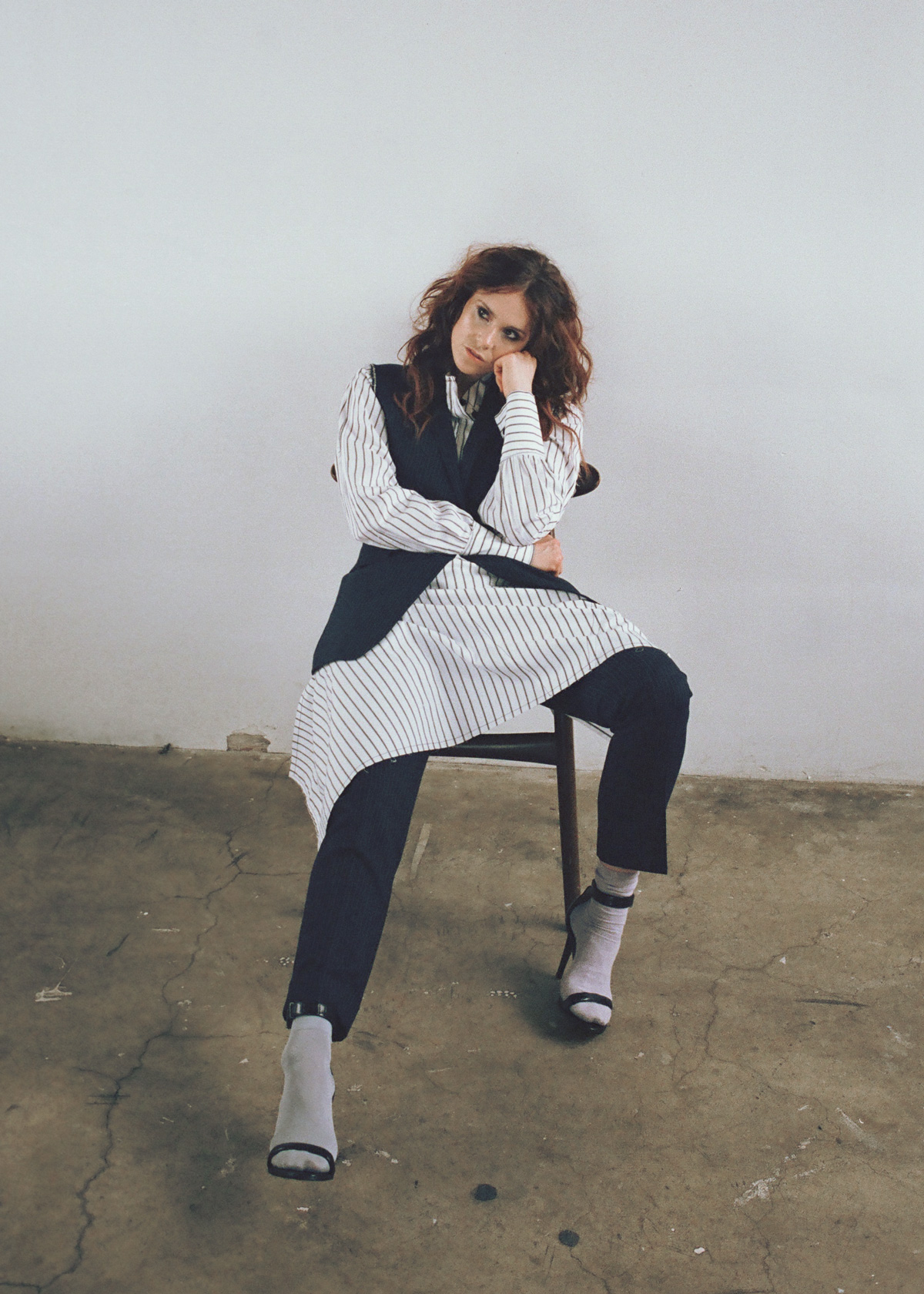 Now, over a decade on from her defining tune, Nash is going back to the future. Her new album Yesterday Was Forever is a fierce, frank over-the-shoulder look at her teenage years – a theme that only emerged as the recording took place. 
"It was made over a long period of time," Nash tells me. "It took four years to get it all together and I came up with the name early on. The meaning of it became more and more apparent later in the process; it means even more now than it did in the beginning. I've been working on this documentary and archiving a lot of stuff…there's something about reading old passages in diaries. I'd forgotten how I felt as a teenager. When I made my first record, there was a lot said about me being a teenager in a derogatory way, and I think that has been reclaimed by a lot of teenage girls in the public eye now. It's a different relationship that the media has with women which I think is really cool and empowering."
She's talking to me on a line from Minneapolis ahead of a show that night, midway through her North American tour. "The other night we played Denver, at a Gothic Theatre, and it was probably my favourite gig of the tour," she enthuses. "We met a girl who had come from Alaska, whose grandparents lived there and she was crying during the show. We talked to her afterwards, and her sister died two years ago, and they'd always wanted to come to a gig of mine. You hear these amazing stories and I think it's cool that even after doing it for twelve years, I still get really shocked when I see people singing along to my songs and knowing my lyrics. It still kind of amazes me."
I love playing the [Rhonda] character because she really lives in the moment. It's really freeing to be that character as she doesn't overthink things. I'm the opposite – I overthink everything.
There's no denying that Nash's rawness strikes a deep note with her fans. Her new album yields punk-rock influences, and she still makes a point of plain-talking, whether in her lyrics or in press interviews. The single 'Life In Pink', for example, addresses mental health with vivid honesty; a topic that she speaks willingly and openly about.
"It's supposed to be like straddling the two sides of saving yourself and self-destruction, which I guess is a constant battle," she admits. "The nurse (in the video) is representing the side that you have to take care of yourself and fit into certain things in society otherwise you're just going to be completely mad and the other part is the mad creative side of you that society is always trying to quash. So it's like figuring out how to balance the two and needing a little bit of both so you don't go too far one way."
Then there's 'Drink About You', an exploration of hypocrisy and obsession that feels painfully timely. "Because of stuff like social media it's really easy to get obsessional with people you don't even know," Nash sighs. "Also the nature of being able to know what someone is up to that you wouldn't have known about before, like people you went to school with and your ex, or people you were friends with before that you aren't anymore. It's like having to learn self-control to stop yourself becoming completely obsessed with things that you probably don't really need to think about every day. There is such a thing as discipline."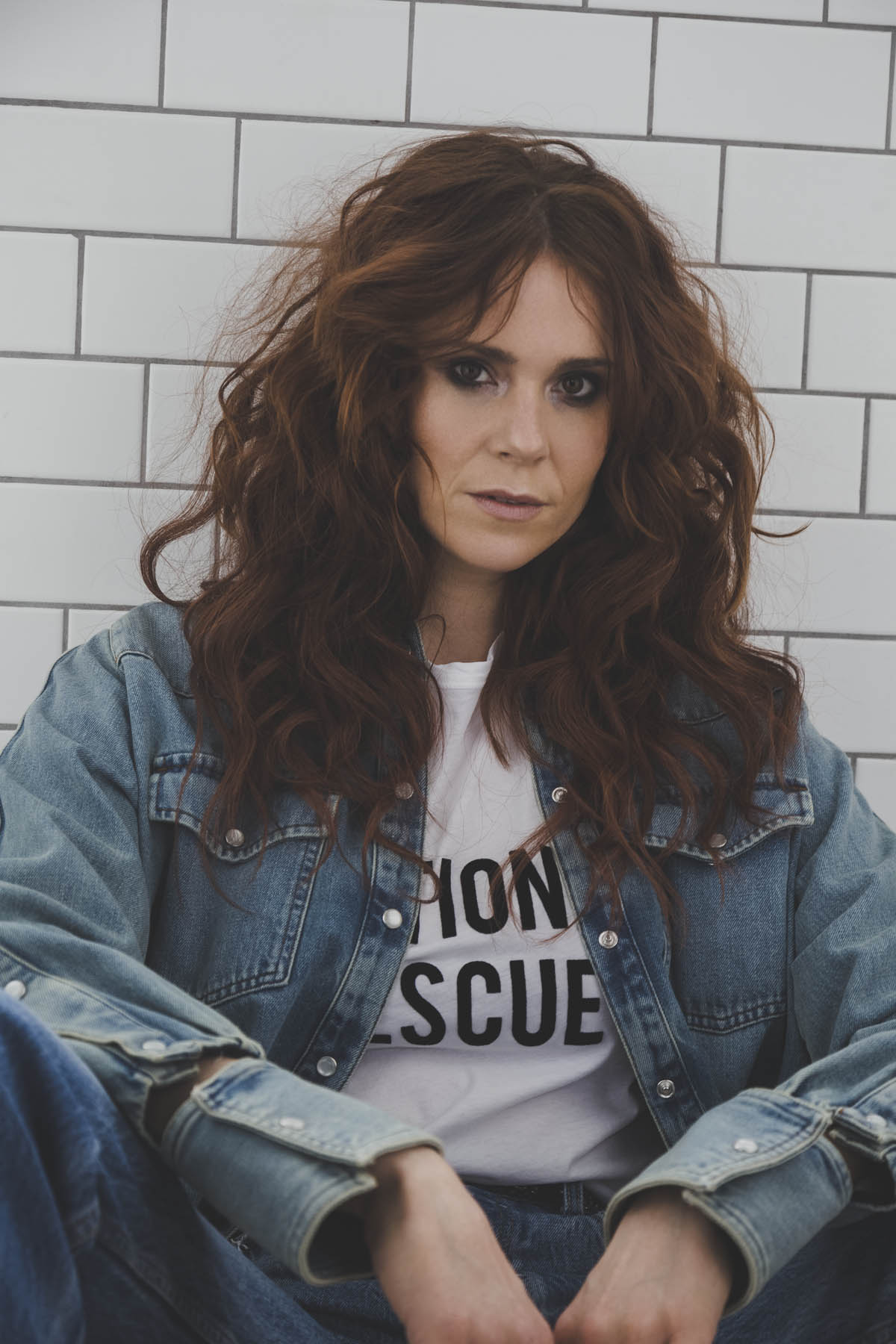 Discipline is something Nash possesses in spades. The new album was crowdfunded by fans on Kickstarter and released independently, despite the temptation of continuing down the major label route. "I felt really uninspired by a lot of the meetings I was having," she reveals. "It felt like the main objective of these people was 'something has to work' so they're going to sign a bunch of things that they're not that passionate about. All of the passion feels fake. I just know labels – being in those rooms it didn't feel inspiring. I'm not completely writing it off forever, at some point maybe it'll be worth it for me to make that compromise… this just felt like the right thing for me right now."
And right thing it clearly was – Nash raised over $155,00 for the release, granting her full creative control and fuelling the launch of her own label, Girl Gang Records. As the name suggests, it's a statement of feminine power and a modern day riot grrrl collective.
"I was on the road with lots of men when I was really young," Nash says. "I felt like I really needed that female energy around me. So in 2011, I restructured my whole touring situation and hired a lot of women. I had a female lighting girl, I had a female sound engineer, an all-girl band…I'd get a female opener on tour and it just naturally started from that really, wanting to talk to those girls in the audience and re-shape the music industry a bit, encouraging future generations".
She's been actively throwing girl gang get-togethers since 2014, and has noticed a positive shift in attitude over recent years. "There's a lot more female artists now that there was in 2007 when I started, and also feminism in the mainstream which it didn't used to be, so it's kind of cool to see that change."
It's not just in music that she's fighting the good fight, either. Nash has also been proving her acting chops in her role as Rhonda in GLOW, a comedy about an all-female wrestling team. "I love playing her character because she really lives in the moment," Nash says. "It's really freeing to be that character as she doesn't overthink things. I'm the opposite of that – I overthink everything. She approaches things from purely being in the moment, which I really like."
Wrestling and touring are both very physical, so it's a bit of a balance to make sure I don't over-do it – which I'm figuring out how to do I guess.
But with the second series about to hit Netflix, and Nash's comeback tour in full swing, how does she manage the juggling act? "It's a learning curve," she admits. "I've never had such a solid commitment before. Wrestling and touring are both very physical, so it's a bit of a balance to make sure I don't over-do it – which I'm figuring out how to do I guess".
There's also a Broadway musical in the pipeline, a project that she's been working on over the last eight years that's now in the workshop stages. "I'm looking forward to seeing that come into fruition, because it's been going on for so long and it's a completely new world for me to be inspired by musically, so I'm excited about that."
Yesterday may have been forever, but it looks like today is moving pretty fast.
Yesterday is Forever is out now
GLOW Season 2 is out 29th June on Netflix
LISTEN YESTERDAY WAS FOREVER