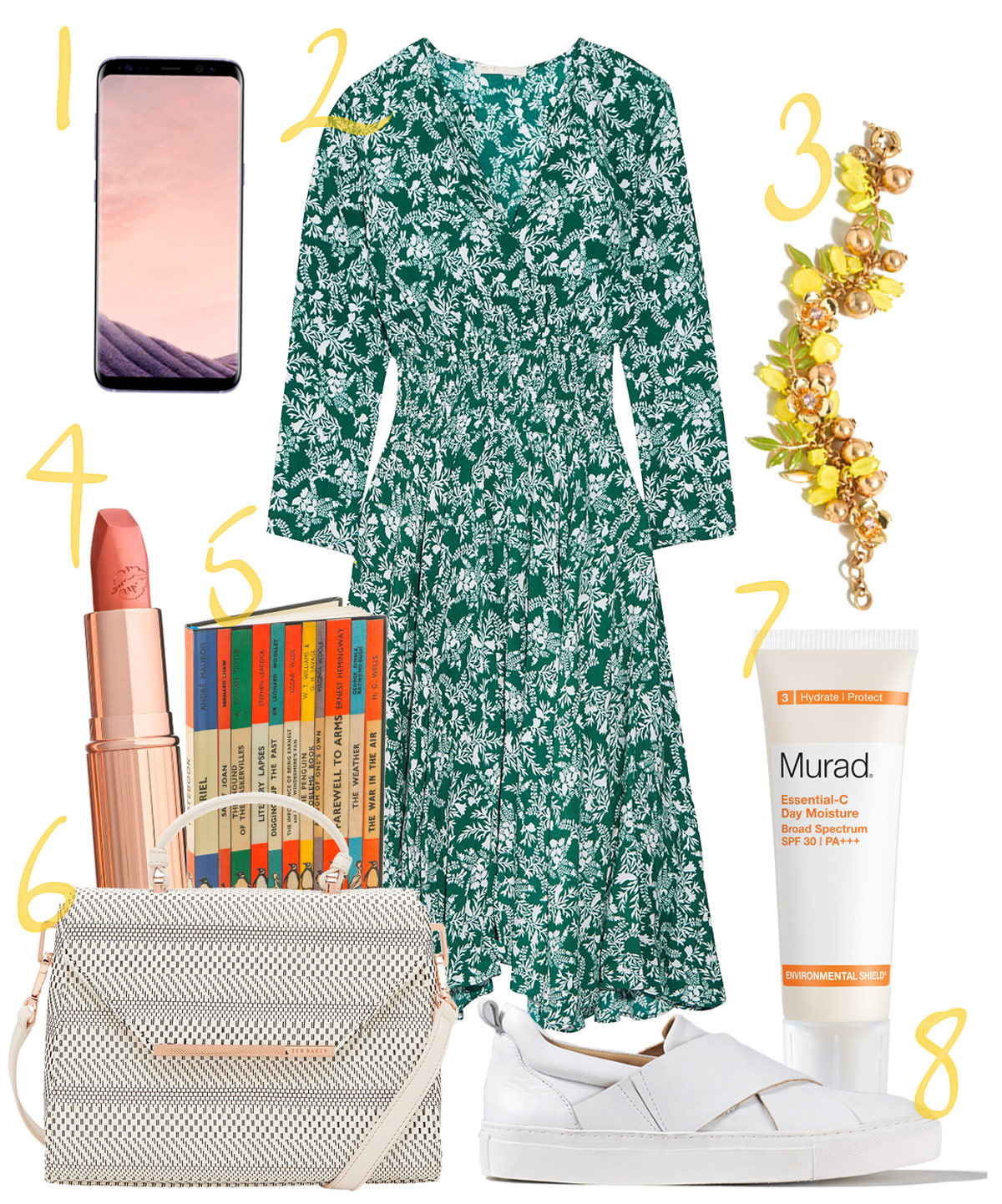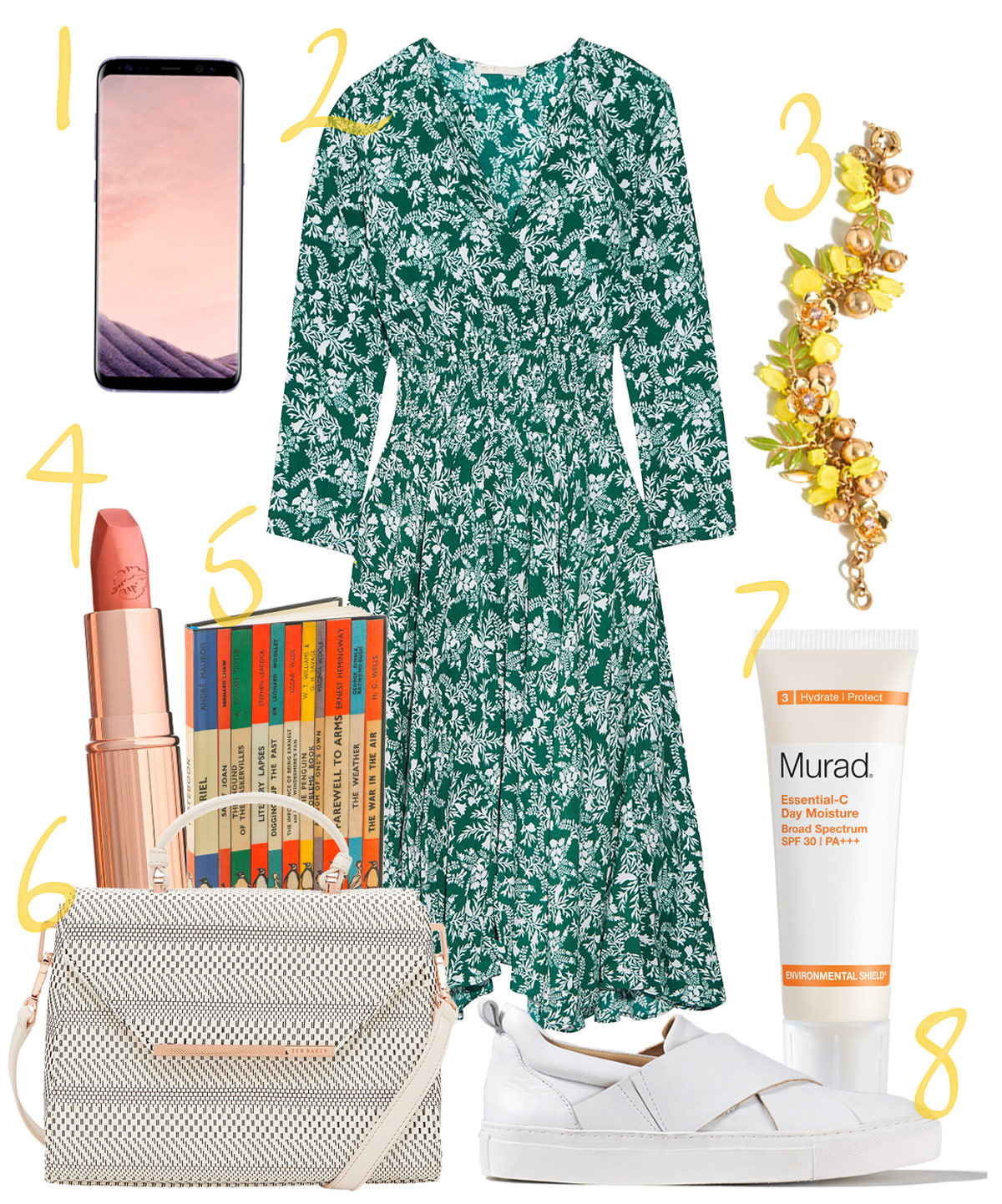 1.Samsung Galaxy S8 Smartphone, SAMSUNG, £689
2.Rayelle Shirred Floral-print Crepe Midi Dress, MAJE, £240
3.Lemon Tree Charm Bracelet, J. CREW, £48
4. Matte Revolution Sexy Sienna, CHARLOTTE TILBURY, £24
5. Notebook Spines, PENGUIN RANDOM HOUSE, £8.99
6. Harmony Tote Bag Straw, TED BAKER, £109
7. Essential-C Day Moisture SPF30, MURAD, £55
8. Olivia Cross Strap Trainer, JIGSAW, £98
A floaty floral dress? Hardly groundbreaking as a June hero piece. But although this crepe Maje dress nails a bunch of SS17 trends – green, voluminous, waist-cinching – it's main attraction is that it's totally effortless to wear. Modest enough for serious business meetings but striking enough to woo the fashion crowd, not to mention elegant enough for a wedding, it offers serious pay-per-wear for a couple of hundred quid, and it will make me feel like I'm skipping through fields even when I'm pounding the London streets. Talking of which, I haven't taken these Jigsaw Olivia trainers off since last November, and I now own a pair in every colour (if someone tells you trainers are over, they're insane). I'll disguise my bucketload of tech, notebooks, spare nappies and other 'edited essentials' in a fun straw tote – a less ridiculous take on this season's hand-held wicker basket craze. As soon as the warmer weather begins I order in some Murad Essential-C Day Moisture: non-greasy but nourishing, with a light citrus scent, a good dose of vitamins and SPF30, it's still the best summer moisturiser on the market. To finish, I'll be wearing Charlotte Tilbury's matte Sienna lipstick – with everything, always, forever, amen.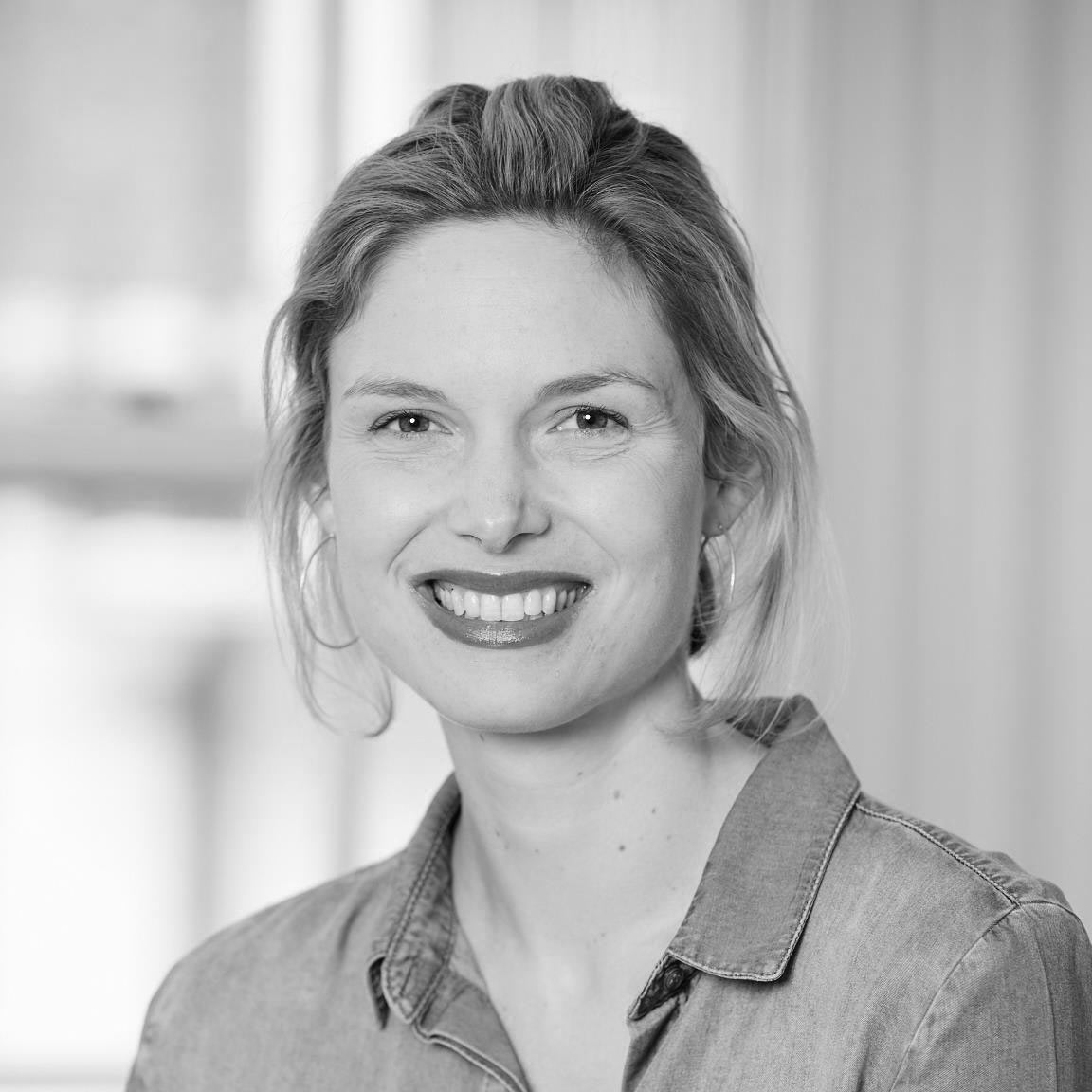 Molly Flatt
Digital Editor
Molly Flatt is Digital Editor of PHOENIX Magazine. She is also Associate Editor of FutureBook, Associate Editor of The Memo, and writes about tech and culture for the likes of the Guardian and the BBC. Her debut novel, THE CHARMED LIFE OF ALEX MOORE, will be published by Pan Macmillan next spring. mollyflatt.com