This 8-armed delicacy is easier to cook than
you might think
Words  Mary-Jane Wiltsher
Alright, octopus isn't an ingredient that crops up on the average shopper's grocery list. The proper, tentacle-dangling fish counter variety looks nothing short of intimidating and requires the gentle touch: those little sucker pads are just rubbery broken promises if cooked incorrectly. But this wow factor recipe – which sizzles the octopus over a hot grill pan or BBQ and serves it with an Italian-style stew of onions and sweet peppers, along with a dollop of homemade hummus – will impress friends on a special occasion and really makes the most of that sweet, delicate flesh, meaning it's worth a little extra prep-time. The dish comes courtesy of new Broadway Market restaurant Tuyo, the latest addition to the family-owned Gallipoli restaurant group, headed up by Chef Ricardo Pimentel.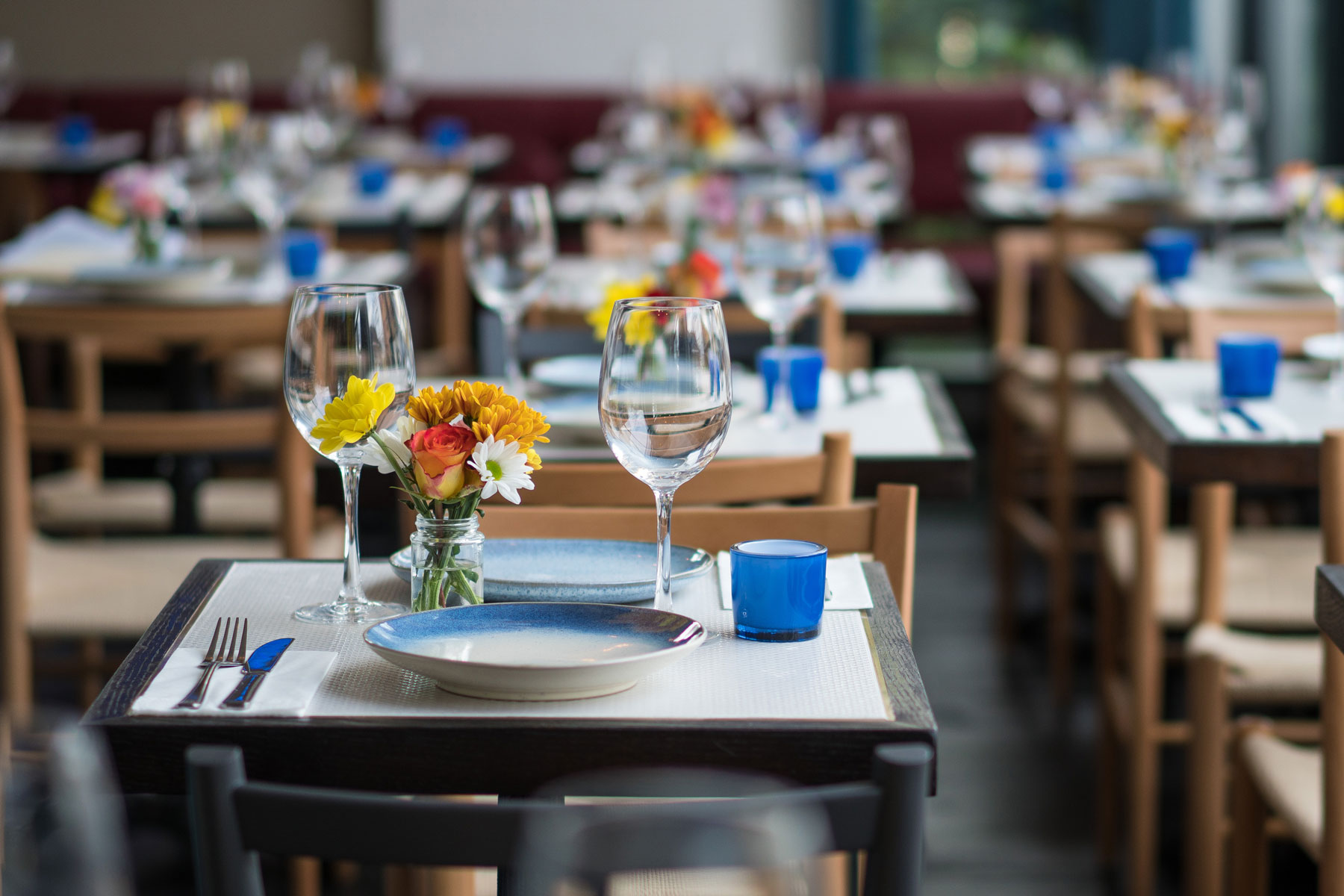 Backing onto the Regent's Canal, it's the perfect spot for an al fresco supper, serving a menu of small plates and main dishes that combine Mediterranean and Levantine flavours with a Spanish twist. Think harissa lamb rump served with pisto and black olive couscous; chicken thigh with honey poached apricots; or halloumi with roast beetroot, orange hazelnuts and 8 year aged balsamic.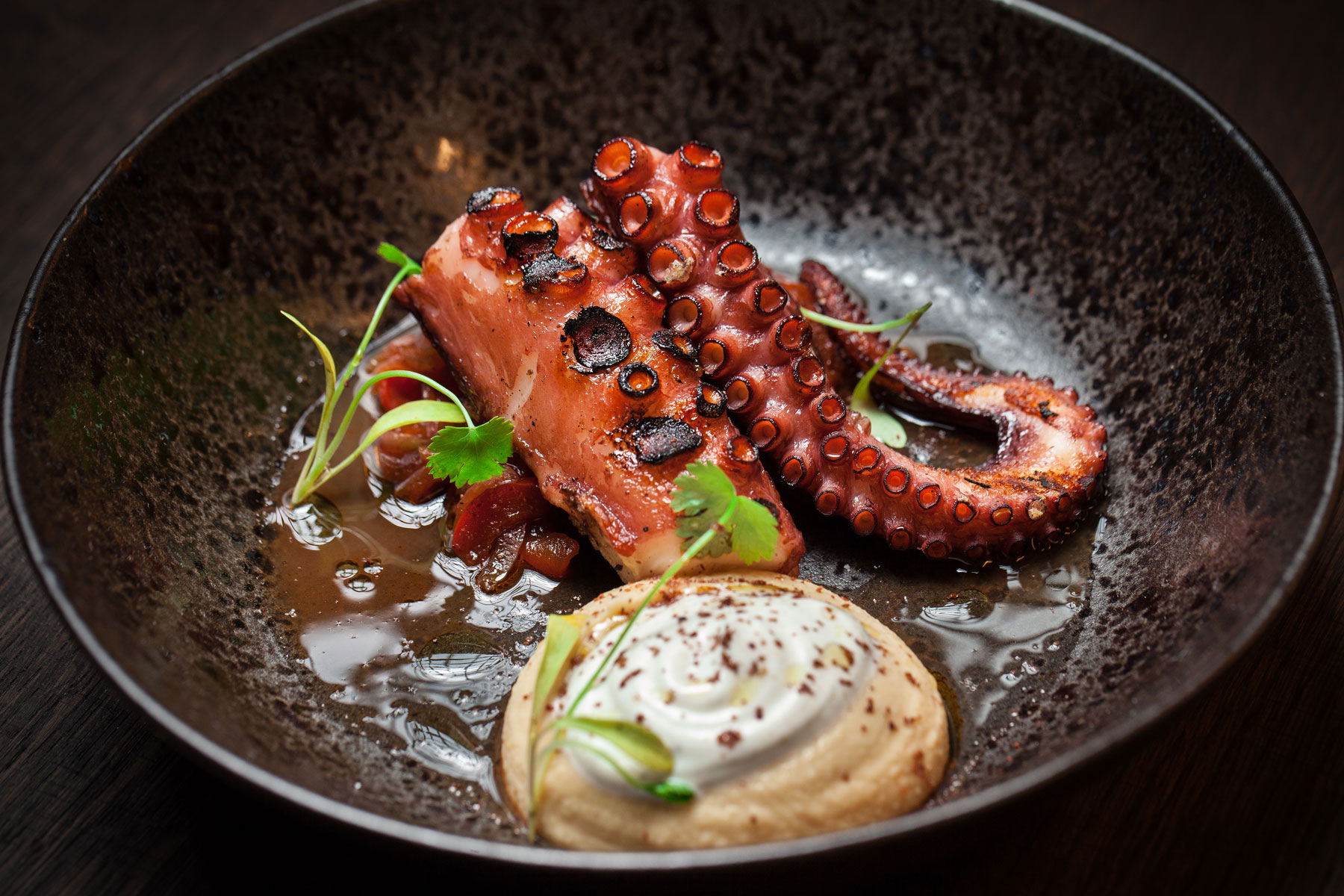 Crispy Octopus With Creamy Hummus
Ingredients (Serves 6-8 as a Tapa)
1 frozen octopus 1.5 – 2kg
3/4 bay leaves
1 red onion, cut in half with skin left on
12 peppercorns
For the Hummus
400gr of canned chickpeas
4 tsp of tahini
2 garlic cloves
6 tbsp of extra virgin olive oil
3 tbsp of freshly squeezed lemon juice
2 tsp of ground cumin
For the Pepperonata
6 large red peppers, seeds removed and finely sliced
4 banana shallots, peeled and finely sliced
3 cloves of garlic, peeled and chopped
2 bay leaves
2 sprigs of thyme
2 tablespoons of dark brown sugar
100ml Cabernet Sauvignon vinegar
Zest and juice of 1 lemon
Olive oil for cooking
Sea salt and black pepper
Method
1. Discard the octopus' head.
2. Place the tentacles in a large saucepan, cover with cold water and add the bay leaves, red onion, peppercorns. Place the pan over a high heat and bring to the boil.
3. Turn down to a simmer and skim off any impurities that rise to the top. Cook for about 2/3 hours until tender. If a small, sharp knife can penetrate a thick part of the octopus easily, it is ready.
4. Remove the octopus from the liquid and leave to cool.
5. Heat a grill pan or barbecue to maximum heat and rub the tentacles with olive oil, salt and pepper.
6. Grill the tentacles until crisp and lightly charred.
7. Squeeze a little lemon juice over the tentacles and serve with the pepperonata, hummus and sumac Greek yoghurt.
To make the Pepperonata
1. Heat a medium-sized saucepan over a high heat and add olive oil. Add the peppers, onions and garlic and cook for 20 minutes, stirring as you go.
2. Next add the bay leaves, thyme, sugar and vinegar. Mix well before reducing the heat to medium.
3. Continue to cook and stir, making sure nothing sticks. Check for seasoning and then remove from the heat to rest. The sauce should have a sweet-sour flavour.
To make the Hummus
1. You will need a food blender. Add the chickpeas, tahini, garlic, cumin, lemon juice and olive oil and blend all together until smooth.