Savour The New Season With Steffi Knowles-Dellner's Sweet Potato Gratin, Crackling Pork Belly And Cardomom Panna Cotta
A little sugar, a little spice: the Swedes have got the flavour equation just right
Words  Sophie Cobley
Interview Mary-Jane Wiltsher
Photography Yuki Sugiura
As the nights draw in, energy levels dip and Deliveroo becomes ever more tempting, it can become harder to feel you're 'living well.' It's particularly good timing, then, for the release of Steffi Knowles-Dellner's new cookbook, Lagom: The Swedish Art of Eating Harmoniously (published 5th October, Quadrille), which promises to bring the Scandi blueprint for happy, healthy living into British kitchens. "I think everyone is getting a bit fed up of the 'clean' vs 'dirty' food trends," says the award-winning blogger and food stylist. "Swedish food is about making room for eating healthily without denying yourself life's pleasures."

One such pleasure it's definitely worth making room for is fika. Considered sacred in Sweden, this everyday habit is more than a coffee break: it's a ritual, a pause to celebrate the good things in life. Although Knowles-Dellner – who has travelled the world working in Brussels, New York, Florence and the UK – brings an international sensibility to such quintessential Swedish traditions, her recipes remain an ode to the timeless tenets of Swedish food philosophy: slowing down, simplicity and sharing.
Balance (a close-enough translation for lagom) is very much the health world's term du jour – and Steffi's recipes, brought to life with photography by Yuki Sugiura, are right on message. A soulful approach to eating, in tune with the rhythms of the season, really does feel right at harvest time. From melt-in-the-mouth meat to earthy root veg, restorative spice blends to creamy indulgences: this is food to savour and celebrate. We caught up with Knowles-Dellner to try out some of her favourite recipes from the book and discuss the art of lagom in all its forms…
Hi Steffi, congratulations on Lagom. Tell us what the title means in your own words.
Thank you! It doesn't have a direct translation in English as such, but it basically means not too much, and not too little. A sufficient amount or just right – some call it the Goldilocks principal, but it's actually so much more. It goes right to the heart of our national psyche. Lagom is about fairness and consensus, it's an aversion to anything too ostentatious. One definition of lagom is average, or in the middle. We have a lagom attitude towards our economy, for example, and our stance on gender equality. You can even find it in our distinctive seasons. Lagom is our appreciation of quality and innovation, our approach to design. The Volvo is a classic example – it's the most lagom car: practical, dependable and not too flashy.
It's a word that's trending right now, why do you think that is?
I think all things Scandinavian seem to be on people's radar at the moment. Many seem to have clocked that it's a great place to look to for trends and inspiration across a diverse range of fields – the Scandinavians are on it! I also think lagom is the antithesis to the rollercoaster of excess and denial that exists at the moment, particularly when it comes to food. Lagom offers something more sustainable than coconut chia puddings or greasy burgers.
What values or philosophies does Swedish cooking represent for you personally?
For me it has always been about balance, which is why lagom is such a fitting word to describe the way we cook. Swedish food has always had an emphasis on no-nonsense, healthy ingredients that aren't faddy, from whole grains, seeds and berries to fermented dairy, lean meat and fish. However, the Swedes also really know how to enjoy life through food – they have a love of sweets and cakes. We even have a single word for describing the act of sitting down with a cup of coffee and a bun: fika. For me, this is what Swedish food is all about: making room for eating healthily without denying yourself life's pleasures. 
 …and which ingredients are quintessentially Swedish?
They're a lot fresher and zestier than you might think. Citrus and a wide range of fresh herbs are pretty ubiquitous, as well as spices like saffron, cardamom and cinnamon, which we put in our baking.  
Lagom is the antithesis to the rollercoaster of excess and denial that exists at the moment, particularly when it comes to food. It offers something more sustainable.
Tell us about the process of writing this book. What were you looking for when compiling the recipes?
I really wanted to dispel a lot of the myths about Swedish food. It seems like many people don't know much about it beyond what is available from the IKEA canteen! The view seems to be that it is mostly very rich, hearty food like meatballs, herring and potatoes. Or at the other end of the spectrum, that it is all high end New Nordic cuisine using unusual foraged ingredients (ants come to mind!) 
While these classic dishes like meatballs, gravlax and herring are definitely part of our food heritage and we are fond of foraging, for me, that image doesn't paint the full picture. What I see when I go back home is that people are really interested in food and in a wide range of flavours. It's a lot more diverse and flavoursome than it is given credit for, so I wanted to create recipes that showed that off.  
These are the dishes you grew up on. Which recipes are most nostalgic for you and why?
Always the cinnamon buns or kanelbullar. I remember my granny coming to stay with us during the summer and waking up to the gentle sounds and smells of her baking them at 5am. I'd sneak down to help her with the rolling and sprinkling, and maybe even get a taste before everyone else was up.  
There is also a crayfish pasta recipe in the book which I love. We have a specific crayfish season in Sweden and use it as an excuse for a party called kräftskiva. We wear silly hats, sing drinking songs and eat our body weight in crayfish (of course!) 
What's your winning formula for a winter dinner party?
I like dishes that are interactive, where everyone can help themselves so things feel really informal. Basically, I'm lazy! Winter food has to involve some degree of comfort and warmth, I believe. I like roasting a large spiced shoulder or leg of lamb and serving it with lots of sides: crunchy salads, pomegranate, flat breads, herbs, yoghurt dressings; then, you can let everyone create their own dinner. Pudding has to be warm and inviting, ideally involving winter fruits like apples, plums, pears or blackberries. Nothing beats a crumble, really.  
And what's your guilty pleasure when it comes to food?
I don't have any! I try not to think about any particular foods as guilty or sinful as I don't think it's particularly helpful. There's nothing I don't eat, I just try and keep my diet as balanced as possible without beating myself up about it. Having said all that, I have a real soft spot for cheese and onion crisps!
Top three time-saving cheats in the kitchen?
Invest in at least one decent knife. A good quality, sharp knife will make chopping a breeze and will be much safer than a rubbish blunt one.
Before I start cooking, I always have a bowl or spare bit of tupperware on the counter for peelings, scraps and packaging. It keeps everything neat and tidy and helps to 'clean as you go,' as chefs always advise you to do! 
When cooking from a recipe, lay out all your ingredients, utensils and kit beforehand. That way, you've got everything ready to go and don't have to rush around trying to find a measuring jug at a critical moment. 
What are you reading, watching and listening to right now?
I've just read Laura Barnett's Greatest Hits and I'm about to start The Power by Naomi Alderman. I'm usually listening to rehearsal recordings of my all-women's pop choir, Lips, particularly when we're learning a new song. I'm also into the new Sylvan Esso album at the moment. Oh and, like everyone else on the planet, I'm watching Game of Thrones!
What projects do you have in the pipeline that we should know about?
Lagom has been my baby for a while now but, as I'm about to have an actual baby, that's going to be my main focus for a bit. I'm hoping to get back to writing and food styling in due course, though. I love what I do and can never stay away for too long.  
Words to live by?
Life is too short not to eat cake. 
Sweet Potato & Leek Gratin (with an oat crumble topping)
This would make a lovely side dish as part of Sunday lunch or a dinner gathering. However, it holds its own as a simple weekday supper too, accompanied by nothing more than a green salad with a sharp vinaigrette and glass of dry white wine.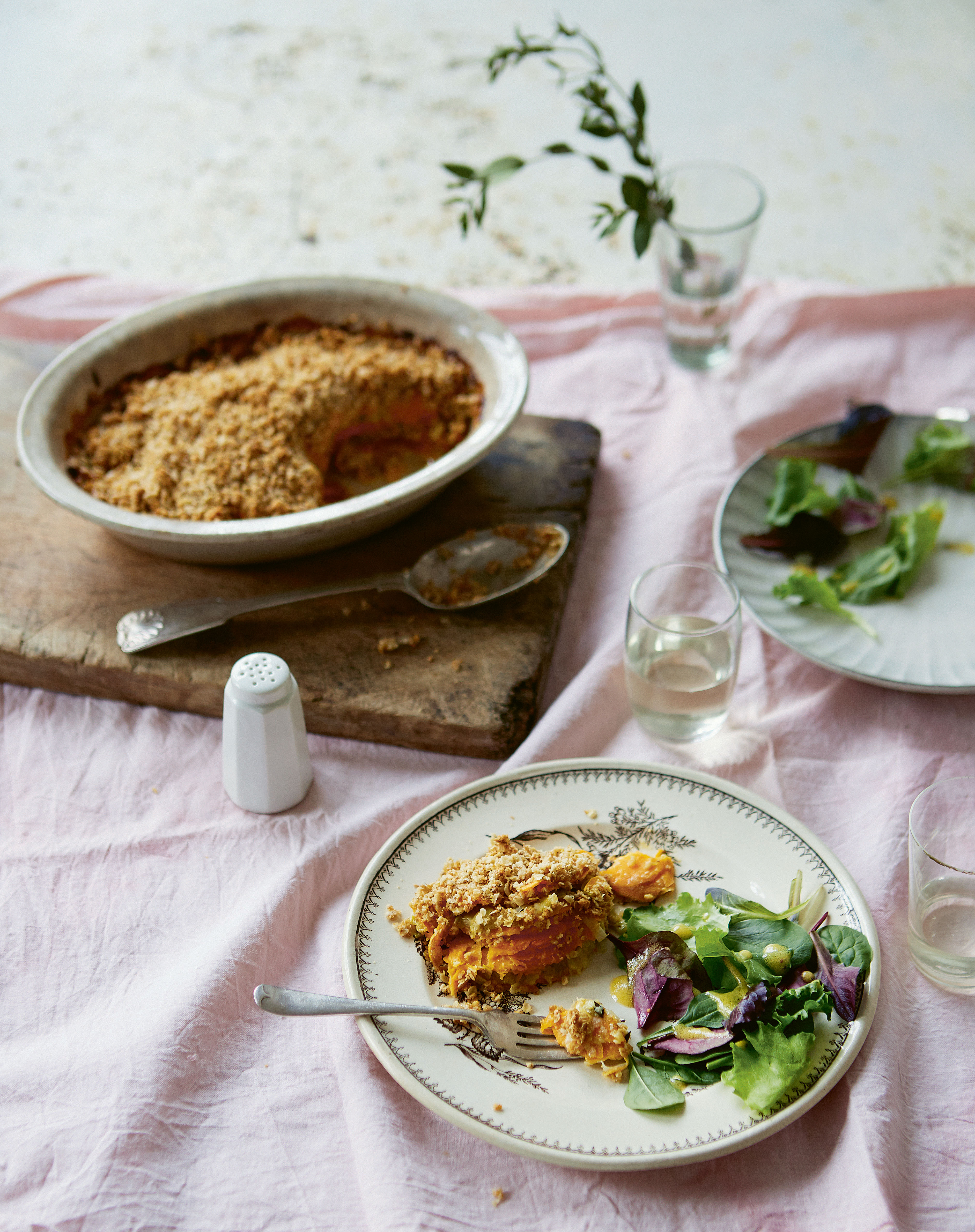 Ingredients
(Serves 4 as a main meal or 6 as a side)
50g [3½ tbsp] butter, plus extra for greasing
3 leeks, thinly sliced
2 garlic cloves, crushed
A few thyme sprigs, leaves picked
750g [1lb 10oz] sweet potatoes
150ml [²⁄³ cup] hot vegetable stock [broth]
100ml [7 tbsp] double [heavy] cream
60g [scant ²⁄³ cup] oats
2 tbsp wholemeal [whole-wheat] flour
2 tbsp grated parmesan
Method
1. Preheat the oven to 180°C/350°F.
2. Melt 30g [2 tbsp] of the butter in a large frying pan. Add the leeks and sweat over a medium-high heat until softened, but not coloured. This will take about 10–15 minutes, and keep stirring frequently.
3. Add the garlic and thyme, and continue to cook for a further few minutes until no longer pungent. Remove the pan from the heat.
4. Grease a roughly 20-cm [8-in] square/round ovenproof dish with a little butter.
5. Peel the sweet potatoes and slice thinly, either using a mandoline (for the brave) or a knife (for the sensible).
6. Arrange about a third of the potato slices on the base of the dish, then add about half of the leek mixture. Repeat, finishing with a final layer of sweet potato.
7. Combine the hot stock and cream in a jug, season generously and pour evenly over the dish.
8. Mix the oats, the remaining butter, flour and parmesan together in a bowl, using your hands to form a crumbly mixture. Sprinkle over the sweet potato slices and bake for about 35–40 minutes, until golden and all the layers are cooked through when tested with a knife.
Almond Milk-Braised Pork Belly (with peas, watercress and samphire)
This may sound like an unusual combination, but braising in almond milk helps to keep the pork moist and tender. It also makes a delicious gravy once the dish is finished. Be sure to heat the almond milk before adding to the pork, as this helps to avoid splitting, and to brush off any excess salt before serving.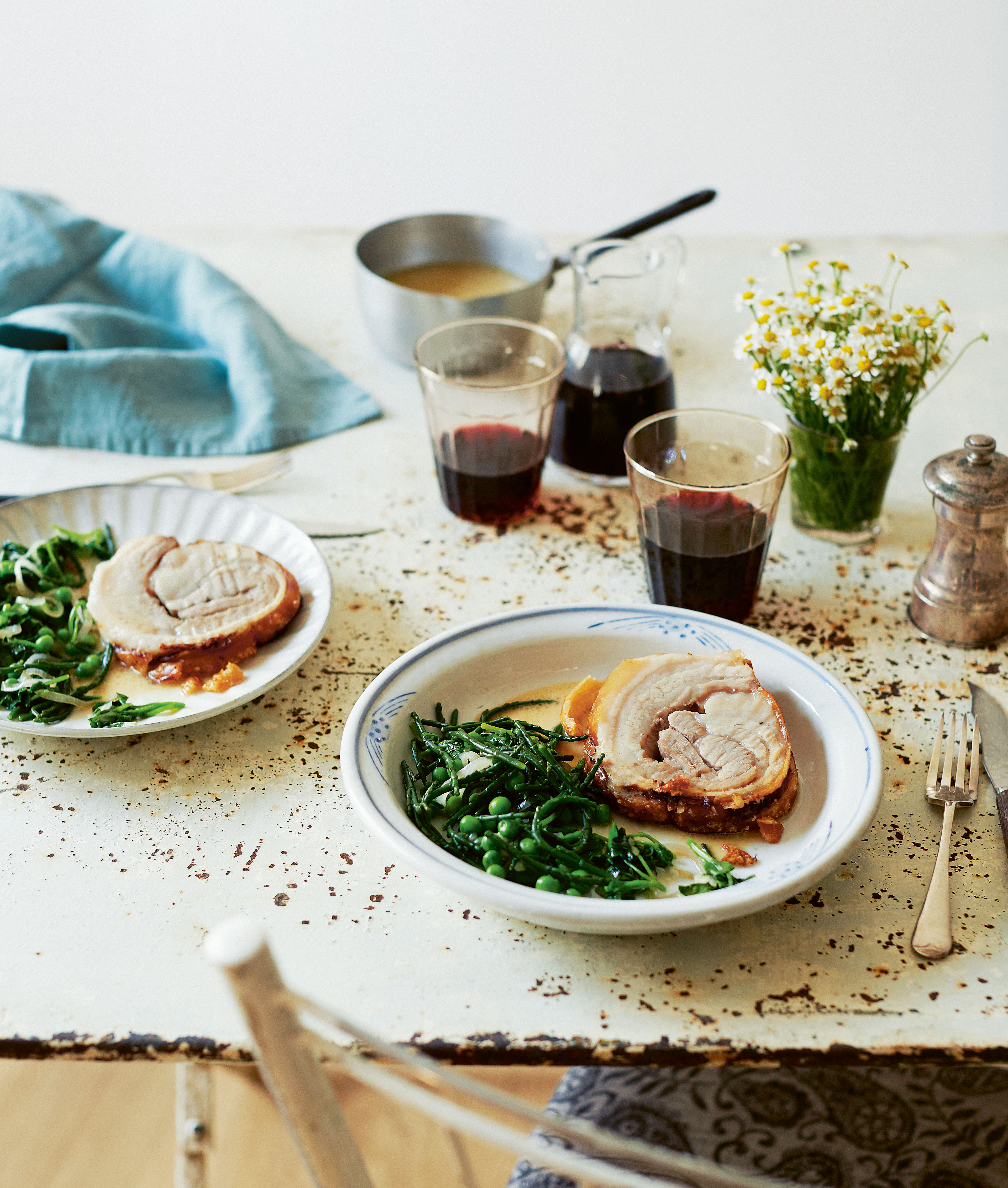 Ingredients
(Serves 4)
1.2kg [2¾lb] rolled and tied pork belly, skin scored
1 tbsp olive oil, plus a little extra
750ml [3 cups] unsweetened almond milk
1 small bunch of sage
1 tsp fennel seeds
2 bay leaves
Pinch of chilli [red pepper] flakes
150g [scant 1 cup] fresh or frozen peas
2 shallots, sliced
1 garlic clove, finely chopped
100g [3½oz] samphire
1 small bag of watercress (about 100g/3½oz)
Method
1. Preheat the oven to 240°C/475°F.
2. Rub the pork with the olive oil and place in a snug roasting tray. Sprinkle the skin with plenty of sea salt and roast for 25 minutes until the skin starts to blister.
3. Reduce the oven temperature to 180°C/350°F and continue to cook for 1 hour.
4. Pour the almond milk into a saucepan with the sage, fennel seeds, bay leaves and chilli flakes and heat very gently. Once the pork has been cooking for its hour, spoon out any fat from the tray, then tip in the hot almond milk, pouring all around the meat but not on top of it.
5. Return to the oven for a further hour – it's ready when the meat pulls away easily.
6. Finally, raise the oven temperature to its highest setting and cook for about 10 minutes until the pork skin has crackled all over. Remove from the tray (reserving the almondy juices) and allow to rest on a carving board, covered with foil.
7. Cook the peas in a small pan of boiling water for a few minutes (longer if using fresh peas), then drain.
8. In a large frying pan, heat a little oil and gently fry the shallots until softened, about 5 minutes. Add the garlic and samphire and sauté, stirring frequently, until the samphire is just tender, about 4–5 minutes. Add the peas and watercress and cook until the watercress has just wilted.
9. Strain the almond milk into a jug to remove the herbs and spices, then pour back into the tray. Set this over a low heat and simmer until saucy. The milk may split slightly, but don't worry too much about this as it will still taste delicious.
10. Brush any excess salt off the pork and carve into thick slices. Serve with the vegetables and almond milk gravy.
Cardamom Buttermilk Panna Cotta (with dried fruit compote)
This is a perfect winter pudding when there is a dearth of fresh fruit. The cardamom and tea lightly spice the dessert, cutting through the creaminess of the panna cotta.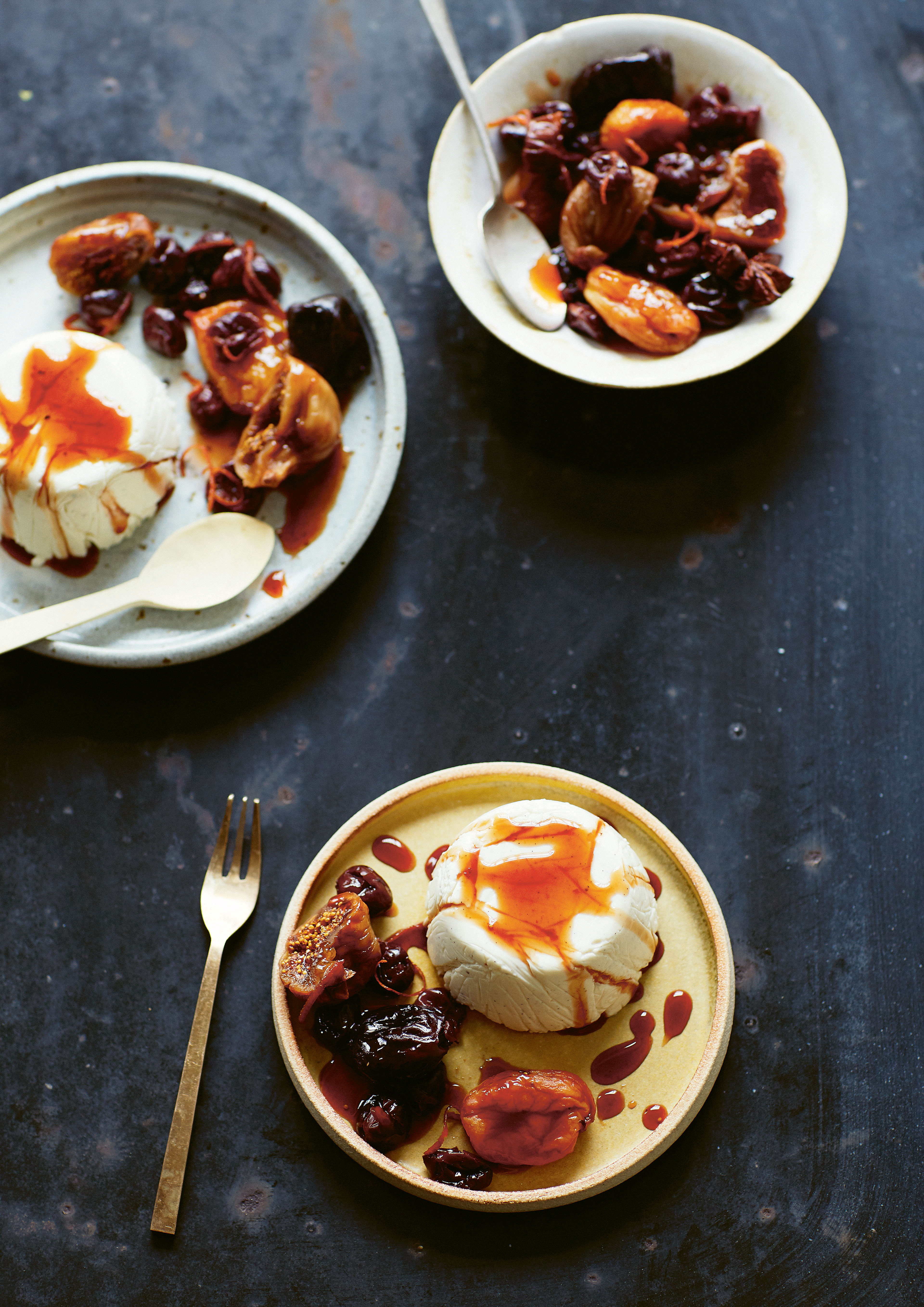 Ingredients
(Serves 4)
Oil, for greasing
200ml [scant 1 cup] double [heavy] cream
3 leaves gelatine (or 7g/¼oz powdered gelatine)
250g [1 cup] greek yogurt
25g [1 heaping tbsp] caster [superfine] sugar
5 tbsp honey
1 vanilla pod [bean], split in half lengthways and seeds scraped out
6 cardamom pods, split open and seeds bashed
For the compote
150g [5¼oz] mixed dried fruit, such as figs, prunes, apricots, sultanas, cherries, etc.
300ml [1¼ cups] Earl Grey tea
1 cinnamon stick
1 star anise
1 orange, zest and juice with dried fruit compote
Method
1. To make the compote, place all the fruit in a bowl and cover with the tea. Allow to soak for 3 hours, or overnight.

2. Lightly grease 4 ramekins or dariole moulds with a little oil, then line with cling film as smoothly as possible.
3. Heat the cream in a small saucepan, slowly bringing to a simmer. Remove from the heat and allow to cool a little.
4. Soak the gelatine leaves in a small bowl of cold water for about 5 minutes, until soft and jelly-like, then squeeze out any excess water and add to the cream, stirring to dissolve.
5. Pour the cream mixture into a bowl along with the yogurt, sugar, honey, vanilla seeds and cardamom, and mix well to combine. Divide among the ramekins and refrigerate for at least 4 hours, or until set.
6. Transfer the soaked fruit and tea to a small saucepan, along with the remaining compote ingredients. Bring to a gentle simmer and cook over a low heat, stirring frequently, for 20 minutes, then strain, reserving the liquid. Discard the spices and reduce the liquid until syrupy before stirring back into the fruit.
7. Turn out the panna cottas onto plates, gently lifting off the cling film. Serve with the warm compote, drizzling with a little leftover syrup.