Rolling Out in Style: Faduma's Fellowship Debuts Adaptivewear at London Fashion Week
The collection by designed by Harriet Ecclestone marks a watershed moment for disability on the catwalk.
Ten years ago Faduma Farah was a fashion loving mother of two young boys, the heartbeat of the Somali community in London, with ambitions to become a psychiatrist. All that changed when a near-fatal case of meningitis in 2011 rendered her paralysed from the neck down at only 34 years old. Against all the odds, through sheer determination and faith, Farah has managed to regain control of her neck, upper body and arm muscles. 
While Farah has adapted to life as a wheelchair user, over the last decade she became frustrated with the lack of fashionable clothing for people who are less-abled. Taking matters into her own hands she sponsored a £10,000 to-the-winner design competition to create the world's first catwalk collection of adaptive-wear which debuted on September 18th as part of London Fashion Week's off schedule programme, produced by independent designer hub Oxford Fashion Studio and modelled by 6 wheelchair user models and 6 walking models. 
The winning design Harriet Ecclestone, previously a pattern cutter for Paul Smith, has a rich heritage of tailors, drapers and milliners in her family. Her timeless staples were reinvented to feature design innovations such as magnetic buttons, relocated pockets, breathable Tencel fabric and hidden seams, supported by research from fellow Northumbria alumni Rebecca and Melisa Everett, whose final thesis, in partnership with The Stroke Foundation, looked into the lack of adaptive clothing and media recognition for otherly-abled young people. Their work was spotted by and featured on the BBC: 'Disabled-friendly clothing created for fashion's 'forgotten audience'
The final collection featured a mix of tailored separates cut to perfection, minimal enough to be eminently wearable. Highlights included the hot pink suit, flowing teal trousers, lilac and grey shirting, and indigo jumpsuit. 
We caught up with the inspirational women behind the project, including some of the models to find out more.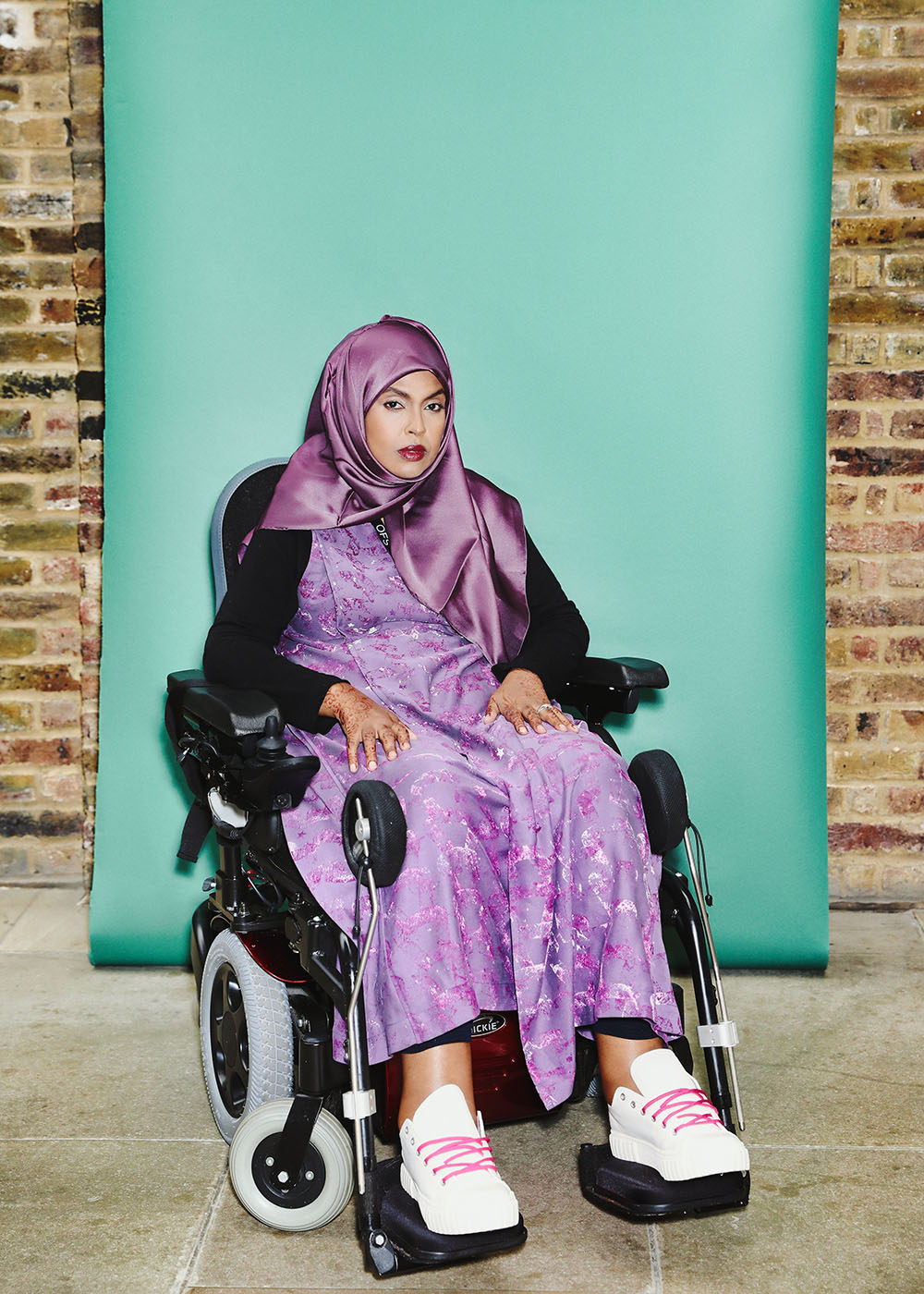 Faduma Farah, Founder  
What inspired you to found your Fellowship?
Before I was paralysed I used to love being able to express myself in what I wore. I love bright colours and was well known for dressing boldly and with a unique identity. After finding myself wheelchair bound my choice became limited by what was practical rather than what looked good. I had to consider how my carers would dress and undress me, how things were fastened, how they could be adapted (i.e. chopped up) to accommodate tubes etc, and whether there were seams or excess material that were likely to cause sores from chafing without my realising. Lacking sensation means you often don't notice these things until it's too late and these sores can have me recovering in bed for days after.
What inspired me to found the Fellowship was a desire to create more choice for those of us less abled. I wanted to put some of the compensation I was awarded to good use and this felt like a really constructive, important way that I could champion the wheelchair user within the fashion industry. I wanted to raise the consciousness of the fashion industry to consider more "types" of people and felt like working with designers to co-create this collection would be a good way to do that. 
How would you describe your style?
Vibrant, colourful, unique and bold!
What are some of the challenges you face as a wheelchair user who is interested in fashion?
As above, also we can't just browse shops like the average person. Even if a store was accessible to a person in a wheelchair; which they rarely are, finding anything suitable which we can reach and try on in-store is highly improbable. You never see a mannequin in a wheelchair in a shop window, I can rarely visualise myself wearing an outfit that was displayed because I've never seen it modelled on someone like me. If I shop online I can't always see how things are fastened or made so it's not until I get it delivered can I determine if it will work. Most often I end up having to return things (which involves a difficult trip to the Post Office!) 
The clothes that do feel suitable often have to be adapted in some way, which mostly involves a pair of scissors so will end up fraying after a few washes so clothes can often feel disposable. 
What else can the fashion industry do to be more inclusive?
We don't just want separate lines of clothing that only works for us. We want to be considered in mainline fashion – we want to be able to choose the same things as everyone else but know that we've been considered in the design! Designing specialist adaptive clothing is expensive as whilst there are 1.2m of us just in the UK there aren't enough of us to justify mass manufacturing, which makes the price point more affordable. 
We want to be thought about at every stage, from design to display and delivery! 
We don't just want our basic needs met, we want our fashion aspirations to be met like everyone else! We want to roll out of our homes looking and feeling fabulous, not looking like a generic disabled person in standard issue leggings and loose tops! 
How did your collaboration with Harriet work exactly?
We promoted Faduma's Fellowship as a competition to designers and invited applications. We assembled a panel of experts and wheelchair users to help us decide on a winner. After much deliberation we chose Harriet who had partnered with Rebecca and Mel [Everett] who had done a piece of research into adaptive clothing as part of their university degree. It was difficult to narrow down the finalists as everyone proposed some brilliant collections and ideas but ultimately Harriet had really understood the challenge and I was so excited to work with her. 
Over the following months we met up and spoke regularly about the challenges I and other wheelchair users faced and she began honing the collection to accommodate these challenges. She met up with the models to fit and refine the final designs to them and was there on the day of the show to make sure that every seam, pleat and magnet was perfect!
What is next for you and the project?
We are really excited by the amount of positive feedback we've received about the collection. The hope is that a High Street retailer will take on the collection to manufacture and stock it for everyone to be able to buy. I've already had lots of people ask me where they can buy the items we modelled during London Fashion Week. 
The team and I have already had a conversation about next year and what our next steps might be. We want to engage more fashion schools across the globe in the conversation about adaptive clothing. We want to open the design opportunity to more designers in more regions across the globe – the more people we have designing clever clothing the more choice there will be for the wheelchair user. We want to engage retailers in the question of accessibility and availability. And I want to wear more fabulous clothes made by brilliant designers like Harriet. In the meantime we will continue to ride this wave and see what opportunities come our way. If my illness has taught me anything, it is that you can never predict what will happen tomorrow, it's important to stay open and excited for each new day! 
Harriet Eccleston, Designer 
What was the aesthetic inspiration behind the collection? 
The aesthetic inspiration came from multiple areas at the same time and evolved to hopefully result in a fashionable and practical collection that evokes many emotions. I wanted every woman wearing the collection to be the most confident and powerful version of herself, I looked to 80's power suits for the iconic smart and powerful womenswear looks. I create timeless and seasonless pieces that are crafted to last and it was important that each piece would be an easy edition to every wardrobe. It was also essential that every item was comfortable and suitable for being seated for all or most of the day. This came in the form of cropping top silhouettes and ensuring that no garment felt restrictive. Fabric choice was critical on a practical level but I used bold colours to bring life and character to the garments. This also reflected Faduma's Somali heritage as bright colours are a prominent feature in Faduma's wardrobe.
How did you make sure the garments worked for wheelchair users?
At the start of the process I got in contact with Rebecca and Melissa Everett who I became friends with whilst at university. A couple of years ago they collated an extensive body of research about the lack of diversity within the fashion industry, identifying many problems people with varying abilities face when wearing inadequate clothing. I took the issues that they had identified and tried to find solutions. My background is in pattern cutting so I love the technical side of designing garments.
After presenting Faduma with the proposed collection we talked through each garment in detail to ensure they would be suitable. Once I had created the toiles (first calico samples) we had fittings with our models to work out how each garment could be altered to best fit and be most suitable for each model.
How could the collection or idea be developed? 
As a team we are working out what is going to happen next. We've been blown away by the reaction to the collection and there is no doubt that this is only the beginning. We want to continue to raise awareness of the lack of adaptable clothing currently available and we'd love to make the clothes that were seen on the catwalk available for people to buy, wear and love. We're not yet sure how or what this will look like but at the moment all we know is that the collection that was shown on the catwalk at London Fashion Week is only the start.
What was the process of working with Faduma like? 
It has been brilliant. Faduma put her trust in me from the very beginning, she gave me free rein to develop the collection in the way that I saw best but was always there to discuss possible issues, talk through fabrics, finishes and design details. And to keep reminding me to use more colour! Faduma has an unbelievably positive view on life, she welcomed me into her world so that together we could create clothes that could make many people's lives easier whilst allowing them to express their personality.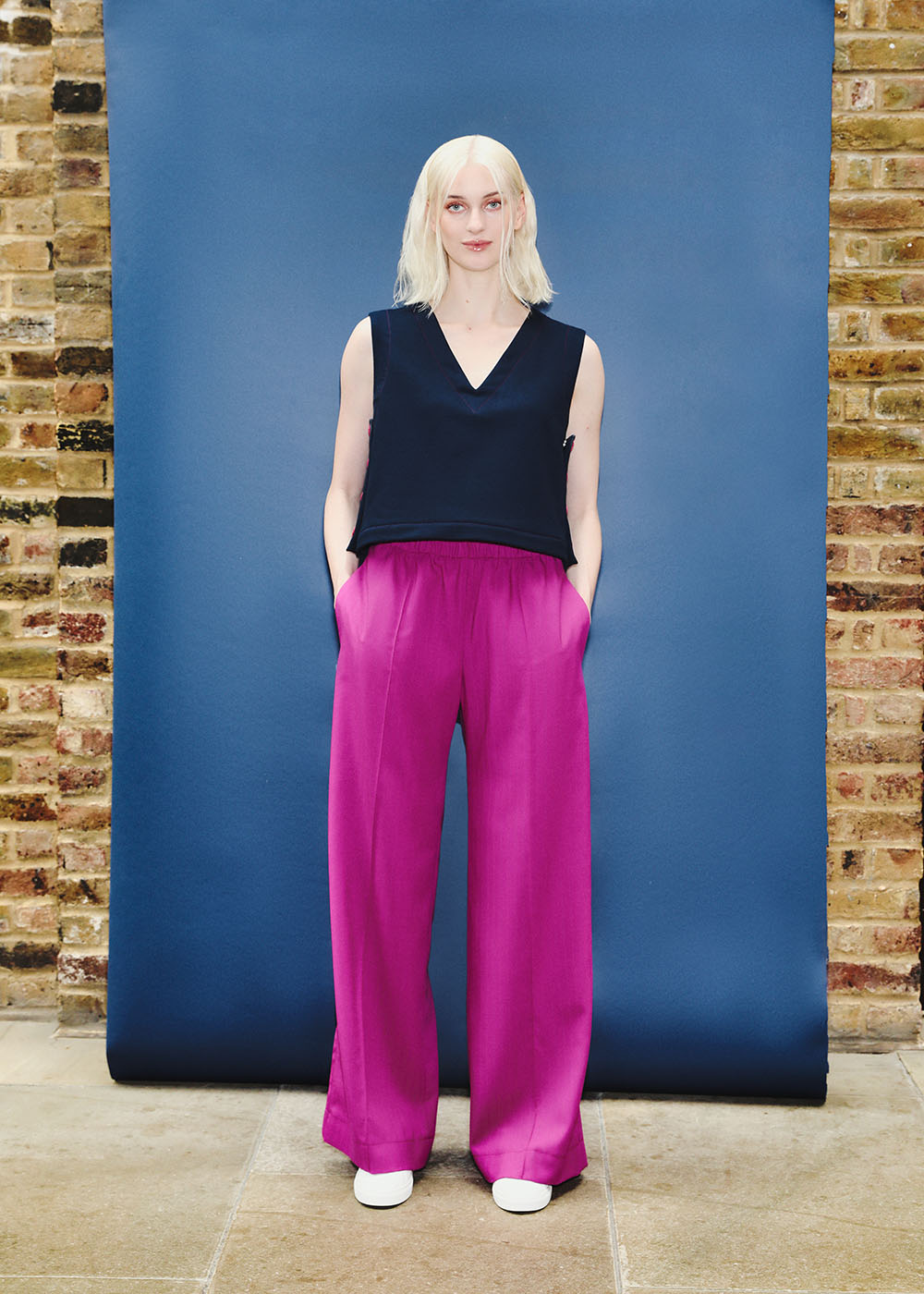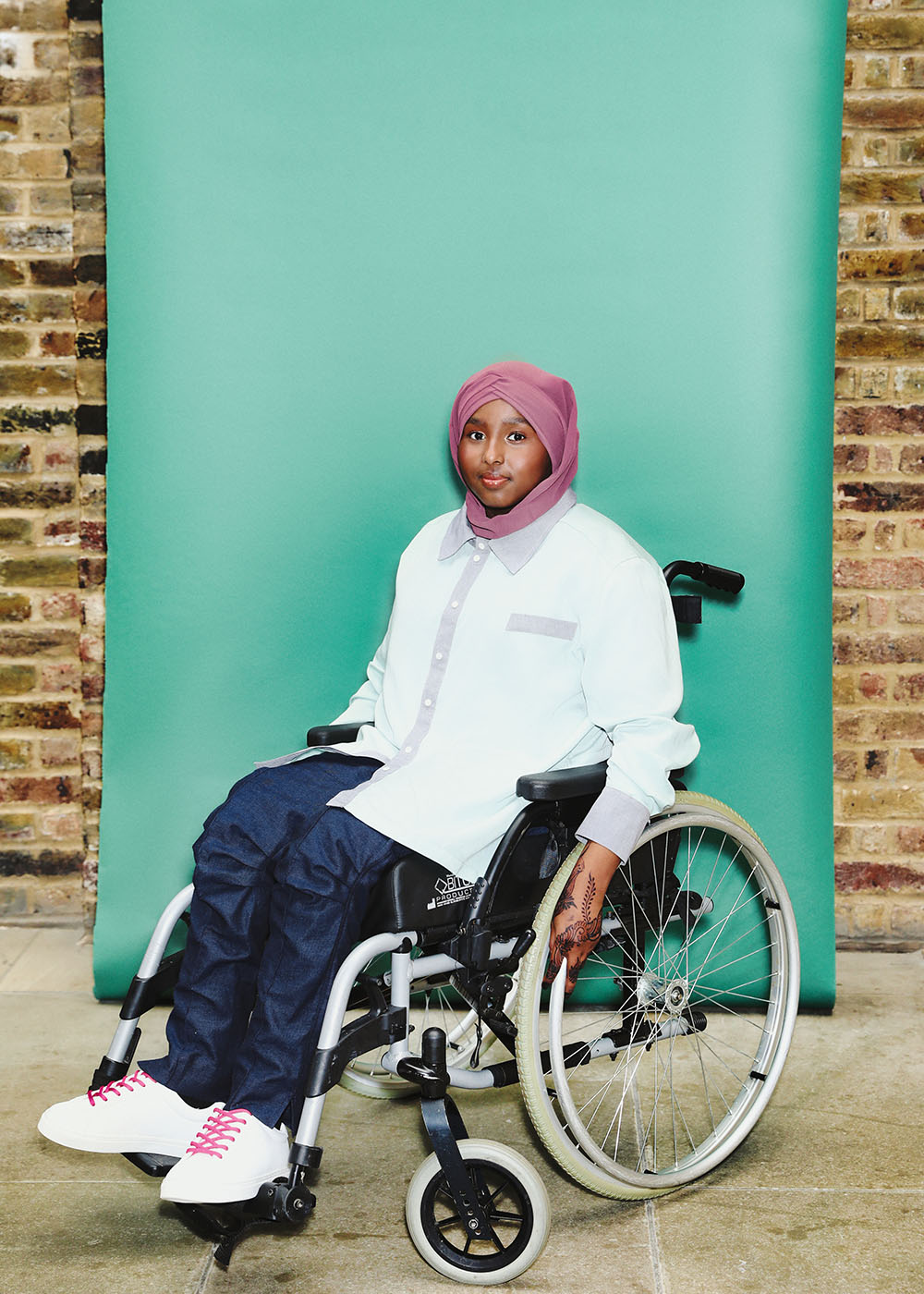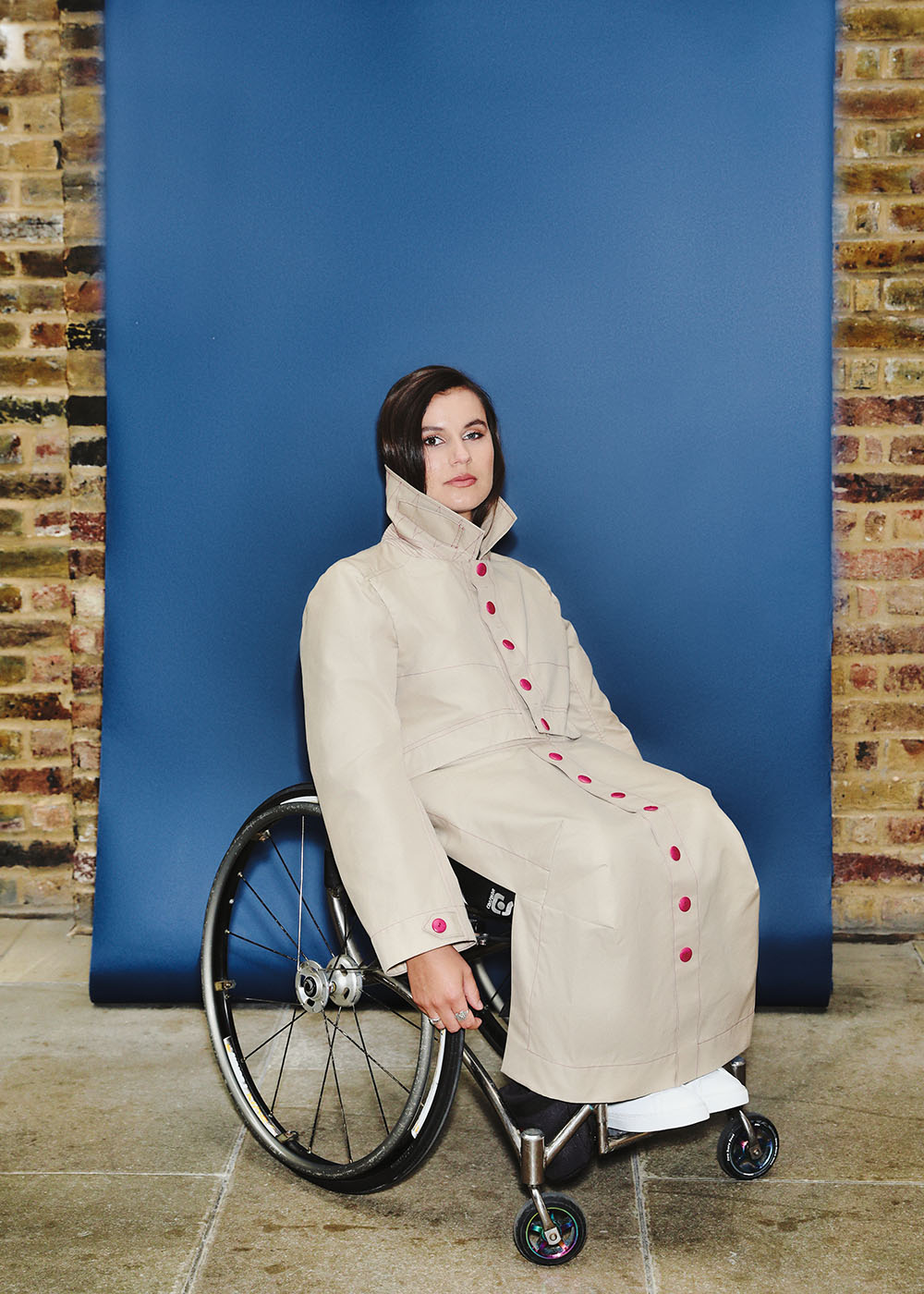 Ella Beaumont
How would you describe your style? 
I would describe my style as bold and outgoing. I love colour and I love to make a statement but in a fashionable and classy way. I love patterns but I mostly enjoy bold, block and bright colours. 
What are some of the challenges you face as a wheelchair user who is interested in fashion? 
Finding comfort in clothes that are also fashionable is a huge challenge when you are in a wheelchair. You may love the look of some trousers but in reality when you try them on sitting in your chair, they could be the most uncomfortable piece of clothing you have ever worn, this makes fashion really limiting to many disabled people. 
What experience did you have with fashion and / or modelling before the show? 
This show was my complete debut in fashion and modelling. I have no experience or background in fashion and this was my first ever catwalk. I have been a model in some sports adverts in the past but as far as modelling clothes, this was my debut and I loved every minute of it. 
What else can the fashion industry do to be more inclusive? 
I hope that Faduma's Fellowship adaptive clothing range will help to raise awareness of adaptive clothing. The fashion industry as a collective needs to do more research into adaptive clothing and start to make it mainstream. Disabled models should be a regular feature in catwalks and adaptive clothing should be a regular feature within clothing ranges. This will help make adaptive clothing the norm instead of just a 'one off'.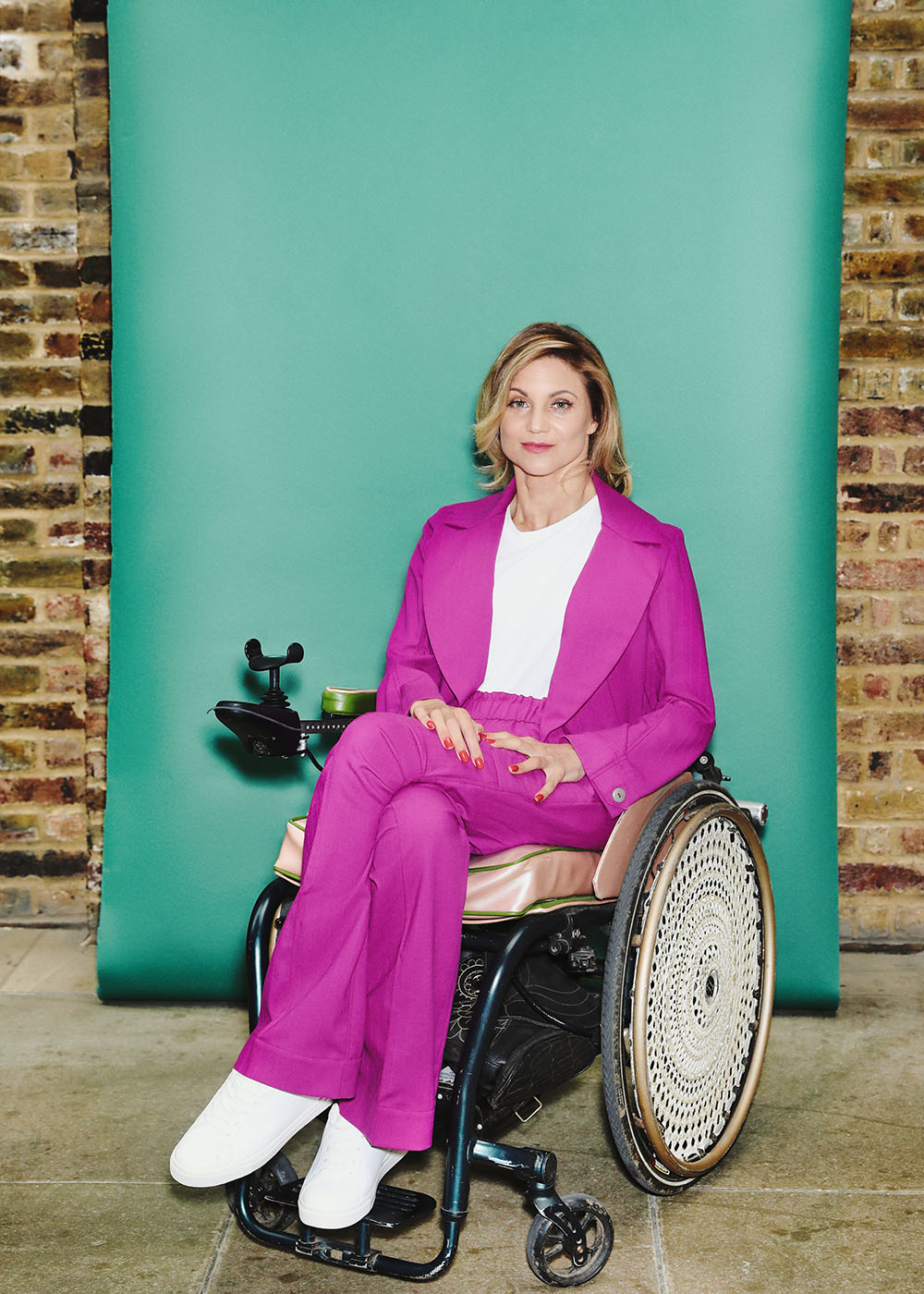 Heidi Herkes 
How would you describe your style? 
Sophisticated with a creative edge.
What experience did you have with fashion and / or modelling before the show? 
I'm a personal stylist. I used to run my own bridal hair and make-up company before my injury but due to my lack of dexterity because of my injury, I decided to retrain as a personal stylist learning about what colours suit different skin tones, how to dress a seated body type and different style types.
I'm a great believer that if you look good you feel good and it has helped me immensely , rebuild my identity. I'm extremely passionate about helping people that have suffered through adversity.
No one wants to be defined by their disability, which is why style and fashion are powerful tools in helping with self-confidence.
I'm also a member of a disabled acting and modelling agency and have done various different commercials, embracing my disability, promoting diversity and inclusivity. 
I am a social media influencer on YouTube and Instagram where I showcase my life with a disability in the hope to inspire and motivate people.
What are some of the challenges you face as a wheelchair user who is interested in fashion? 
There is very little out there when it comes to stylish accessible clothing. It's very frustrating as a wheelchair user because I have had to adapt a lot of my clothes to suit a seated body shape.
I have an indwelling catheter so I have to cut holes in my dresses to allow for that to thread through. Coats and jackets are all very cumbersome to put on and take off. It would be great to have a coat or a jacket that would take out this difficulty. Heels are another problem. It's very hard to find a good pair of heels that actually Will not slip and slide off the footplate of the wheelchair. All the clothing that is available on the market seems to be suited for the elderly and does not have any creative injection in them.
What else can the fashion industry do to be more inclusive? 
As mentioned above. I would like to see more accessible, stylish creative clothing lines out there for people with disabilities. Just small tweaks need to be made to allow for more comfort for people with disabilities. The designs don't need to be overly complicated.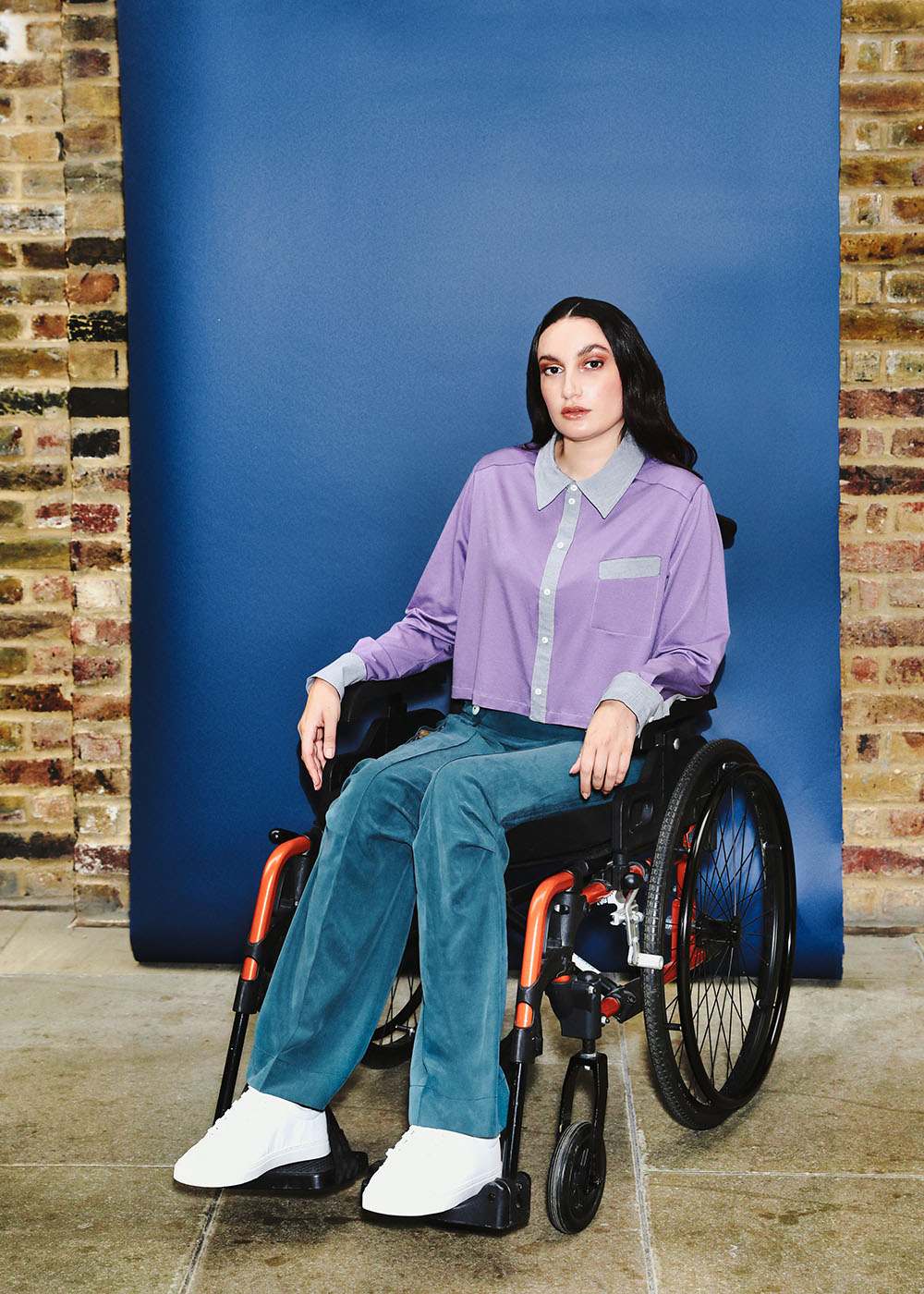 Lauren Nathan-Lane 
How would you describe your style? 
My style depends on how I'm feeling that day! Some days I love streetwear, some days I love big vintage dresses and some days I'm all about the comfy lounge wear. 
What are some of the challenges you face as a wheelchair user who is interested in fashion? 
Comfort is the main challenge I face as a wheelchair user who's passionate about fashion. I'm an ambulatory wheelchair user which means I can walk small distances but use my chair for most days out. This means I'm often in my chair for many hours a day and clothes can often dig in when you're sitting for that long. I find it especially difficult to find trousers that are suitable for my long legs but that aren't really tight around my stomach. Most 'comfort wear' isn't really appropriate for being out the house in. That's why Harriets designs were so great as they were tailored and fashionable but also extremely comfortable. 
What experience did you have with fashion and / or modelling before the show? 
I've been signed with Zebedee Talent for about two years and have had some amazing opportunities with them such as TV ads, fashion editorials and major high street brands, however Faduma's Fellowship was the first time I've been invited onto a runway as a wheelchair user and disabled model.
What else can the fashion industry do to be more inclusive? 
We're seeing great steps with the fashion industry the past few years but more needs to be done to be inclusive especially by more luxury and high end brands. I love designer fashion but never see myself represented in their models.