Johnny Borrell and new guitarist David Ellis on getting the band back together after a 10 year hiatus, the collective unconscious, and why it's never been about the money 
Words Hannah Kane
Photographer Vincent Dolman
Stylist Ella Gaskell 
Hair Alex Price at Frank Agency
Skin Neusa Neves at Terri Manduca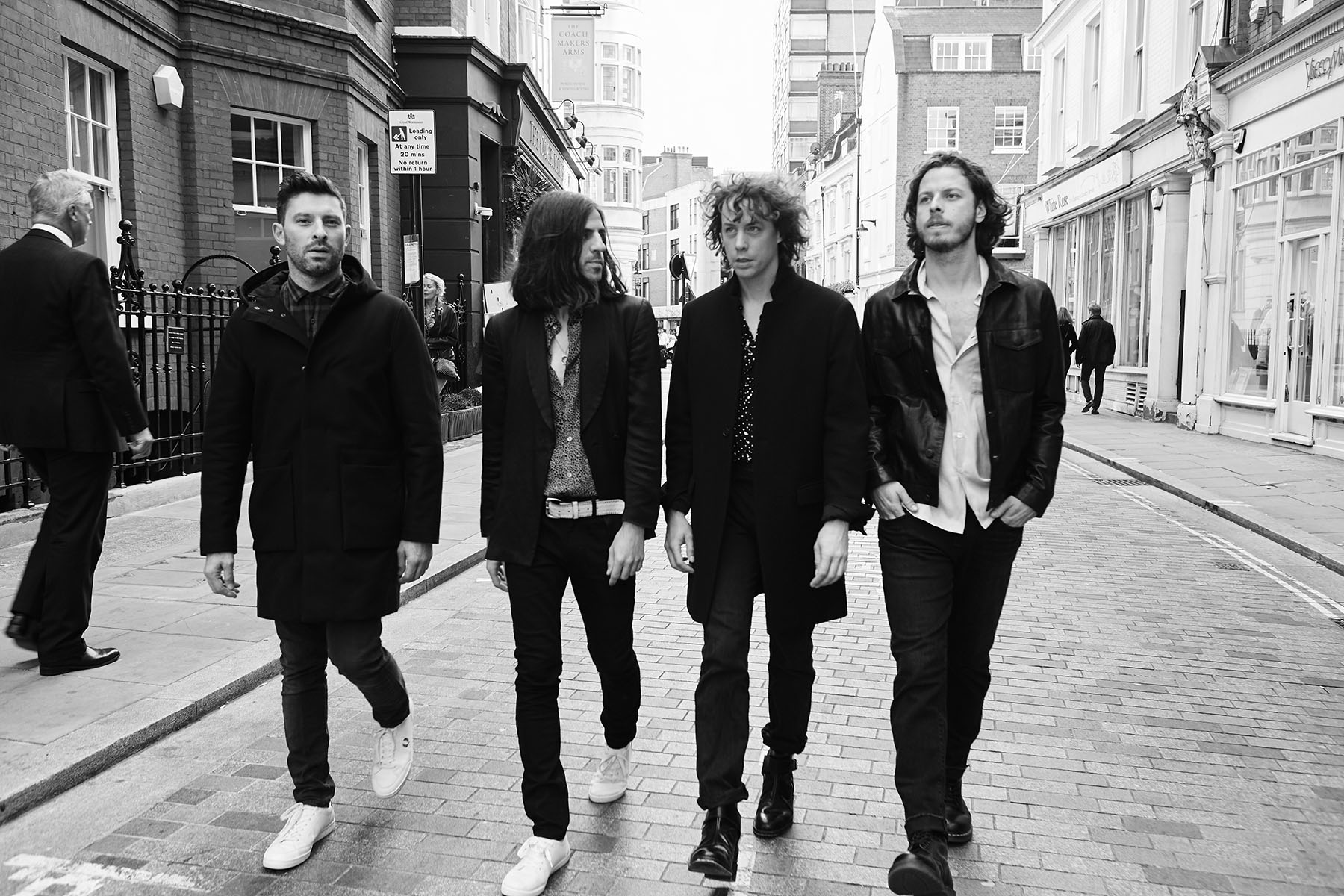 "A love letter to rock and roll" is how frontman Johnny Borrell describes the new Razorlight album Olympus Sleeping, the band's first new material in 10 years and their fourth studio album. Ah, rock and roll… Remember that? When people used to play guitars and strut about in tight jeans, guitar slung over shoulder. In 2018's soundscape littered with pop, dance, hip-hop and grime, there's a dearth of credible rock bands – Royal Blood, and female artists such as Anna Calvi the exception to the rule. On Olympus Sleeping, after a decade in the cultural wilderness, rock's bohemian cousin, indie, with its upbeat riffs and noughties innocence, somehow the genre sounds fresh again.
"I just knew at some point that I could be excited to do Razorlight, and that I could only do it if I was excited."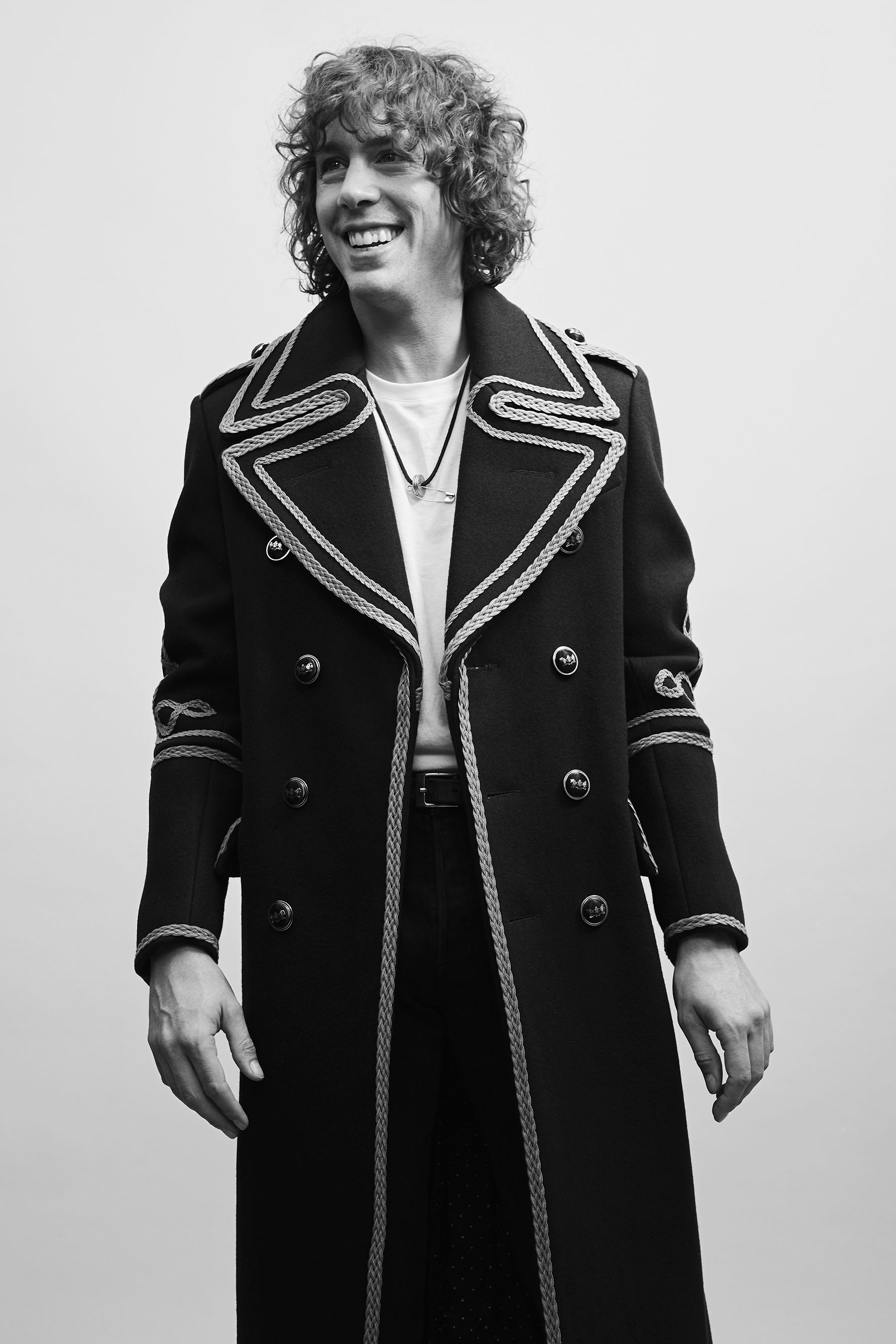 A typical Razorlight interview starts with the journalist telling you all about the preposterous things frontman Johnny Borrell used to say to the press, not least to music rag NME. Seemingly provocative quips such as, "Firstly I'm a genius. Musically, culturally, everything", as told to the publication in 2004 and gems such as "I'm the best songwriter of my generation", both have a touch of we're-bigger-than-Jesus era Lennon about them. Legendary tales of Borrell riding his motorbike though then girlfriend (perhaps unsurprisingly soon after, ex-girlfriend) actress Kirstin Dunst's apartment only added fuel to the media fire.
Having met Borrell, it's entirely possible that the media failed to take this sort of posturing with a pinch of salt. Devil's advocate? If you were selling 100,000 plus records a week, playing Wembley Stadium, headlining Reading and Leeds festival, and supporting the Rolling Stones, The Who, U2 and Queen, you might be forgiven for thinking you were pretty good at your job. Still, genius is relative.
"My background has always been as a songwriter so I feel quite lucky that our styles complimented each other"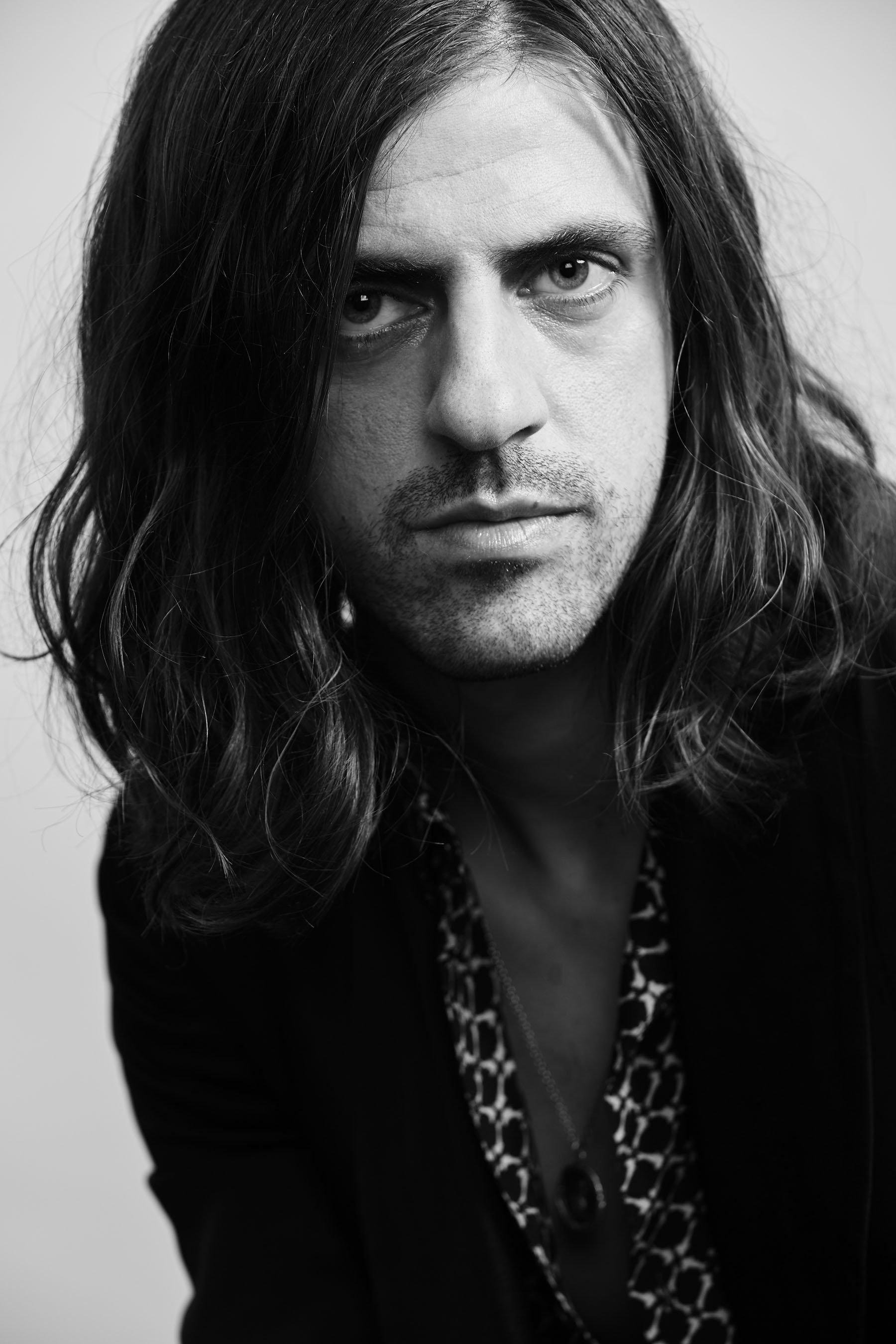 Razorlight's debut album Up All Night (2004) propelled Surrey born Borrell, raised between Highgate and Paris, into the limelight with his genre-defining indie pop outfit. The self-titled sophomore album Razorlight (2006) debuted at number 1 in the charts and led to Brit nominations for "Best Band" and "Best Single" for 'America' which became an anthem on both sides of the Atlantic. 1.5 million records later, snake-hipped, shirtless Borrell graced the cover of the May issue of Vogue alongside supermodel Natalia "Supernova" Vodianova, only the 7th man in its history to make the cover.
By the time the third studio album Slipway Fires dropped in 2008, the cracks were beginning to show. After relations became fractious, the last member of the original line up finally departed, and Borrell moved onto solo projects. Borrell 1 (2013) did poorly commercially (selling just 549 copies in the first week) and while somewhat bland, did, if nothing else, showcase Borrell's ability to write consistently well-structured songs that tick all the boxes on paper. 2016 heralded Borrell growing a jazzy 'tach to match his bluesy beatnik phase with band Zazou, releasing The Atlantic Culture, all very Wes Anderson, all lots of fun. Even the NME postulated "maybe it's time to cut him some slack."
Borrell explains his solo journey, and why now was the right time to reform the band. "I was playing more different styles of music to  develop as a musician, and I've put just as much effort into the two albums that I've made while Razorlight weren't recording as I would put to any record. So, that's a two year commitment normally. I just knew at some point that I could be excited to do Razorlight, and that I could only do it if I was excited." He never wanted to make a record that ticked corporate boxes. "I just really didn't want to play the game of 'okay what's fashionable at the moment?' Let's rip it off and then go 'oh, oh, oh' at the end."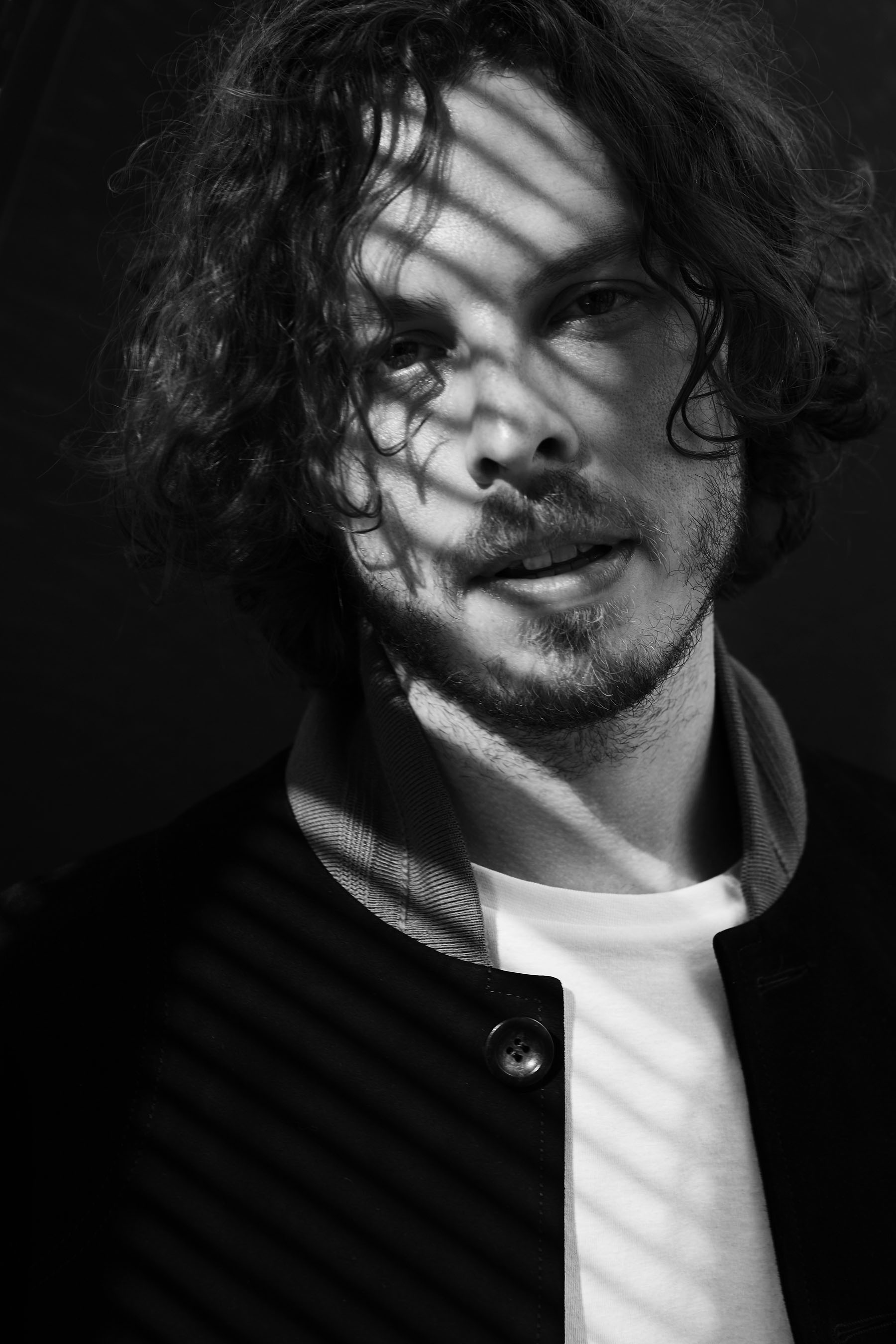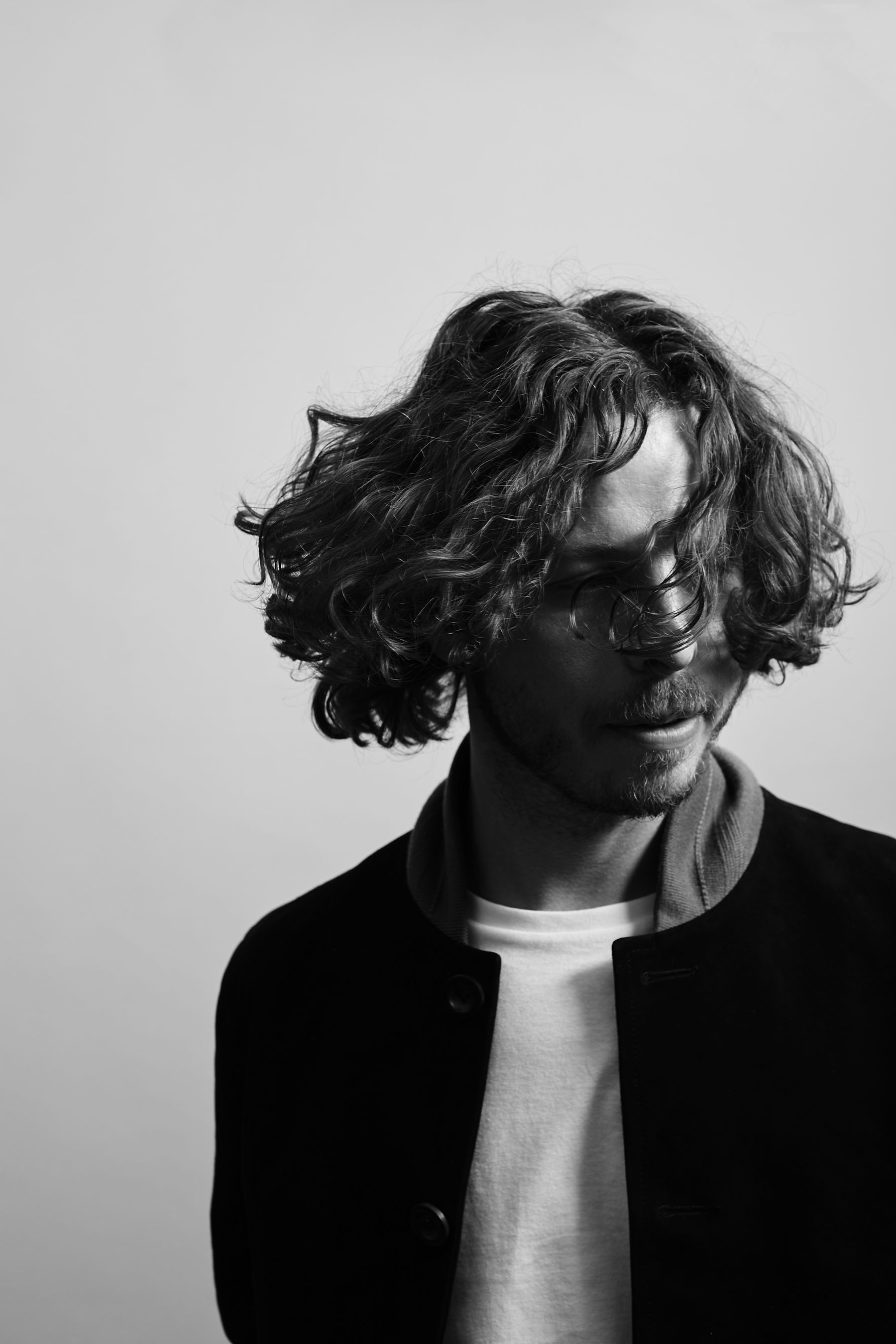 Ten years later we have Razorlight 2.0. Older, wiser, more mature lyrically, with flourishes of experimentation. The contemporary band line up comprises of Borrell with his soulful puppy-dog eyes and Keats curls ageing well at 38; with the addition of live wire David Ellis on lead guitar, angular like a Picasso; tall, chiseled Harry Deacon on bass, and longtime collaborator, Bronx born David Sullivan-Kaplan (aka Scully), who contravenes the drummer stereotype by having the look of a Tom Ford model about him. Indeed, the consensus of the band to our photoshoot images was that Scully "won".
It was Scully that initiated the reformation, playing matchmaker between Borrell and Ellis by inviting them both to jam in London. Borrell recalls getting the call while in the Basque country, working on his house, mixing medieval render for the wall. "I couldn't really think of a reason why not! I sort of looked at my trowel and this bucket of render and Dave's face just sort of appeared. His beautiful wavy hair!" He jokes. "Then we came up and had a rehearsal, it felt really good."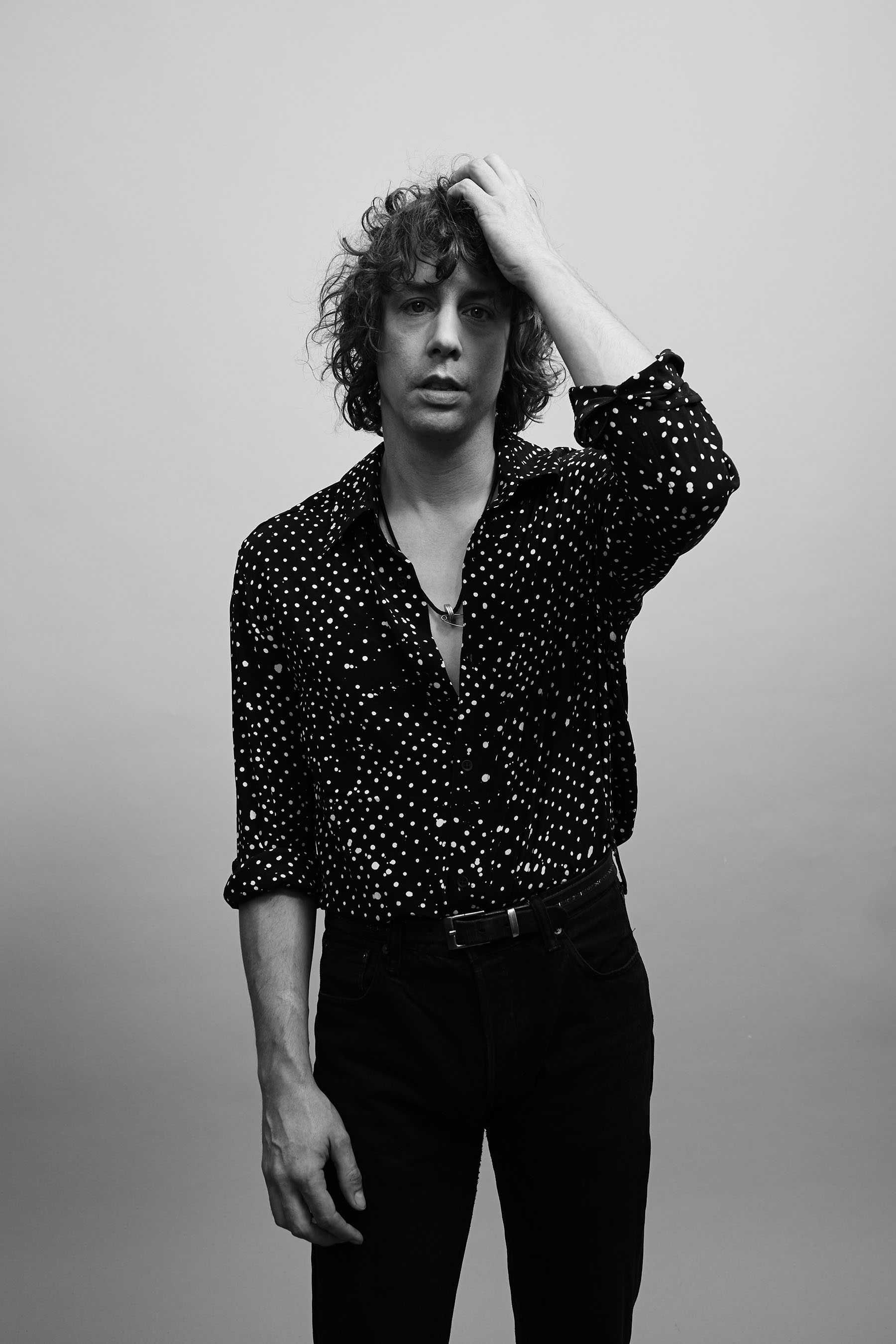 "We are all born, so we all share the experience of coming from the womb into the world."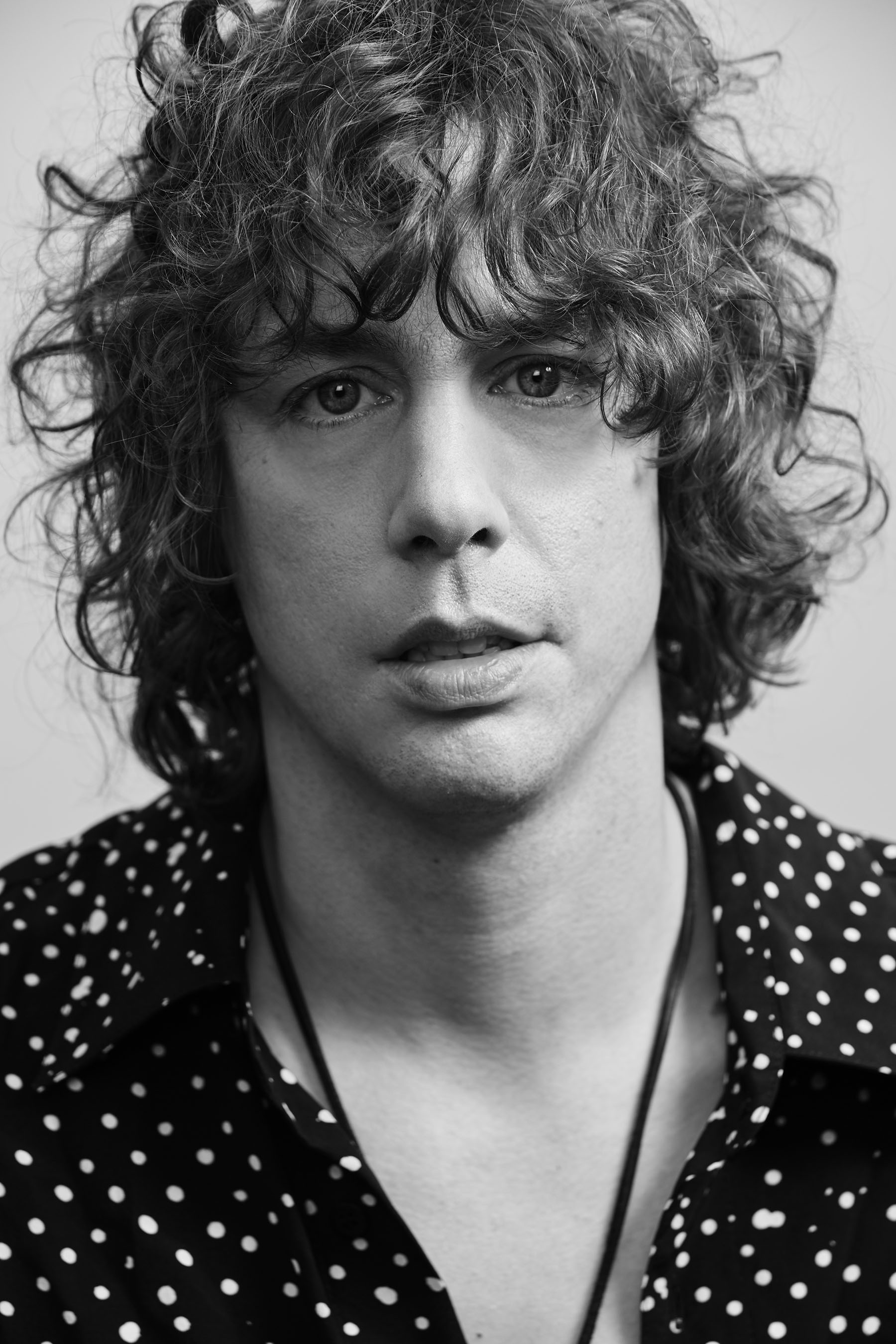 Borrell says it's never been about the money. "If I had done Razorlight at any point between the last five, six, years before now, the only motivation would have been to have a career or to earn some dough." He elaborates, "That's not a good motivation to have, you know." Ellis travelled to Borrell's pied-à-terre in Paris. My background has always been as a songwriter so I feel quite lucky that our styles complemented each other", the guitarist explains. " It's quite rare in collaborating, you can't just do it with anyone." Some of the strongest tracks on the new record including 'Japanrock', 'Razorchild, and 'City of Women', which has shades of Springsteen, came via Ellis.
There's a flourishing bromance between the pair, and they bonded over more than just the music. For starters, they're both vegetarian. "It's quite difficult being vegetarian on tour, finding something that isn't bleeding or based on bread," jokes Ellis. They both ride motorbikes, with Borrell a self-confessed "dreadful car nerd", and they both like to escape from music into the tool shed. Ellis is a cabinet maker, and Borrell likes to be on site with the village stonemason, restoring his house in France. He admires the stonemason's work ethic. "Every bit of his day and his job, he gives the same amount of attention to. Whether he is finishing something that everyone is going to see for hundreds of years or whether he's digging a trench to run the pipes through."
The clincher was sharing an interest in metaphysics. Borrell recalls walking around Paris discussing "the ego, and the shadow, and the collective unconscious" (which is exactly what you want the lead singer of Razorlight to be doing). Ellis mentioned he was a fan of Joseph Campbell, the American professor whose work on the human experience, world mythologies, and archetypal hero myths followed on from Swiss psychologist Carl Jung (1875 – 1961). Things got progressively more existential between them. "We just kept talking about purpose of stuff, and what we're doing," he adds.
We challenge Borrell to explain the collective unconscious in less than a minute. "You know in the sense that, there are certain symbols or archetypes, in the platonic sense, that exist for all humans. That there is some sort of collective experience that all societies and civilisations have always tended towards – symbols of circles and squares etc. To some extent, that is because we have a shared experience. We use shared symbolism to access our inner state. If that's the case then we have an unconscious, i.e. that we don't see within ourselves, that is actually shared with all other humans. Is that less than a minute?"
Borrell is ready to point out that a lot of people reject this idea. "I'll try not to turn this interview into a Freudian dispute. I've got a lot of friends who are very committed Freudians and I like hanging out with them because I get to have deep arguments. They say that the collective unconscious is a sort of a mystic nonsense." He counters, "I do think if you were to break it down very logically… We are all born, so we all share the experience of coming from the womb into the world. So, we've all shared at least one experience. We all cry, there are things that we all do. Although, Johnny Cash once told me that there once was a man that never cried," he jokes, referring to the Cash song. Does music tap into the collective unconscious too? Borrell thinks so, "We had music as a language as a species before we had words, so it is a language that we all understand, right? It's very powerful."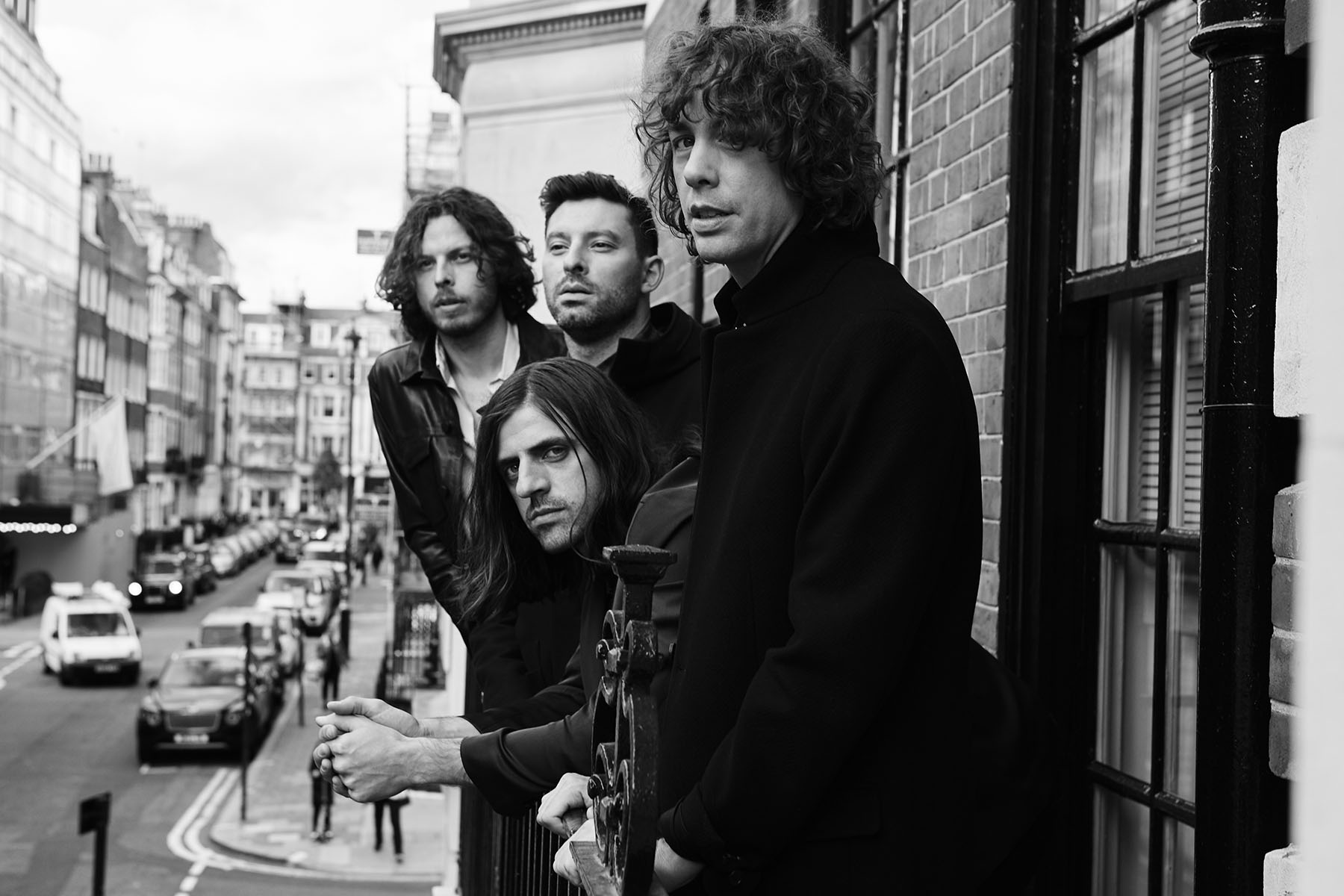 With all this in mind we turn to the new 12 track record Olympus Sleeping, which has a touch of dry humour in the opening intro with a skit from anti-folk hero Adam Green of The Moldy Peaches who drawls "Genie, it's Aladdin. Print me a Razorlight album that doesn't totally suck."
And it doesn't. Borrell sounds better than ever, and when he pushes a harder vocal style on tracks like 'Good Night' and 'Japanrock' it almost feels edgy. The band sounds tight. Ellis' energetic guitar riffs and sweet harmonies give the sound a new lease of life. Highlights include 'Carry Yourself', which delves into something more philosophical. Title track 'Olympus Sleeping' nails the signature Razorlight hook, while showcasing Borrell's lyrical flourishes. There's variety between the songs: 'Let the Good Times Back into Your Life' is a joyful launch into the record, as if to say "indie's back!". 'Brighton Pier' is a jaunty slice of Britpop, while 'Midsummer Girl' a vignette of young love; "I remember fondly, your spit on my lips / I remember fondly, your hand on my hip". The sound is more definitively 'London' than rain soaked pavements, the Underground, and overpriced pints.
The morning after the album launch the pair travel across the country to play a selection of tracks live at independent record shops. New tracks, plus a few old favourites from the back catalogue such as 'America' and 'Golden Touch'. First stop, Truck Music Store in Oxford, and as 50 or so people crammed into the diminutive space, watery morning light pouring through the glass, it feels like Razorlight has gone from indie giant, to underdog band trying to break through again.
If Olympus Sleeping is a love letter to rock and roll, we're hoping the next record pushes the boundaries of the genre. For the time being, there's audible enjoyment in making music embedded into each of the tracks, and that always makes for music worth listening to.
Catch the band live at 12 dates across the UK this December. European tour February 19