Hey, boy. Would you meet me on the roof tonight? I gotta aperol for you.
Words Sophie Jean-Louis Constantine
London's heating up real nice (please don't fry us, weather overlords) and that can only mean one thing: outdoor dining. Brits love a rooftop the same way they love a postage-stamp sized piece of grass the moment temps creep over 18 degrees, so without further ado here's our pick of the best roofs, terraces and gardens from across the capital, with delicious summer menus to match.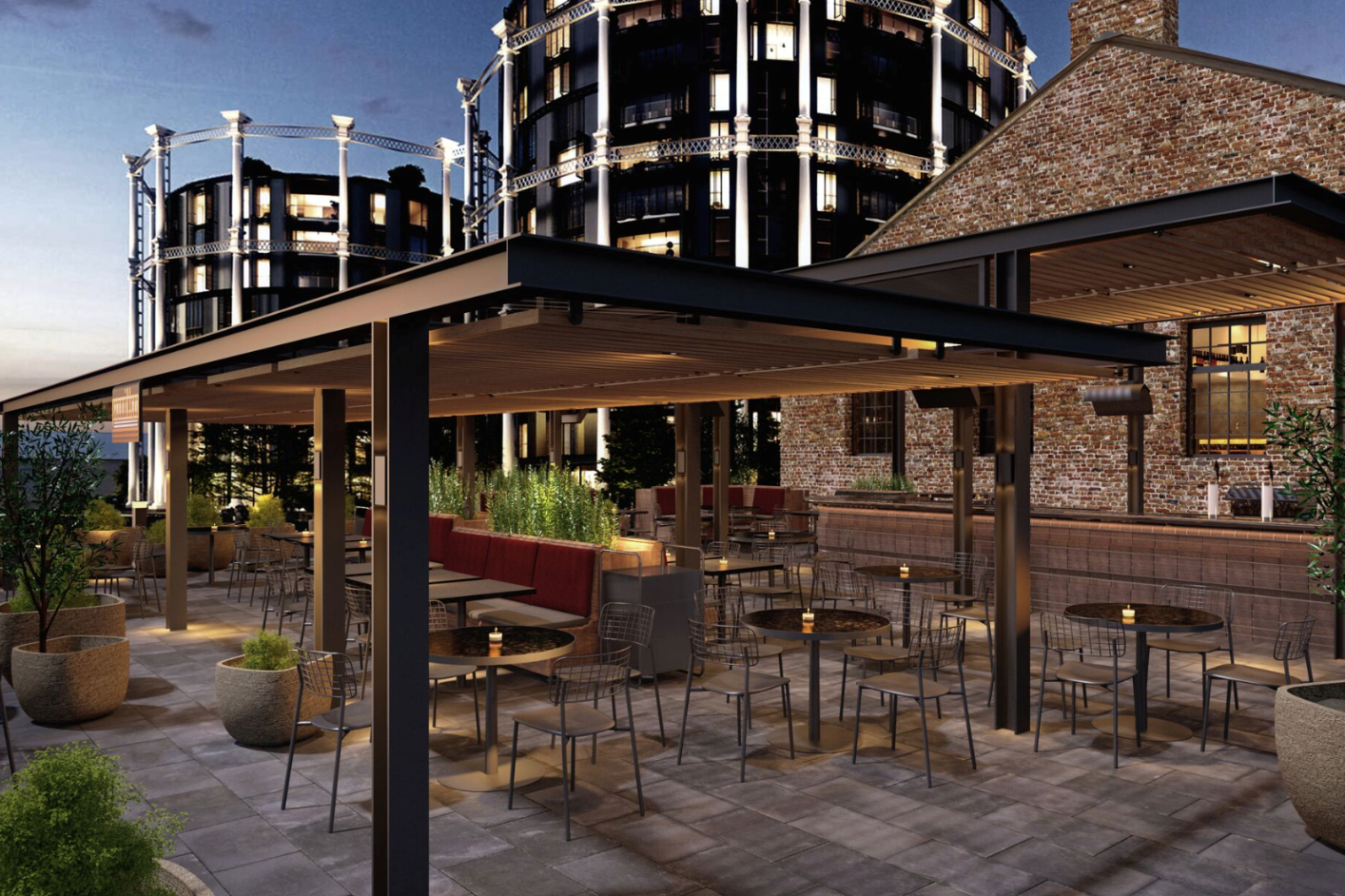 The Barrafina boys have cooked up something different for their new site Parrillan in Coal Drops Yard. Each table gets a 'parrilla', a mini charcoal grill that's used by diners to cook their choice of meat, fish and vegetables. A DIY barbie if you will, that takes place outside on a stunning terrace. Dishes in line for a grilling include huge, scarlet Carabinero prawns, 50-day aged rump steak, middlewhite pork chop, diver-caught scallops, artichokes, and pan con tomate that diners assemble themselves. Grillin' is thirsty work – head to the restaurant bar for all your wine and cocktail needs. Coal Drops Yard, Stable Street, London N1C 4AB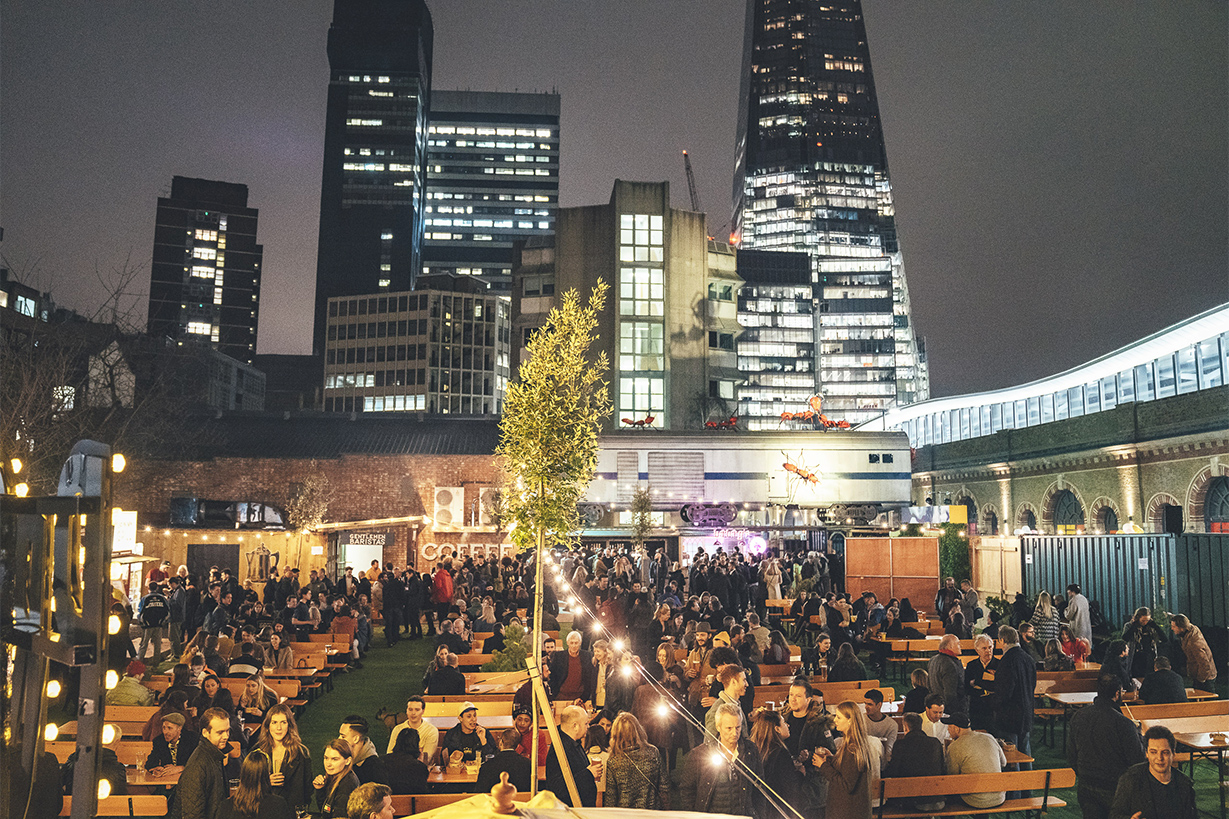 This new street food venue in London Bridge boasts an enormous garden, marked out by an old train carriage art installation. Food is brought to you by Baba G's, with burgers inspired by India, Argentinian steaks from Up In My Grill, and risottos and juices from veggie king Turnips. The open-air bar supplies a rotating selection of locally brewed craft beers on tap – just what you need when the temperature soars. Oh, and shopping's covered too, with pop-up vintage stores in shipping containers on weekdays. St Thomas Street, London Bridge, London SE1 3QU
Shoreditch's Gloria has the feel of stepping into a garden in 70s Capri. Big Mamma Group's trattoria is a riot of flowers and lush greenery, married with wonderfully kitsch candelabra, chintz, Italian ceramics and wicker furniture. It's an ode to maximalism, and we love it. The menu showcases small producers in Italy and is reliably seasonal, dotted with tongue-in-cheek tributes to dishes. Try the Culatello con Cotenna to start, a prized ham from Parma, which is "to ham what Wu-Tang Clan is to hip-hop". And the smoked stracciatella, the heart of a burrata, which they happily describe as "bloody godsent". For the main course, it's got to be the richly flavoursome Black Mamba – fresh cuttlefish marinated in umido sauce, with squid ink pasta, candied datterini tomatoes and Amalfi lemon. A killer cocktail menu puts playful twists on classics, like the Colada Me Later with added popcorn syrup and almond milk. A joyous, flamboyant, canary yellow corner of east London not to be missed. 54-56 Great Eastern St, London EC2A 3QR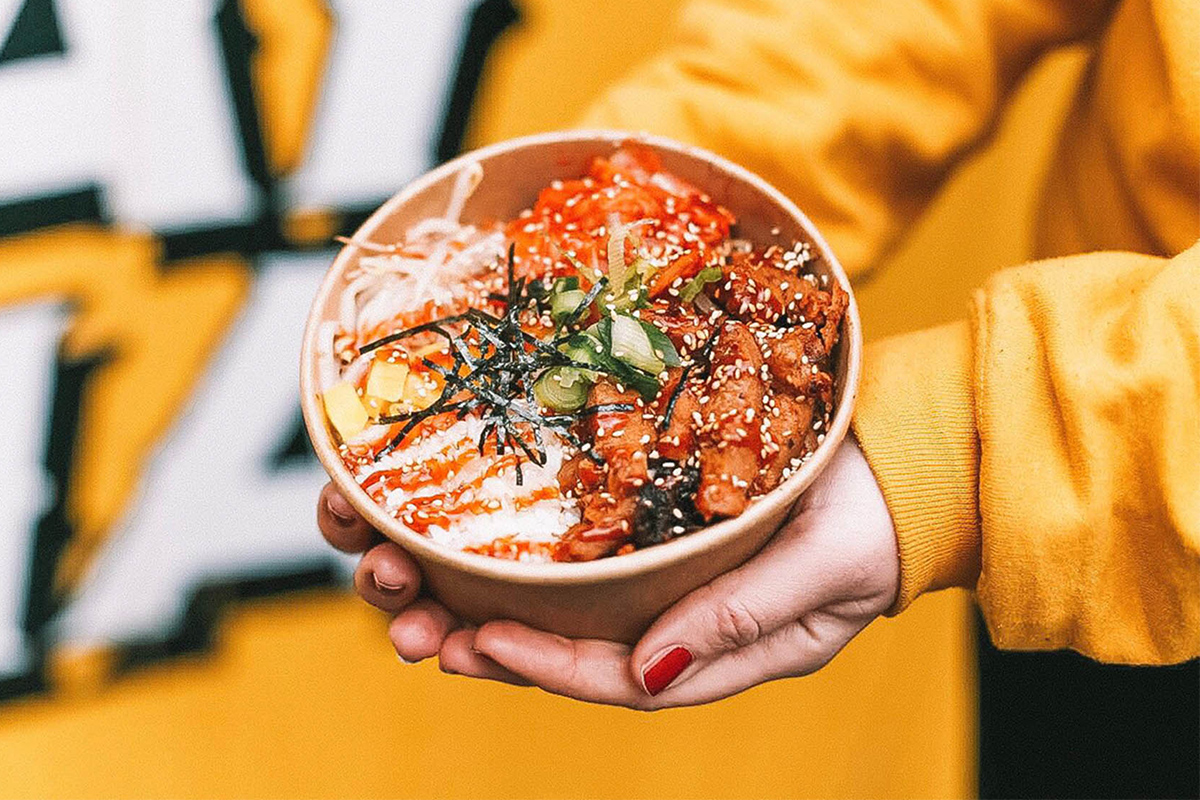 New and improved for their summer 19 re-opening, Roof East is a glorious open-air space with bars, golf, an outdoor cinema and top-notch food stalls. Expect a culinary trip around the world, from Eat Chay's 100% steamed bao buns and banh mi baguettes to Kolkati's Indian kati roll, an egg-fried paratha wrap filled with masala chicken or paneer. From the cocktails menu, try Knickerbocker Royale, a rum and raspberry sensation, or Electric Boogaloo, a tequila-based drink that will turn your tongue blue. Work off the grub at Birdie's, London's only rooftop golf experience, before watching a cult classic under the stars at Rooftop Film Club. 7 & 8 Stratford Multi Storey Car Park, Great Eastern Rd, London E15 1BB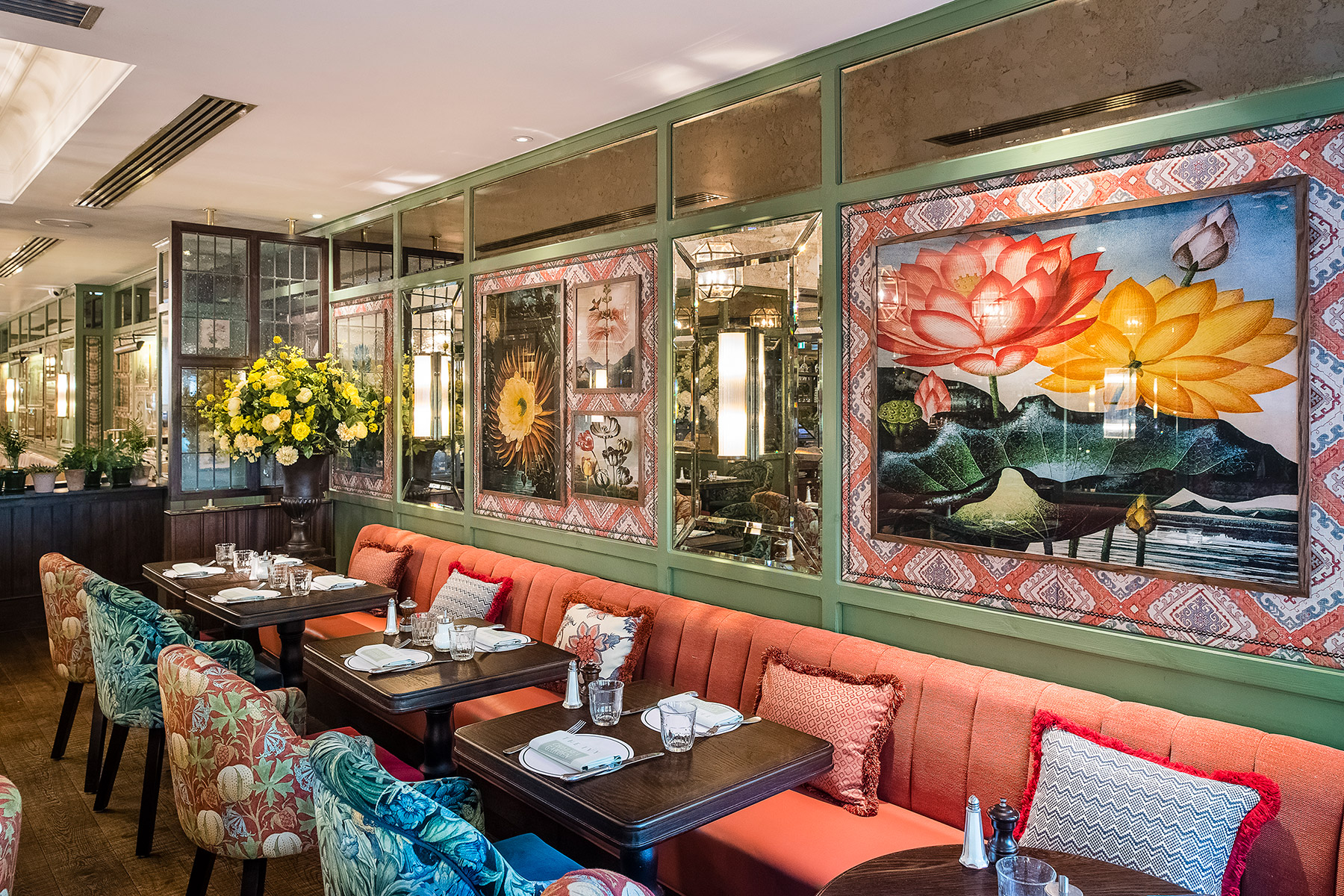 The Ivy's titular garden in Chelsea is ready for the summer. No more firepit and cosy throws, but instead fresh blue and white fabrics and greenery. From the marble tables to the country roses and pretty pergolas, this garden grotto is the ideal summer date night oasis. Dishes tend towards the light and flavoursome, such as the meltingly tender roast salmon fillet with asparagus, baby watercress, topped with a caviar and herb sauce, or the seared yellowfin tuna with a matcha noodle salad and citrus ponzu dressing. Of the warm-weather cocktails we recommend Lady Lavender, a sweet triumph of gin shaken with orange blossom, peach pulp and fresh lavender, and Angel's Share, the Ivy's take on a mojito with kumquats, Havana Especial Rum and kaffir lime leaves. Al fresco English decadence. 195 -197 King's Rd, Chelsea, London SW3 5EQ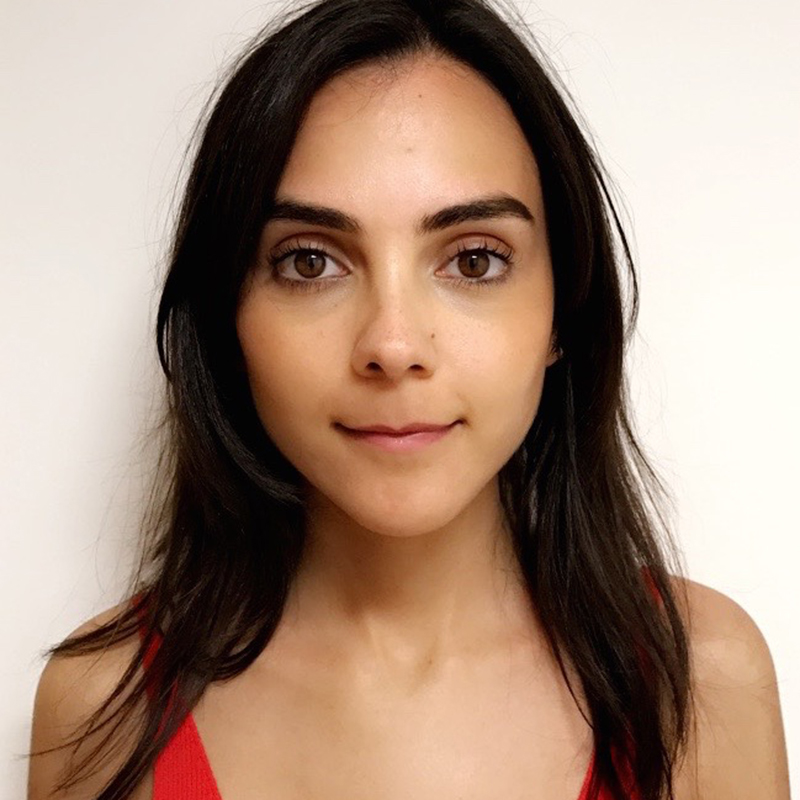 Sophie Jean-Louis Constantine
Freelance Writer
Sophie is a freelance fashion, lifestyle and travel writer. An alumna of the University of Manchester, where she earned a BA in English Literature, Sophie went on to work at Conde Nast Traveller. She is a fervent North Londoner and happiest curled up with a book.