The Greek-Cypriot broke the Internet with her untamed monobrow. Now she's founded the #unibrowmovement to normalise what society pressures us to hide or fix
Words Cecilia Mezzi
Photography Catherine Harbour
Stylist Jennifer Michalski Bray
Beauty Director Lan Nguyen-Grealis
Hair Jason Crozier at Stella Creative Artists using Revlon #ONESTEPhairdryerandvolumiser
In high school, Sophia Hadjipanteli spent a lot of time hanging out on her own in the art department, hiding amongst the oil paint palettes and easels. "It was an escape for me from people being horrible," says the 22-year-old. "I'd sit there for lunch and paint." 
Her words will strike a chord with anyone subjected to teen bullying, but Hadjipanteli's sense of 'being different' has flip-turned into a booming career. The Cypriot-Greek-British model, who grew up between the UK and the US, has a unibrow so impressive it broke the Internet. Jet black and wildly bushy, it's in another league from the power brows seen in the industry to date – and Hadjipanteli is owning her asset to promote unconventional beauty and embrace her heritage.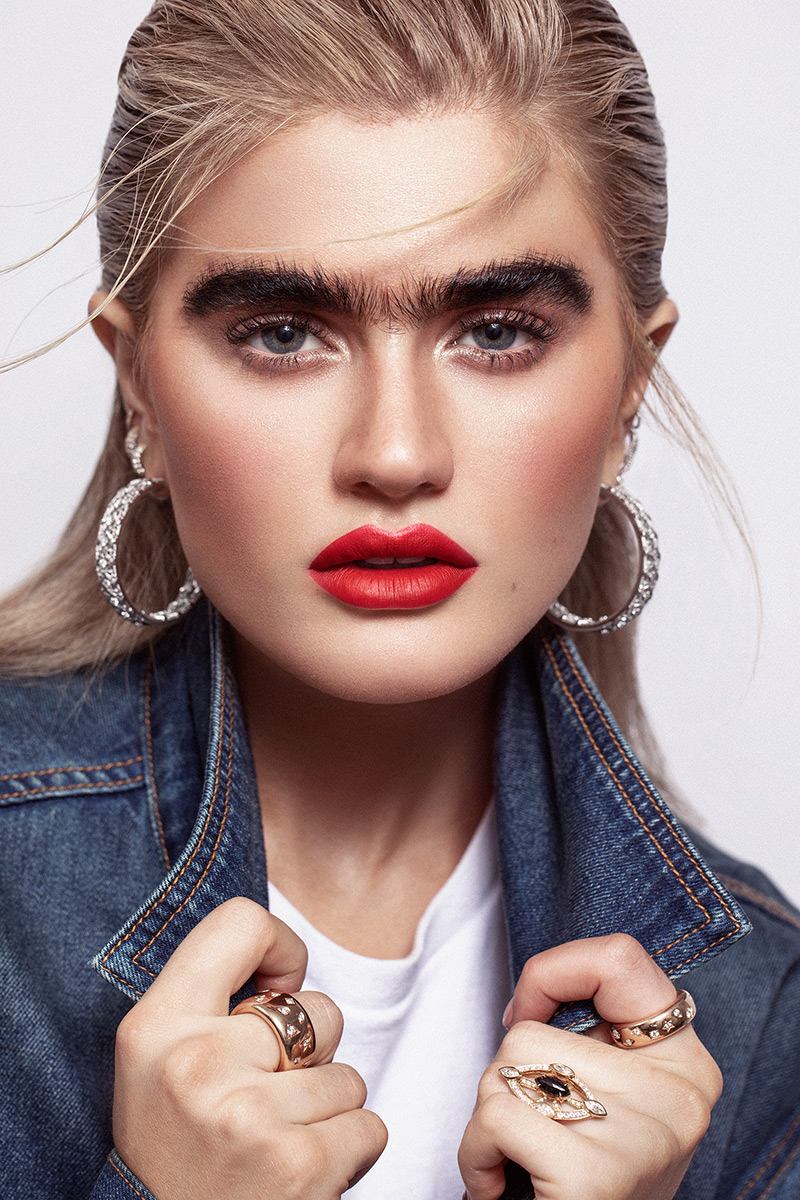 "Everyone in my bloodline has a unibrow, and they've all been blonde," she says. "Being minimised by the Internet as 'just a white girl appropriating something' does upset me."
Hadjipanteli rose to fame through social media, initially using Instagram to showcase her eccentric taste in fashion – "leather studded vests and latex pants" are her wardrobe staples – before receiving international attention when her images gained traction on the 'Explore' feed. Today she has more than 380k followers on Instagram, but with that exposure has come an influx of negativity and even death threats.
"The one thing that I get a lot is, 'You would be so much prettier if you plucked your eyebrows, you could be perfect,'" says the model. "I always respond and say, 'What is it? That hair between your brows is the difference between imperfect and perfect?' We're in a society now where speaking up is important."
"Everyone in my bloodline has a unibrow, and they've all been blonde. Being minimised as 'just a white girl appropriating something' does upset me."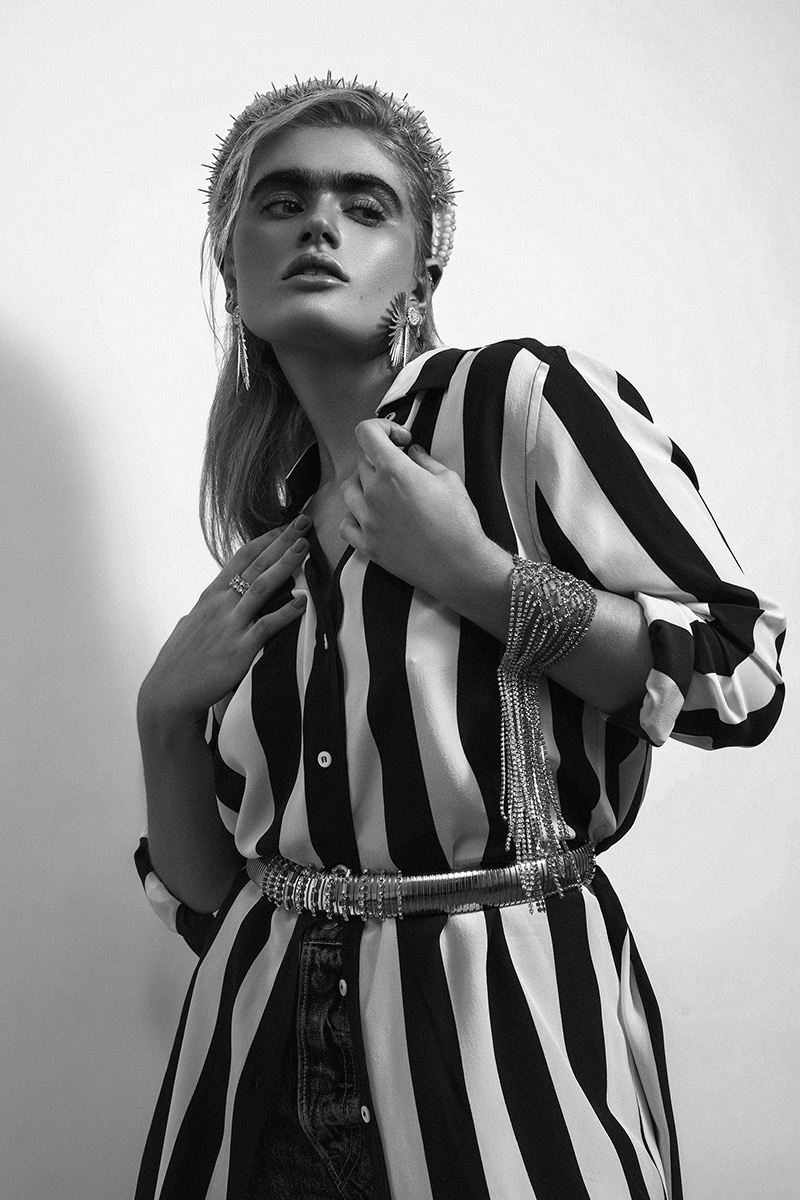 She finds herself accused of double standards, too. "I shave my legs and my armpits because I like the way it feels, but everyone wants me to be in a box. 'Oh, you leave your eyebrows, but you shave your armpits, you're a hypocrite!' I'm not a hypocrite, I'm just doing whatever I want, and that's what I want to encourage other people to do."
When it comes to trolls, Hadjipanteli operates a strict 'ignore' policy. "I don't think I pay enough attention to delete them," she says. "It would mean reading and deciphering [the comments]." 
Today, the model's monobrow has such profile that it has acquired the nickname 'Veronika'. "A guy who interviewed me – a really good friend of mine – purposefully did that," says Hadjipanteli. "It's funny how people really do take my eyebrows so seriously. Like, why don't you give it a name and a whole career?"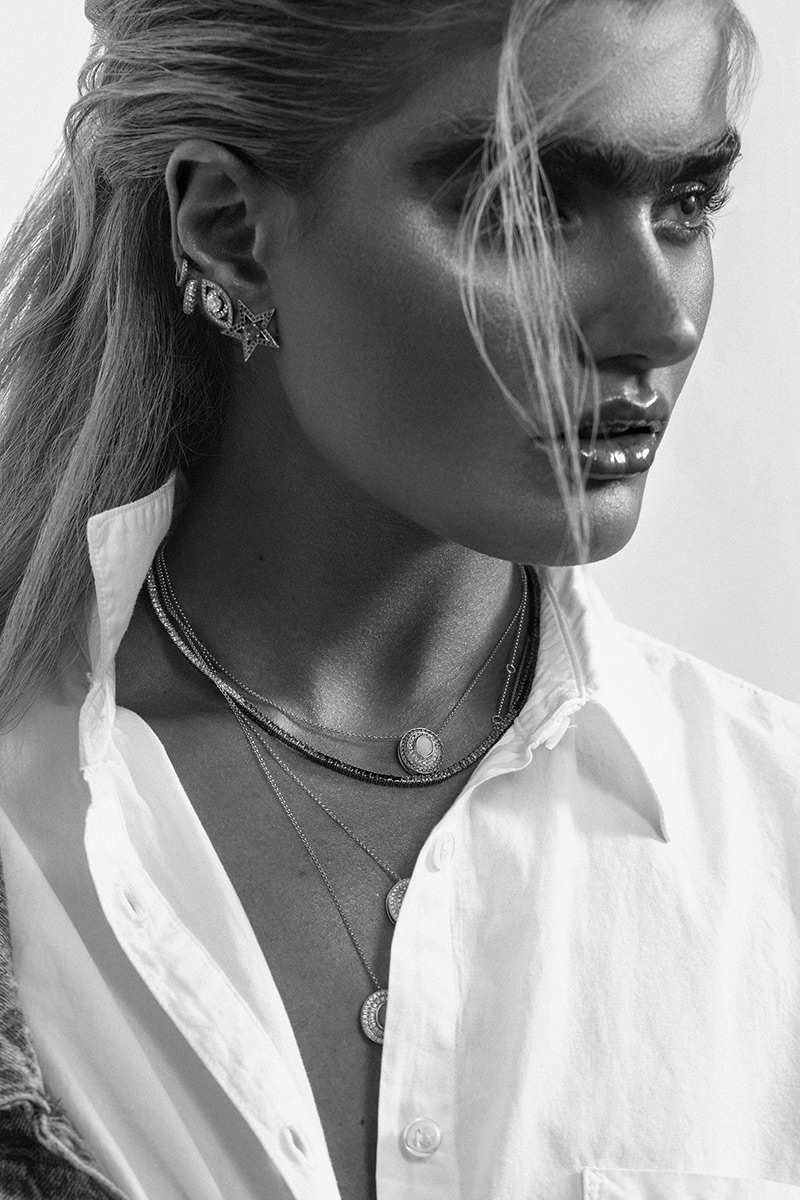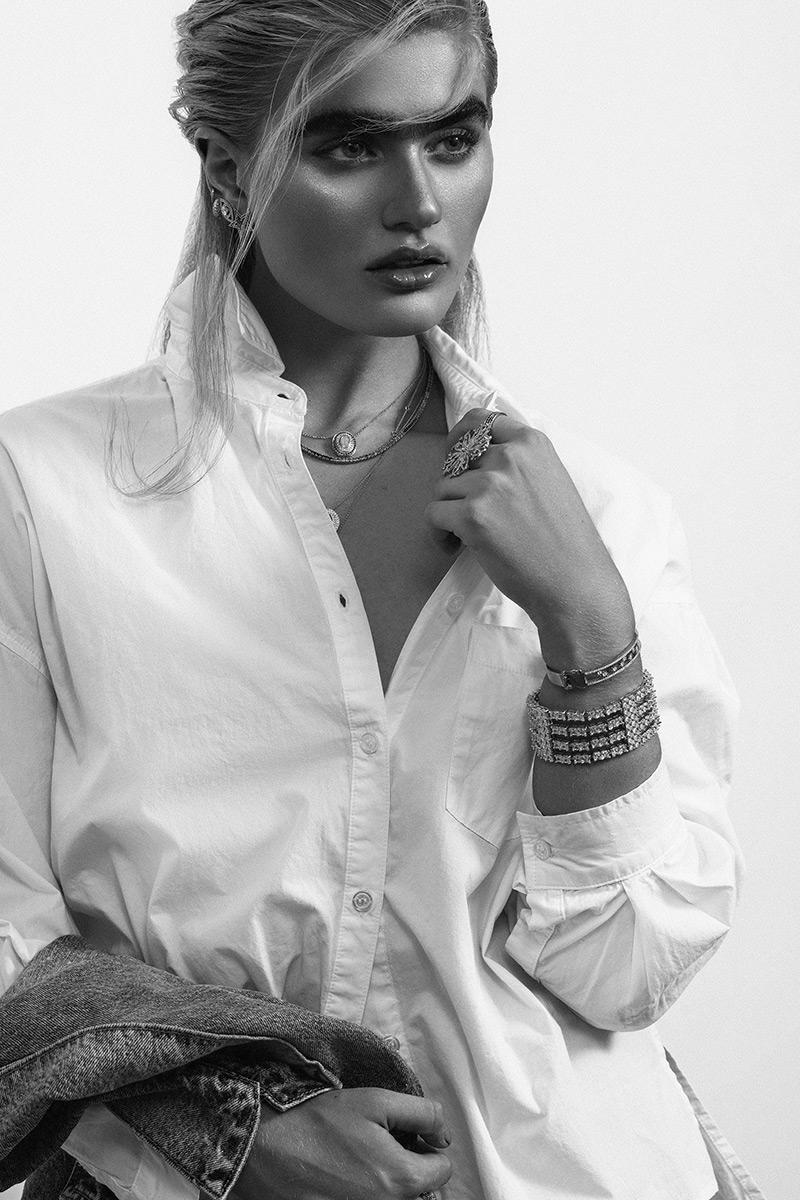 In response to the reception of her image, Hadjipanteli launched the #unibrowmovement to "normalise what society pressures us to hide or fix". She sees the movement as "a safe space for people who want to share something but are scared", not limited to brows but relating to "anything in terms of freckles, hair colour, body size, body shape or colour". The hashtag allows her to witness "a lot of positive feedback and support from people toward each other. That's all I ever wanted growing up, so that means a lot to me."
A first-generation American, Hadjipanteli considers herself a Greek-Cypriot, and strong connections with her roots have helped keep the grounded. She feels most at home in her Yia-yia [Grandma]'s house, leafing through old photos, "boiling her ass off" in the Cypriot heat, and enjoying the feeling of "not having to impress anybody".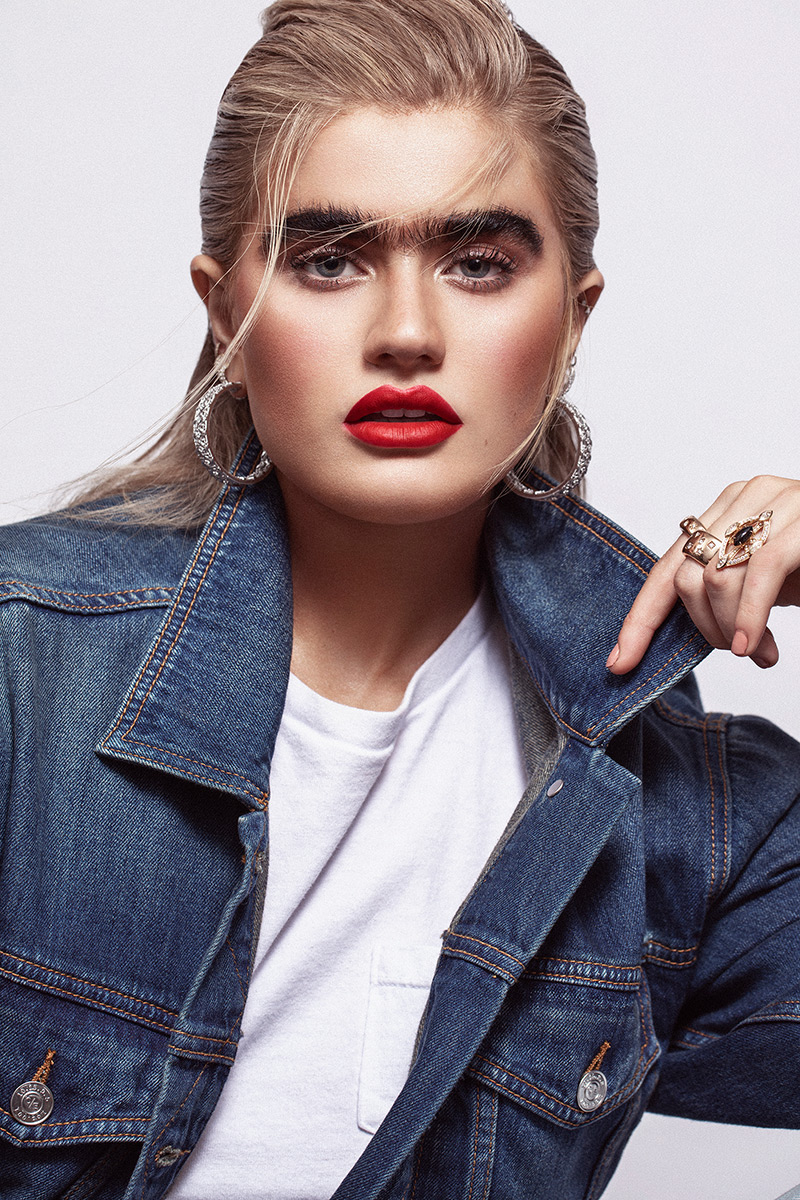 "Being so close to my family has helped me ignore society and focus on the people who care about me," she says. "My parents taught me and my brother to value what's in our minds, learning, and being a good person. I think that mentality has given me a thick skin."
"I was raised by parents who only spoke Greek," she continues. "My dad [a refugee from Cyprus] learned English with my brother and I. He came to the US with nothing, to start a family. I could never completely understand the struggles that many immigrants are currently going through in the US, but I always say I'm Greek-Cypriot above all because my family lost everything. I hope that I'm making them proud by giving Cyprus a bit more voice with my platform."
I always say I'm Greek-Cypriot above all because my family lost everything. I hope that I'm making them proud by giving Cyprus a bit more voice with my platform."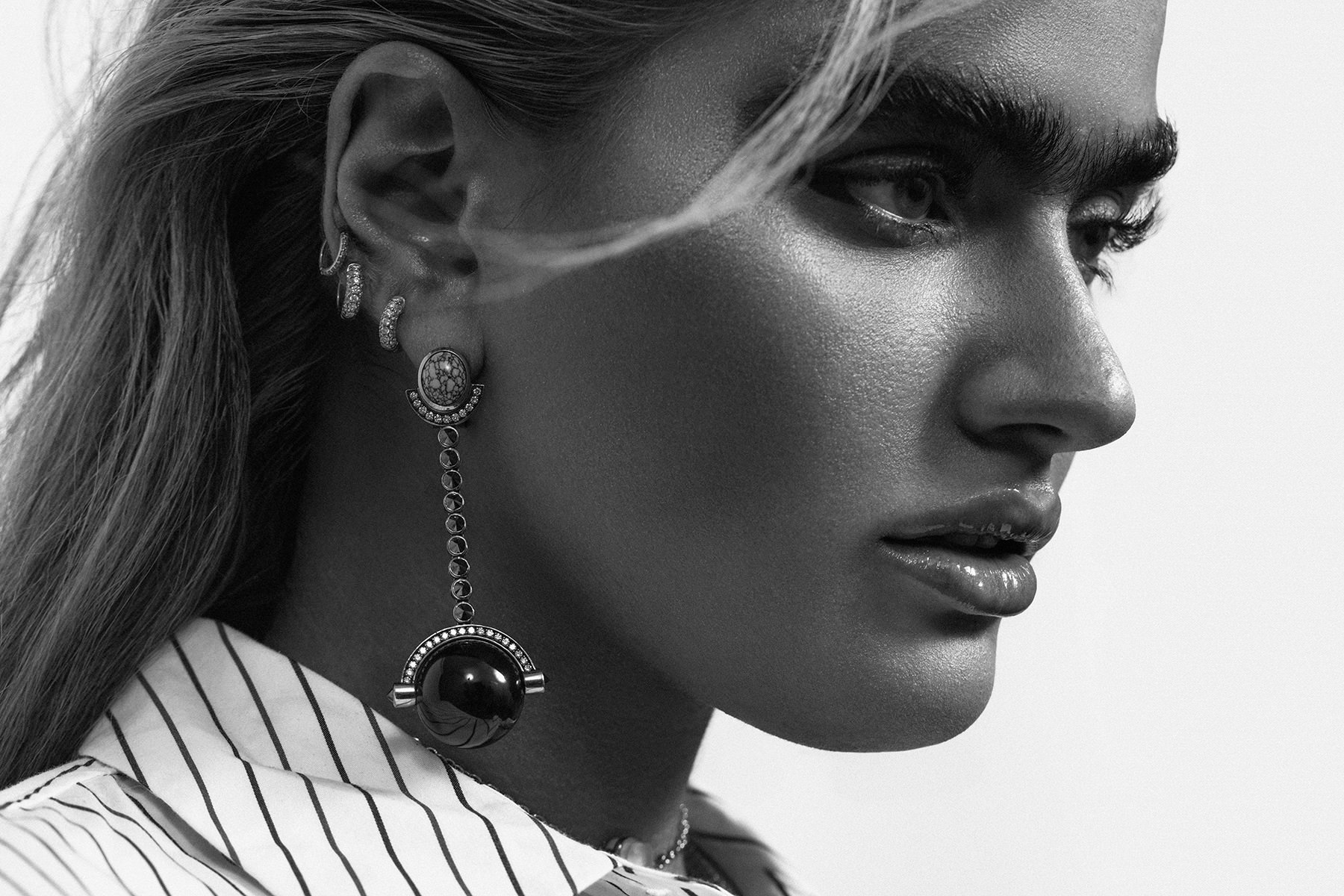 Honesty is important to Hadjipanteli. In a recent Instagram post, she shared her regrets over getting lip fillers, which she has since had dissolved. It was a confession she found "embarrassing" but necessary. "I didn't need them, but I wanted to try them," she says. "I didn't like the way that it made my face look, but it was very important to be transparent about it on the Internet."
Asked what advice she would give to someone struggling to accept their appearance, Hadjipanteli changes tempo. "Oh, gosh, I'd say so much! At the end of the day, you have to lie in bed with yourself, and you don't want to be your biggest critic. You have to be your biggest supporter and protector. When I was at school getting bullied I had no one on my side, it was just me against the world. That's where my strength comes from."