The Camden-native and brains behind silk pyjama range Violetta Fancies You can't live without her gold hoops, Paw Paw ointment and beloved passport holder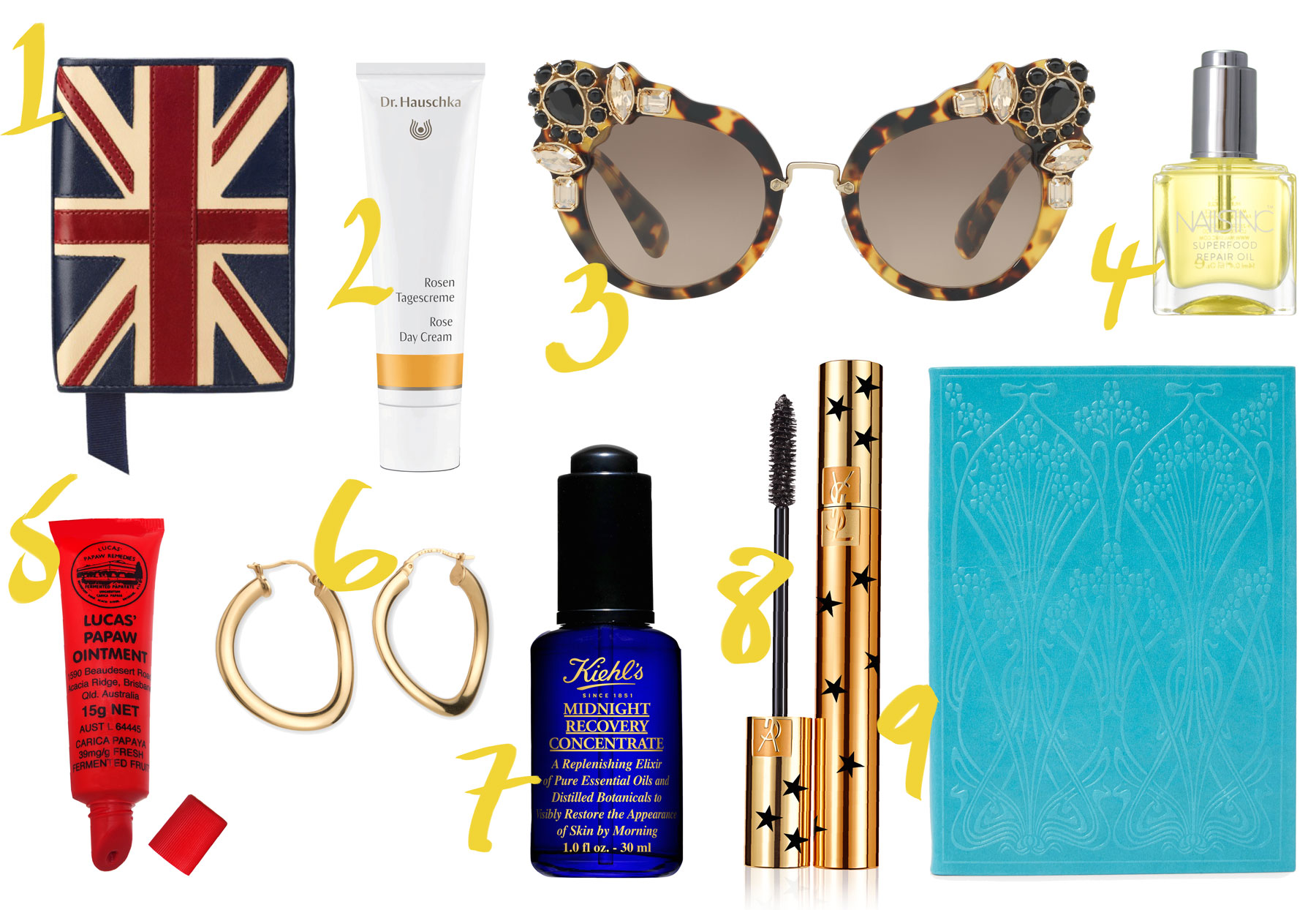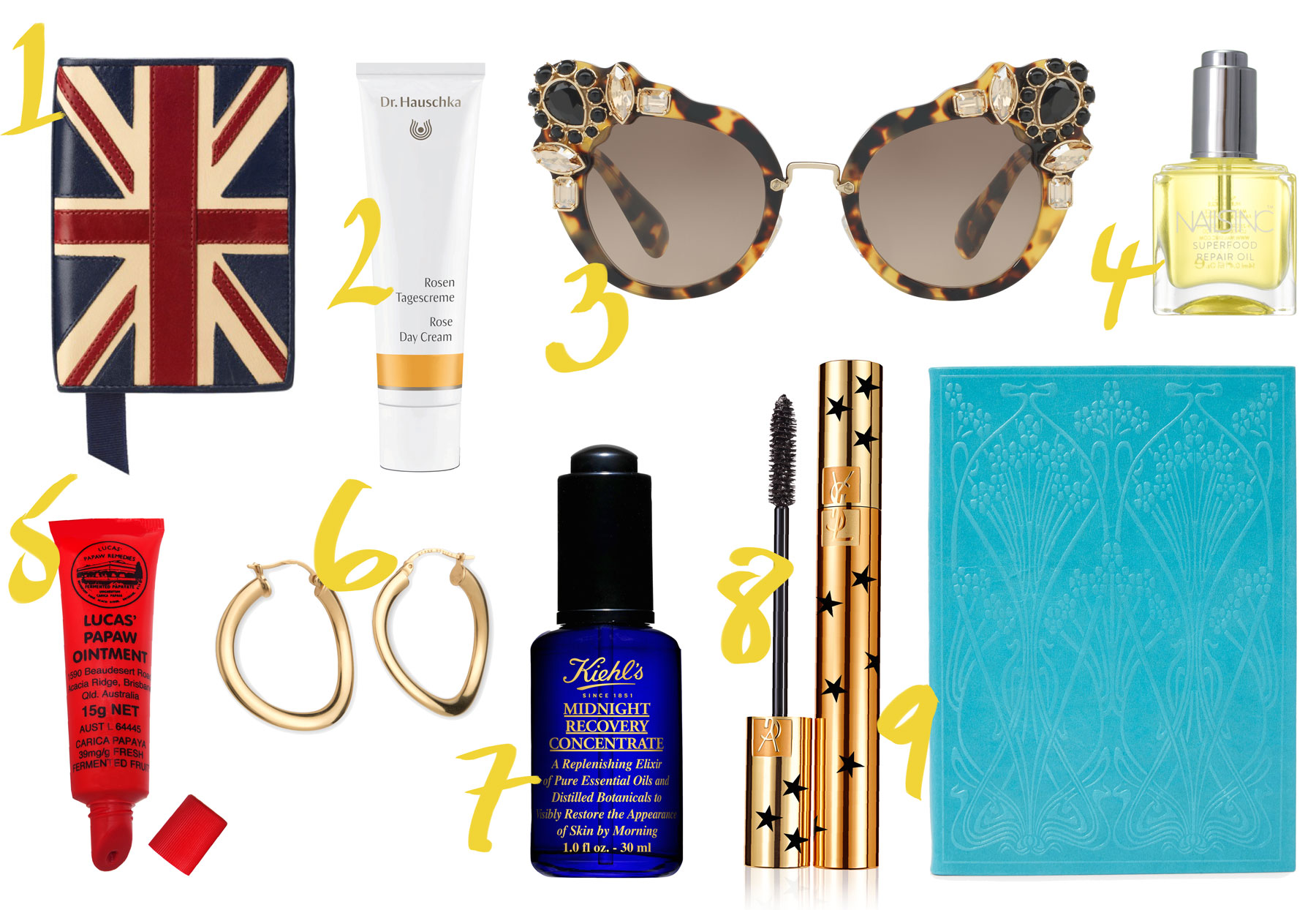 1. Union Jack Passport Holder, ASPINAL OF LONDON
2. Rose Day Cream, DR. HAUSCHKA, £30.50
3. FW 16 Runway Glasses, MIU MIU, €400
4. Superfood Repair Oil, NAILS INC, £15
5. Lucas PaPaw Ointment, PAW PAW ESSENTIALS, £4.15
6. Rose Gold Wavy Hoops, TUZA JEWELRY, $138
7. Midnight Recovery Facial Oil, KIEHL'S, £49
8. Star Collector Mascara, YSL, £25.50
9. Embossed Leather Notebook, LIBERTY LONDON, £60
This summer I'm heading to a lot of places for a few days at a time, stopping first at Soho Farmhouse, then Italy and Ibiza. It's important to keep your skin hydrated while travelling, particularly in my line of work, as I'll often go straight to a shoot from the airport. I don't wear much make-up, so good creams and oils are my go-to. I apply Dr. Hauschka Rose Day Cream and Kiehl's Night Oil while flying so that my skin stays plump and hydrated.
For a fresh complexion it's also mega important to try to drink two litres of water every day. If I want to create that dewy sheen, I'll dab a touch of Lucas' Pawpaw Ointment on my cheeks and lips, or even my eyelids. It's easy to forget to keep your nails well moisturised too – I keep mine nourished with NailsInc's Superfood Repair Oil.
I'll be needing some shades in the sunshine and I love this design by Miu Miu – the easiest way to jazz up a flight-friendly tracksuit! Gold hoops in any size are my staple jewellery wherever I go. I even wear them in the sea, which is naughty. Mexican brand Tuza has an amazing selection of sizes and shapes and is definitely my favourite jewellery designer at the moment.
Liberty's embossed leather notebook will be coming with me on my travels, and I keep my passport in a super-cool Aspinal union jack case, given to me by my dear friend Amy Winehouse. Sadly the design has been discontinued, but it reminds me of Amy every time I use it, and I keep pictures of my friends in the back pages if I'm going away for long periods.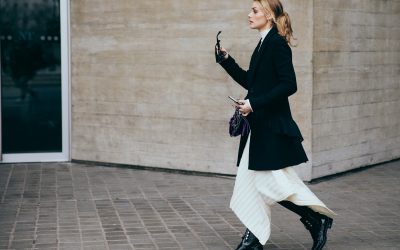 From bloggers to Editors-in-Chief, we round up the best of the street style contingent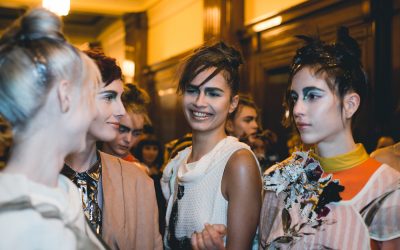 The eco-friendly brand presented a painterly, nature-inspired collection for their second catwalk appearance