What better place to celebrate togetherness than a city whose magical duality goes to the deepest tectonic level?
Words Mary-Jane Wiltsher
Photography Getty Images for IHKIB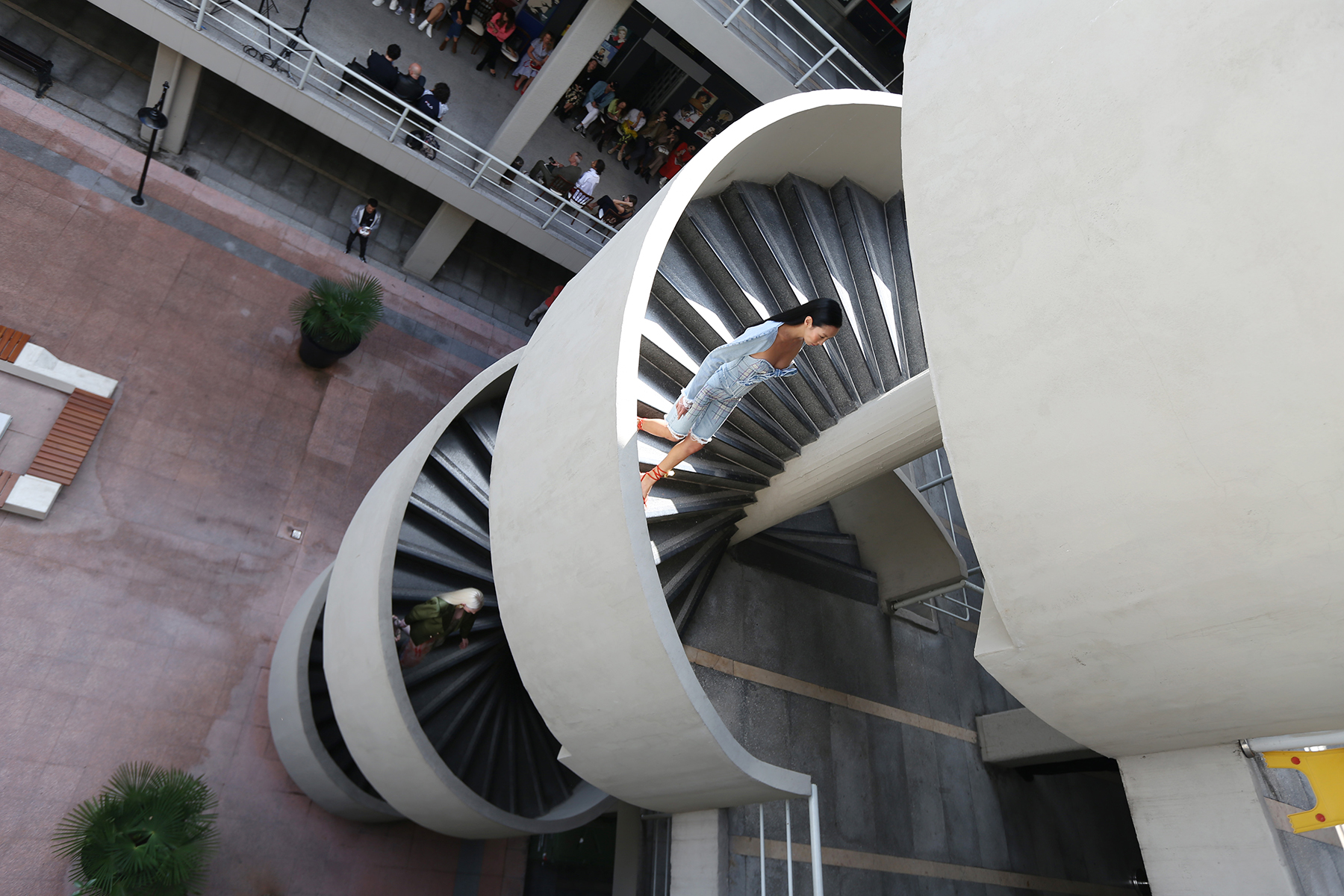 Banner image and above: Sudi Etuz SS20
Istanbul, city of two continents and three empires, buzzes with collective identity. On land, Europe meets with Asia. On water, the Sea of Marmara confluences with the Black Sea.
At this magical junction of East and West, history spills from all sides. Once the capital of centuries-old Greek, Roman and Islamic empires, Turkey's artistic centre is home to a rich fusion of cultures and ethnicities.
In the current political climate, what better place to celebrate togetherness than a city whose brilliant duality goes to the deepest tectonic level? That was the thinking behind the Spring-Summer 2020 edition of Mercedes-Benz Fashion Week Istanbul, which last month celebrated its 10th anniversary.
Now in its 14th season, MBFW Istanbul showcased 27 Turkish designers – among them Özlem Süer, Sudi Etuz, Mehmet Kormaz, Mehtap and DB Berdan – to create a single fashion platform with the theme 'Together'.
Playing out against an array of modern and historic sites – from famed music centres to slick malls and landscaped gardens – this season seemed to signal a shift in what it means to be a fashion designer in Turkey. At one time, mainstream success might have required relocating to a fashion capital, but today many new-gen designers stay on home ground, drawing inspiration from their roots and enriching the country's fashion scene in the process.
Sudi Etuz
In one of the most hotly anticipated shows of the season, Istanbul-born designer Sudi Etuz chose the brutalist setting of Istanbul Manifaturacılar Bazaar as the backdrop for her SS20 collection.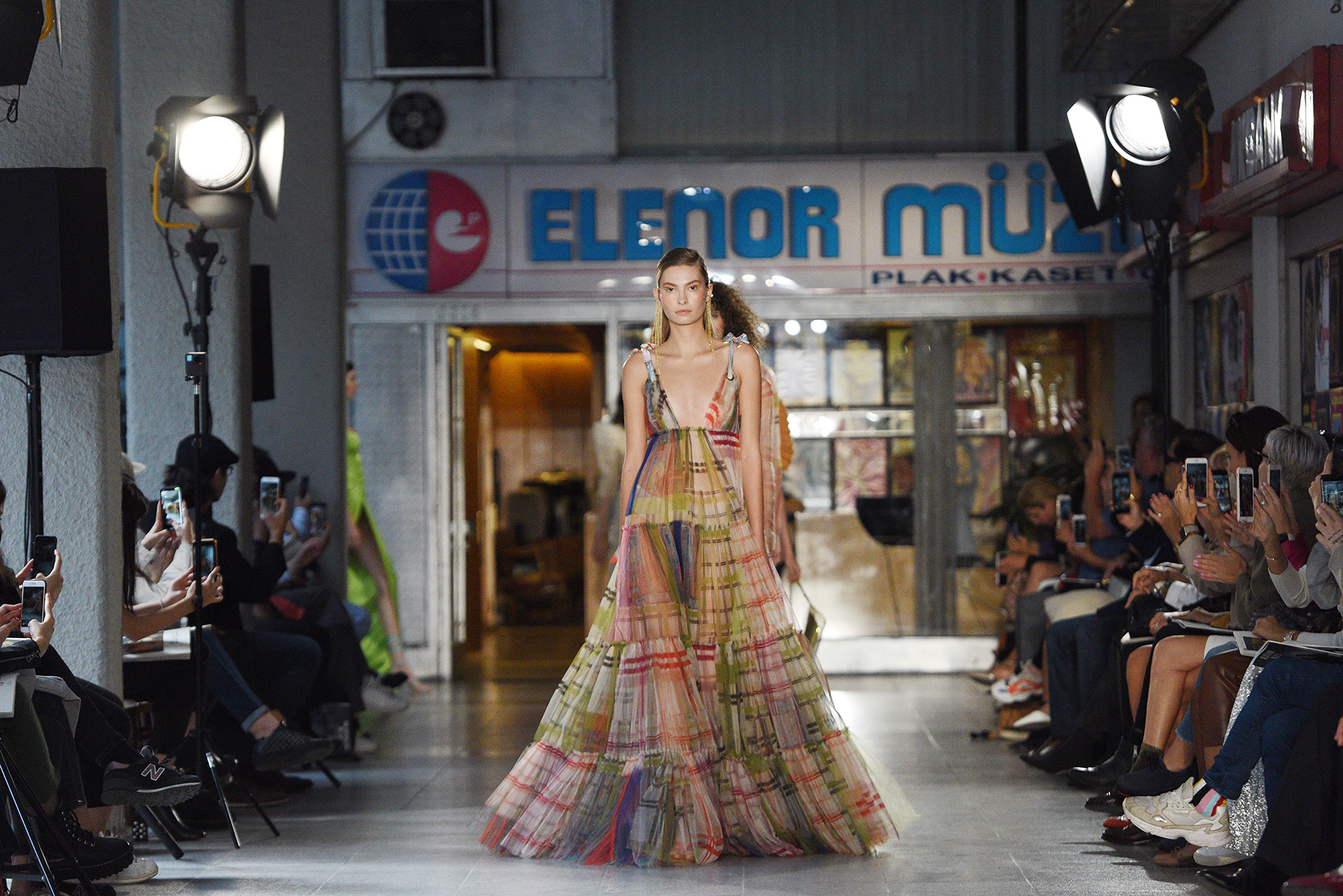 Also known as Unkapanı Bazaar of Records, the historic site was once a place where Turkish singers came hoping to forge international careers. Today, it's something of a museum, showcasing works by contemporary Turkish artists. Retro vinyl covers adorn the walls.
The Sudi Etuz woman is playfully feminine – a modern, millennial romantic. For SS20, the designer waved the flag for sustainability, integrating surplus materials into her designs, in particular leftover denim, which was a staple of the collection. Elsewhere, tulle, poplin and silk were predominant fabrics.
Models descended the spiral concrete stairway in bright, candy-toned colourways. Ruffles were everywhere – on pronounced sleeves, power shoulders, maxi dresses, and sculptural corseted tops. Silk scarves were also prevalent, woven through metallic eyelets and double-wrapped around waistlines, while scarf prints featured on flowing silk maxi dresses.
Denim brought a hardier, street style edge to proceedings, showcased in shades of mid-blue (high-waisted, cropped and raw-edge in style) and hot orange (cropped jackets elevated with cartoonish ruffle sleeves). If Molly Goddard and House of Holland had a love child, it might look something like this. A vibrant and dynamic show with just the right amount of kitsch.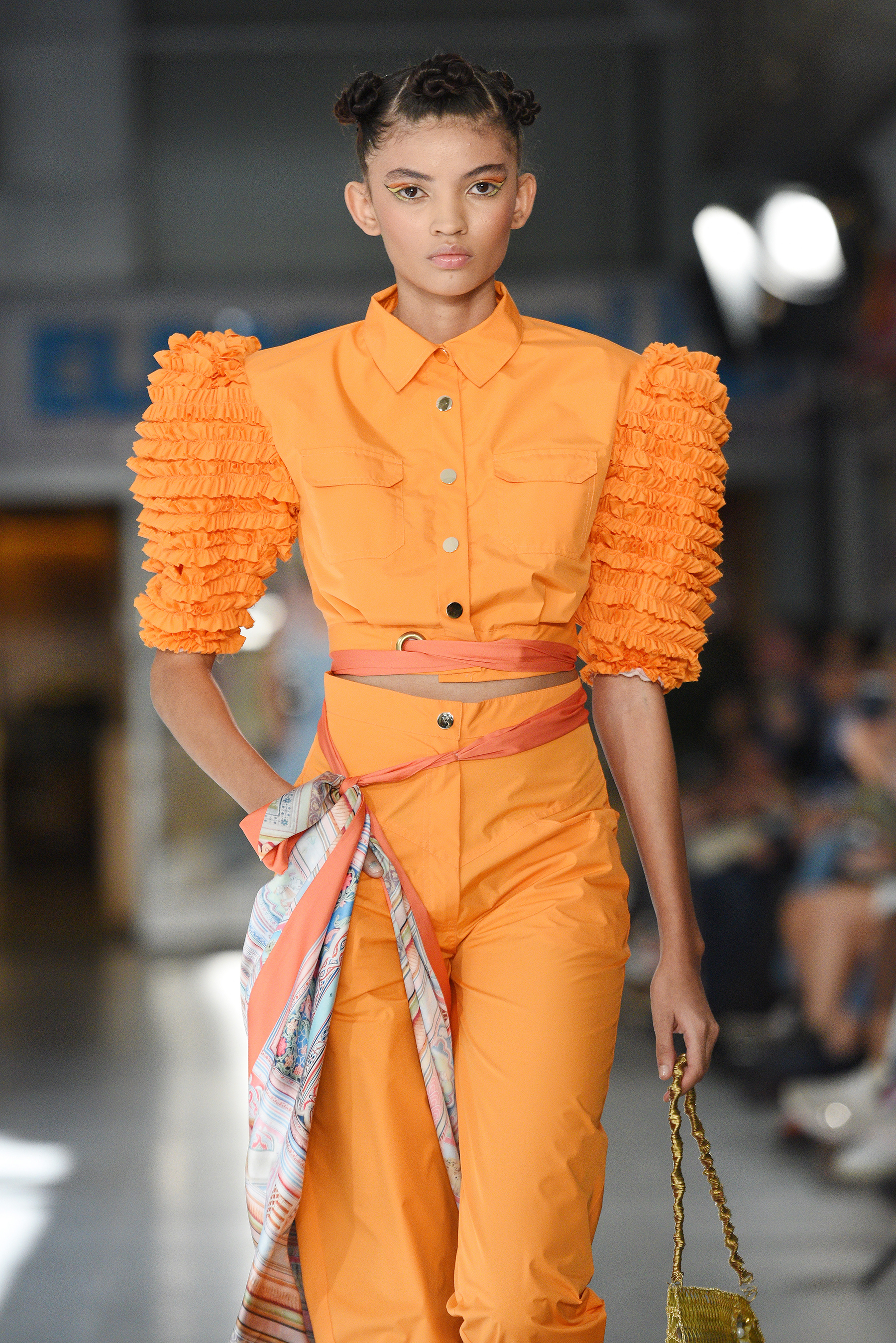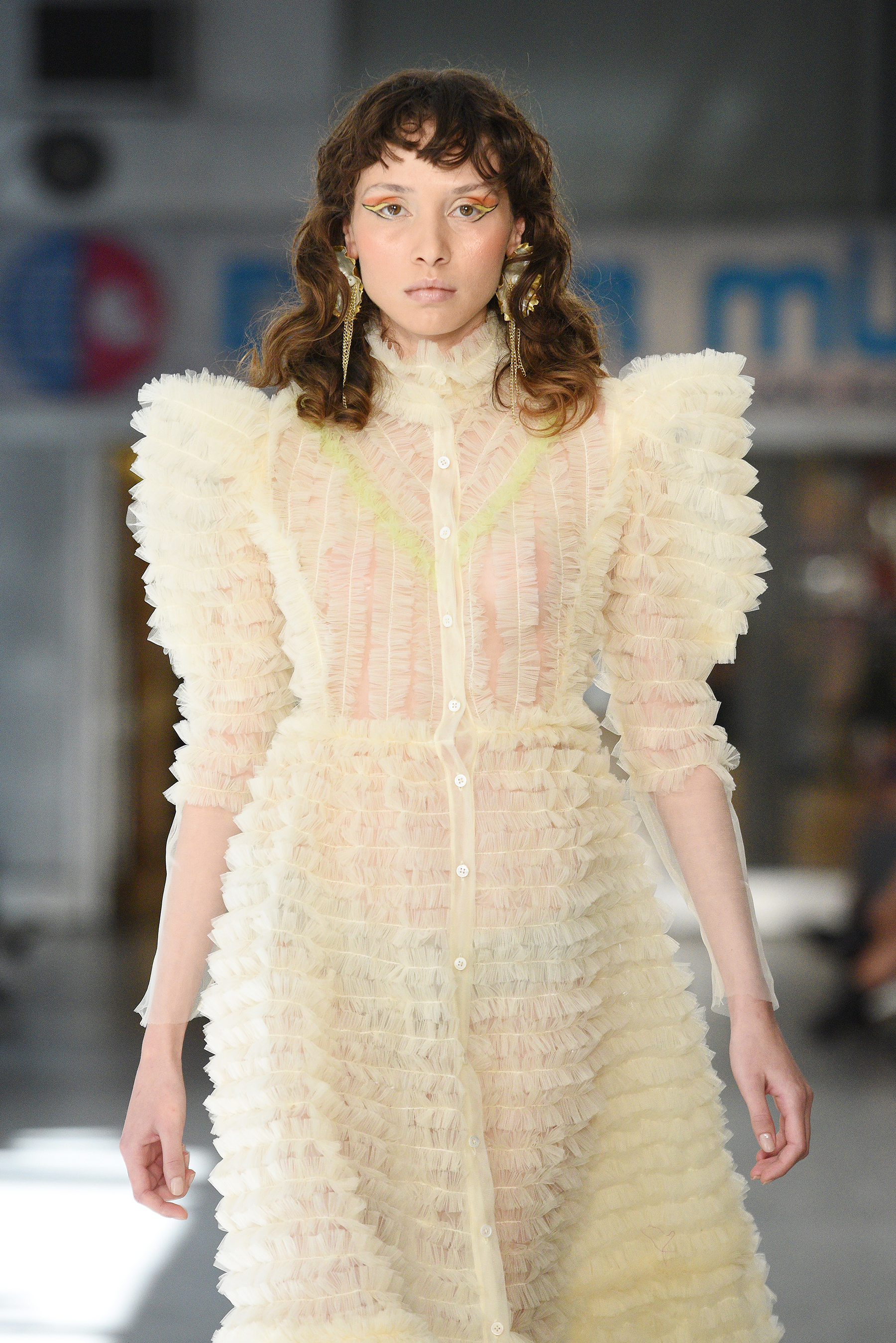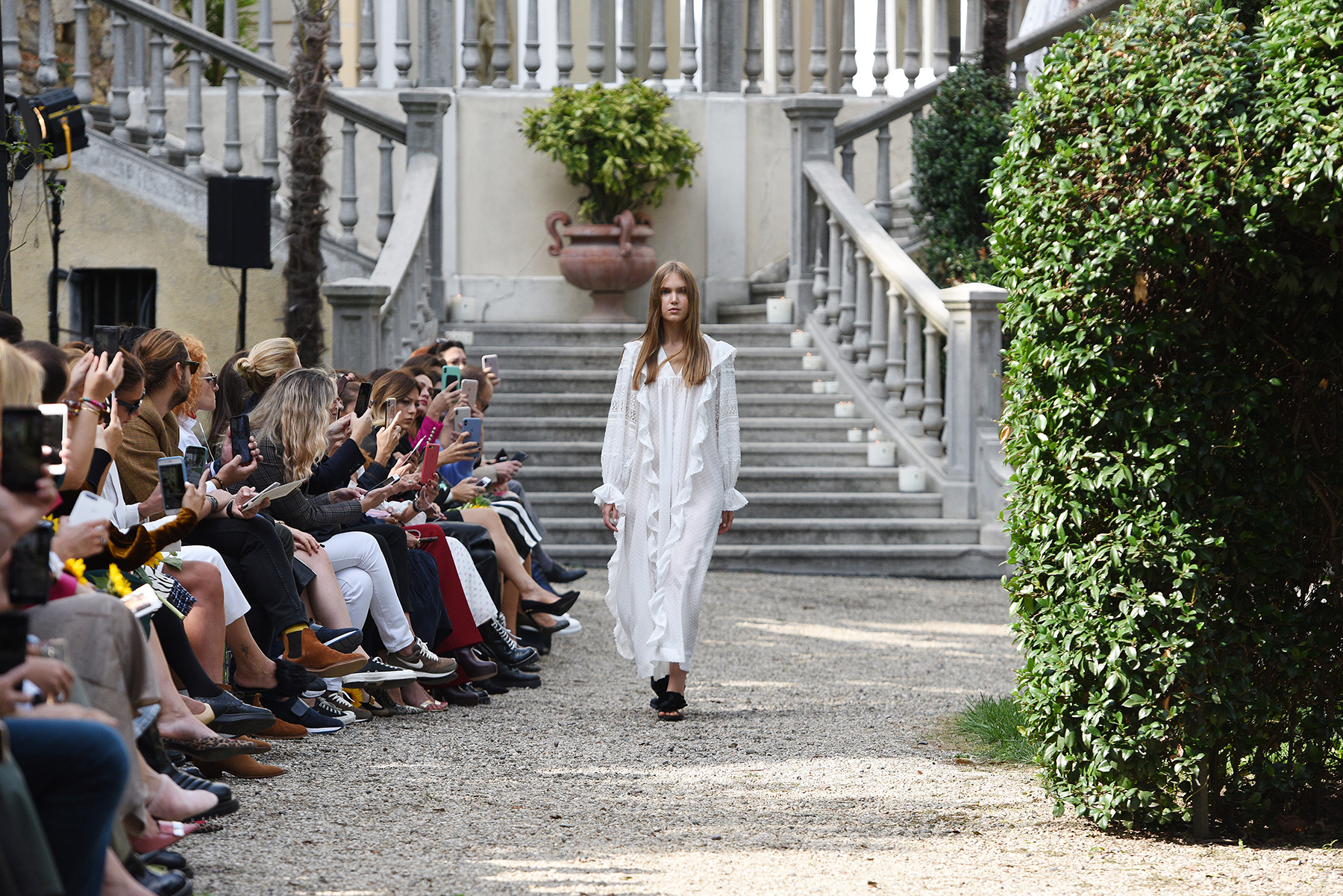 Lug Von Siga
Well-established on the runways of Istanbul, Lug Von Siga (the acronym of designer Gul Agis) showcased her SS20 collection under a blazing afternoon sun in the lush landscaped grounds of the Palazzo di Venezia in Beyoğlu.
Agis studied at the Marangoni Italy Fashion Design and later the Politecnico Di Design in Milan, before returning to her hometown of Istanbul. The designer is known for combining the cultural motifs of other countries with her own fashion heritage; previous collections have taken inspiration from the paintings of Frida Kahlo and the writings of Agatha Christie.
This season was no different, with the designer looking to her years in Italy as inspiration and drawing on Shakespeare's The Merchant of Venice. Flanked by hanging greenery, models walked the gravel pathways in a colour palette of milk white and black, interspersed with splashes of blush pink and powder blue, as well as some dusky floral prints.
Silhouettes were loose and roomy – made for tumbling around on summer lawns – with longline dresses in abundance. Cloud-like ruffles adorned sleeves and skirts, with the occasional smattering of polka dots.
Fibres and textures were soft, natural and gossamer-light – think lace broderie, cottons and embroidered taffeta, the latter being one of Agis' specialities. Elegant and charming, with Chloé and Simone Rocha vibes a-plenty.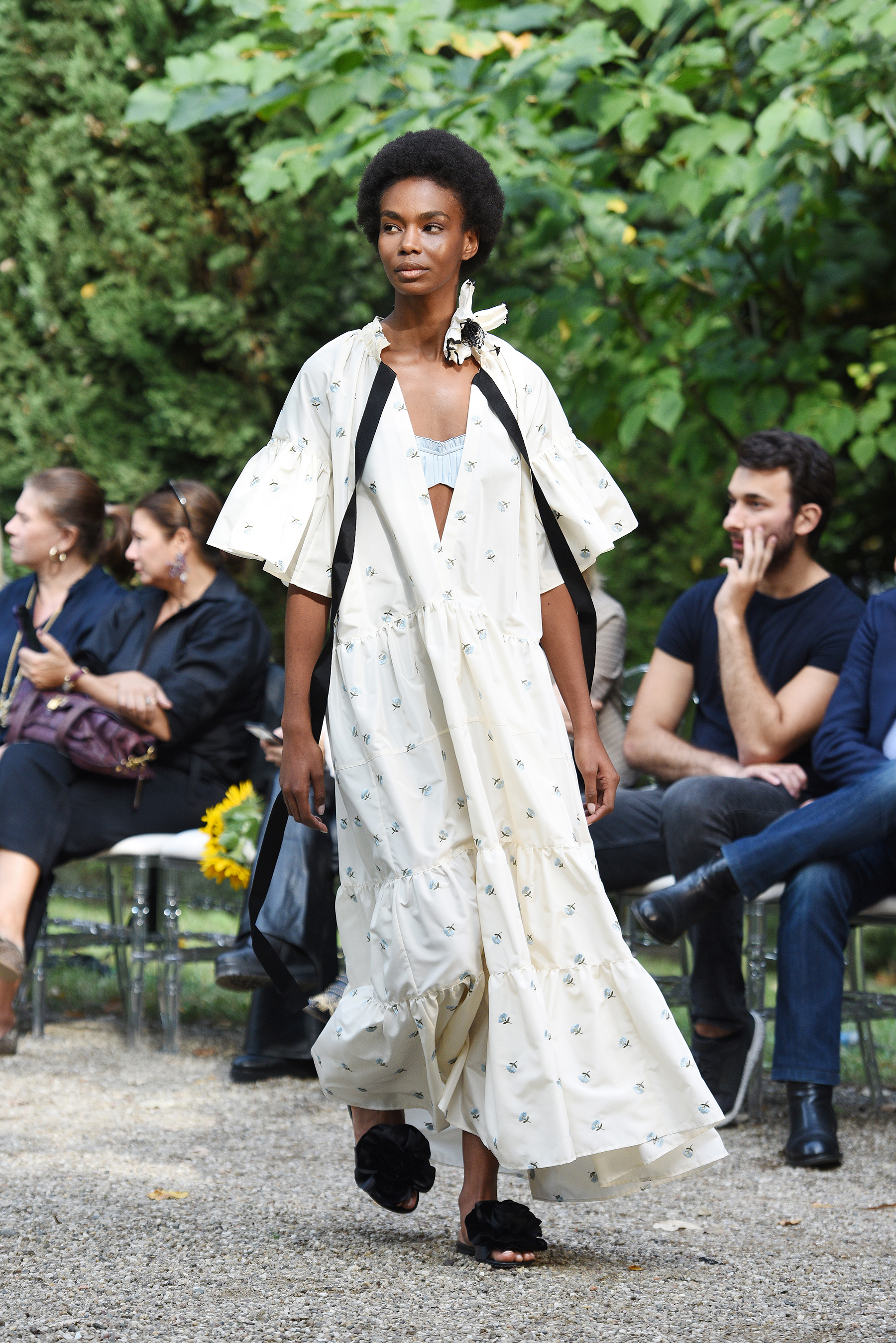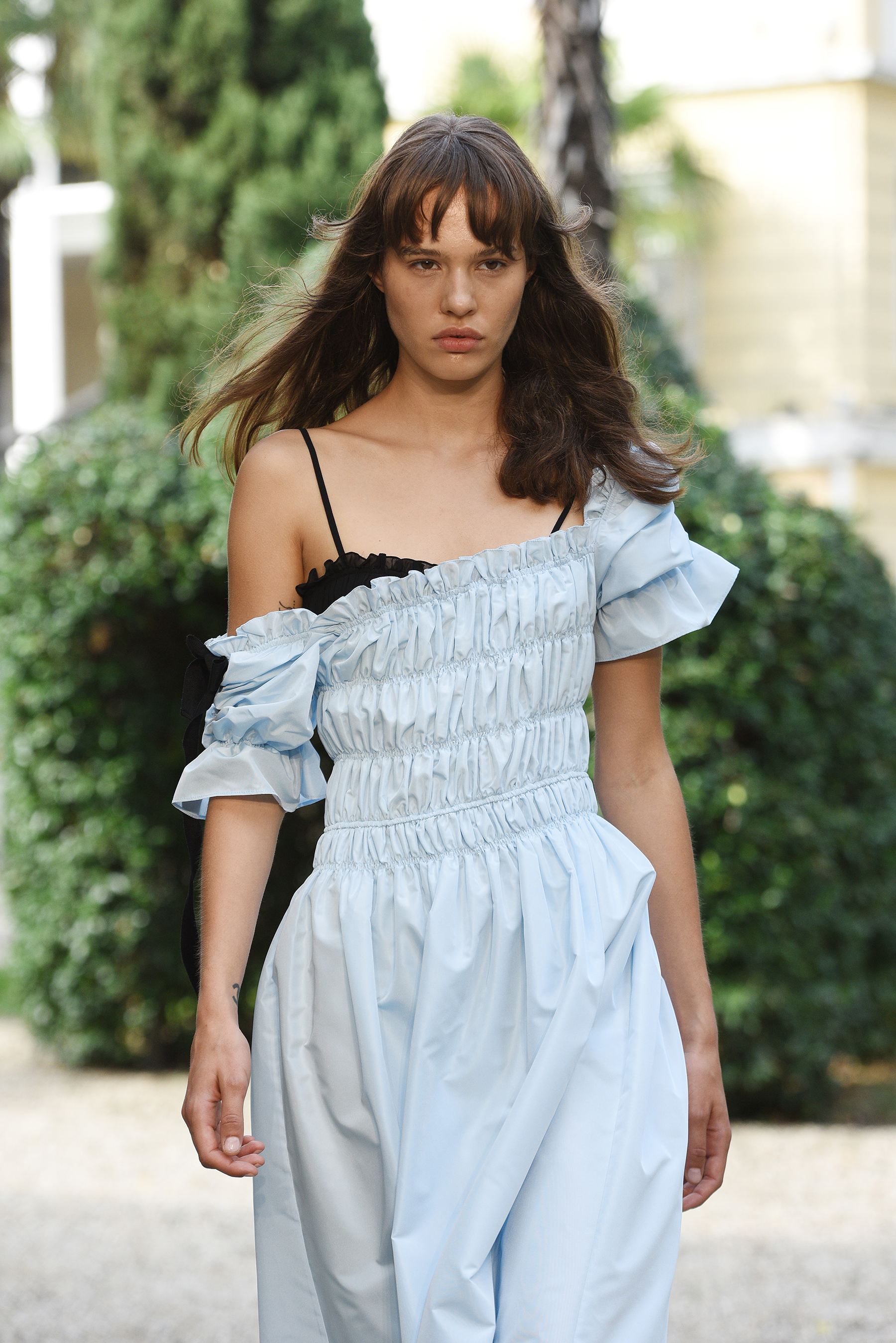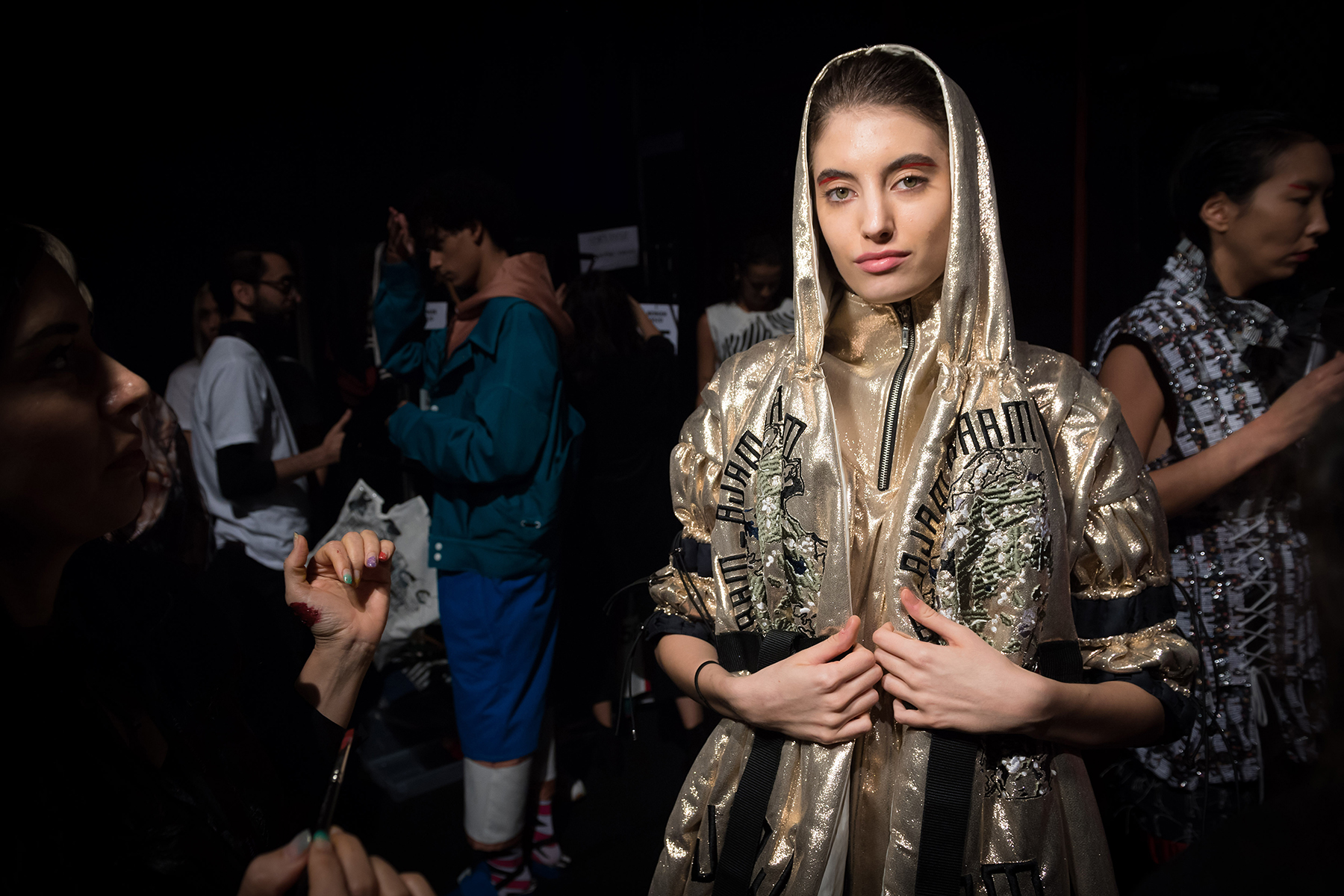 Avishan Daneshfar for NEW GEN by İMA
Avishan Daneshfar for NEW GEN by İMA
MBFW Istanbul's young designers' showcase brings the fresh young talents graduated from İstanbul Moda Akademisi before the eyes of press, buyers and the wider industry. Each season, student collections are evaluated by a jury of industry professionals elect students, and a final selection for the showcase is made.
Of this season's 13-strong line-up, Avishan Daneshfar stood out with her thoroughly modern capsule collection of reimagined modest wear, inspired by the theme 'dream a dream'.
Headscarves and long tunic tops were given a street style twist, rendered in hardy, utilitarian fabrics with elaborate use of ruching – which, along with dangling string cords and strap details, gave a nod to parachute styling.
The colour palette of deep ink blue, white and red was boldly striking, softened by pale, pulled-through threads on headscarves and trousers, giving a feel of work-in-progress and visible construction. The final looks, teamed with chunky boots, felt youthful and dynamic – and ready to stomp the pavements in protest if necessary.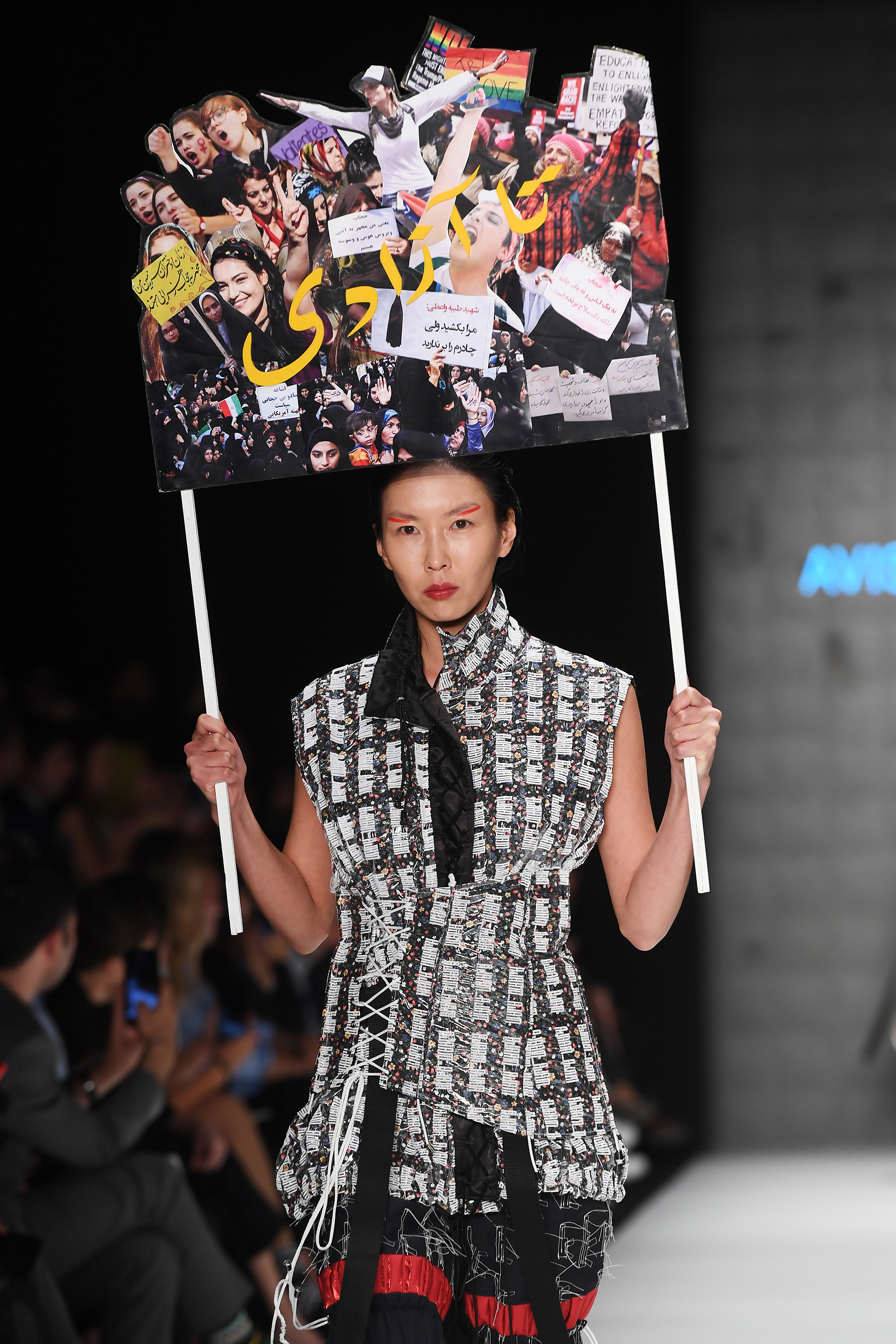 Avishan Daneshfar for NEW GEN by İMA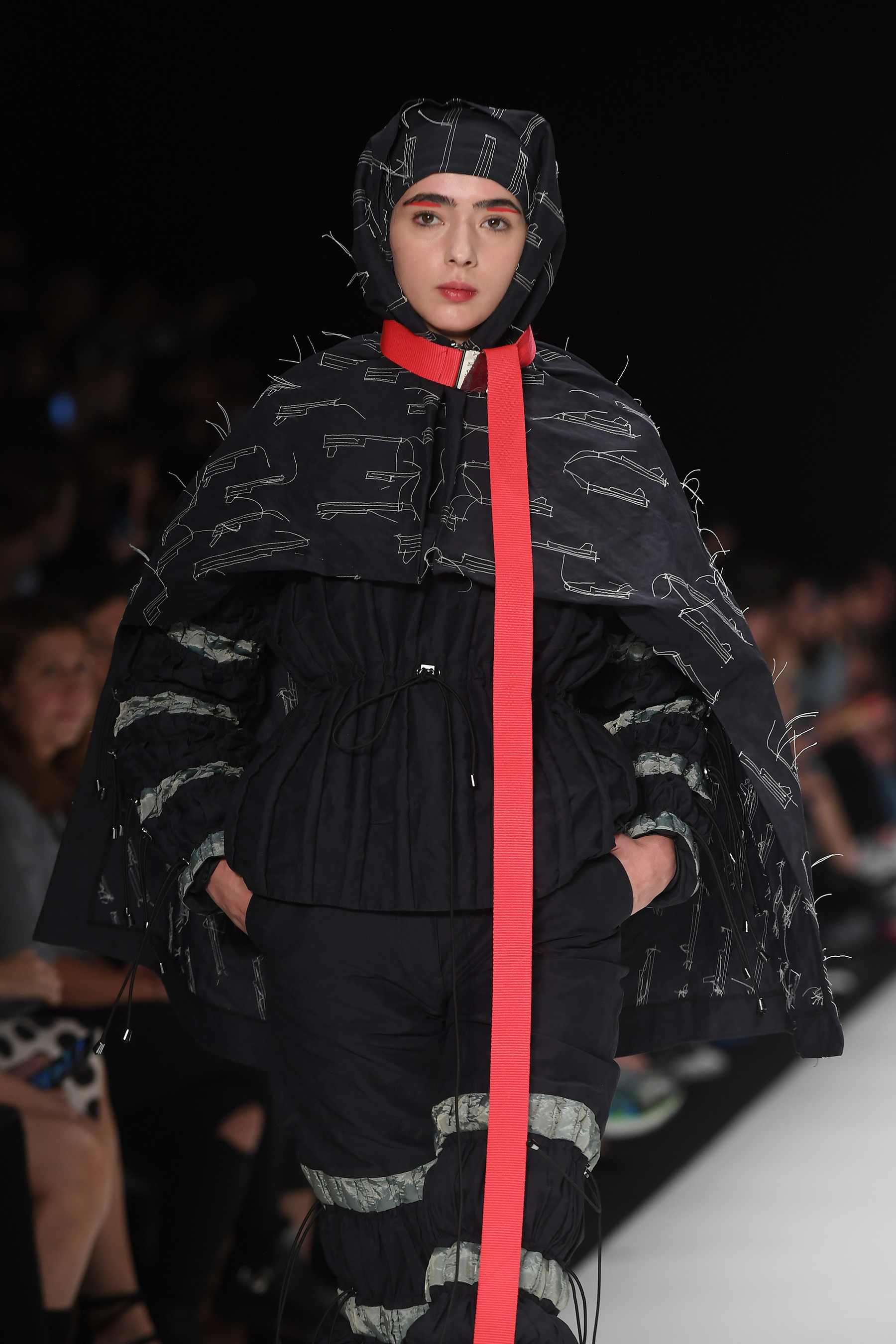 Avishan Daneshfar for NEW GEN by İMA
Words Mary-Jane Wiltsher
Photography Getty Images for IHKIB