The singer-songwriter talks growing up in the valleys, transitioning from fashion to music – and why Shirley Bassey is misunderstood
Words Hannah Kane
Photographer Mike Blackett
Fashion Editor Charlotte Holt
Makeup Artist Charlotte Dickens
Hair Stylist Aaron Carlo
"I'm originally from a goose farm on the side of the hill; everywhere looks like Lord of The Rings territory with mountains, forests and rivers," says Elizabeth Humfrey, aka BETSY in her throaty Welsh accent. The rolling idyllic landscape at first seems incongruous with the 27-year-old singer's impossibly glamorous persona – all platinum hair, flawless skin, supermodel legs, and camera-loving bone structure. But all is not what it seems in the British countryside. "There were quite a lot of raves in the Valleys because there's nothing else to do but shag each other and party!" she says, roaring with laughter. Music was always part of her life. "In Wales singing is a big part of growing up, there's always a choir or church, or they do these Eisteddfods [competitive festivals of music and poetry] where you sing solos. There's a lot of music going on."
"Fashion has changed; at the moment it's cool to look like shit! When I first went to CSM it was all about the crazy glittery shoes, it was amazing."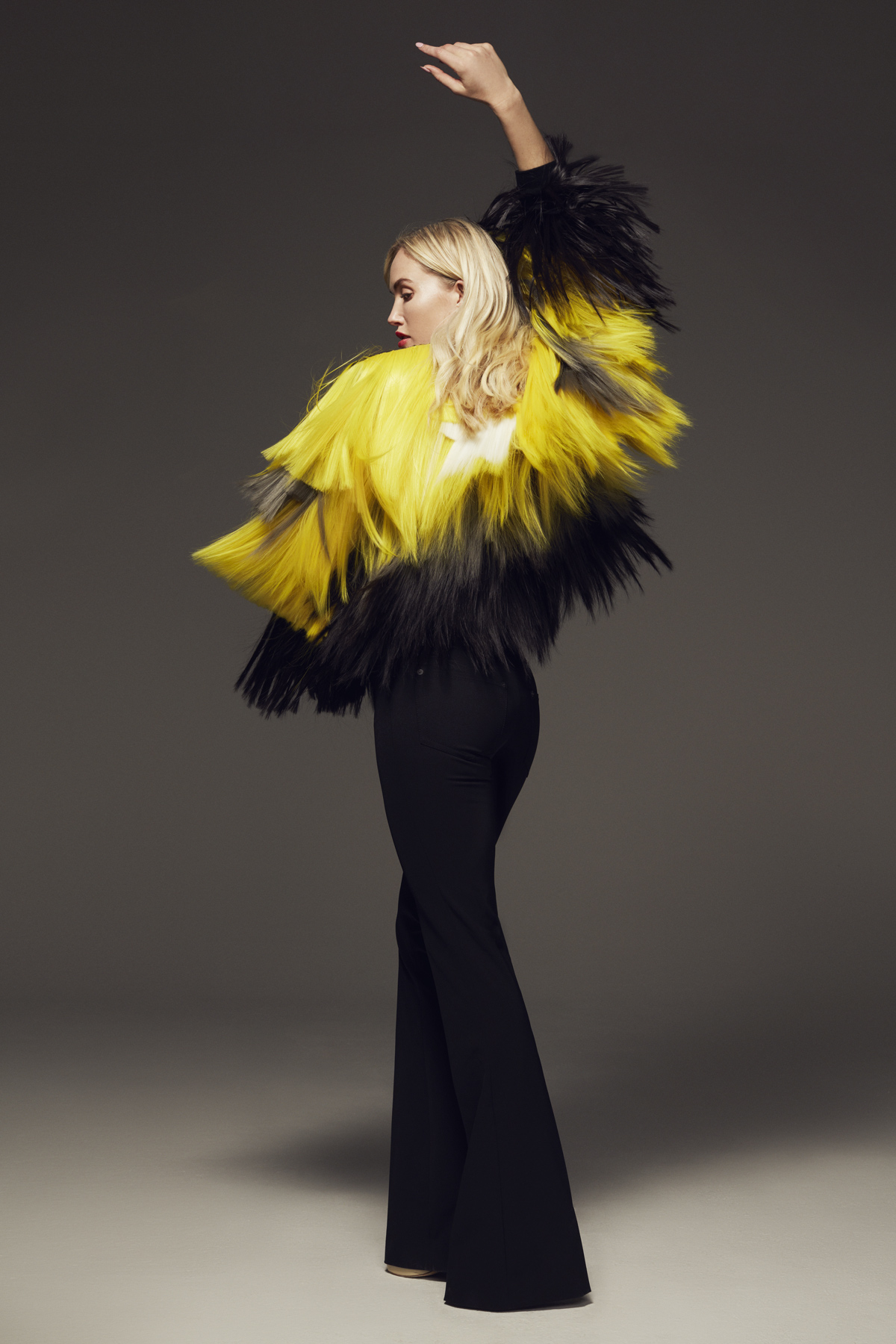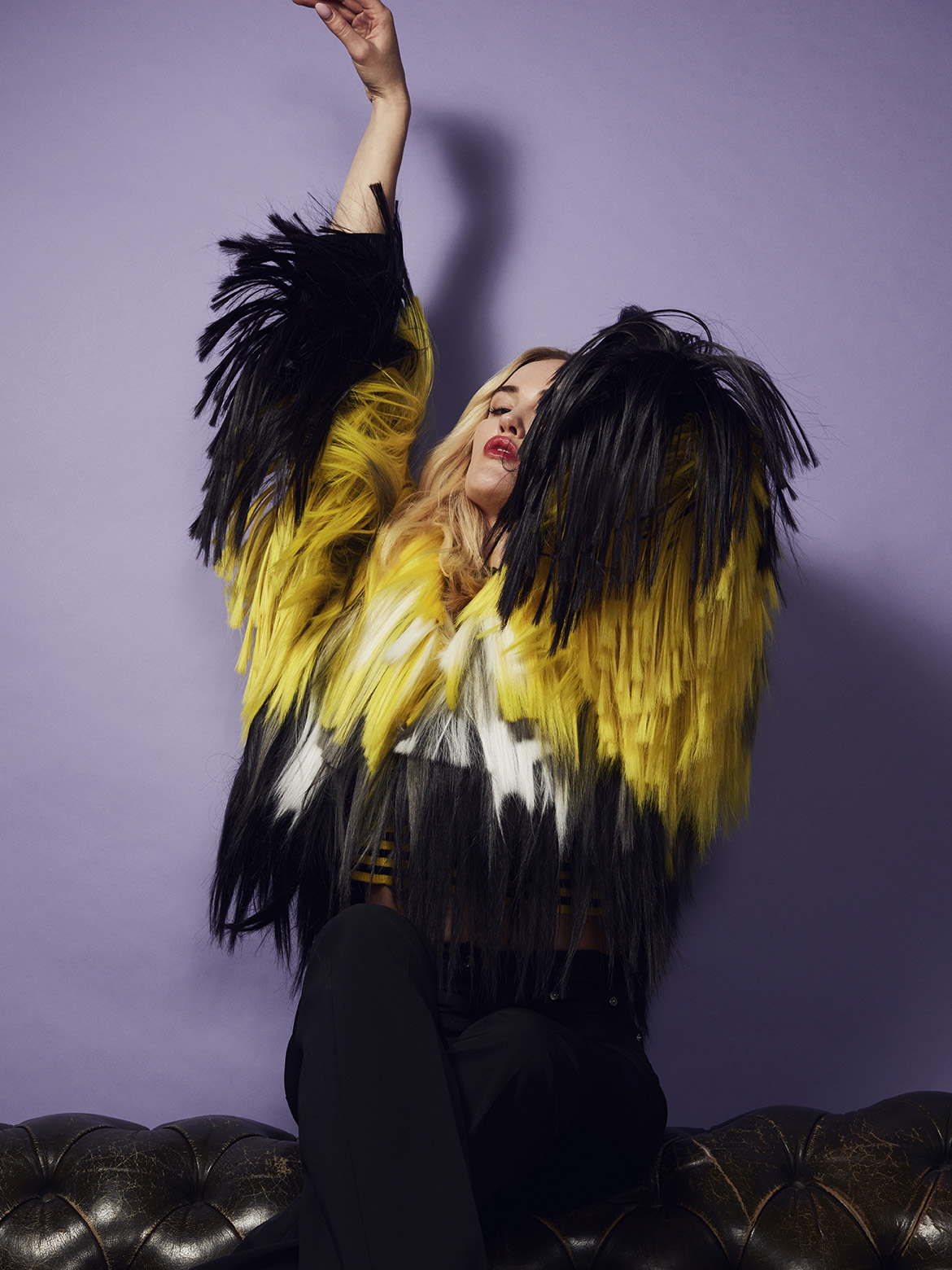 BETSY was eight years old when she discovered she could sing. "A boy in school told me I sounded like Snow White. That's one of my memories of thinking I could sing, or I had this vibrato thing." Her voice has matured since then – "like a boy when his balls drop, mine has got lower!" – and her smoky, soulful tone bears similarities to the contralto icon Cher. Betsy was influenced by her family's eclectic mix of records, from jazz and classical to Bob Dylan, Fleetwood Mac, Jimi Hendrix, and Stan Getz, the American saxophonist with a voice as smooth as warm syrup. "That was the music that inspired me to become a musician, and inspired a lot of the songs I write and the sound that I choose."
BETSY always dreamt of moving to the city, and took a place studying Fashion Design at London's prestigious Central Saint Martins (CSM). "Coming from such a rural place in Wales, that was such a massive eye opener. It was what I always wished for, and more! I remember doing my A-levels and being asked what I wanted to do, I always said: 'I want to be in London, I want to be at parties with men in high heels, and I want sequins.' And it was that on crack. It was flamboyant and fun and colourful." BETSY laments the current vogue for dressing down. "Fashion has changed; at the moment it's cool to look like shit!" she laughs. "It's like, 'wear a Tesco bag on your head', that 'anti-fashion' look, which I have to say I also love, but when I first went to CSM it was all about the crazy glittery shoes, and it was amazing." Her distinctive high-low style, which she calls "trashy opulence", stands out in a sea of music artists in their identikit COS minimalism. Her look was originally inspired by her family's fondness for kitsch. "I call them gypsy Versace, it's terrible, isn't it?" she says with affection. The women on her mother's side were from a small coal mining community. "Everything was on show in the house: glass swans, glass clowns, gold clocks and plastic flowers, and a velvet wall, and fake chandeliers in tiny, tiny houses."
The maximalist look carried over to their fashion aesthetic. "Big blonde hair and long nails, leopard print and lots of gold jewellery. Very overdone!" She also admits to being a shopaholic, "I'm a bit compulsive about buying things, sometimes I can go into a shop and have a bit of a frenzy. I can't just buy one jumper, I want to do all my shopping for the year right now! It's terrible, especially with online shopping… and then I only ever wear them once. I've got to rein that in, or earn a lot more money. Like Mariah Carey, she's set for life with her wardrobe." That's her biggest vice, well that and her fondness for booze. "I drink far too much… if I have two glasses then I can't stop."
After university BETSY moved to Paris to work for the luxury fashion house Balenciaga during Alexander Wang's reign as creative director. "At school I learned how to party and wear feathers but at Balenciaga, that's where I learned my trade," she explains. Her French was hit and miss. "I remember saying the wrong things and being embarrassed. For example, 'j'ai chaud' means 'I am hot', but 'je suis chaud' means 'I'm horny'," she laughs. "I remember going in on sunny days with all these old ladies making dresses and saying, 'Oh, I'm so horny today!'", she says, pretending to fan herself.
"People are always telling me that I'm very scary. Maybe because I am a big character and I'm quite flamboyant and I do speak my mind!"
BETSY returned home after three years in the City of Lights to make a career in music happen, and self-produced a three-track demo EP. She landed a manager, found a songwriter partner in Hot Chip's Joe Goddard, and holed up in her brother's caravan for two months to work on tracks for the debut album.
One of her favourite tracks from the album is "Lost and Found". "The lyrics sound a bit abstract, they probably sound more poetic. Verse two starts, 'I won't hide, I won't fight, I won't lie / I won't pull you down 'cause the flame still burns / Like the Earth needs the Sun, I can't run / I can't find the way or which wrong to right'."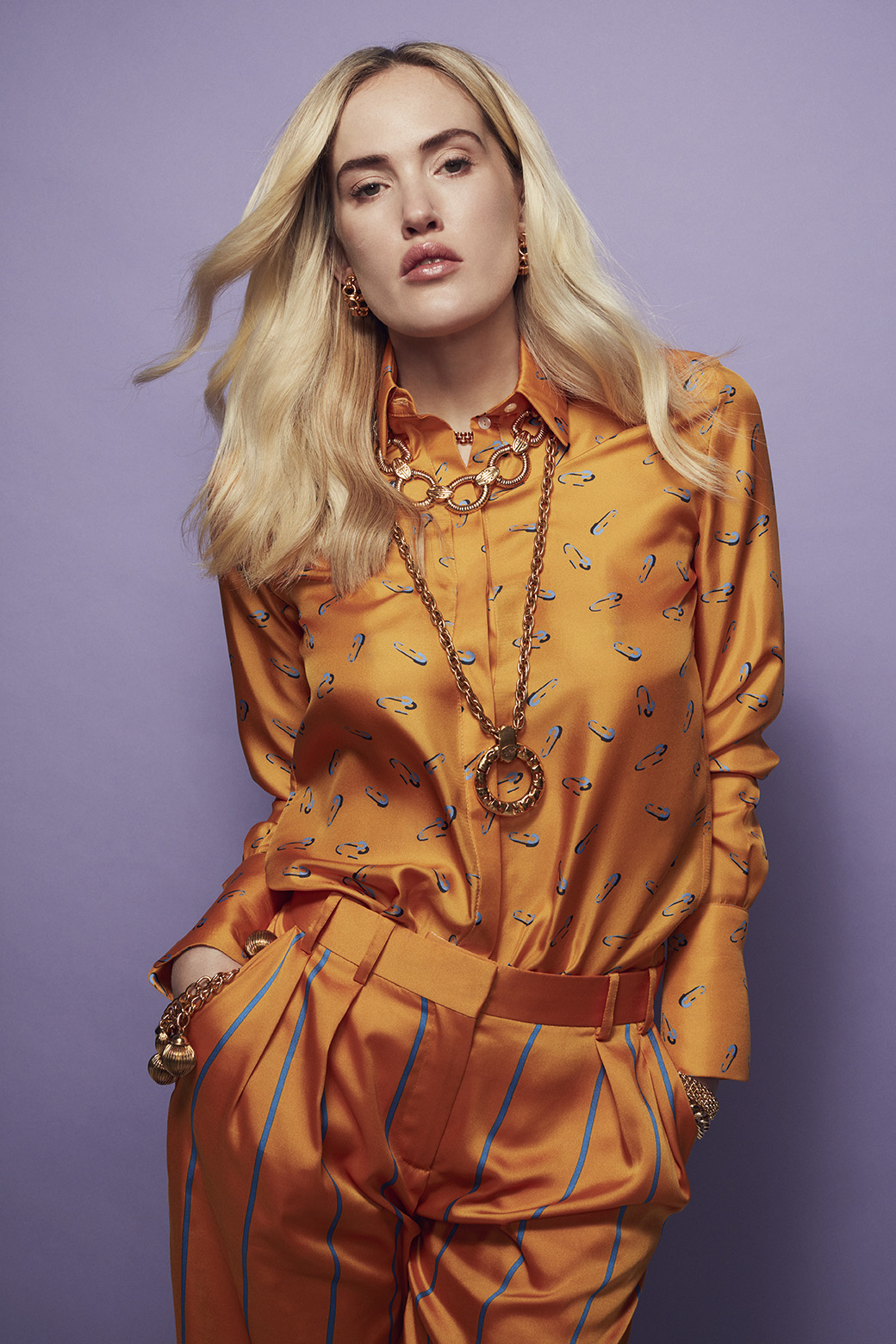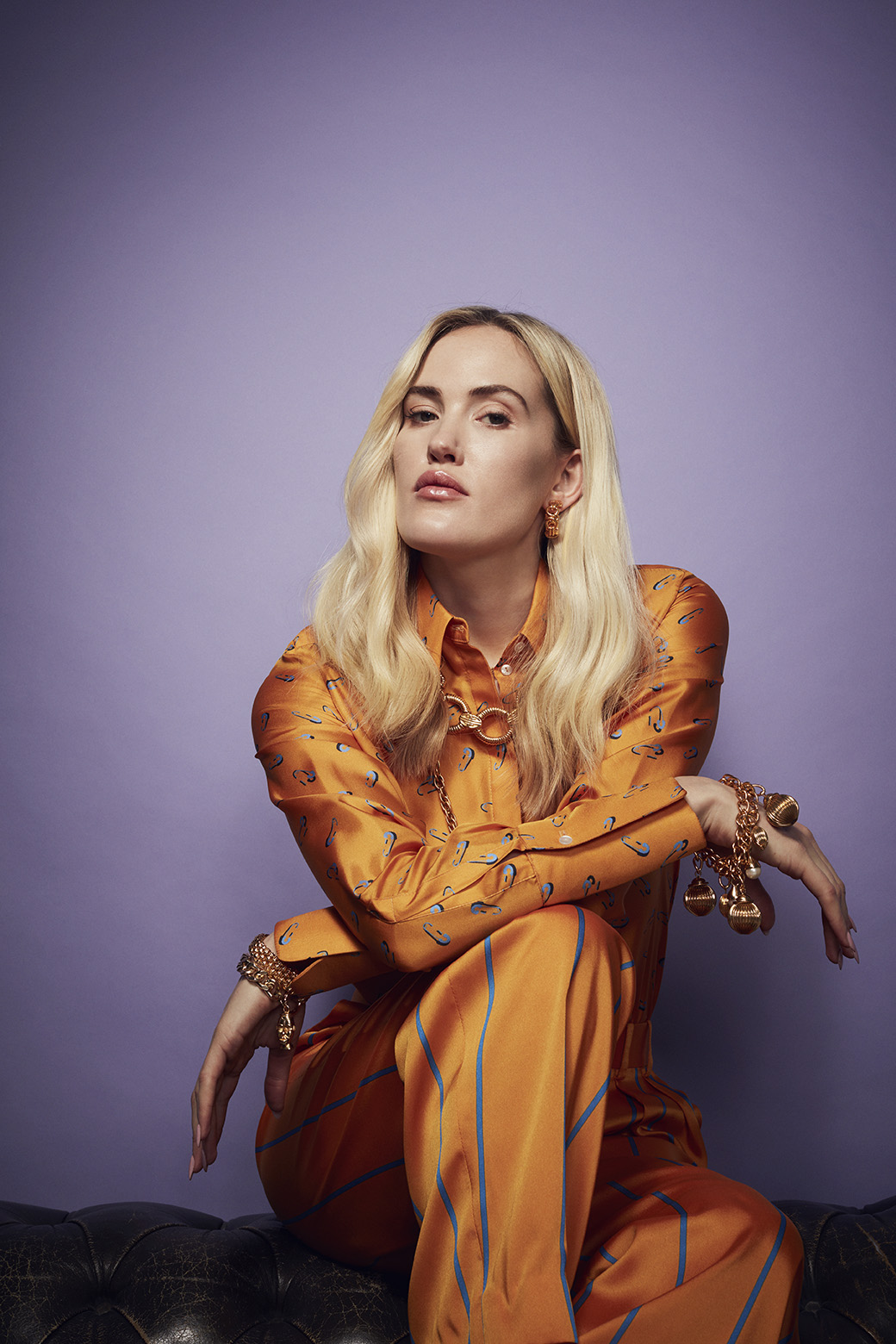 I ask her how she wants people to feel when they listen to her music. "Emotional," she says, laughing. "I want people to feel something, to feel a truth in it. The music that inspired me to be a musician and to write music is that kind of music. It's the sort of thing that makes the hairs on the back of your neck stand up when you're listening to it, you know? Obvious favourites are the great divas Tina Turner and Shirley Bassey. She loves their "raw emotion and humanity".
She thinks divas can be unfairly stereotyped. "People are always telling me that I'm very scary," Betsy admits. "I don't think I'm scary, but maybe because I am a big character and I'm quite flamboyant and I do speak my mind! I don't see diva as a negative thing so much. For me, it symbolises Shirley Bassey, the glamour, and being a bit hard as well, like hard-working and not taking any shit."
Contemporary artists such as Kanye are a source of inspiration. "I mean, a lot of people have a lot of bad things to say about Kanye West, but he is like a raging bull, his soul is fucking on fire! He ain't messing when he's performing it's just… energy. I love Pharrell and lots of incredible producers, Mark Ronson is a big favourite. Also Amy Winehouse and Hozier. These people who are artists with strong characters and powerful voices that are going to stick around."
BETSY currently lives in London's Primrose Hill with her Brazilian art director boyfriend and two dogs. The summer of 2018 sees her hoping to play lots of gay prides, but she's also preoccupied writing tracks for her sophomore album. It's her life ambition to write a classic pop song like Hozier's "Take Me To Church", Adele's "Someone Like You", or Amy Winehouse's "Rehab".
If it was anyone other than BETSY saying this, you could be forgiven for being sceptical. Something tells us BETSY has got the character and voice to pull it off.