Aperitivos at Floral Court and dancing at Netil360 make the city a midsummer dream
Words Sophie Jean-Louis Constantine 
Come July, there's one thing on our minds after work: alfresco dining and drinking. There's nothing like a meal under the sky to make us feel like we're lounging in the Med rather than trapped in the city with a looming deadline. So whether you prefer a rooftop in East London or a courtyard in Covent Garden, here are our favourite alfresco eating spots that combine a small slice of the great outdoors with some truly worthwhile food.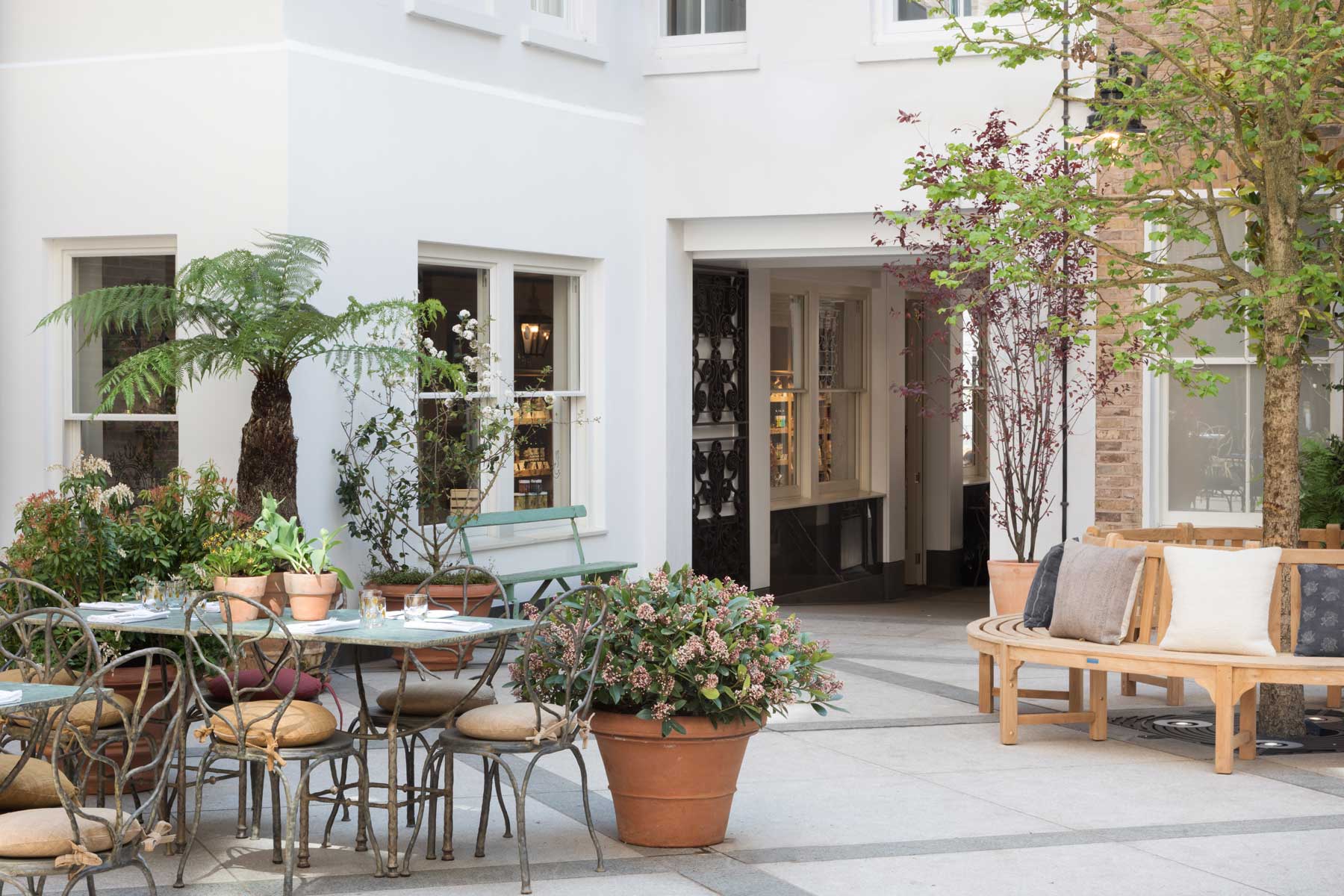 Petersham Nurseries' magic has been sprinkled onto Covent Garden's Floral Court. Both of the brand's new restaurants, La Goccia and The Petersham, meet in a confluence of verdant trees and tumbling flowers in this deliciously bohemian courtyard. It's the perfect spot for the chic Italian aperitivo, that end-of-day moment to stop, breathe – and indulge in a light summer snack. At La Goccia, pick the Tuscan panzanella, a wondrous array of tomato and courgette varieties delicately dressed in olive oil. All the dishes have that delicate Petersham touch and succeed in elevating rustic Italian cooking to something special. Order a 'no-groni', sit back and dream…
Floral Court, Covent Garden, London WC2E 9DS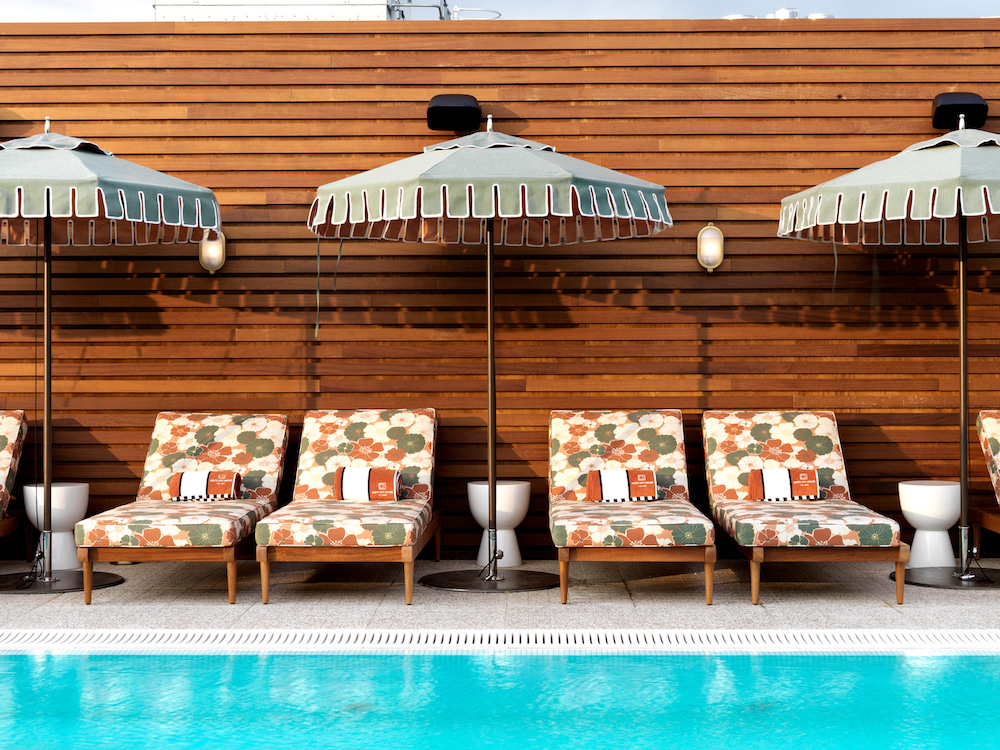 Soho House is making west great again. This new outpost is in the huge old BBC building, and the best area in this sprawling, glamorous playground is the rooftop terrace and legendary pool. Signature terracotta towels, 60s floral printed sun-loungers, and a beach-club-esque bar create a resoundingly retro feel. Dip in the pool or doze in a deckchair, with a 1960 in hand – a rich, heady, mix of Nikka FTB and sweet camomile. Then chat to handsome creatives over bao buns and crab summer rolls, whilst watching the blushing sun set over London.
Television Centre, 101 Wood Ln, White City, London W12 7FR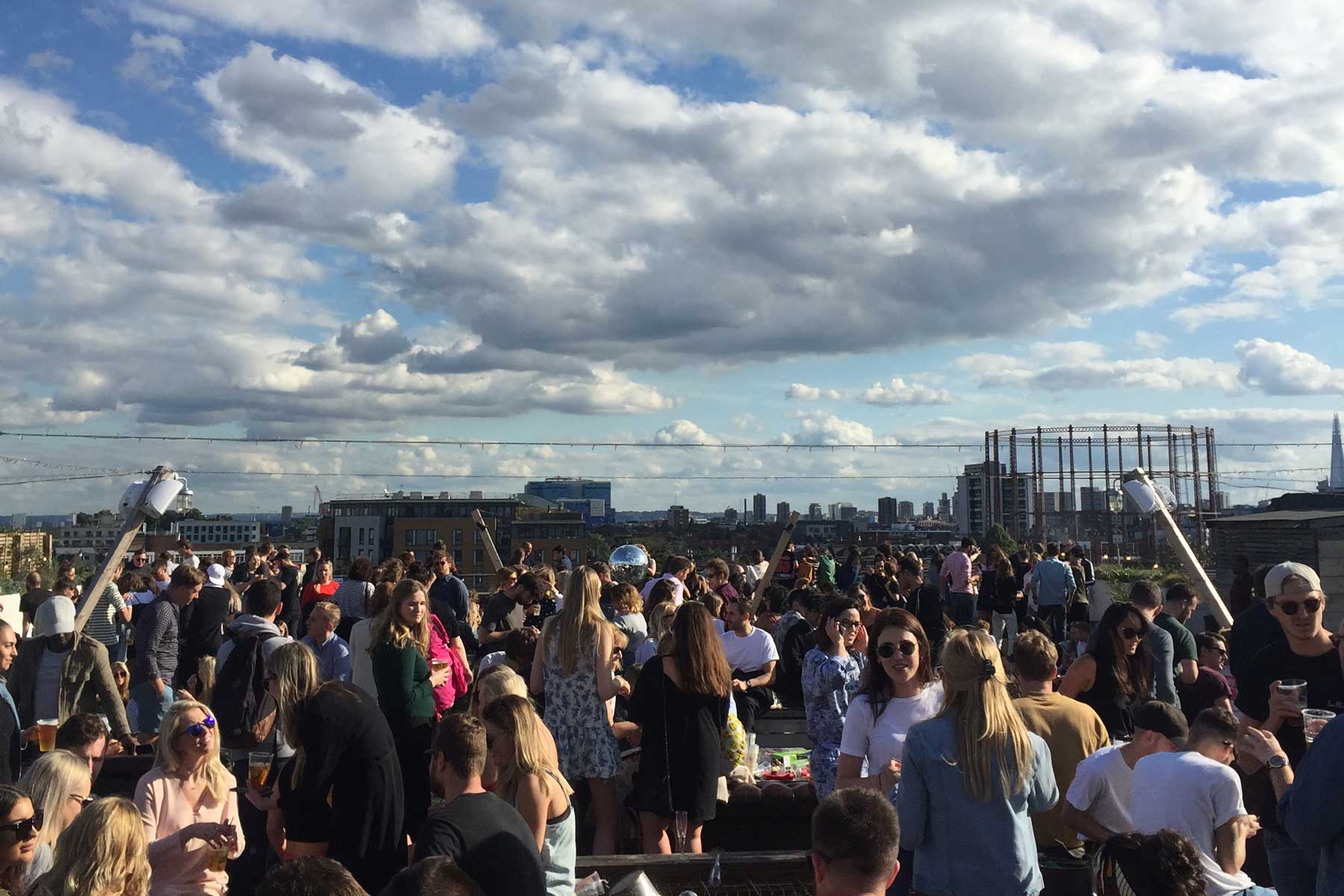 Netil House is where the party's at. More specifically, the roof terrace, with dazzling views of the city. Nestled near London Fields, Netil House prides itself on being a gallery, café and workspace for the creative community, and Netil360 is its rooftop bar and offbeat retreat, boasting live DJ sets to dance to, shabby-chic sofas to laze on and a major drinks menu "with your local craft favourites, spirits from East London Liquor Company and fine wines from around the world". It's the perfect partying spot, where cocktails are drunk, friends are embraced, and that view of East London will make you smile.
1 Westgate St, London Fields, London E8 3RL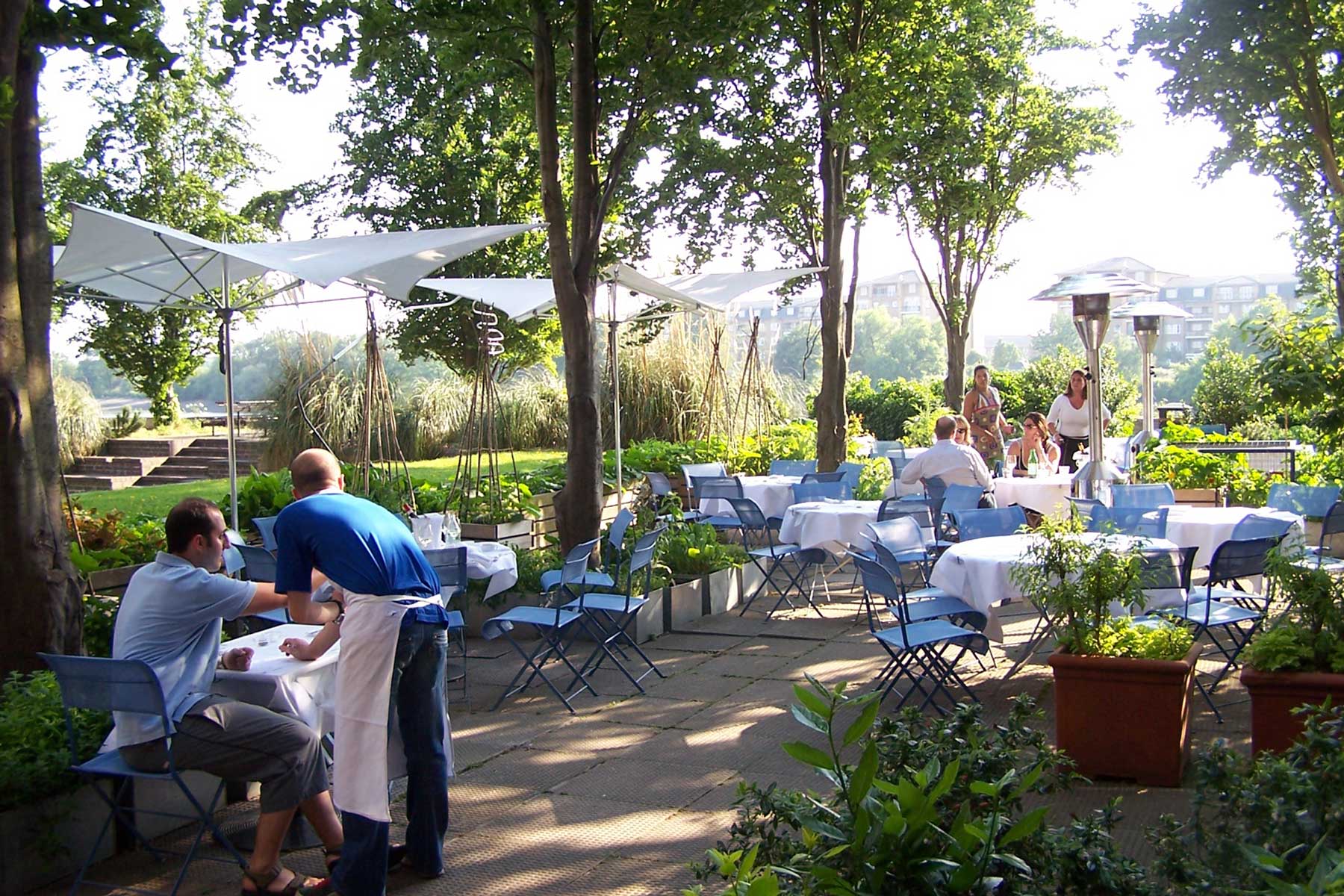 Summer lunches at River Cafe's Thameside terrace are the stuff of Shakespearean dreams. The terrace retains the same casual glamour as the main event, except you get to dine in an enchanted garden of herbs, soothed by Rogers' signature turquoise palette. The kitchen's tremendous sensitivity to seasonal ingredients, freshness and flavour ensure all dishes are sublime, but the turbot tranche wins the crown, with sweet Amalfi lemons and a bed of courgettes glorifying the wood-roasted king of fish. To accompany your meal, excellent wine pairings are recommended by the ever-knowledgeable staff. Sit by the river on a sunny afternoon and think Italy.
Thames Wharf, Rainville Rd, Hammersmith, London W6 9HA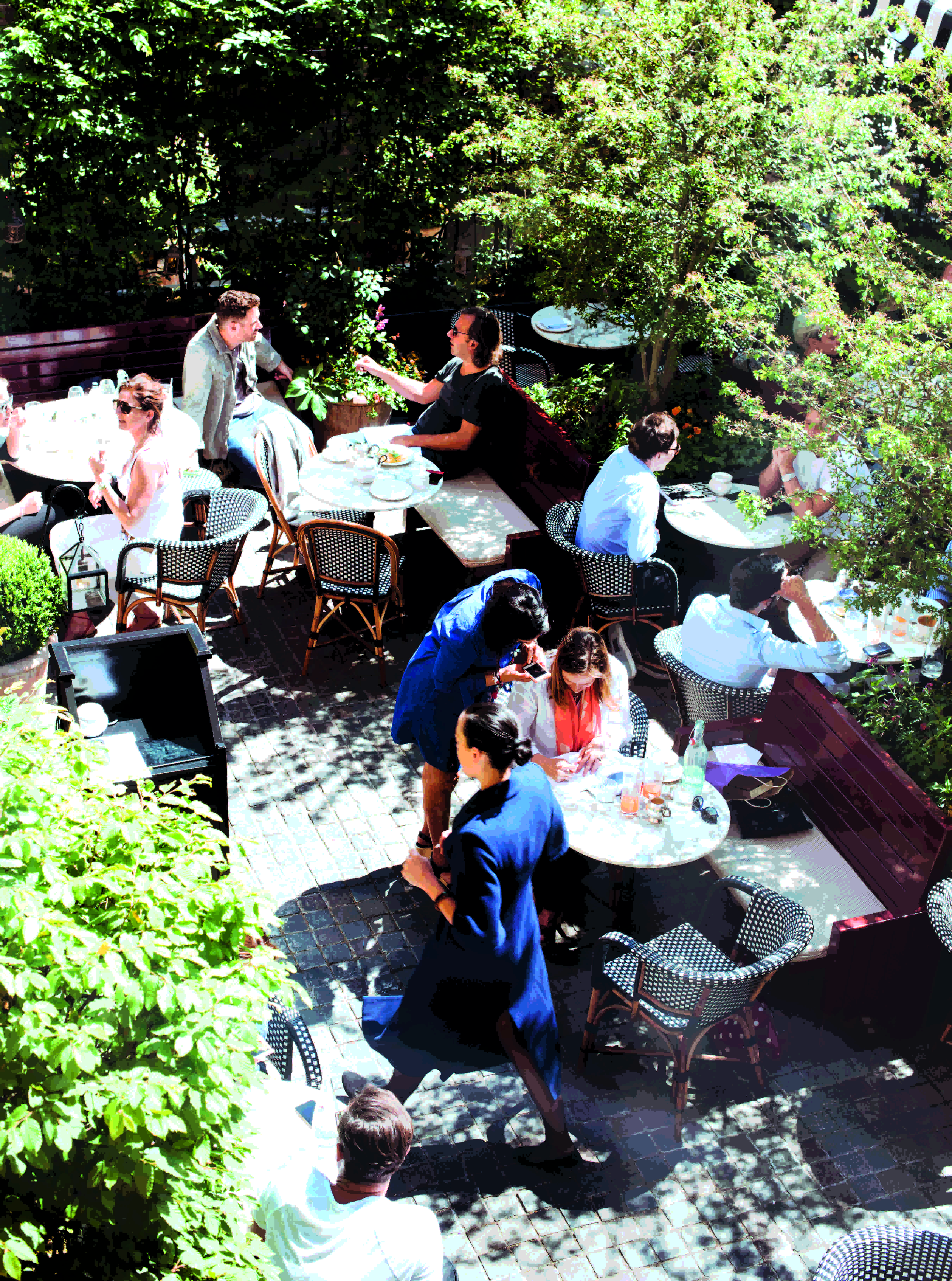 Cross the black-gated threshold on the corner of Chiltern Street, and you're met with a courtyard oasis twinkling at twilight. The majestic Chiltern Firehouse, a former fire station of mythic proportions in Marylebone, is still the place to see and be seen. This intimate alfresco haven has a French brasserie feel to it, with marble tables, monochrome chairs and a distinctly sybaritic air. Indulge in the obligatory crab-stuffed doughnuts or linger over fresh market oysters and crisp white wine. Lounge until darkness falls, your glass is empty and everything becomes a little hazy.
1 Chiltern St, Marylebone, London W1U 7PA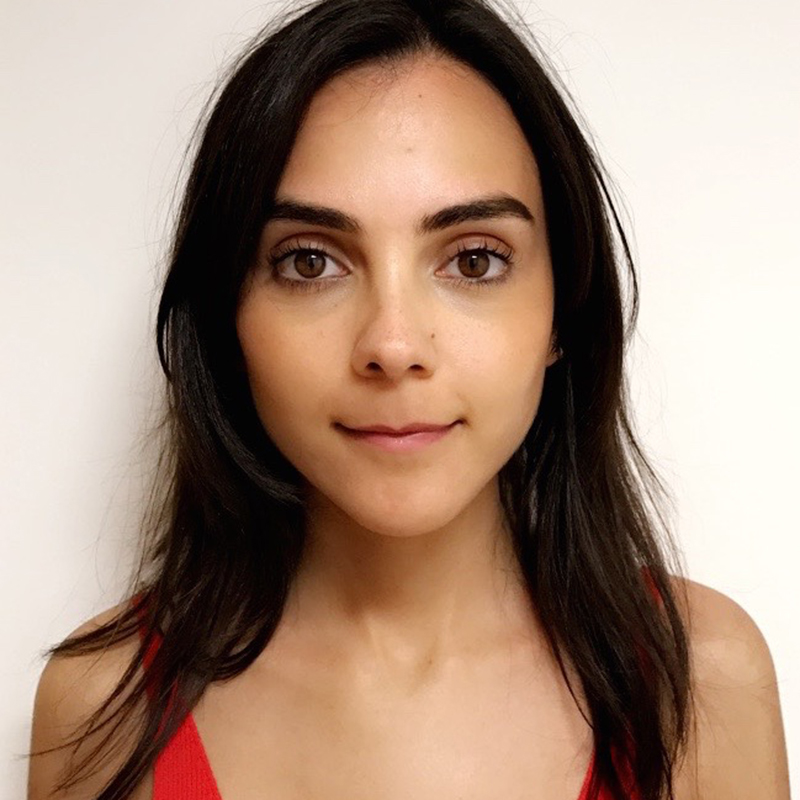 Sophia Jean-Louis Constantine
Freelance Writer
Sophie is a freelance fashion, lifestyle and travel writer. An alumna of the University of Manchester, where she earned a BA in English Literature, Sophie went on to work at Conde Nast Traveller. She is a fervent North Londoner and happiest curled up with a book.