Get your sugar fix at Dozen Bakery, then rock out at Skull's Rainbow Room…
Words and Photography Anthony Scarlati
Born and raised in the north of America, the fine art portrait photographer and photojournalist Anthony Scarlati now calls the south home. "With Nashville as my base I have been able to carve out a career in the music and culinary world," he says. Whether travelling around the country with rock stars, or trying to stay out of the way in a kitchen during a dinner push, Scarlati hopes "that every image I take can capture a moment that will tell a story – and make you stop, slow down and see that moment with new eyes."
If you're planning a trip to Tennessee's music-drenched capital, you couldn't ask for a better guide. We asked Scarlati to share five places any visitor should include on their itinerary, and his answers had us googling air fares the moment they hit our inbox. See you at the farmer's market for that Jamaican stew…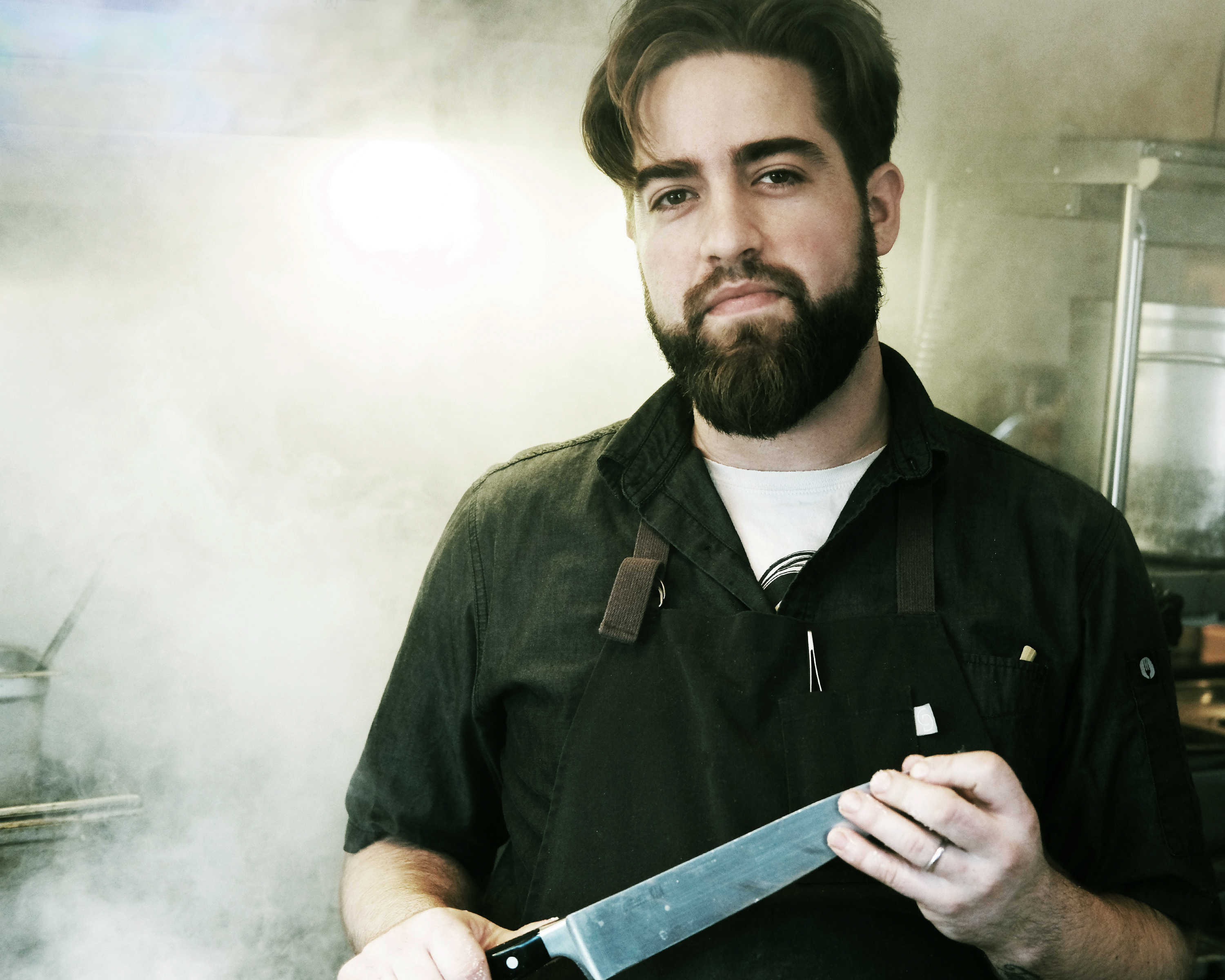 Upscale restaurant: 1892, Leiper's Fork
I was born in a small farm town called Paw Paw, Michigan. I lived in that area until I was ten. Some of my deepest memories come from that time in my life. My grandparents on my dad's side were Italian, on my mom's side French. So to say Sunday dinners made me who I am today is an understatement. Country Italian or Country French was our norm. Most of our food – our eggs, our meat – came from farm stands, while our fruit was all grown within miles of our home.
Fast forward to 2005, I found myself in a small village just outside of Nashville called Leiper's Fork. There have been a few restaurants that have come and gone some still here and I have liked them all. But recently, one has opened that has shaken me to my core.1892 is named after the year that the house they're based in is built. Chef Dylan Morrison is living out his dream with his very first restaurant – and what a restaurant it is.
The food is Country French, with his own twist; seared chicken with mushrooms and broccolini, braised lamb and black pepper gnocchi, just to name a few. All farm fresh, all farm to table. Even the decor reminds me of my grandma's house. It's small, only seating 32, and the kitchen is even smaller. But the food? I can't even begin to describe how good this food is, or the passion that goes into each plate. Sitting in the dining room brings back memories, from the feel of the wooden tabletops to the smells coming from the kitchen. It's funny how life always travels in circles and you somehow always find your way home.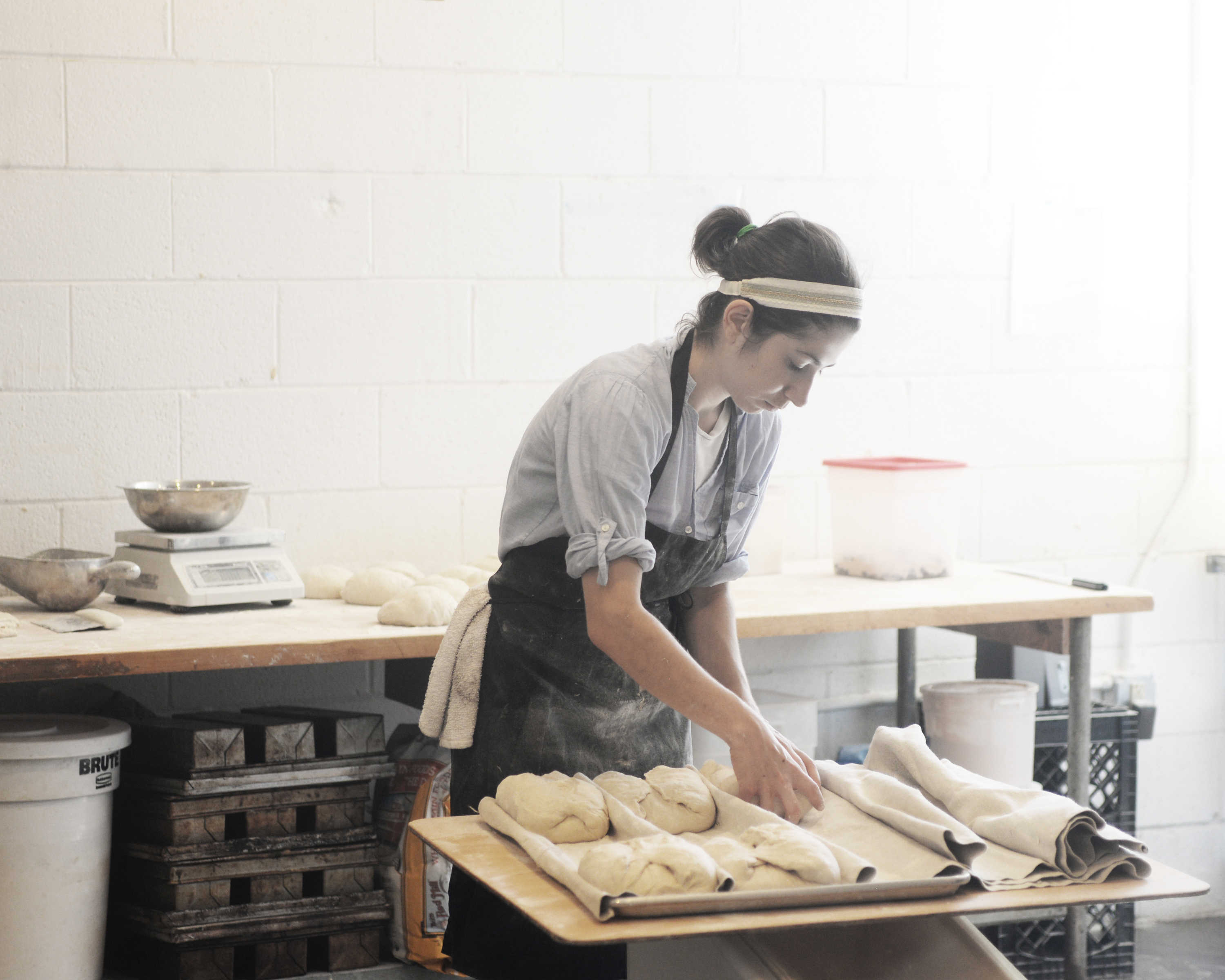 Cafe: Dozen Bakery
When I was growing up in the suburbs of Chicago, it was a daily habit to jump on your bike and ride into town. I would pick up friends along the way and by the time we reached the Village Bakery we were starved for a sugar fix. I miss those days and I miss the small-town bakery. I am not sure why the south does not support bakeries, but as Nashville grows and people move in from all corners of the country, thankfully that is beginning to change.  
One of my favourites is Dozen Bakery. From the outside, the building looks very modern, but as soon as I walk through the doors I am captured by all the smells I remember as a kid. Fresh breads of all kinds, some loaves still warm as they slide them into a paper bag. Cookies, pastries, cakes – all freshly made that day, most within hours. Baguettes warm with salted butter or maybe made into a sandwich with a salmon spread and a salad. Yes, you can sit and have lunch – or you can just run home to devour. There is a feeling of comfort when you walk through their doors, a feeling of warmth and home.  I can't jump on my bike and be there in 10 minutes – but trust me, it's worth the 45 minute drive.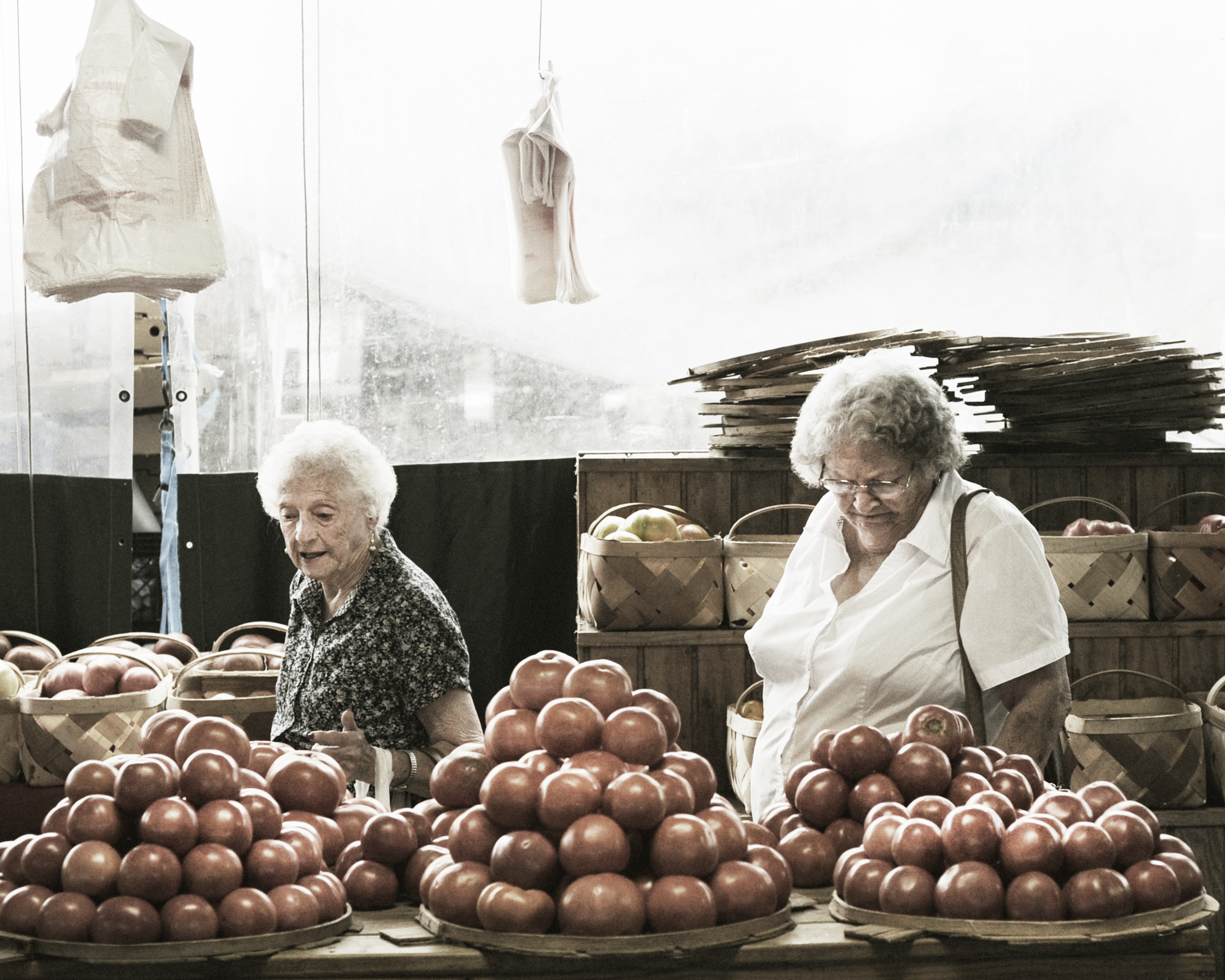 Market: Nashville Farmers' Market
I love food, I love culture, I love diversity, and there is one place where I can wander and soak up all three: the Nashville Farmers' Market. It's open seven days a week, rain or shine, and it has an international food court to die for.
At any given time, if I find myself bored or in the need of a culture fix, you will find me here. I walk, I look, I touch, I taste. I'm always in search of a face or a creative culinary thought. I have come home from here with bags of dinner ideas, plus a candid portrait or two. This is one place that never lets me down. I love to talk with the farmers; you can learn a lot about a tomato over a ten minute conversation. I can stop in the Indian market and get tea; I can have a bowl of goat stew at the Jamaican restaurant. I have come home with a cactus; I have come home with a bag of tube socks.  
It's a market just like many around the world, a market catering to a community. There have been days were I have just stopped in to grab something quick and there have been days where I am there for hours. You can always run into the local chefs in the morning, all looking for just the right ingredient for a meal. And in the summer on Friday nights you can stop by to just hang out and listen to some live music, drink a beer or two and dine at a great food truck. Yes, I would have to say it has it all – even tube socks.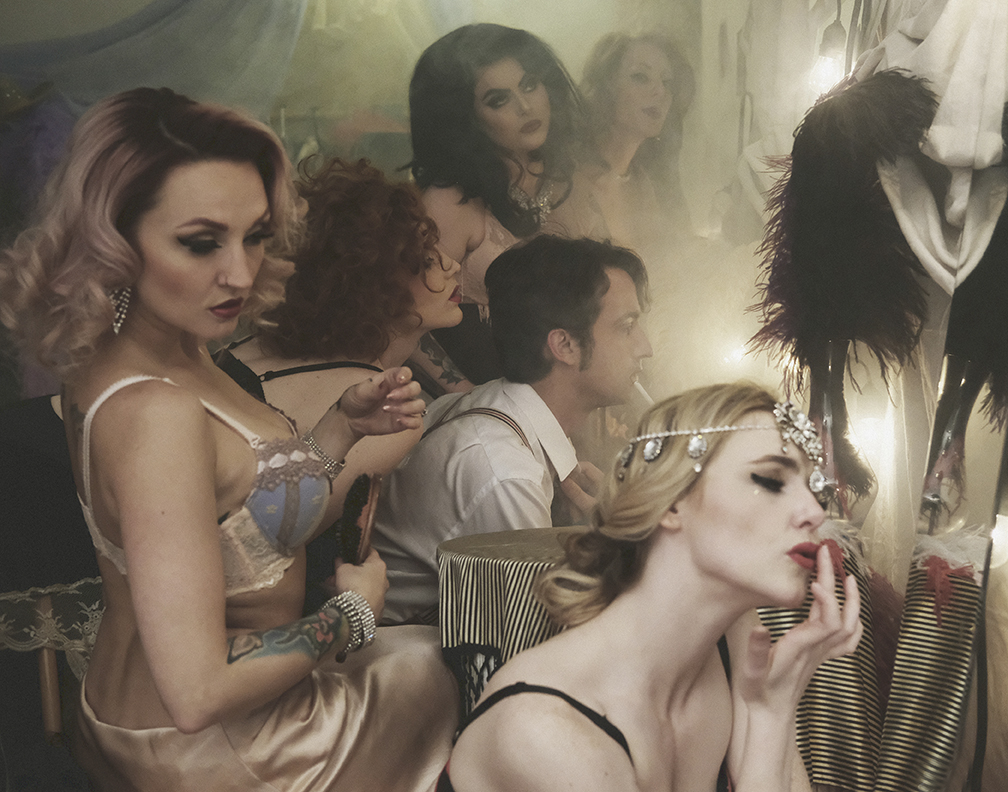 Burlesque: Skull's Rainbow Room
I have toured with rock stars, crisscrossing this country more than once. I have shared so many meals standing over a garbage can with line cooks and chefs in their kitchens. Rock stars on stage or chefs standing over a hot flame: that is where I am at peace.  
One day my good friend Cooper Lynn Hayes call me to have lunch and take some photos at the historic and haunted Skulls Rainbow Room. Tucked away in an ally in downtown Nashville, it is a step back in time. The dark wood, dim lighting and black and white checkerboard stage have hosted the likes of Dylan, McCartney and many more. Decadent French cuisine, top-shelf bourbon and the constant sound of jazz fills the room. By nine, the dinner crowd starts to fade away and the bar begins to fill with a crowd. By ten, it's standing room only, with a line down the alley, while upstairs – in a colorful gypsy-style dressing room – Cooper has transformed into Madam Hazel Jones.
With her dancers pressed to mirrors, fishnets pulled tight, and just one last gaze to make sure their coloured lips are just right, the show starts. The band hits a downbeat and the sound of heels finding their way down the stairs fills your ears. The smell of perfume follows them down. One or two have one last smoke in the alley as the door opens, while I enter and fight my way through the crowd to find my place near the stage. The energy, the colours, the sounds, the sexual tension – it's like a drug. When the last dancer heads back up the stairs I find my bourbon and make my way back to hang with the cooks. I have found my peace.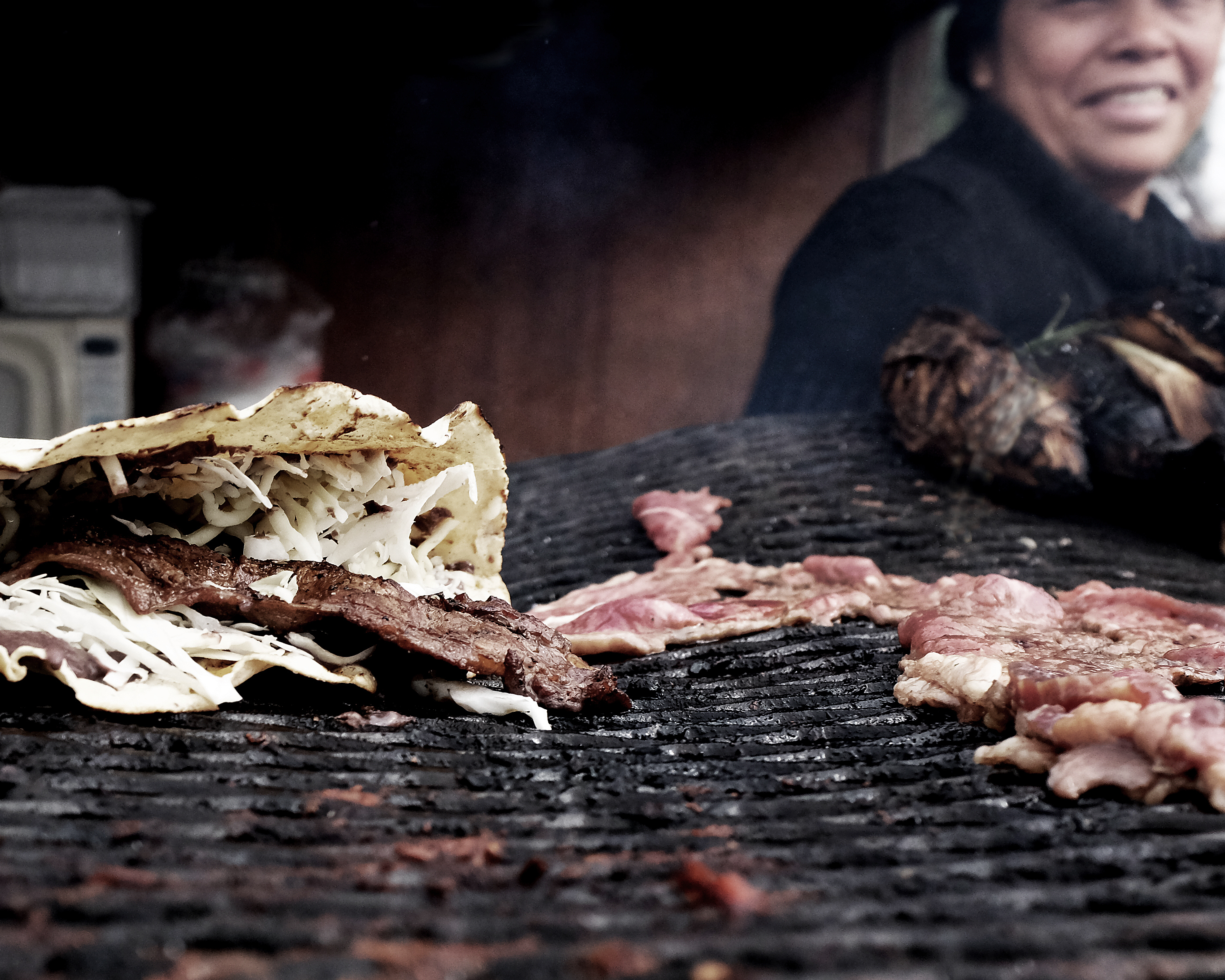 Street restaurant: Taqueria Mexico
There is a stretch of road that runs south out of Nashville called Nolensville Road. It is a stretch of about 10 miles of the most cultural and diverse group that I have ever seen. You have Middle Eastern restaurants, an Indian grocery store, Chinese markets and Ethiopian coffee shops, side by side. The colours of the buildings are a photographer's dream. I love it, from visiting the Mexican dress shop with the bakery in back to sipping spiced tea with all the Ethiopian cab drivers.  
My very favourite stop on Nolensville road is Taqueria Mexico. You can't miss it, all you have to do is look for the smoke rising above the red, pink and blue store fronts. As you pull in, most likely there will be a line of cars all waiting for someone to come and take their order. I can't ever sit and wait, I have to get in – I have to smell the chicken cooking on the open fire,  I have to try to talk to the smiling ladies stirring the pot of tamales wrapped in banana leaves. They always smile; they always give me a taste.
It takes me forever to order but that's ok, I'm never in a hurry. Most times I come here alone; if I bring someone they have to understand my passion and be willing to just enjoy the moment – take in all the smells, taste everything. They have space to sit inside but I never do, I have to stand eating with the cooks, watching them smile and laugh as I become so emotionally attached to their food. When I am done, I order the same meal to take home for another time.