Oisin Lunny touches down in Portugal's hilly, coastal capital for music and arts festival NOS Alive
Many moons ago I was in a band. The details of this are unimportant, but we had the improbable honour of touring around Europe supporting a certain Depeche Mode. Fans of The Mode, aka "Devotees", were famous for their passionate support of the Basildon superstars, and gigs on that fateful Devotional Tour were religious experiences for the faithful. During these intense stadium gatherings, the Devotees would reach a heightened state of collective ecstasy, propelled by the transcendent synth anthems of the band and the mysterious iconic visuals of Anton Corbyn. With headliners this compelling, support bands were mostly viewed as an obstruction, and observed with a mixture of pity and fury. We were literally in the way of the main attraction, and crowds in each of the venues mostly greeted us accordingly. In Paris for example, the audience chanted "DEE-PECHE MODE" solidly through our set, hurling coins and bottles of piss at the stage until we limped off, to thunderous applause. But in July 1993 when our band took the stage in the Estádio José Alvalade in Lisbon, a magical thing happened. The crowd actually sung along with some of our well-known tracks. Shocked? We almost died smiling.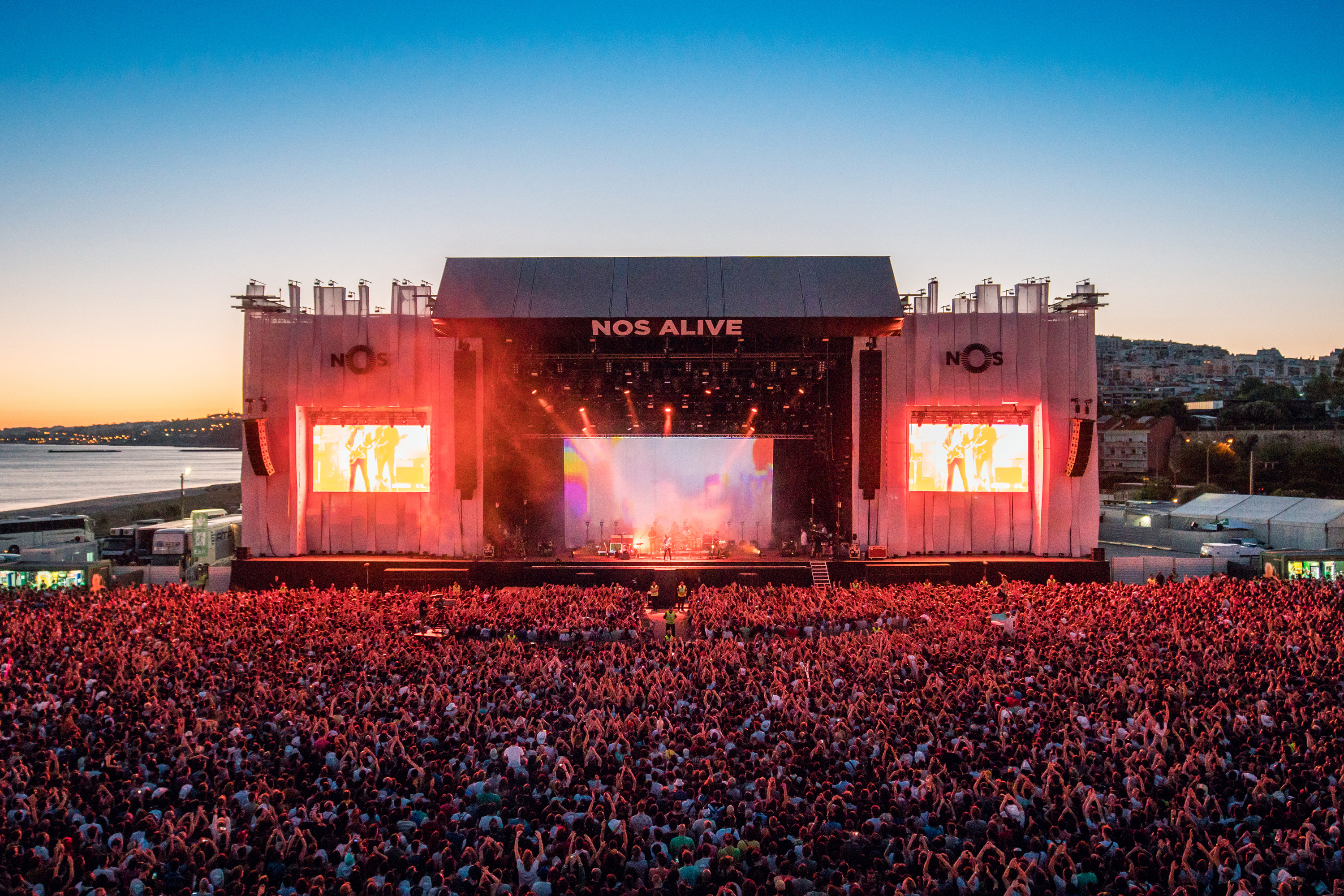 Almost exactly 24 years later I'm reminded of this remnant of a past life watching Savages perform at NOS Alive, Portugal's premier music festival. Savages are on fire, tearing up the stage with a set that is genuinely edgy, thrilling and visceral. Lead Savage Jehnny Beth takes a break from channelling Siouxsie Sioux, Lux Interior and Iggy Pop to thank the crowd: "We love you Portugal, you are the nicest people in Europe!" The venue erupts, and Jehnny crowd-surfs the ecstatic throng for a singalong rendition of "Fuckers".
The warmth of the crowd is a factor that attracts the biggest bands in the world to play at NOS Alive, now in its 10th edition. Last year Radiohead and Arcade Fire gave rare headline festival appearances, while this year the honour of closing the three-day festival fell to none other than Depeche Mode, with Foo Fighters and The Weeknd on previous nights. The line-up is sensational, a mixture of tastemaker favourites, rock royalty, and hot local talent. It's no wonder NOS Alive has been repeatedly voted as one of the best music festivals in the world. Another success factor is the scale; NOS Alive has a capacity of 50,000 attendees, positively boutique compared to Glastonbury's 135,000 and Coachella's 198,000. Festival director Alvaro Covoes explains: "Our mission is to bring the best music in the world to Lisbon, at a cost that people can afford. We achieve this by partnering with the right brands." Thanks to canny sponsorship arrangements with the likes of NOS, VW and Heineken, a three-day ticket is a mere €129. It's insanely good value for money; alongside the headliners we were offered such luminaries as Bonobo, Rhys, Warpaint, Phoenix, Alt-J, The Kills, Ryan Adams, Parov Stelar and Glass Animals, as well as ascendant names such as Jessy Lanza (who rocked us with some 80s streetsoul feels and Madonna-esque dance moves) and local AfroBeat hero Dotorado Pro. Many of the visiting bands playing NOS Alive this year shared Savages' high opinion of the Portugese. As The xx reached the climax of their main stage set they enthused: "We love this city. We love it so much we did our own festival here!" The crowd goes crazy, and sings along with every word The xx has to offer.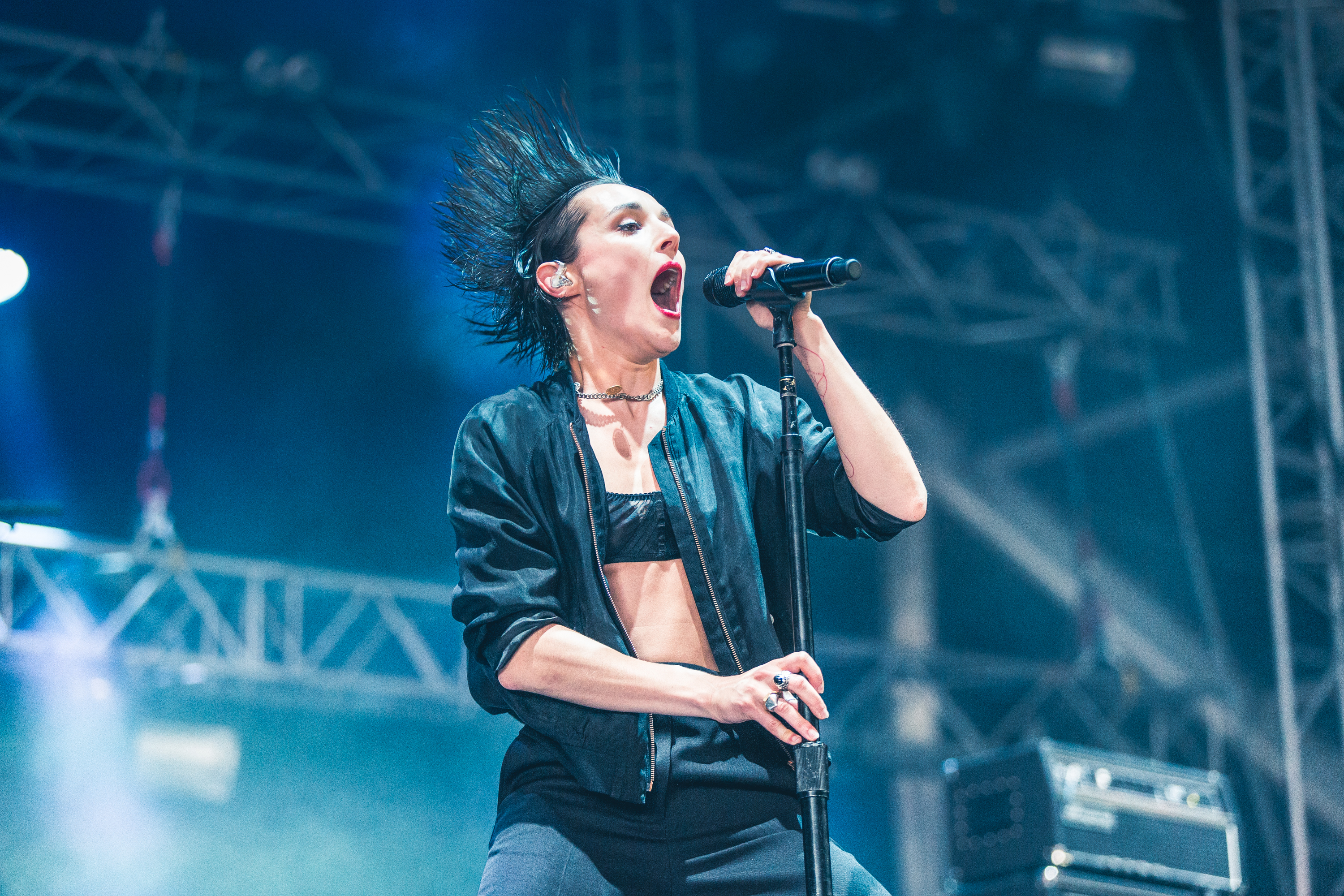 Savages, NOS Alive 2017, Photography: Hugo Macedo
Location, location, location
Thanks to the climate, the atmosphere at NOS Alive is a world away from the more traditional mud-based endurance tests one might be used to. The festival takes place at the beginning of July, with average daytime temperatures of 27°C and 15 hours of sunshine every day, but the waterside location ensures a cooling breeze.
The venue itself is an astroturfed wonderland, with three main stages within easy walking distance, and food trucks selling everything from "The Best Sausage Alive" to gluten free vegan snack plates. There was a 100-foot corridor of foosball tables, a VR parachute jump simulator, a packed mini-venue dedicated to Fado (the local folk music), and a row of pop- up fashion shops. The Pallas store was doing brisk trade with all manner of designer bum bags, bang on-trend I'm reliably informed, while Pondi Chains were selling elegant body adornments for discerning festival goers.
There's no need for glamping here, as the location is an easy train, tram, taxi or tuc-tuc ride from the city centre. This means your early afternoons and late nights can be spent exploring Lisbon and its fascinating surroundings. But where to stay…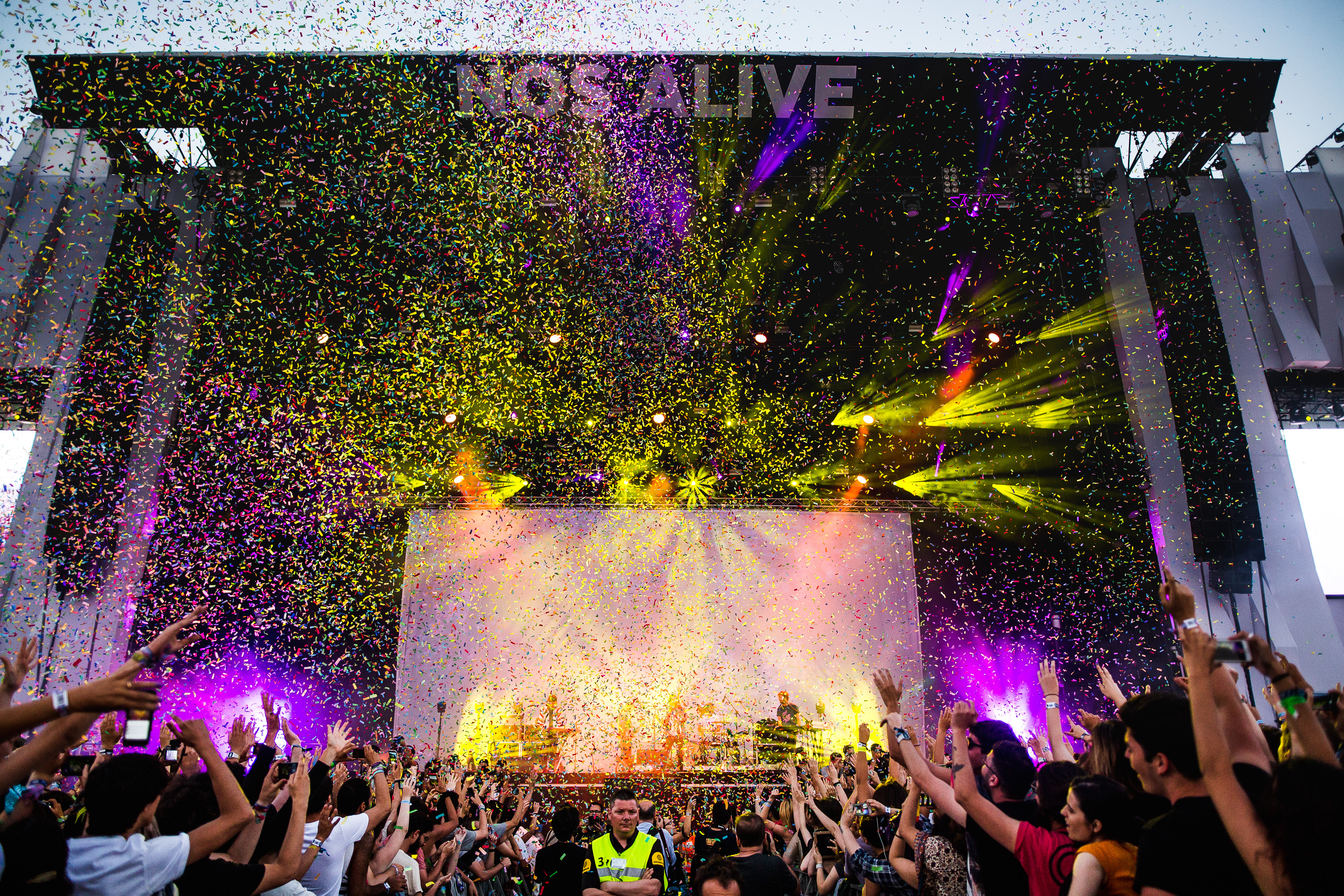 NOS Alive 2017, Photography: Hugo Macedo
If you fancy experiencing Portugal like a rock star, what better place to stay than the restored 19th Century palace Madonna calls her "home in Lisbon", the Pestana Palace Hotel. Other A-list guests have included Penelope Cruz, Shakira, Jane Fonda, Prince and assorted royals. The restored main building, itself a national monument, is a triumph of tasteful grandeur and neo-classical romanticism. One enters via an appropriately palatial marble staircase and can easily get swept back in time by the immaculate period interiors, sumptuous furnishings, and hand-painted frescoes. Guests can enjoy two swimming pools, separate sauna and stream rooms, resident hairdressers, a rather classic bar, various restaurants, and a tropical garden on the grounds.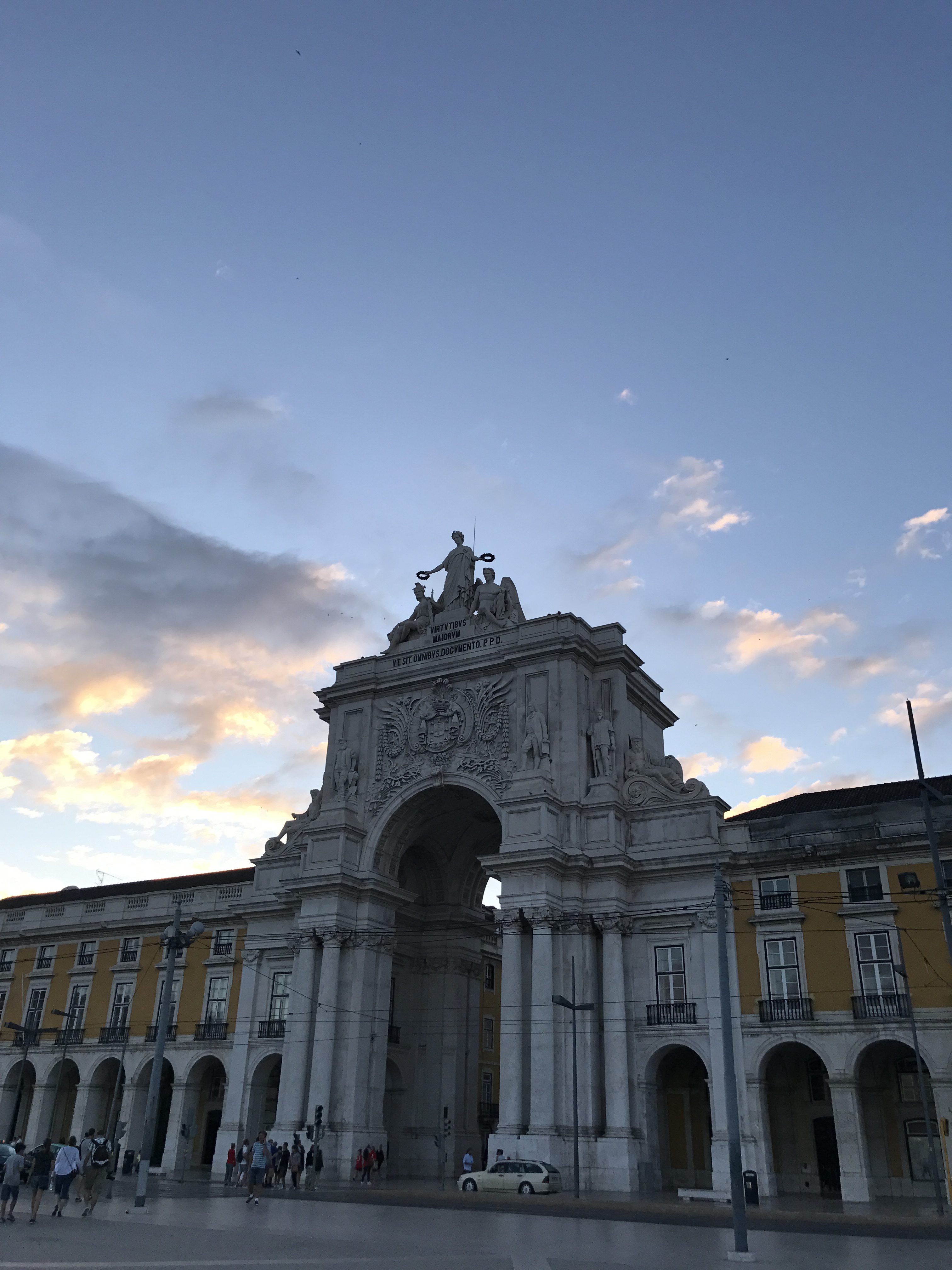 My top tip at Pestana Palace would be to request the traditional pastel de nata (egg tart pastry) from the kitchen. Depending on the time of day, staff will make it from scratch, so you'll have to wait a while, then watch it cool down for a further 20 minutes before diving in. But it's worth your patience. Each warm pastel will offer a heavenly gooey explosion on your taste buds, encased in delicious crisp pastry.
Speaking of which… the pastel de nata "mothership" is undoubtedly Fábrica dos Pastéis de Belém, established in 1837 and still cranking out sublime parcels of gorgeousness, baked on site to a secret recipe, and served with proper Portuguese espresso. Once you've quite recovered from your foodgasm you'll find that the district of Belém is worth exploring. The nearby Museu Coleção Berardo houses modern art masterpieces from Marcel Duchamp, Pablo Picasso. Salvador Dalí, Andy Warhol, Francis Bacon, Jeff Koons, Maria Helena Vieira da Helena Silva and Helena Almeida, to name but a few.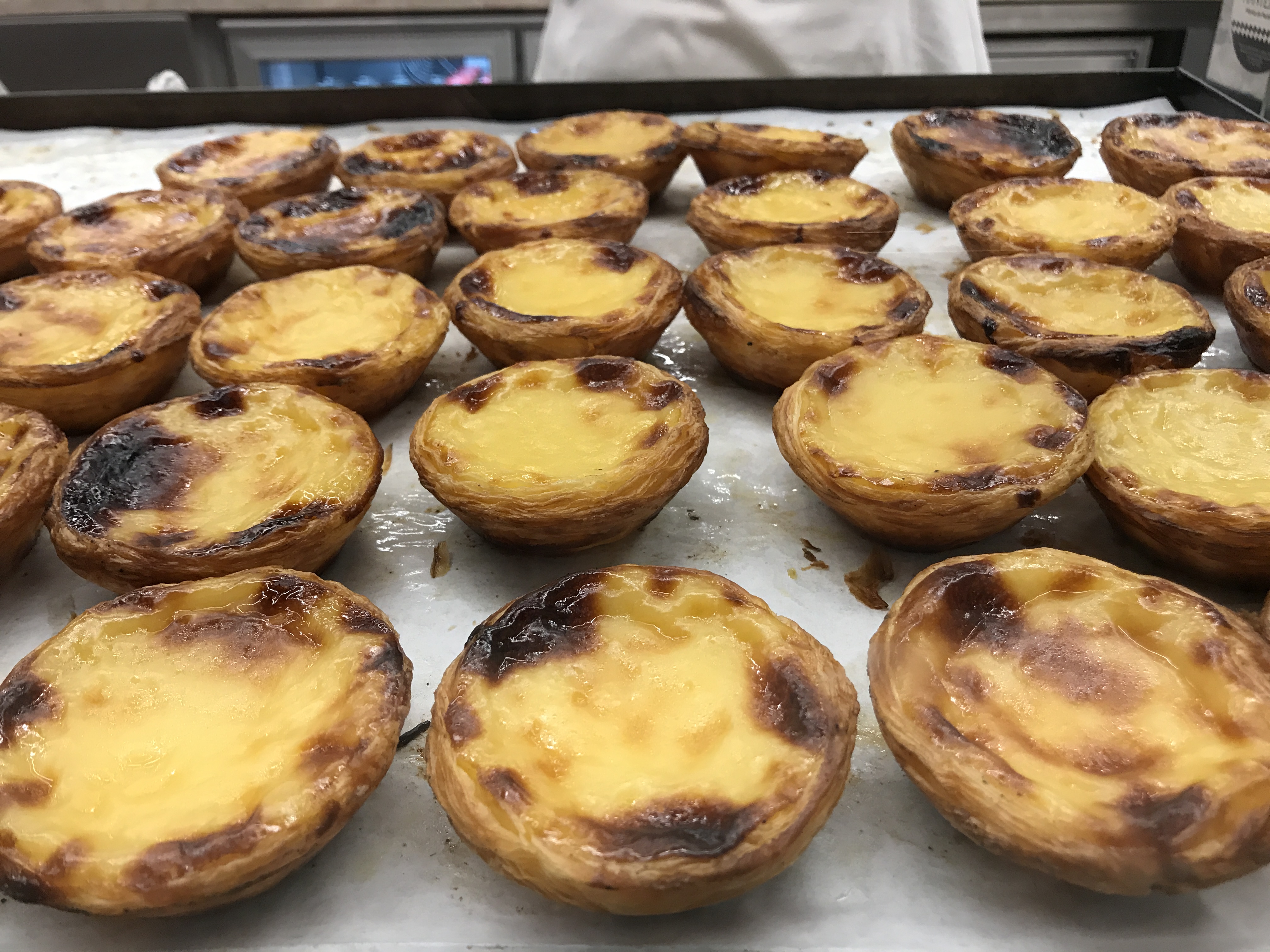 Nestled discreetly near the Museu is the gallery of local artist and jewellery designer Margarida Pimentel. Born in 1955 in a small fishing village in Portugal, Margarida combines her instinctive love of nature and organic form with exquisite craftsmanship and a distinctive artistic vision. Her work offers you not just a piece of art, but also a small part of the artist.
The city centre area of Lisbon is also, of course, no slouch when it comes to exquisite personal objets. The interior of the TOUS store on the Rue Garrett looks like the inside of a Fabergé dolls-house, if such a thing existed. Their medallions or trinket certainly lighten your wallet, but it's difficult to resist. Just ask brand ambassador Gwyneth Paltrow, who beams expensive serenity from strategic focal points around the shop.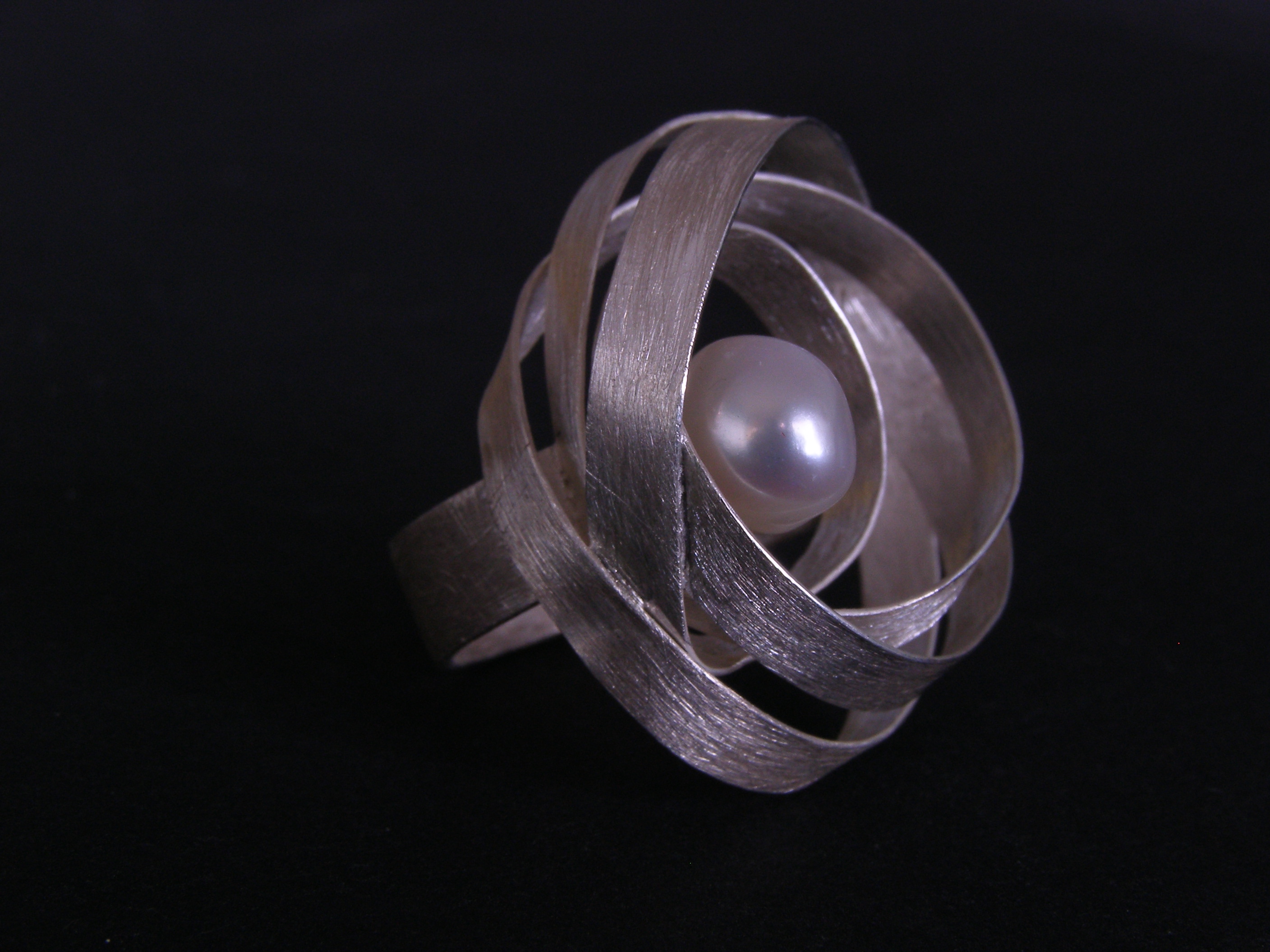 Margarida Pimental jewellery
One versatile fashionista oasis in central Lisbon would be The Feeting Room, whose billing as a "Shoemakers Collective" perhaps undersells their depth and variety. Situated on Calçada do Sacramento, The Feeting Room hosts a cornucopia of designer shoes, clothes, accessories and jewellery, almost exclusively by local designers. This includes the award-winning Luis Carvalho, local minimalist heroes +352, and OBI, a sought after "slow fashion" brand who only make one of each piece, and [whispered…] don't have seasons. If your hunger for designer bum bags is truly insatiable their range of MARIA/MALETA waist-wear has got your (lower) back.
Looking for a distinctive memento for your own domestic palace? Portuguese tiles are famous the world over, and one can browse many collections of antique and modern tiles in shops such as Dorey Tiles on Rua do Alecrim. Dorey Tiles specialise in Portuguese "azulejos", and the shop is crammed wall-to- wall with restored antiques dating from the 15th/16th century onwards. But if you really want to immerse yourself in the romantic past of Portugal, it's only a 30-minute drive from Lisbon.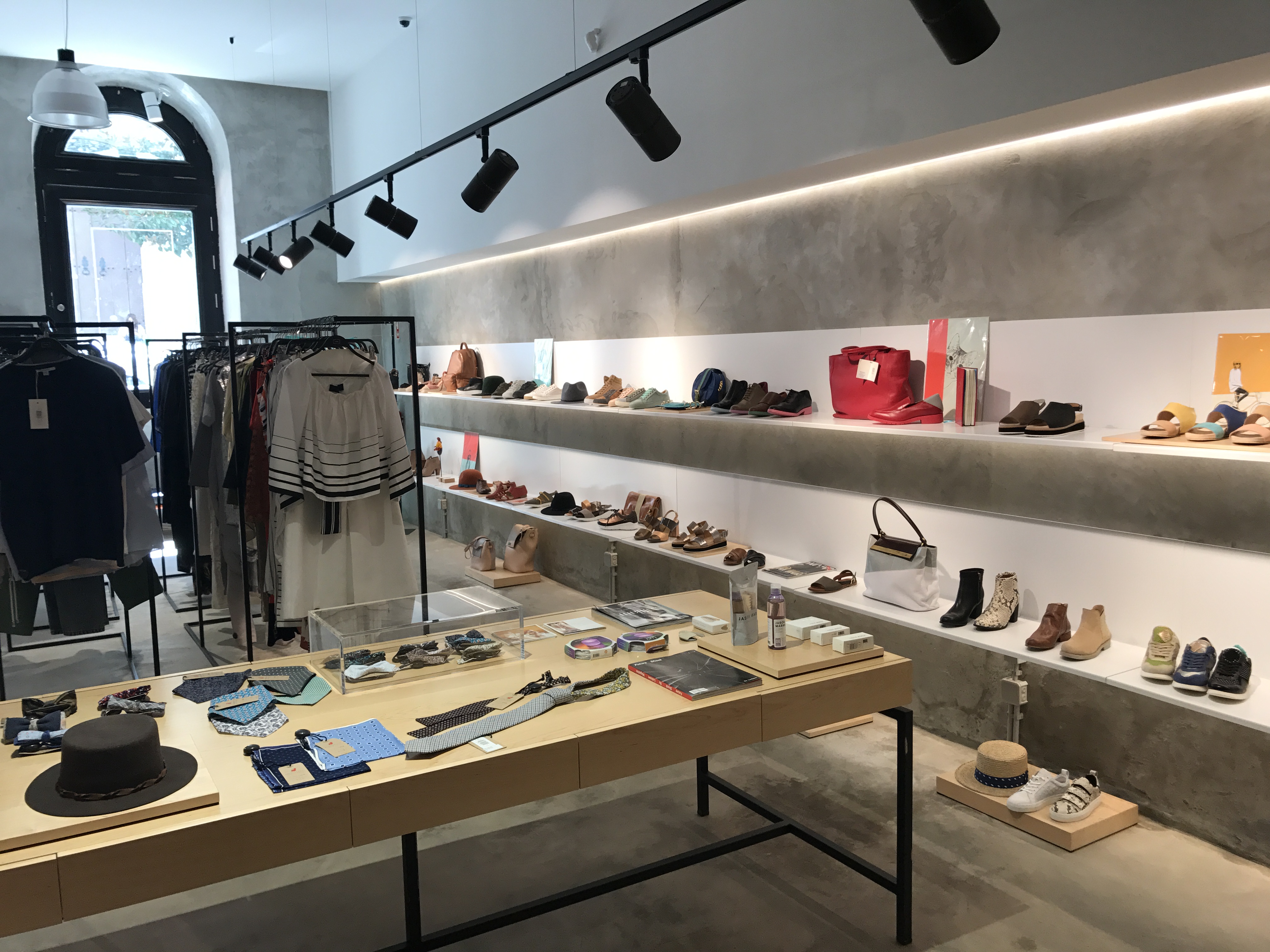 Sintra "The Capital of Romanticism"
The area of Sintra embodies a certain Portuguese romanticism due to its unique cluster of castles, royal retreats, estates, architectural monuments and stunning natural surroundings. You are stepping into a different world, and a UNESCO World Heritage Site. The jewel in the (former) crown is the iconic Pena National Palace. This was originally the Monastery of Nossa Senhora da Pena, then renovated extensively by King Ferdinand II of Portugal.
The building today tells the story of the decline of the monks, and the subsequent lives and loves of its next occupants, the Portuguese Royal family. The castle is a breath-taking example of regal romanticism, resplendent in its former glories, and a well-preserved time capsule charting the rise and fall of Portugal's royal dynasties. While you are in the area I can recommend a visit to the restaurant at the Sintra Boutique Hotel, which serves locally sourced dishes with abundant enthusiasm. I went for the mushroom risotto, which the chef was quick to point out were picked on the surrounding hills. If the romance, or indeed the rosé, inspires you to extend your stay in Sintra, their cosy Boutique Hotel is literally next door.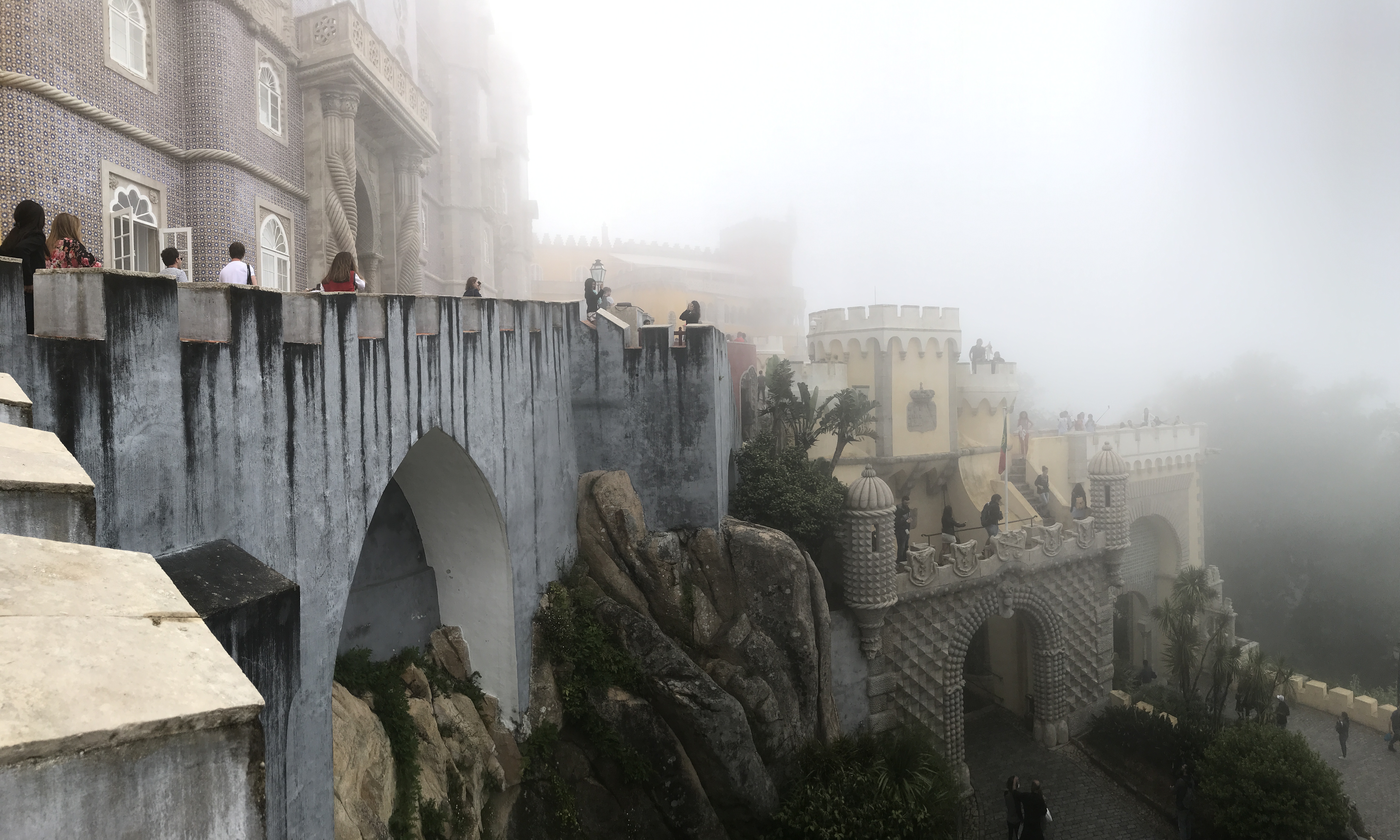 Back in the city centre, eating options are high quality, diverse and rewarding. If you are going for the full splurge and want to eat where the rock stars and footballers hang out, Solar Dos Presuntos is the hottest ticket in town, so book in advance. Situated on Rua das Portas de Stº Antão, Solar Dos Presuntos is one of those restaurants where you get to look your seafood in the eye before its hoisted off to a boiling pot in the kitchen. Being a vegetarian I tried to out-stare a round of melted cheese before devouring it. Heartless, I know. Anyway, the food is stunning, and the dense wallpaper of celebrity photos gives one an idea of why their waiting list is formidable.
If you've had enough of the rock star lifestyle and are ready for something healthier, the unassuming café A Mesa on Rua dos Lusíadas is worth the short trip from the city centre. The restaurant offers distinctive and delicious gluten-free wraps, Brazilian inspired vegan main dishes, and incredible fresh smoothies. Here, you can sit outside, enjoying what's been called "the best lunch in Lisbon", while letting life go by at its own pace. This chilled-out atmosphere is at the heart of the Lisbon experience. Amidst the centuries of history and  grandeur, there is a warmth and relaxed friendliness which is quite unique.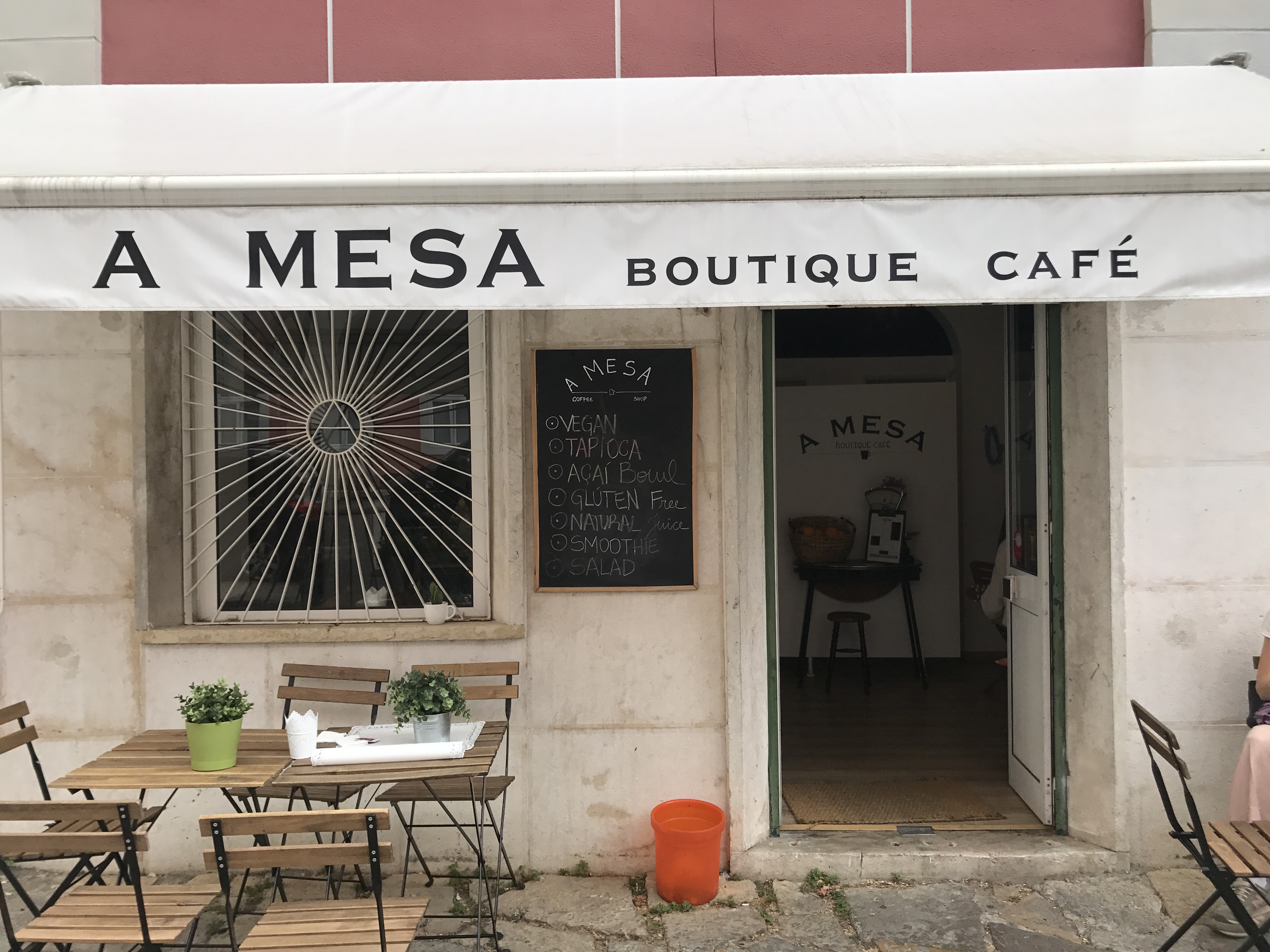 Portugal is a place where you can detox or indeed retox in style, enjoy one of the best music festivals in the world, and have a modern yet romantic experience in a relatively small area. It can ultimately be whatever you want it to be… During Depeche Mode's masterful closing set at NOS Alive, I got chatting to a newlywed couple from Glasgow. Both gentlemen had been fans for over 30 years, but this was their first time seeing their heroes. As Dave Gahan and company elevated the crowd with "Enjoy the Silence", the stoic Glaswegians were in tears, as were much of the audience. We were united by the power of great music and the uniquely welcoming atmosphere of Lisbon, and singing along like our lives depended on it. Over the next few hours 50,000 people would gradually dissipate into the still Lisbon night, illuminated like stardust from our shared experience.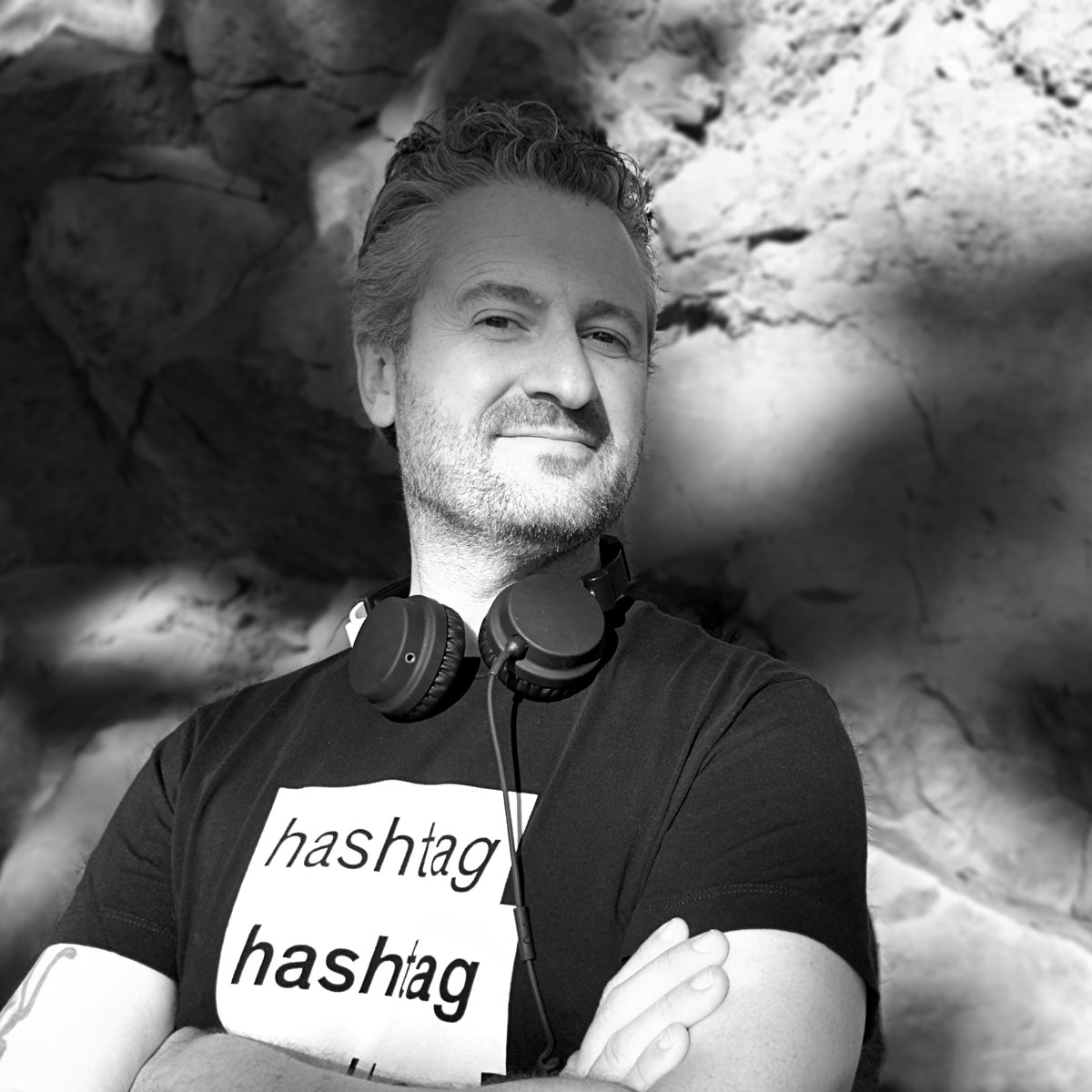 OISIN LUNNY
Music Editor
Oisin Lunny has been performing, producing and DJing since the early 90s, first with his band Marxman and then with his solo project Firstborn. Today he is a keynote speaker, composes music for film & TV, DJs globally, and sends out mixtapes to 12,000 friends via his website.