Who knew red was a suit-all colour?
Words and Styling Nini Khatiblou
Photography David Nyanzi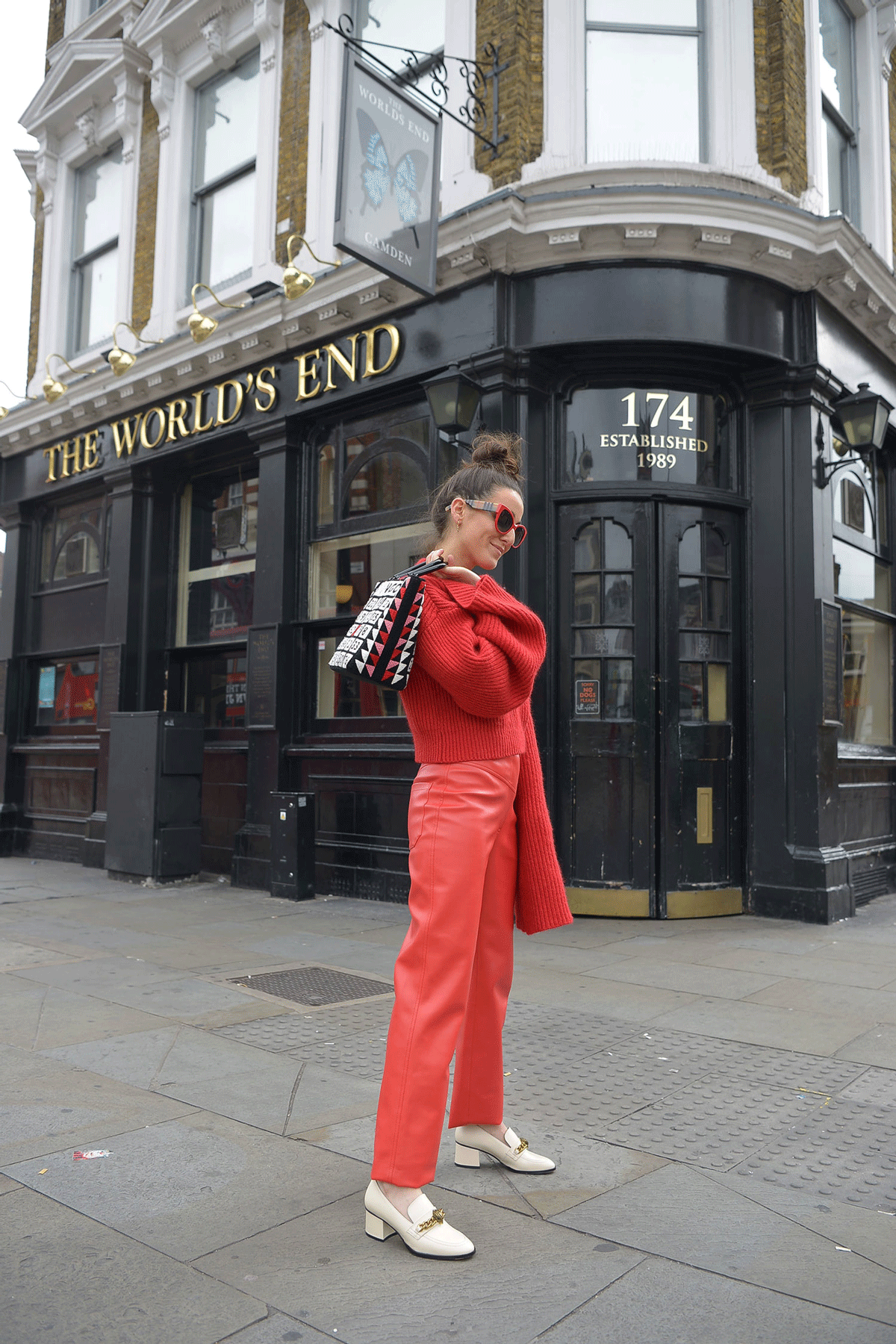 If, like me, your wardrobe is a sea of black, grey and navy, and dipping your toe into last season's love affair with beige felt like an adventurous leap into colour, this Autumn's wave of all things bright and block-y may have you in for a shock. At first glance, it appears both terrifying and unwearable – after all, who actually wears head-to-toe colour in real life? Well, for one month only, I did – and it was surprisingly uplifting.
Many moons ago, when I was freelancing for a certain womenswear brand which specialised in colour (I'm not entirely sure they were aware of my colour phobia when they took me on), I was told a fact which has stuck with me ever since: that of all the colours in the rainbow, red is the only one that suits everyone regardless of skin tone or hair colour. 
Red?! I couldn't believe it. But that all ended when I stumbled on this Eleanor Balfour red leather suit. The longer length, belted style of the jacket, with oversized 80s shoulders, happens to be the jacket shape of the season and won me over in an instant. The trousers have a subtle bootcut flare – which, along with bright colour, I had filed under 'things I hope to avoid wearing for the rest of my life' – but combined with a high-waist fit and monotone colourway, they turned out to be flattering. Next up, a jumbo knit – cropped in length, chunky in texture and XXL in sleeve length. 
Disclaimer: when attempting this trend, you don't have to choose red. Any colour will do so long as you wear it top-to-toe. I was convinced I'd feel self-conscious wearing such a loud colour, but in fact being so unapologetically visible put a spring in my step.
Accessories-wise, I couldn't resist these Burberry sunnies, which stick to the colour palette with an added flash of the signature check. As a long-term fan of Lulu Guinness, I snapped up this 'Bingo' bag, which adds an injection of humour to any outfit.
I've been looking for a pair of sun and moon earrings ever since I bought a pair in the late 90s from Elizabeth Duke at Argos, so I couldn't believe my eyes when I found this upgraded pair from Urban Outfitters. 
Oh, and on the subject of 90s nostalgia, these heeled Kurt Geiger loafers seemed the ideal companion for my new, punchy look. Not red, I know, but 9 out of 10 ain't bad…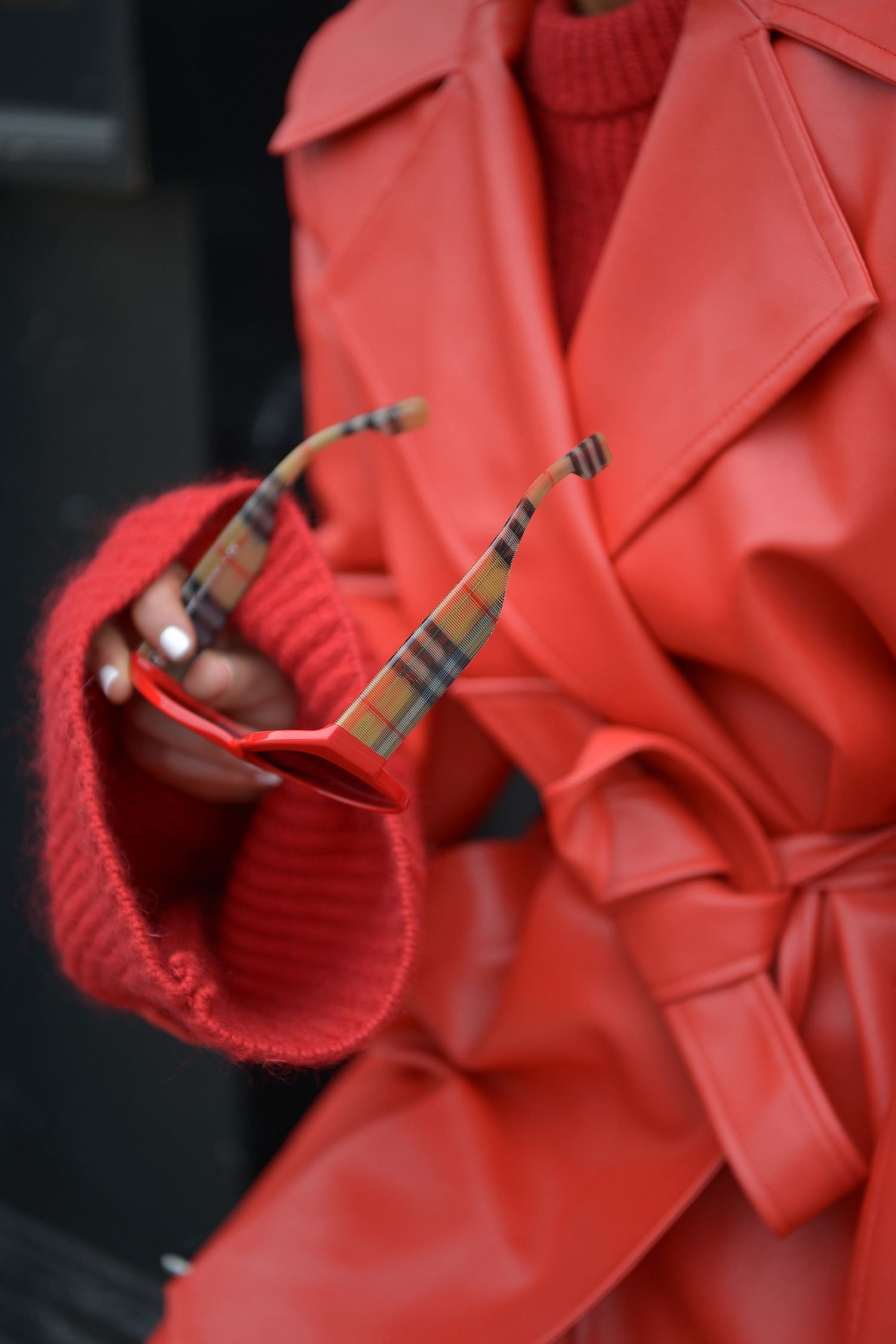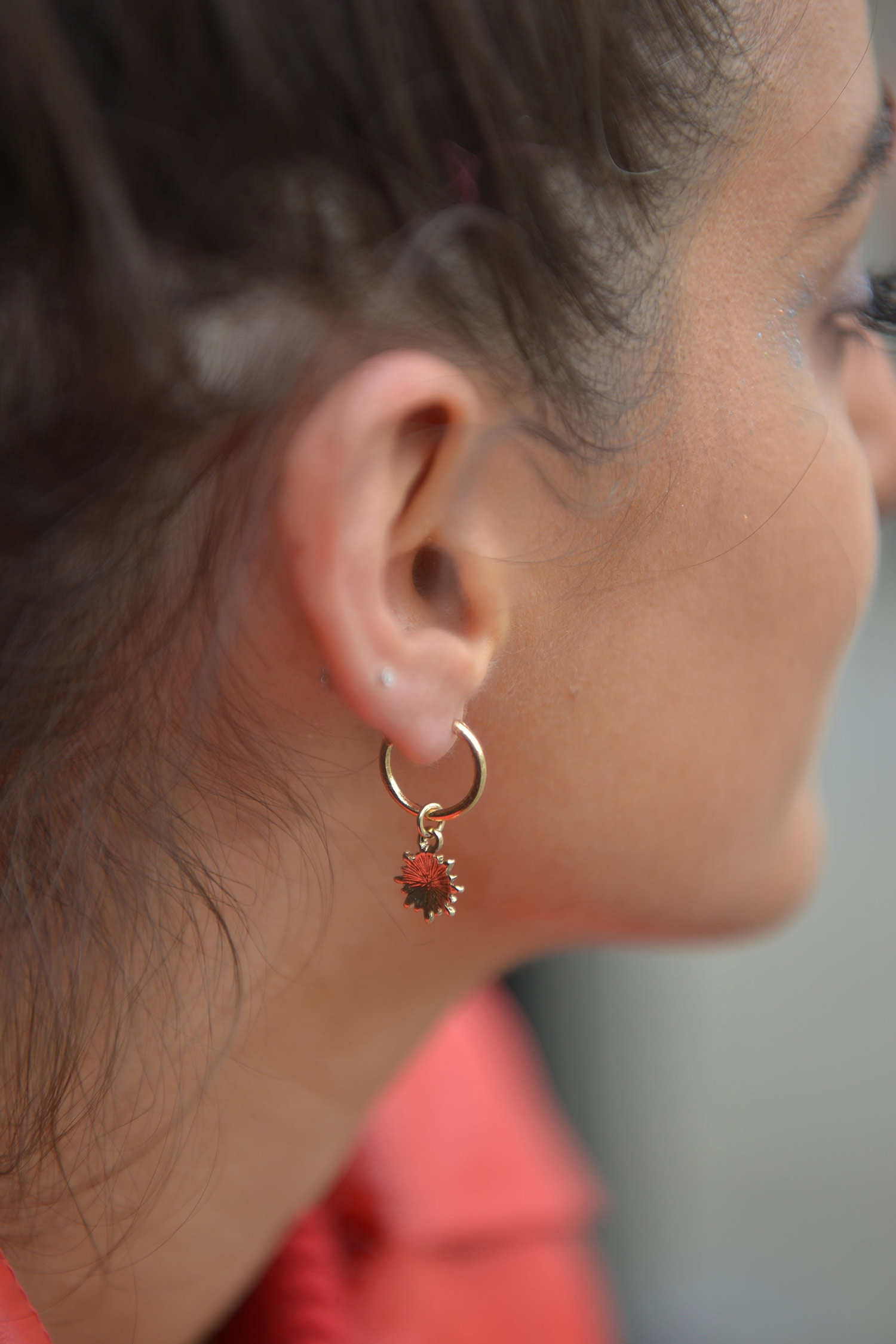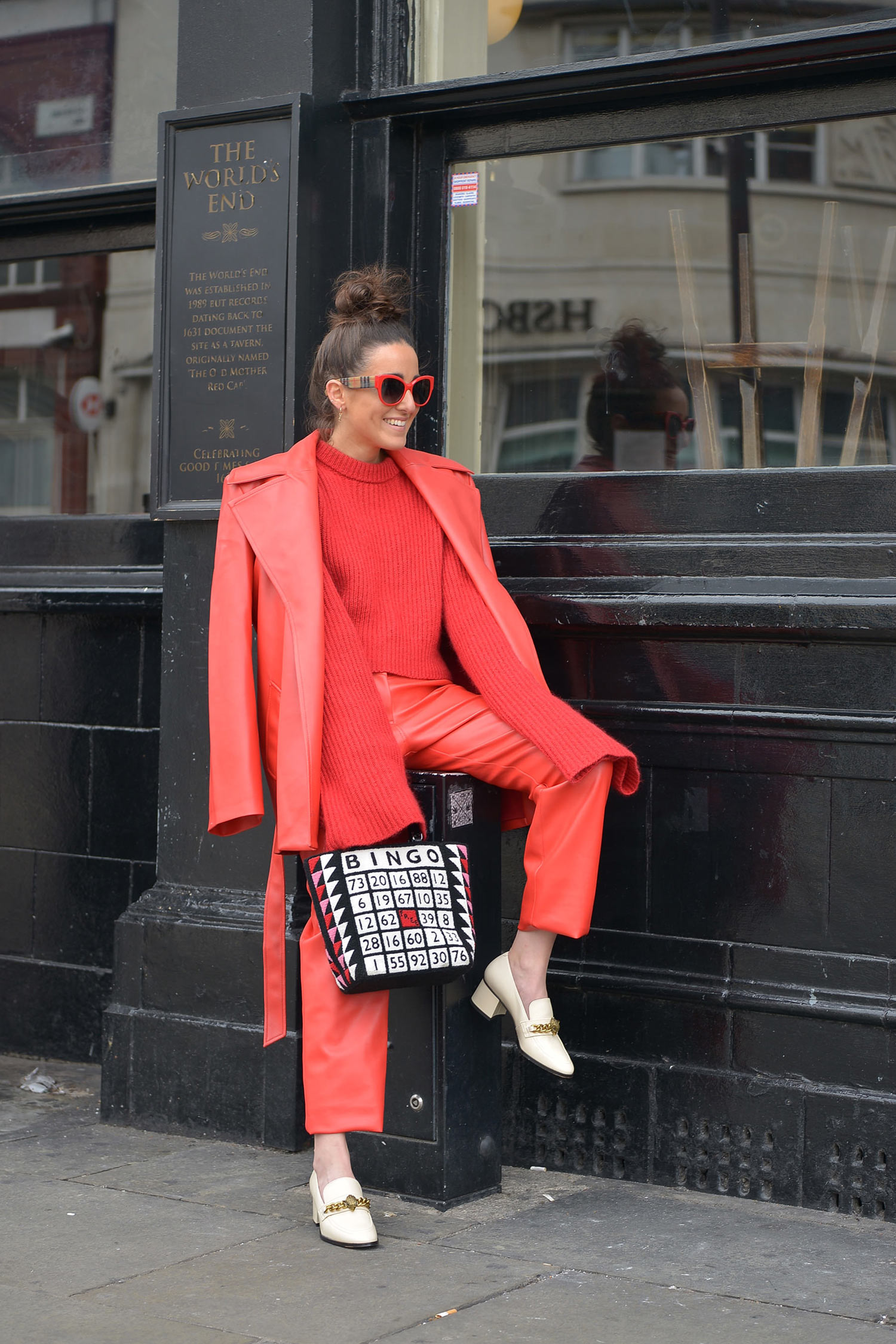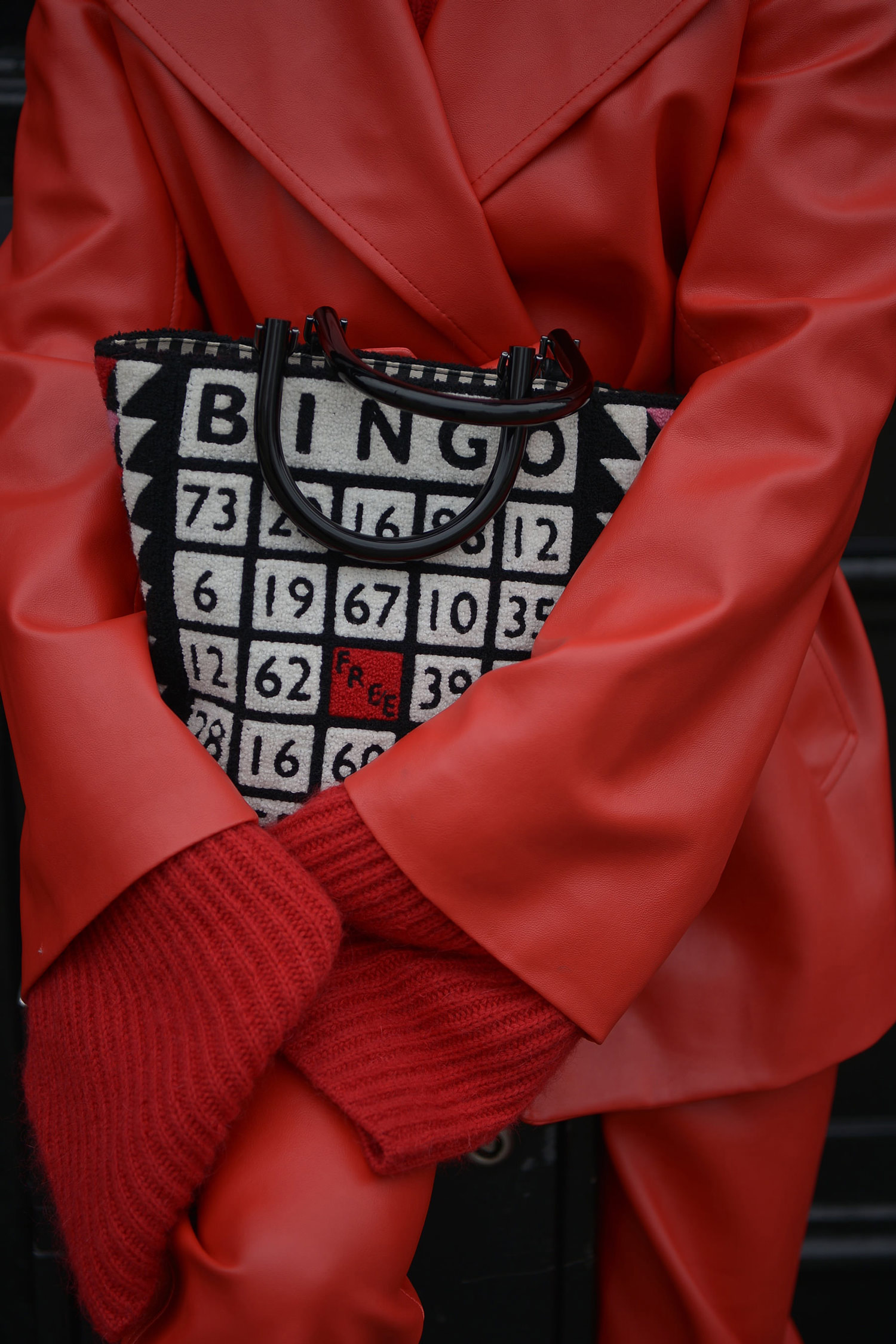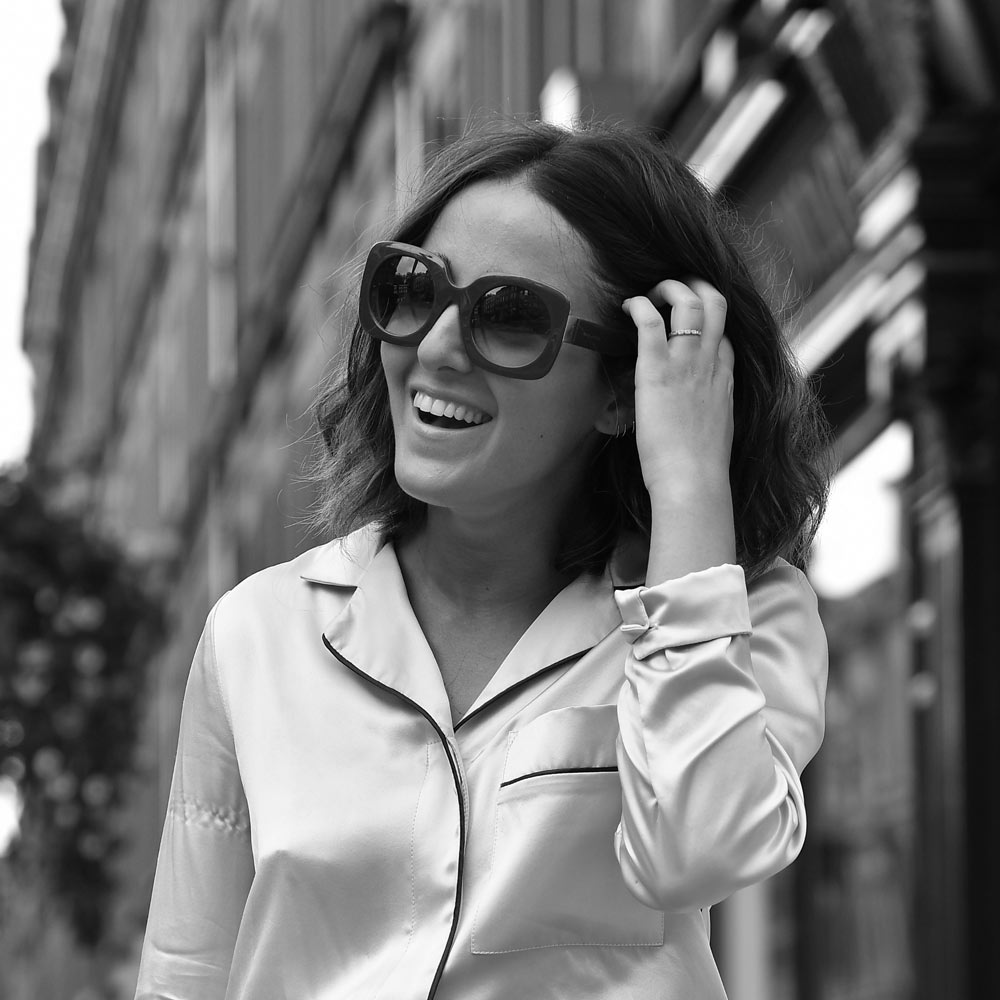 NINI KHATIBLOU
Fashion Editor and Stylist
Nini is a London-based stylist and Contributing Fashion Editor at PHOENIX. With over 10 years experience working on the UK's biggest-selling magazines, she currently splits her time between styling celebrity and fashion shoots for PHOENIX and working with a host of commercial brands in a consultancy and styling framework to create some of the biggest ad campaigns on the market.