Go husky sledding, skidoo across vast frozen lakes, then warm up with reindeer stew in front of the fire
Words Lady Charlotte Lynham
I am not one for extreme cold. Not until I learnt to ski did I appreciate mountains – and now I'm grounded thanks to a skiing accident, the idea of going to Scandinavia's major highland resort of Åre without being able to ski was a strange one. The Beast from the East was already in full force across Europe, with London plunged into chaos thanks to a light dusting of snow. But in Sweden's Åre, where temperatures dropped into the minus 30's, the locals are made of sterner stuff.
On a rather chilly morning I headed to Gatwick to fly to Östersund, a very handy connection for Åre with only an hour's transfer by car. Coming in to land was like touching down in Narnia, with snow as far as the eye could see. Even the walk across the runway was an experience, trudging over the snow-laden tarmac to pass through the doors to arrivals with Ski In and Ski Out signs.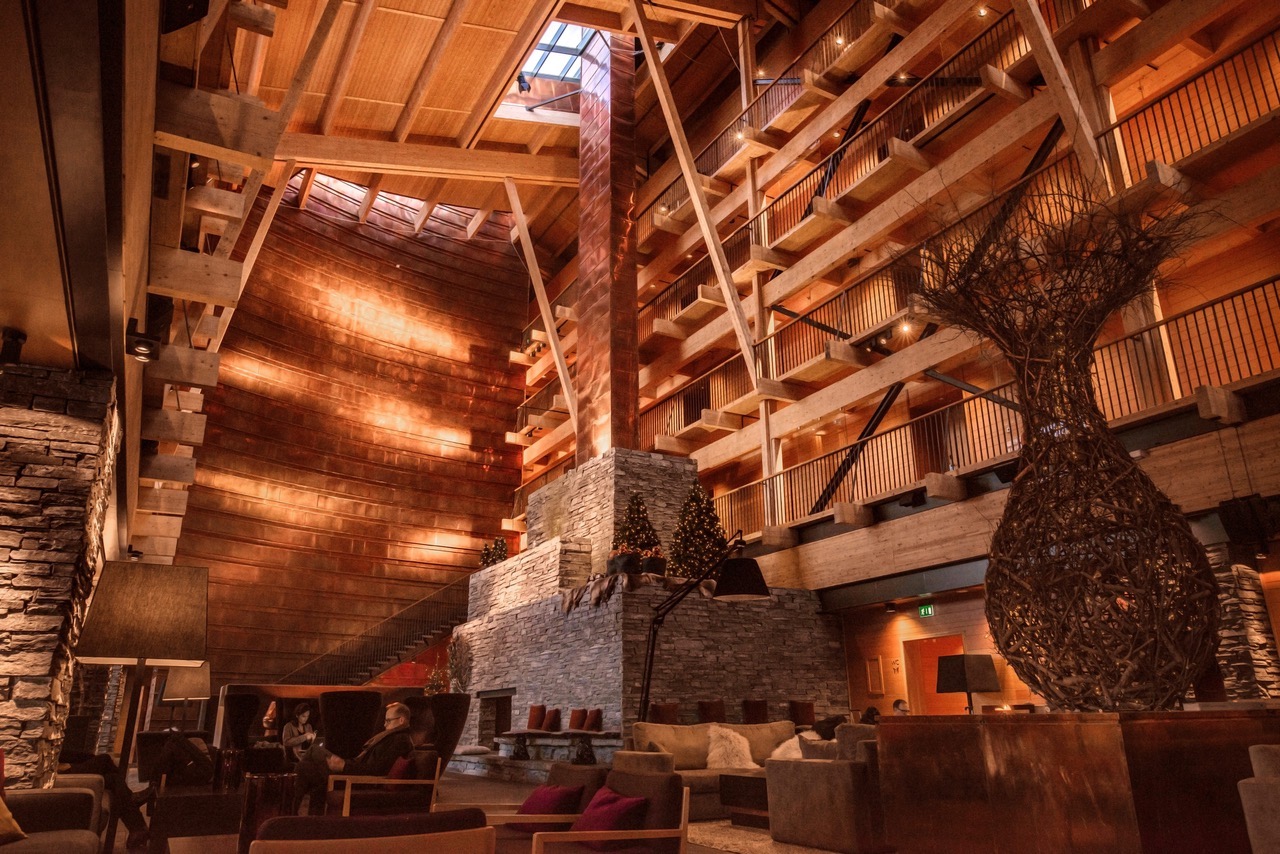 The lobby at Copperhill Mountain Lodge
Our host Johan Landorf of MIDLAND SCANDINAVIA greeted us as we came out of baggage collection and ushered us to our speedy transfer to Åre's luxury hotel Copperhill Mountain Lodge. It is worth noting here that although we went by car (just as well, given that it was still -15 outside) you have the option of transferring to Åre via skidoo or husky sled on request. A longer journey time, yes, but what an experience!
We hit the ground running with a delicious lunch, enjoyed with our co-host Mariann, highlights of which were hearty, wintry delights like reindeer stew (mmm, Rudolph!) or the succulent Copperhill Burger, just the right kind of fuel for a snow day. Beyond the restaurant and spa are 112 tastefully appointed rooms and suites with stunning alpine views, an award-winning spa, ski rental, a gym, six conference rooms, and even a helipad. After checking in, unpacking and donning almost all of the winter gear I'd bought with me, it was time to woman up and brave the cold to experience one of the most exhilarating, high octane winter pursuits: skidooing. In layman's terms, that means bombing around on a snowmobile.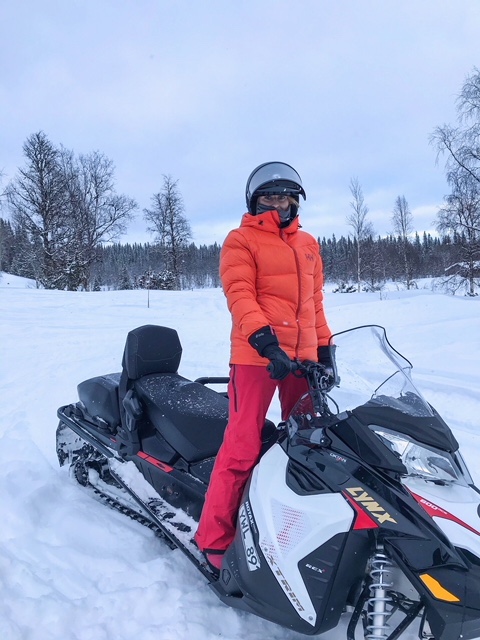 I have skidoo'd once before in Finland and thoroughly enjoyed it, so I was really looking forward to this activity, but boy, this was even better! After suiting and booting (the staff provide what is essentially a very warm biker onesie for you to borrow if you do not have the necessary gear) we headed off in a very small group of four skidoos into the wilderness. We wound our way up the designated skidoo routes to a frozen lake, where you can really let it rip, and then beyond to a quaint little restaurant where we had tea and cake. We then went off-track, venturing deep into the wilderness in search of reindeer, and as we climbed Åre's landscape grew increasingly Narnia-like. There was not a soul in site, just snow-capped trees stretching on and on – all that was missing was a Turkish Delight-laden Snow Queen. Just as sunset hit and the sky blushed a deep shade of pink, we ascended one of the peaks and spotted several reindeer. It was a truly breathtaking, wet-eyed moment of wonder in nature, and a total contrast to revving across the frozen lakes earlier in the day. All in all, skidooing turned out to be an unmissable experience, but be prepared for temperatures to plummet once the sun goes down.
Back at Copperhill Mountain Lodge it was time to de-freeze in our his and hers shower (that's right, one rain shower is never enough) and head to the in-house restaurant for dinner. We enjoyed a beautifully curated tasting menu with wine pairing and ended the evening with a nightcap by the fire. With more winter adventures planning for the following day, an early night beckoned.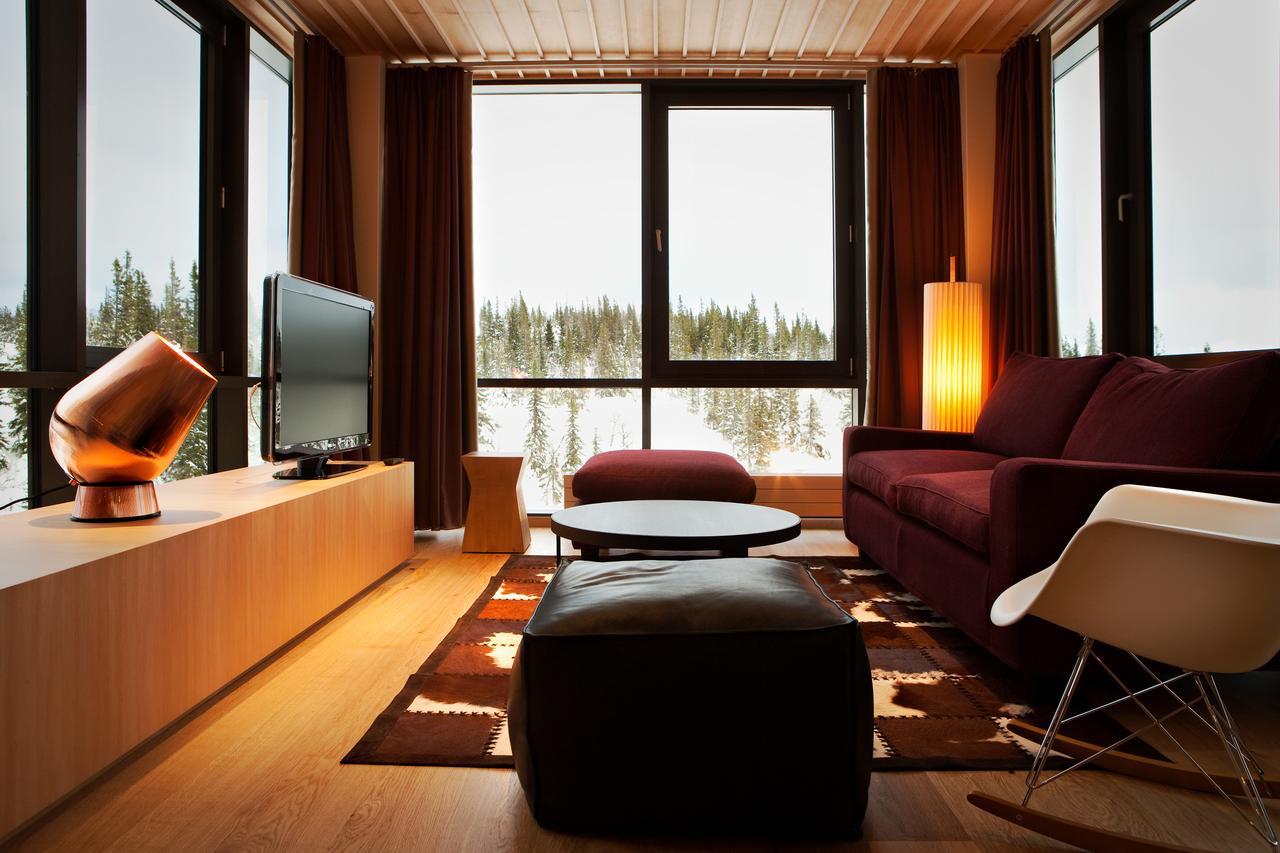 Mountain views from Copperhill Mountain Lodge
After a hearty breakfast (served buffet-style, with everything from buttery scrambled eggs to home-baked sourdough) we headed to the Ski Room area on the lower ground floor to meet the Explore Åre team, who had organised a small snowshoe expedition for us. For the uninitiated, snowshoeing is essentially a form of hiking using specialist snowshoes that distribute your weight evenly, allowing you to trek through the snow without your feet disappearing into the drifts. At first glances, the process looked unappealingly complicated and rather less exciting than skiing – oh, how wrong I was.
Once strapped in, with clear instructions on the options of keeping our heel locked in or left free, we set off. Within seconds we were out in the wildernesses, gliding across 6-7 feet of snow with ease. The floatation-like movement is incredibly peaceful, soundtracked only by the light crunching of snow. It's a great mindfulness activity, too, leaving you completely at one with nature. I could have got used to it, if it weren't for the fact that the only UK alternative is the rather less enticing-sounding mud-shoeing.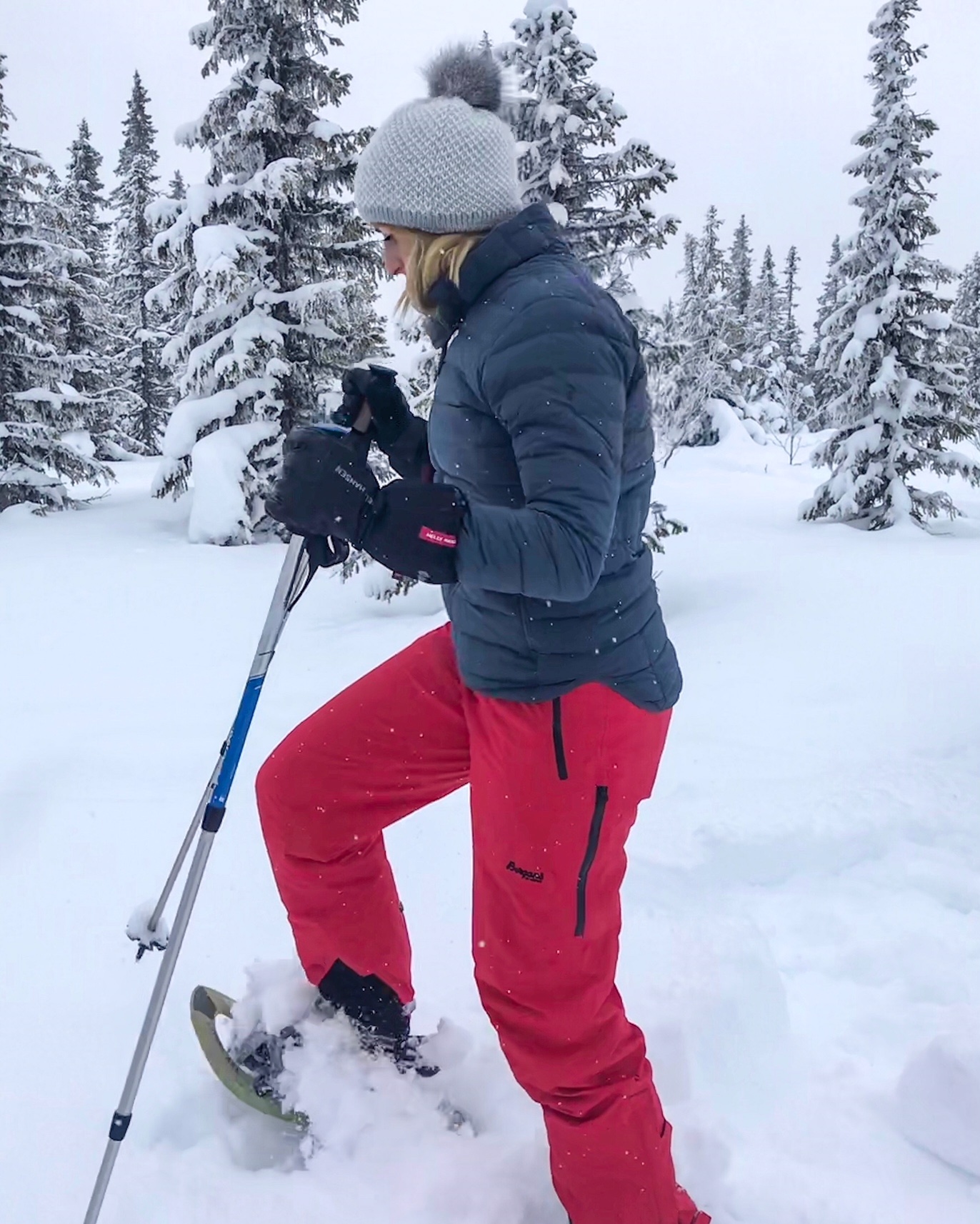 Up next was one of my favourite winter pursuits, and certainly the cutest: husky sledding. We headed to Riverlodge Huskys, run by talented husky handler and award-winning photographer Nicklas Blom, to experience one of the oldest modes of transport in Scandinavia. After meeting all the huskies (Grey stole our hearts) and getting them geared up for the sledge, we took it in turns to ride across the frozen lake that borders Nicklas' operation. With the winter sun peeking through the clouds and the sound of the dogs' paws pattering through the snow, this too is a delightfully peaceful pastime, and finishes with hot chocolate and cookies in front of the fire. Riverlodge specialises in smaller, more intimate husky experiences, but Jonan and his team at MIDLAND SCANDINAVIA are quite at ease organizing much bigger groups if required – although that would mean missing out on Grey's adorable face.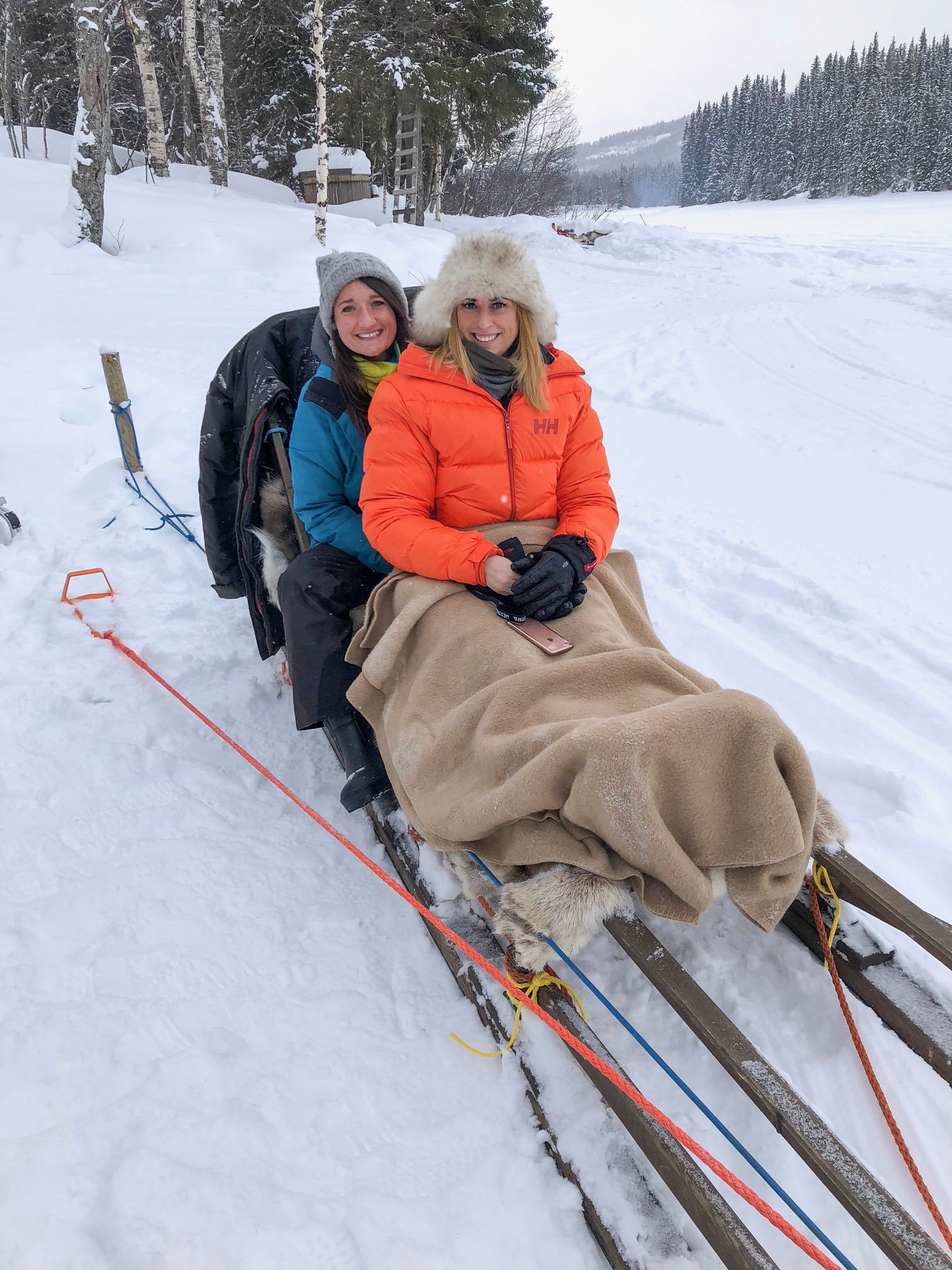 After a day of full-blown winter wonderland, it was time to add one more "only in Scandinavia" pursuits to the list: dinner at Buustamons Fjällgård, via snowcat. Perched on a hill, the restaurant is only accessible via ski, foot or said snowcat – it was so surreal being dressed for supper boarding a World War II vehicle in the driving snow. After a short trip in the dark and negotiating getting out and down the 5 foot drop from the cabin, we were at our final stop, Buustamons Fjällgård, a charming spot 732 meters above the sea, where the kitchen takes inspiration from the local produce of Åre. We enjoyed smoked herring and homemade Schnapps, made on site in the basement, and were serenaded with traditional Swedish songs by Johan – a magical evening that left us feeling quite at home, with the snow falling outside.
Our final day was spent relaxing in the Instagrammable spa, where vast windows reveal panoramic mountains views. The pool connects with the outside slopes, with steamy baths both indoors and outdoors, as well as a warren of warming saunas and relaxation treatment rooms. I opted for the Big Bang treatment, which starts with a massage with warm oils to take care of your tired muscles and finishes with a face ritual to cleanse and moisturise. I came out clean, smooth and relaxed, all ready for my final outing. Before lunch we headed into the small town to have a look around, the original Peak Performance shop still stands in the centre, as well as the oldest funicular railway Åre Bergbana, installed in 1908. There's a good section of shops, restaurants and bars – including several craft shops where I picked up a rather lovely vintage ski poster – along with the railway station that connects Åre to Stockholm, Trondheim and beyond.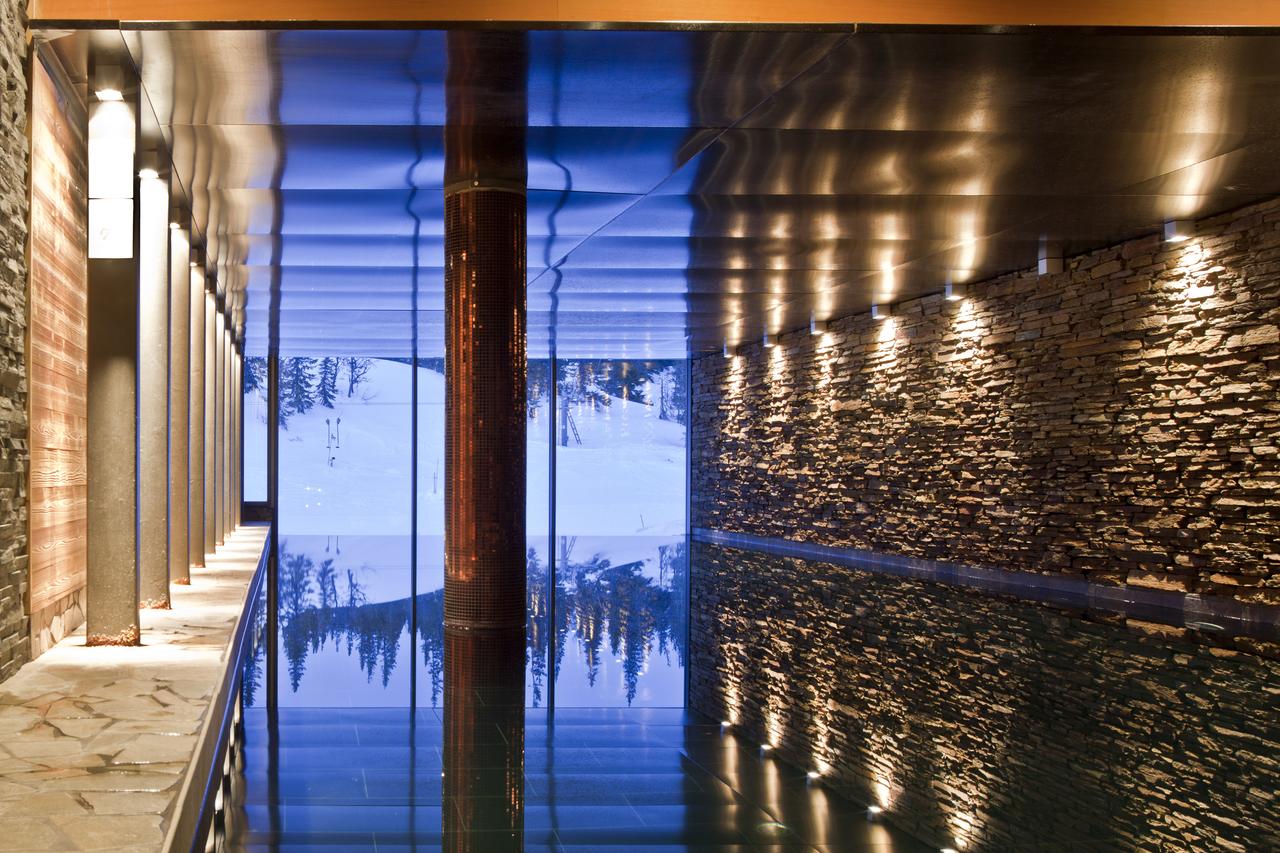 The spa at Copperhill Mountain Lodge
After a whirlwind 48-hour experience, it was time to leave. The extreme cold may not be my thing, but while skidooing, snowshoeing and husky sledding I almost forgot the temperature. My partner is a huge fan of Scandinavia, particularly Sweden, and after experiencing Åre's heart-stopping mountainous wilderness, delicious home-cooked food and warm hospitality. I can understand why. Skål Åre, thanks for the memories – and for reducing my bucket list by half. Copperhill Mountain Lodge, Åre Björnen, 837 52 Åre, Sweden
For more snowbound adventures check out Bluehouse Skis.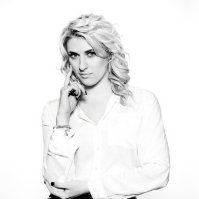 LADY CHARLOTTE LYNHAM
Travel Writer
Lady Charlotte Lynham is freelance travel writer for PHOENIX and Editor-in-Chief at travel and lifestyle website, Bespoke Black Book. She has extensive experience in luxury PR and branding, having launched the successful LadyCPR and MrCPR in 2013 and 2016 respectively.