A flowing trench, a snuggly sweater and some eco-friendly swimwear ensure all February fashion needs are covered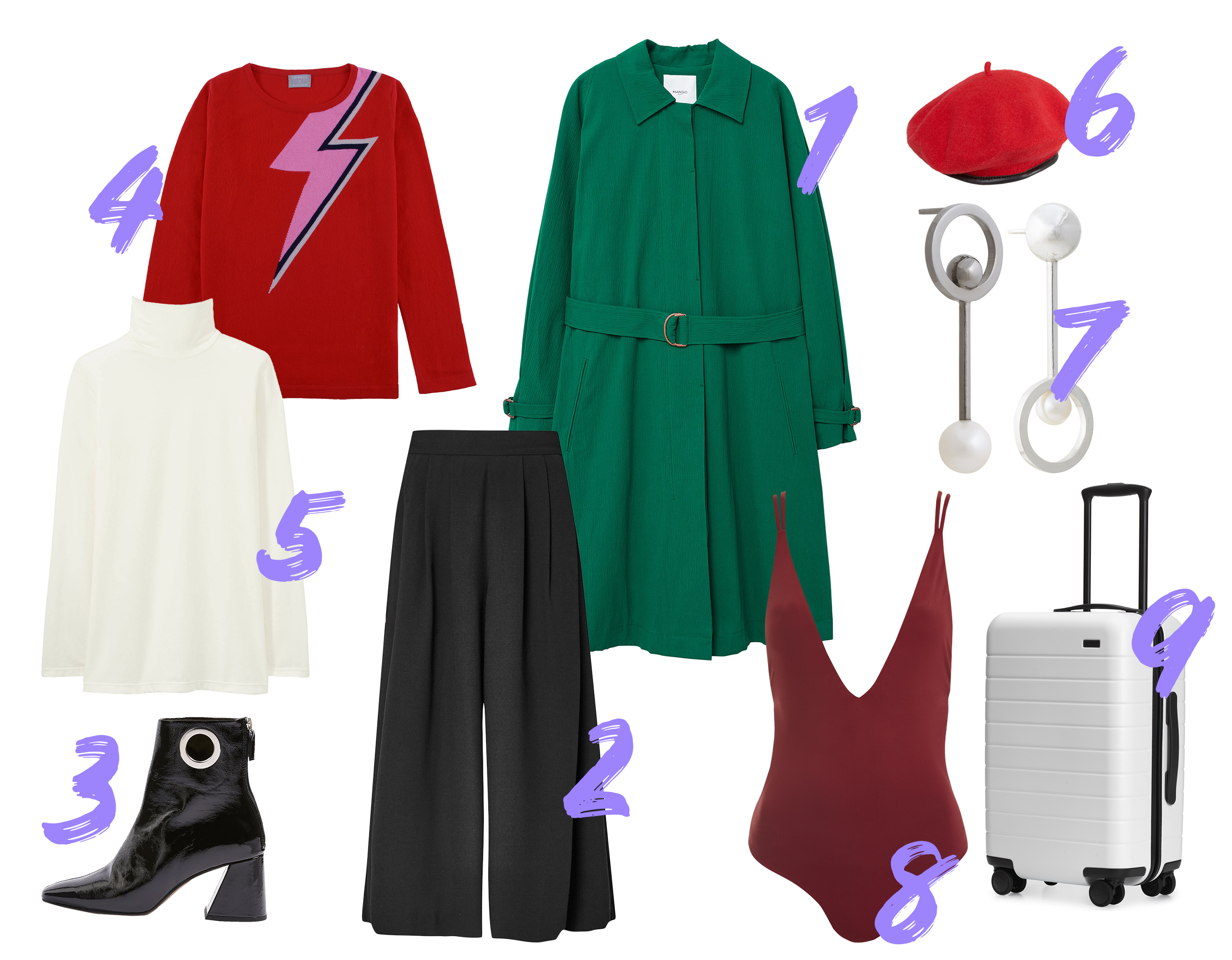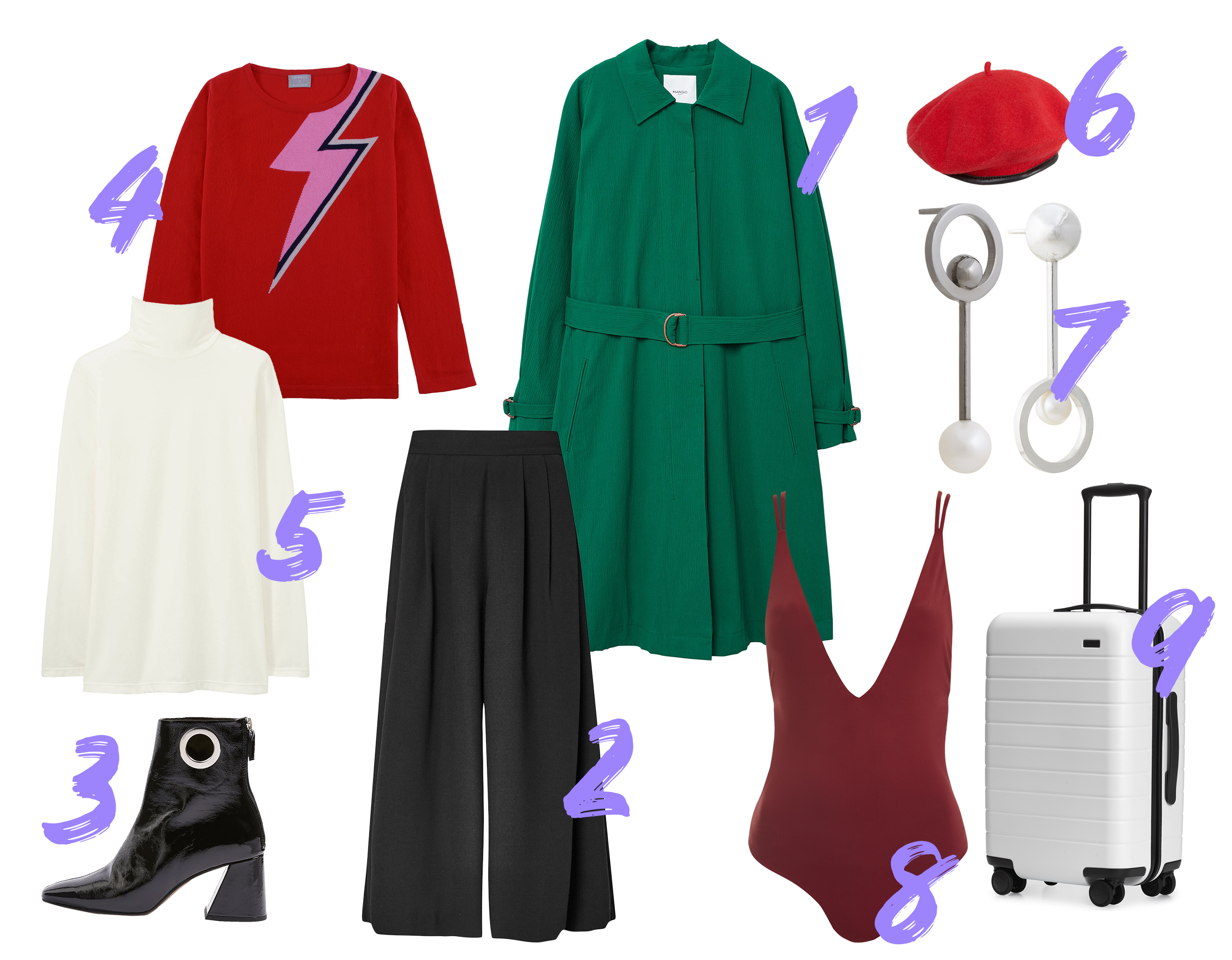 1. Belted Trench, MANGO, £89.99
2. Draped Culottes, FRENCH CONNECTION at ASOS, £65
3. Malone Boots, TOPSHOP, £82 
4. Bowie Cashmere Sweater, ORWELL & AUSTEN at WOLF & BADGER, £195
5. Heat Tech Turtle Neck, UNIQLO, £12.99
6. Red Beret, ASOS, £10
7. Earrings, STELLINO JEWELS at WOLF & BADGER, £349
8. Carry-On, AWAY, £225
9. Absinthe One Piece in Burgundy, SIXTYNINETY, £65
Tail-end-of-winter February is a tricky month to dress for, with its fluctuating moods and temperatures. For fashion industry folk there will be the inevitably rainy Fashion Week, too, so I'm braving grey skies in this belted flowing trench from Mango, which makes a great trans-seasonal cover-up and gives a cheery nod to the season's colour blocking trend with its bottle green hue.
I'm still in hibernation mode and craving comfy, loose-cut pieces that I can run from show to show in. These draped culottes by French Connection are perfect, and can be dressed up with a chunky heeled boot like this silver eyelet design from Topshop. Orwell & Austen's snuggly Bowie sweater can be layered over a basic heattech turtleneck from Uniqlo to add an extra burst of colour, and is my sartorial salute to The Space Issue, out now in all good independent newsagents (shameless plug? of course). A few directional accessories like ASOS' beret with its contrasting leather-bound edge, and a pair of statement earrings by Stellino Jewells at Wolf & Badger, provide the finishing touches.
If by some happy turn of events I find myself jetting off for a weekend of winter sun, I'll be packing eco-friendly swimwear and activewear brand SixtyNinety's best-selling burgundy one-piece. Made from Fluity CO2, the world's first synthetic biodegradable yarn, it's ultra flattering with its high-cut legs, deep scoop neck and intricate strappy back design. Oh, and it'll fold neatly into Away's sleek monochrome carry-on. Honestly, you won't find a better luggage brand: these beauties come with a lifetime guarantee and have clever interior compartments hidden within their glossy, unbreakable shells, with the added novelty of built-in USB chargers.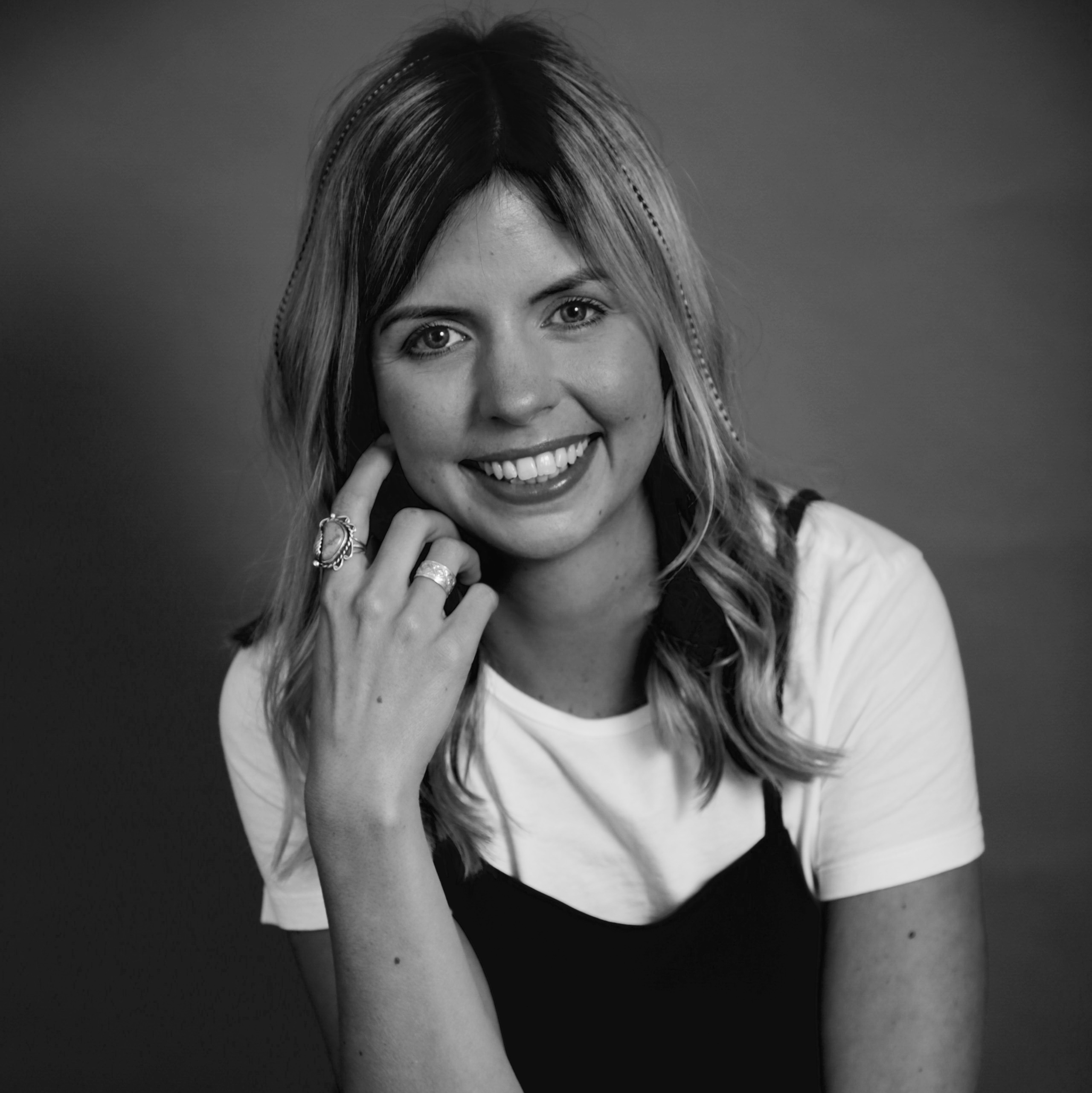 Mary-Jane Wiltsher
Editor
Mary-Jane Wiltsher is a London-based journalist and writer. She joined the PHOENIX team in 2013 after completing her MA in Creative & Professional Writing at the University of Roehampton, later becoming Editor in 2017. Her short fiction has been published by Early Works Press.