"All we had was the radio. That was our life."
Interview Sophie Heath
Introduction Cecilia Mezzi
Born Peter Nitollano, Joe Bataan is undeniably the King of Latin soul. Of African-American and Filipino descent, the singer grew up in 1940s Latin Harlem. "I tell everybody that my heart is Latino because I grew up in a Spanish neighbourhood," he says.
The self-taught piano player has led a richly colourful life. He discovered his natural talent while incarcerated, going on to compose and produce the majority of his own music. His first hit, 'Gypsy Woman', took the New York Latin market by storm. 
Mixing Afro-Cuban and Brazilian music, his visionary approach changed the pop-soul game, anticipated disco and even rap, particularly on records like 'Rap-O, Clap-O'. 
Vinyl DJ duo Noble & Heath caught up with Bataan to talk about his incredible personal history and musical legacy.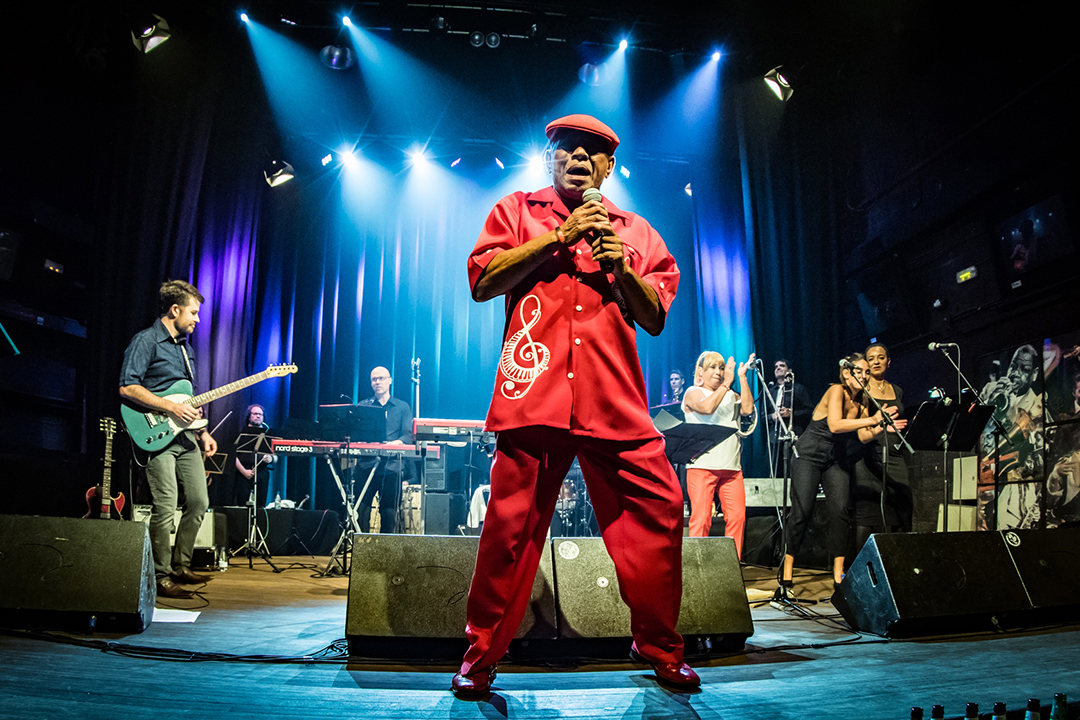 Tell us a little about your childhood and the neighbourhood you grew up in. What were your parents like? 
On a rainy Sunday morning in 1942, that's when I was born. I'm a war baby. My father is Afro Filipino with jet black hair, and my mother's an African American with coarse hair. I tell everybody that my heart is Latino because I grew up in a Spanish neighbourhood. 
Growing up, I had to learn the language, not only to understand people but to defend myself. You could be in a crowded room and have that feeling somebody's talking about you, but you don't know what they're talking about. So for many years, people talked about me, but I knew what they were saying. 
Growing up, what were your aspirations? What was day-to-day life like?
I was an only child, so I had to learn how to defend myself. You know, growing up in Harlem, a youngster, we didn't have anything to look forward to, but we were happy. We had dreams. Most every kid in my neighbourhood had a dream. Depending on how you excelled and how much of a passion you had to become what you wanted in life.
I went through a lot of failures. At first, I wanted to be a baseball player. I was in sports, I ran, played baseball, basketball, all that stuff. 
Once I was visiting some friends and a group of guys got around me, right? I didn't know anything about gangs or anything like that, and they wanted to know where I was from. This was all new to me. Their intention was to beat me up – to really, really damage me. The person that went to my defence was a girl, and she said: "Leave him alone, he doesn't live around here". For some reason, they listened. They didn't bother me. 
I went back home and somebody told me: "Joe, you can't let that happen to you. Join the other gang." And that's how it started. I joined the other gang and before I knew it, we were in a rumble in the streets. I thought it was a movie. I didn't think it was real until I saw the knives, the chains, and a guy that shot a gun in my friend's leg. We went to help him and he said: "No, get outta here". The police came, everybody ran. Then I had my first realisation of what I was involved with. 
How did those levels of violence impact on you and your family?
I used to train [in boxing] with my father. Every morning I'd go to buy the newspaper and this kid would be waiting for me. He punched me in the nose every day, and I used to bleed. My father would say nothing. I couldn't understand why he didn't help me. Filipinos are very quiet. 
My father made a punching bag full of socks and he said, "Look". He punched the bag, and I had to punch it, left, right, left, right. Then, when he thought I was ready, I went back to buy the newspaper. When the guy came to me this time, he was going to bully me. I hit him in the nose fast. He started crying, and I never had a problem again. 
Of course, that's dangerous because when you find out that you have an advantage over another person, something happens to you mentally. You see, the roles reversed. You might become a bully, you know what I mean? That was part of life. And that was part of growing up.
I was a creative mind at an early age, it's just that I didn't know the steps until I got into the studio.
At what point did music become an important part of your life? 
I loved music at an early age. All we had was the radio. That was our life, we had no TV. The TV came maybe in 1949. But we listened to the radio: the only type of music on the radio was Anglo music: Patti Page, Frank Sinatra, Tony Bennett, rarely Nat King Cole, Judy Garland. That's the music I grew up on. I got attracted to musicals, even listening to Wagner a little and stuff like that. All of these things were evolving in my mind, even though I didn't know what they would bring me. 
I consider myself a romantic and I used to fall in love with songs and black and white movies. And that's the best acting that ever existed, the old time films. I learned how to speak from watching films and learned how to talk from watching films. My mannerisms were a little different than the average kid because I studied a lot of this stuff, you know. 
At some point I heard a girl's voice singing, with a rock 'n' roll beat. But the girl wasn't a girl, it was a boy. He was Frankie Lymon, and wow! He became my idol. Everybody was trying to sing like Frankie Lymon, he was like Michael Jackson. Then I got a chance to listen to all of this black music that we never heard before – The Ink Spots, Al Hibbler, The Flamingos, The Heartbeats. 
When did you take up playing piano?
While I was incarcerated, in the reformatory, I picked up the piano. I had a teacher, but he wouldn't let us play unless we learned theory. It was brand new to me. He graduated from Julliard. I taught myself three chords, and I was always able to improvise. I could take a newspaper, and I could sing that newspaper to you in different ways. That's why I sang 'Ordinary Guys' seven times, seven different ways. That's a talent that God gave me: I do it backwards, sideways, whatever you want. That's what gave me my style. 
Talk us through your creative process…
I was a creative mind at an early age, it's just that I didn't know the steps until I got into the studio. I knew about the music, but the engineering and stuff, I didn't. 
I thought, the only way Joe Bataan is going to be known is if I do something different. I can't sing like James Brown, I can't sing like Smokey. Then I started to do a story melodic. I began to sing about the sad part of my life, the happy part of my life, trials and things. 
Then I thought, every song that you write, omit the word love, because everybody writes about love. 'I love you, I need you'. I didn't want to do it. I want to say it in another way. 
How did your two-fold 'Latin soul' sound evolve? 
I got an education for myself because the record company said: what kind of music do you play? And I didn't know. I came up through the Boogaloo, and after the Boogaloo died, I realised that the word Boogaloo was like bubble gum. It won't last. So I changed my style to 'Latin soul'. That made sense. And then it became my own. 
So, my competition was none. I didn't have to compete against James Brown, Smokey Robinson. I ran in the middle, you see? I could say, "Oh, they're not doing this – this is Latin soul."