The latest star of the Leonardo DiCaprio foundation reveals his artistic inspiration
With their flurries of vibrant colour and rich impasto, Yukimasa Ida's paintings reflect vivid snapshots in time. Born in the idyllic seaside town of Tottori, the Toyko-based artist – whose star is most definitely on the rise, with his portraits of Leonardo DiCaprio currently in auction for the actor's wildlife foundation – recalls his hometown as a vision of "ocean, mountains and rivers framed with beautiful sunsets and nature". Looking at Ida's work, which balances abstraction and realism to create compositions infused with a nostalgic sense of childish awe and wonder, it's easy to see how those early memories have made their mark.
So what can we expect from Bespoke, Ida's London-based international debut? True to the exhibition's title, the show is held at the upmarket Fitzrovia tailor shop Labassa Woolfe, and will feature a whimsical collections of murals, from dreamy film stills to human portraits and animal still life. The recurring motifs reflect Ida's own history and his personal experiences growing up in modern day Japan, but also reflect the natural surrounds of his Wiltshire studio in England.
We caught up with the young painter ahead of his show to hear more about his eclectic inspirations and past-meets-present technique.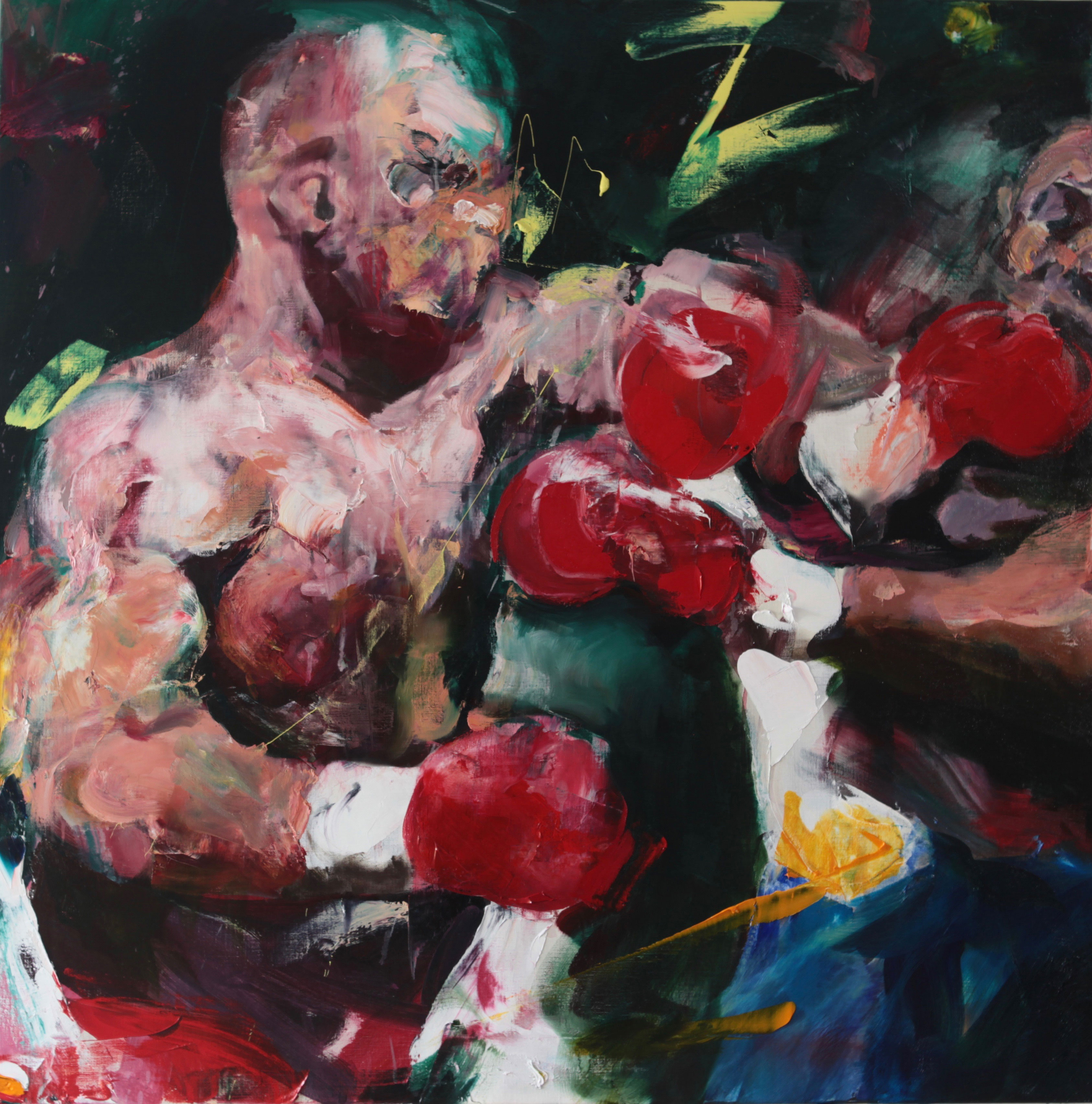 Opening image: Cigarette Girl by Yukimasa Ida. 100 x 75cm Oil on canvas (unvarnished) 2017
Above: Boxer (Round 1) by Yukimasa Ida 100 x 100cm Oil on canvas 2017 (unvarnished)
Hi Yukimasa. Congrats on Bespoke, your international debut exhibition. Talk us through the title.
Hello and thank you very much. I was thinking about a title that is related to my main theme 'Ichi-go-ichi-e' (once in a lifetime) and when I arrived in London I had a conversation with Joe, the owner of the exhibition venue, and the word 'bespoke' came out from his mouth. It's the first time for me to do an exhibition outside of a gallery or museum, and the venue, Labassa Woolfe, is a tailor's shop, which has an atmosphere that links to the theme. I also liked the word 'bespoke' a lot, so I answered 'Let's make it the title!' without hesitation.
What's your earliest memory of picking up a paintbrush?
The first memory was when I was three or four years old, in a corner painting in my father's sculptor studio – and ever since it has become a habit for me to draw. I am painting in my own studio now, but my motivation has never changed since that time. I calm down when I touch my tools, I feel alive when I pick up a paintbrush.
You grew up on your grandparents' farm. Has that early landscape and environment influenced your work?
My hometown is Tottori prefecture and it's all about the ocean, mountains and rivers framed with beautiful sunsets and nature. Looking back now, I think that I grew up in a wonderful environment. The colour of nature is the most beautiful, infinite, heart-touching and thrilling feeling above anything else. I remember the vivid colors of wild strawberries and ripe blossom trees. The time I spend with the infinite graduation of sunset is my favorite way to finish the day. When drawing a picture I often recall Tottori's colour. I think that there is no way that I can produce a more beautiful picture than nature, so I keep pushing myself to steal the technique of God by imitating nature.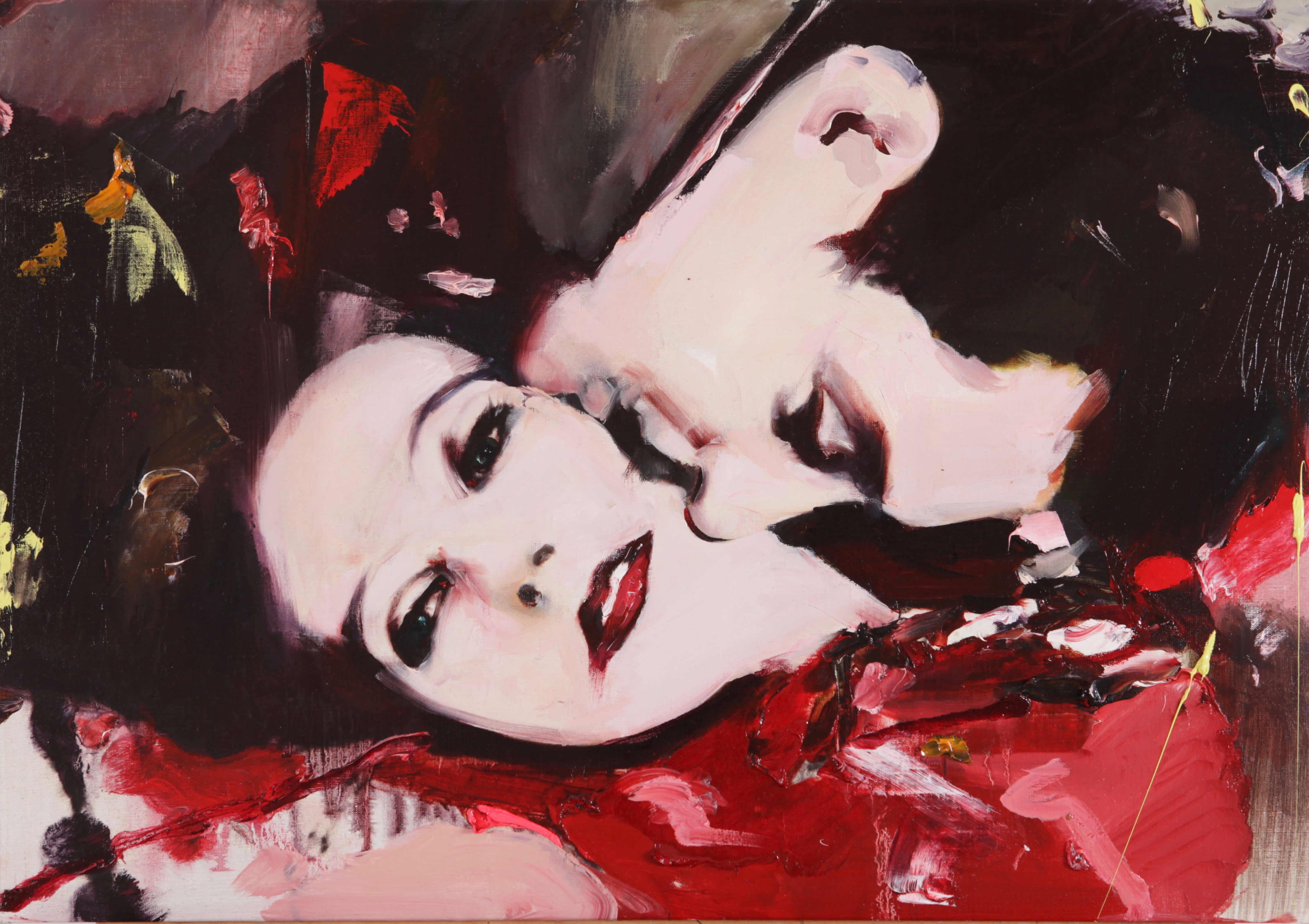 London Kiss by Yukimasa Ida 65 x 45cm Oil on canvas 2017 (unvarnished)
I believe we need to be positive, no matter which country we are from. Patriotism is the emotion that should not be thrown away in any case. Regardless of whether the current situation is good or bad, there is history, there are people who have supported it.
You then went on to study Oil Painting at the Tokyo University of the Arts. What's the arts scene like in Tokyo?
The art scene in Tokyo is smaller than the other main markets in the world. The market is binarised, and artists are often forced to make unreasonable choices. However, I think there are excellent people with high potential as a gallerist, artist and collector. I hope that many more creative people will come out, including myself. I am Japanese, but instead of Japanese arts, I think the collectors of art produced by Japanese individuals will strike the world first. Genuine collectors with passion like Yusaku Maezawa have already appeared in Japan – to this end I have to keep producing better works.

Who are your greatest artistic influences?
It is difficult to answer because I have been influenced by many people and things, within and out of the field of the arts. I like Rembrandt van Rijn, John Singer Sargent and Bacon. I also like Japanese artists such as Tsune Nakamura and Masuo Ikeda.

What's your favourite gallery or museum in the world?
Because content varies according to projects, it is quite difficult to point out one. But the Metropolitan Museum of Art and Dia:Beacon definitely gave me a touch of excitement.

You grew up in a time of great political change in Japan. Do you feel positive about the country's future?
I believe we need to be positive, no matter which country we are from. Patriotism is the emotion that should not be thrown away in any case. Regardless of whether the current situation is good or bad, there is history, there are people who have supported it. We were born and brought up by those people, but before lamenting too much I think that we should have gratitude towards life. Love, joy, hatred and anger – people live by containing these various emotions. It is only because there are dying lives every day, that there are people of the future who can live like us now. I think recognising this is very important, not only for art but life too.

Your distinctive aesthetic is inspired by the Japanese concept of Ichi-go ichi-e. Can you explain a little more about this custom, and how it is captured in your paintings?
At first, it was the death of an intimate family member. Then around the same time I lost a very close friend. I felt the emptiness that I could never meet them again, and the transience of the flow of time. But at the same time, I also felt that it was beautiful. I was in their life and they were in mine. This will also apply to the people that I can only meet in the future, people that I met during my journey; I might not meet them ever again, but the memory that we had met is always inside me, and this is very important.
For example, the leaves growing in the summer change their colour in winter, and one day they will die and when spring comes back, new fresh leaves will be there. I think this cycle is the same in human life. Therefore, I feel preciousness about the sight and scene that I saw on the spot and this becomes my starting point. Though thoughts for each piece of work may change somewhat during the development, there is no change at the root.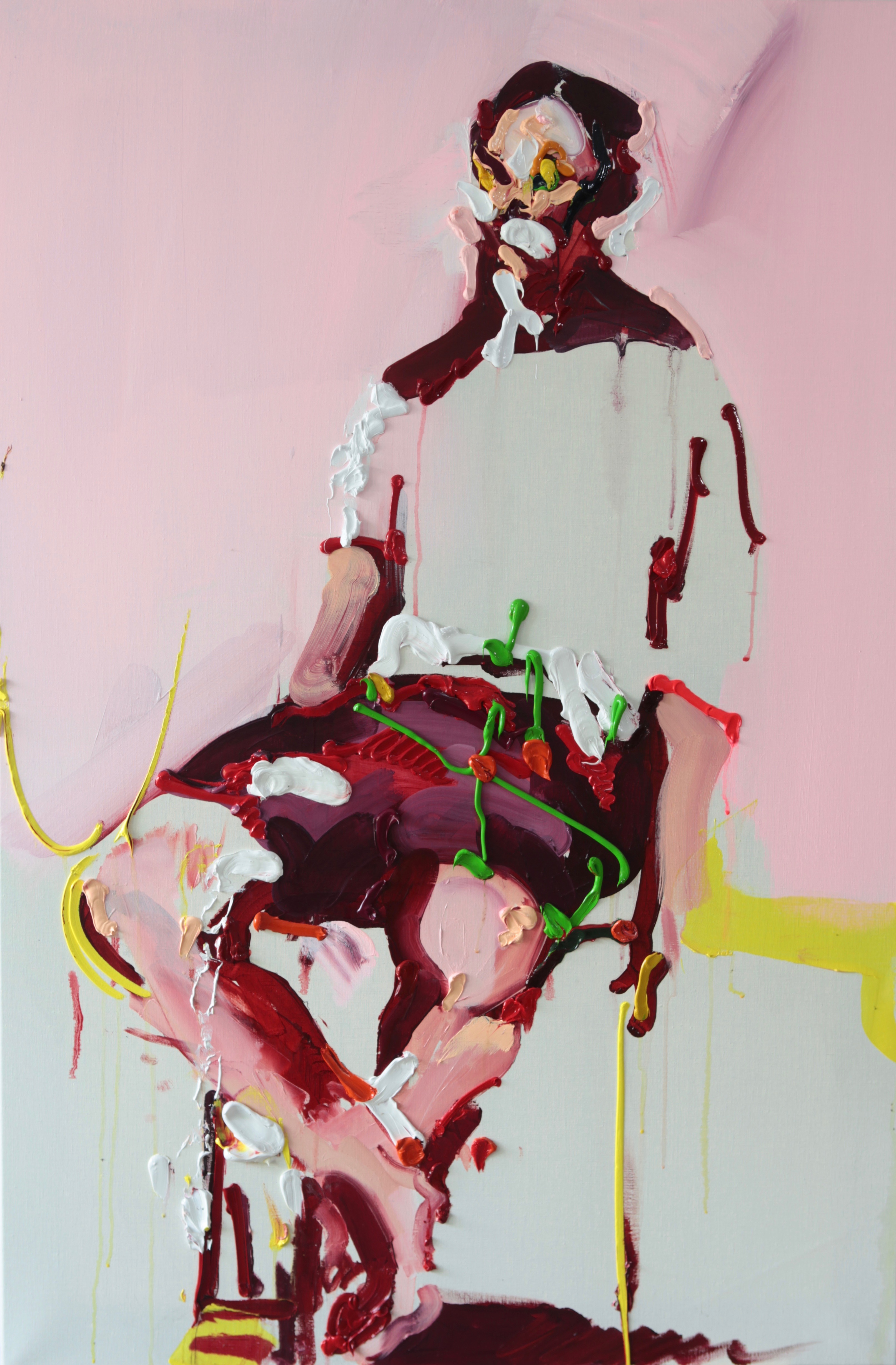 IDA Self Portrait by Yukimasa Ida 120 x 80cm Oil on canvas 2017 (unvarnished)
What techniques do you use to achieve it?
From a young age I trained myself to draw quickly. There is a training protocol that I use: draw a person in 10 minutes. I do not know how many thousands of paintings I drew using this training method. What I felt after was that there is no way our body can catch up with the loss of time, but human beings have memories. I think memory is the origin of human creativity. It is the image in the head. I think it is real and is reflecting the truth. So, all the paintings I draw are realistic paintings.

How would you define beauty?
Everything in this world; loneliness, gladness, ugliness, sleep, beauty is inherent. Painting is also the same. I think that beautiful things enclose human ugliness, preciousness, and various other things.

You painted the works for Bespoke in a studio in Wiltshire. Do you work differently in the city and in the countryside?
I receive different inspiration in different environments. Brooklyn's cityscape and bustle. Nature-rich Wiltshire, I sense different shades of shadows and the people living there and the expression of animals is also different. How to present these expressions is very interesting to me.

How successful are you at 'being in the moment' in your daily life?
I do not know but I am doing my best, but I think only the finished works will know.

What does a good life mean to you?
Because it is my first time to live in this world, I don't have the answer (haha). But I believe it depends on three things: how many lovable people you can meet, how many people love you, and how much love you can put in your work.

What would you love to be doing in five years' time?
I would love to be painting.

What do you eat when no-one's watching?
I like cooking, so I will make something with the leftovers in the refrigerator.

Can you dance?
I often dance while working (haha).