In October, Prepare to Wear… The Statement Coat
Our Fashion Editor offers a month-on-month peek into her covetable wardrobe
Words and styling Nini Khatiblou
Photography David Nyanzi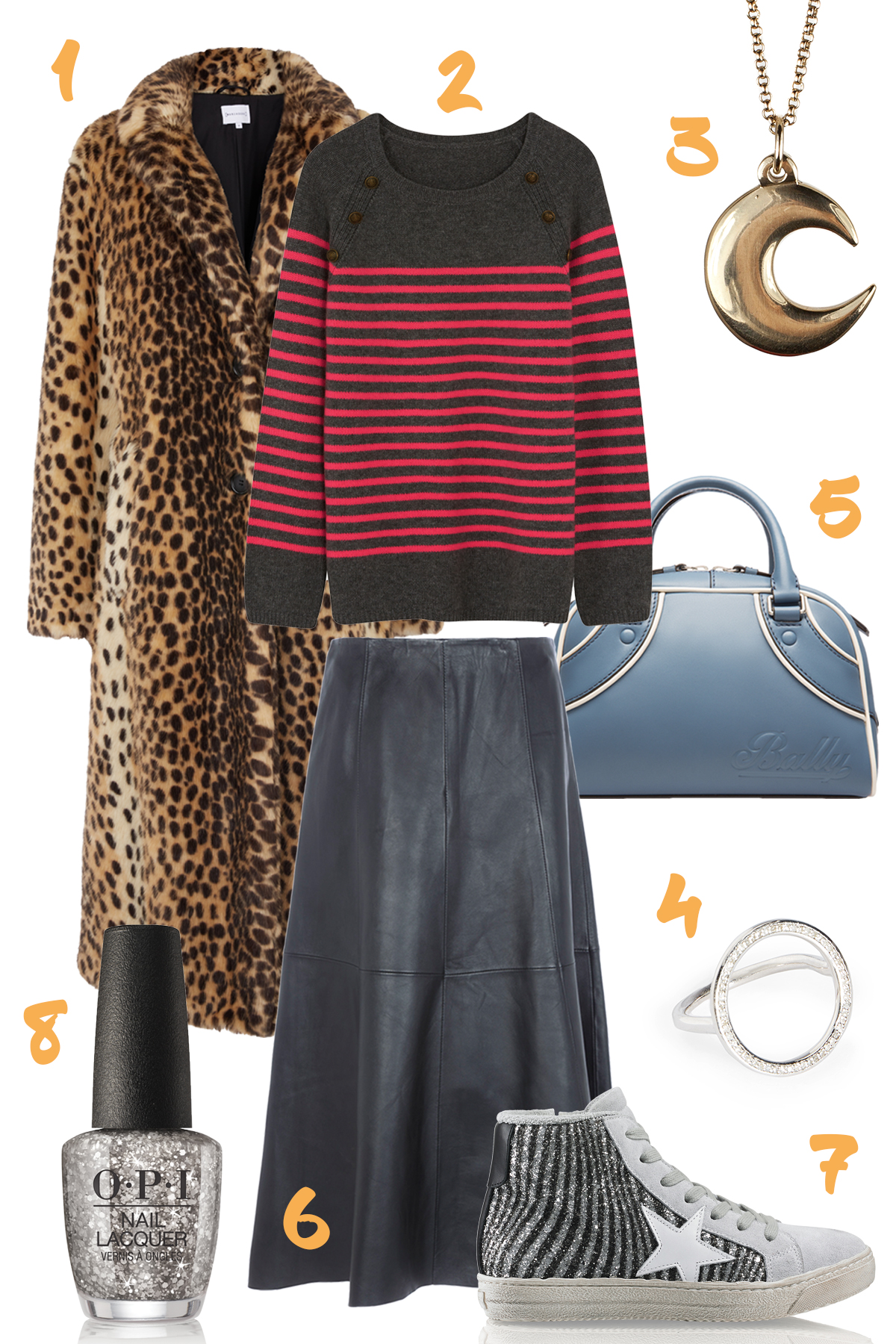 Coat, WAREHOUSE, £115
Jumper, WYSE LONDON, £250
Necklace, BLOODY MARY METAL, £340
Ring, LOLA ROSE, £195, all proceeds go to Future Dreams
Bag, BALLY, £795
Skirt, JAEGER,  £199
Trainers, RUSSELL & BROMLEY, £225
Nail polish, OPI, £13.50
"Are you more of a shoe or a bag person?" I hear people ask.
Dearest reader, I AM NEITHER. I am a coat person. And by coat person, I mean that if I could sacrifice all shopping and only buy one item a year, it would be a shiny new coat.
I worked out a long time ago that I could wear items on repeat, go out with an unwashed top knot and no make-up, wear the same pair of broken down Converse with the rubber sole slowly drifting away from its cotton boot… as long as I had on a major, eye-catching, attention-grabbing coat. You see, an amazing coat does more than just keep you warm. It's a literal coat of armour – the quickest way to transform your look from forgettable to fashion-forward.
The rule is simple: invest in a quality brand, and go for something a bit cray. Something outside of your comfort zone. Something which 'on paper' isn't your type, but makes you feel indestructible when you put it on. Blue faux fur? Why not! A silver foil puffa? Hell yes! Pastel and PVC? Knock yourself out, sister!
I, for one, tend to gravitate towards the more oversized end of the spectrum, in an ongoing attempt to channel one (if not both) of the Olsen twins. I'm also quite partial to a texture, and I love the return of an underdog colour (brown) – which is precisely why this FRAME teddy ticks every outerwear box for me this season.
You may know FRAME as the cool-girl brand from LA with a huge celeb following thanks to their perfect-fit jeans, but as I've discovered over the years, their non-denim pieces are also seriously lust-worthy. I couldn't resist pairing The Teddy with their fabulous, vinyl kick-flares – a versatile trouser which will no doubt make multiple appearances over the festive season. The contrasting textures work a treat, as does the controversial colour combination (black and brown do go together – as long as one of the two has some shine).
I'm also cautious not to be seen as an impractical fashionista, which is why I've popped a classic grey hoodie underneath. After all, an umbrella is a guaranteed outfit killer, but a hood has perennial street appeal. GAP is my go-to for 90s nostalgia, and I'm a big fan of their year-round supply of top quality, wardrobe basics. On the subject of practical, if this season's obsession with dad trainers isn't for you, you'll be pleased to hear the chunky 90s flatform is still going strong and perfect for stomping around town.
Finally, I finish this look with the new bag shape of the season: the single-loop handle bag. LK Bennett knows a good accessory, and this leopard number is the ideal size for day-to-night essentials.
In conclusion, if you can leave the house in the morning dressed like all of the Spice Girls put together, you can count your outfit (and life in general), a big success. October, I'm coming for you.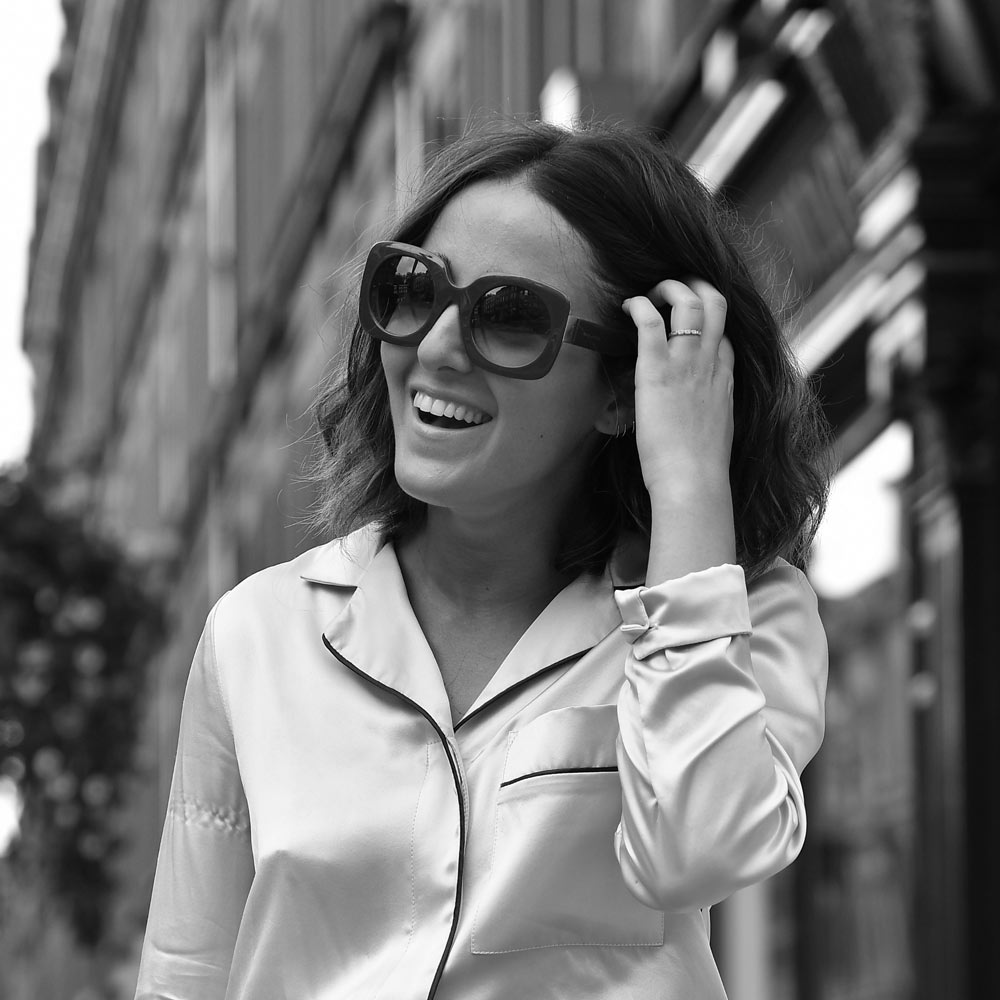 NINI KHATIBLOU
Fashion Editor and Stylist
Nini is a London-based stylist and the Fashion Editor of PHOENIX Digital. With over 10 years experience working on the UK's biggest-selling magazines, she currently splits her time between styling celebrity and fashion shoots for PHOENIX Digital and working with a host of commercial brands in a consultancy and styling framework to create some of the biggest ad campaigns on the market.