Italian plaster and black taps create an indulgent escape for the founder of the Happy Tummy Company
Words Marianna Manson
Photographer Claire Williams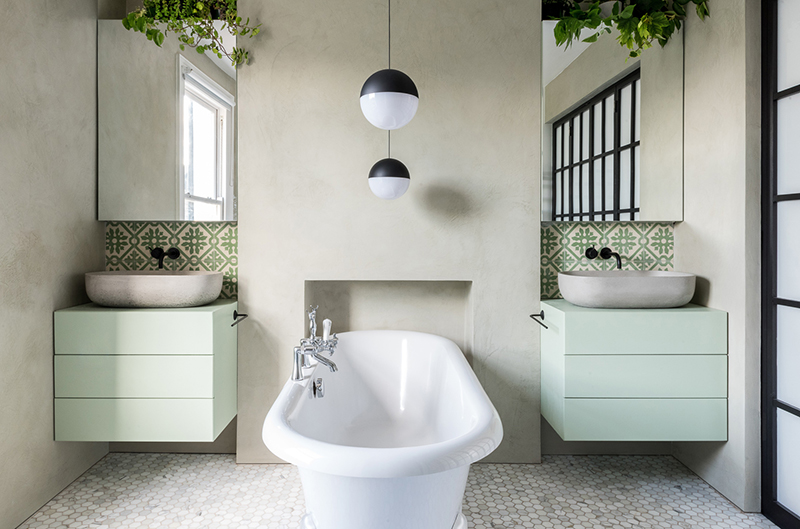 As the epicentre of edgy innovation, community crowd-funding and creative thinking, Hackney has been churning out successful startups like nobody's business over the last few years. One of the borough's fastest rising entrepreneurs is Karen O'Donoghue, who started baking high-fibre, wholegrain bakes and breads with special emphasis on improving gut health out of her kitchen five years ago. Leading a one-woman mission to make gut health part of the national health agenda, her loaves proved popular with health-conscious locals and it wasn't long before she started taking orders.
But then nearby Shoreditch House caught wind of the Happy Tummy Company, O'Donoghue was invited to talk on a panel in front of nearly 200 guests about the benefit of fermented food on gut health, and her business really took off. Today, she makes up to 160 loaves a day from bakeries in Battersea and London Fields.
Despite originally hailing from Ireland, O'Donoghue now most definitely considers Hackney home. As the birthplace of her business – which has in no small part succeeded thanks the overwhelming support she received from like-minded neighbours – it is simultaneously haven, inspiration and professional nerve-centre.
So how has her living space evolved over the tumultuous past seven years – and what makes her bathroom so special?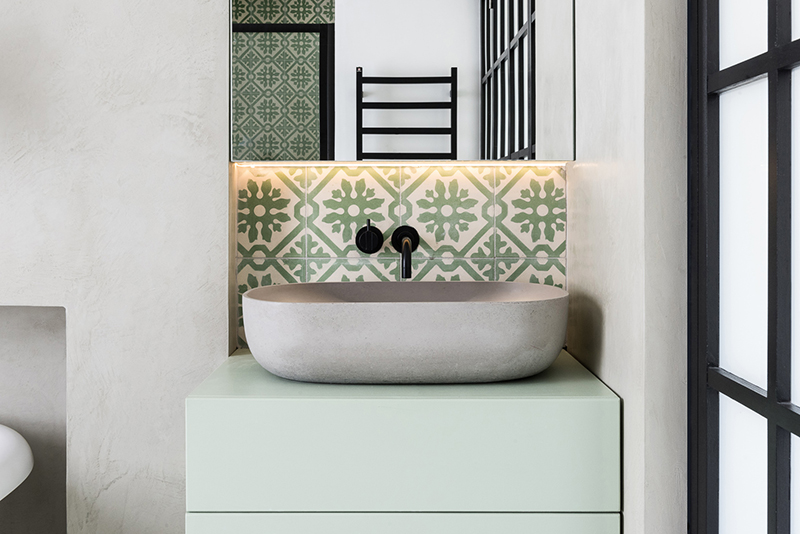 Why did you buy the house and why?
I absolutely adore Hackney! When I moved to London seven years ago it immediately felt like my spiritual home. I just love the food scene here, the attitude, access to Hackney Marshes and the people that live here. The house was a real doer-upper. It was built in 1874 and had stunning old elements that needed to be restored. I guess I saw a story in the house and saw its huge potential. I also love a double fronted house and the fact that it was end of terrace kind of closed the deal.
What do you love about it?
I adore the light. After eight months of renovations knocking down walls and building out the basement I finally have a house that lets the outside world in. I also adore the size of each space. I throw a lot of parties and this house has leant itself really well to hosting dinners for 20 people at a time. Drinks at the picnic table in the front of the house followed by dinner in the kitchen followed by more drinks and dancing out the back of the house just has a really nice flow about it.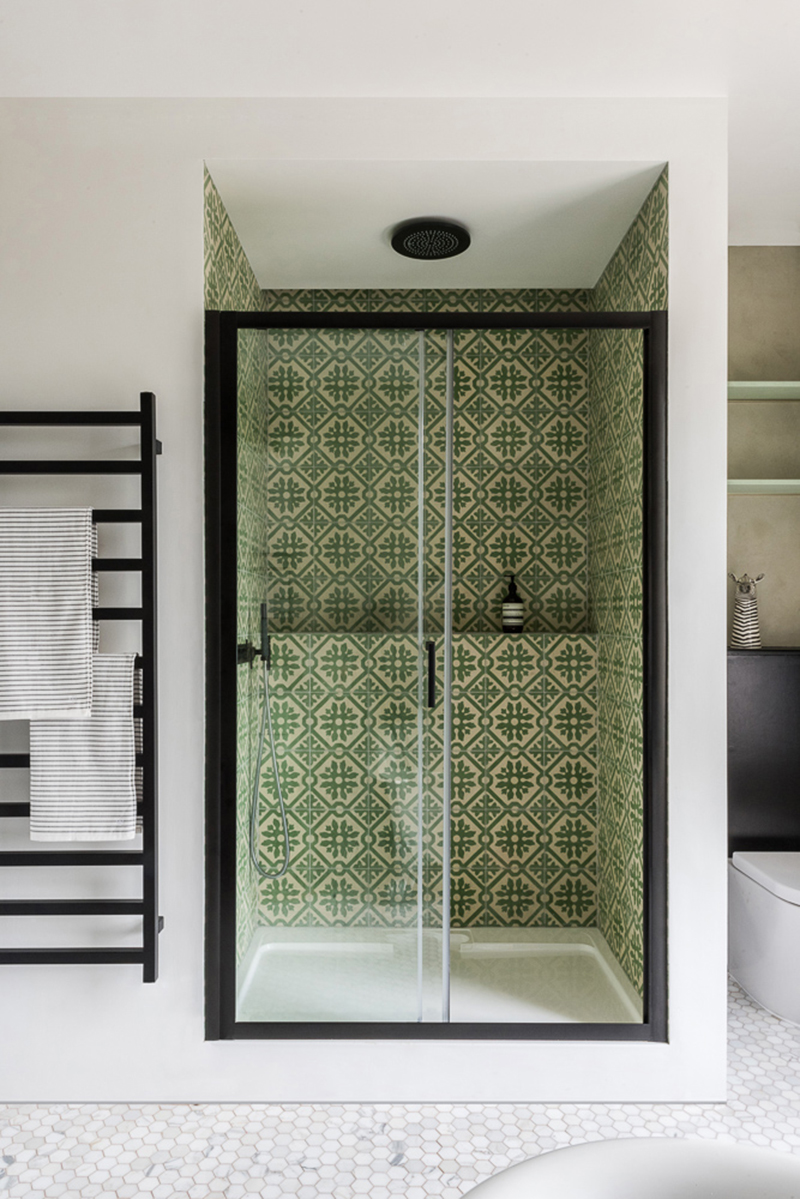 What do you hate?
I hate not having more outdoor space. I'm a country girl and having a little more garden space would be awesome! But with the Marshes so close it was a sacrifice I was totally cool with making.
Why is this your favourite room?
I adore my ensuite bathroom! That shade of green is possibly one of my favourite colours. I love how earthing it is. I used an Italian plaster to replicate summers spent in old farmhouses in Sicily and Tuscany. It feels like a little oasis when the candles are lit. There's something about having a lot of space in a bathroom that's quite indulgent… and I love a little indulgence in my life.
How has its style evolved over the years?
When I bought the house I kitted it out pretty cheaply using a lot of white. It was grand but lacked style and character. Over the years I feel like I've brought more of my wild personality to the space.
What are your 5 favourite features or pieces in the room?
I adore the sinks, the black taps (I love using black stylishly), the colour of the press units, the floor and most of all the Italian plaster.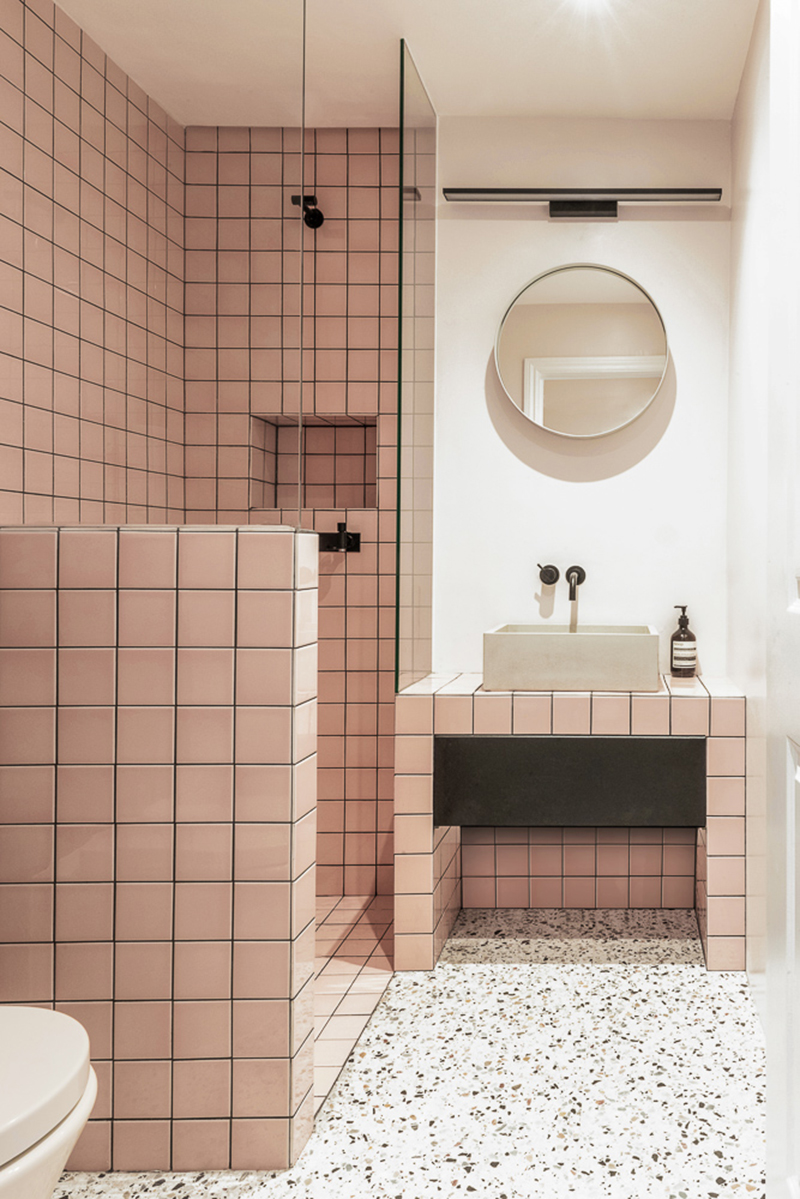 Most memorable moment you've had in this room?
Lying in a bath full of bubbles reading Hilary Clinton's What Happened book with a glass of wine and my dog Biggie Smalls trying to get into the bath! As we move into America soon with The Happy Tummy Co, that book has certainly had a massive effect on me. Another moment is a hilarious photo shoot we had in there where Amy (my business partner) and I ended up in the bath together with a couple of Chia Teff sandwiches. Those photos will definitely stay in the private collection! LOL.
Dream piece you'd like to add to it?
I'd love to add lots more green plants – keep meaning to do that.