A new breed of traveller – mostly European and American millennials – is jacking in the mortgage and rat race for #Vanlife
When the stresses of modern life get too much, who among us hasn't felt the sudden urge to up sticks and hit the road, leaving the drudgery of the rat race behind? For most of us the feeling quickly subsides, but for others the open road is an irresistible siren call.
A quick peruse of Instagram reveals a breed of traveller whose life plays out in the back of elaborately converted vans or buses. In this corner of social media, the trio of wanderlust, aspiration and motorhome design intersect under the hashtag #Vanlife. 
The #Vanlife movement is comprised mostly of European or American millennials who have given it all up to explore the world. Typically, the first step on the van life journey is to buy a used utility vehicle and completely transform it into a home on wheels. The next step is to hit the road — and document the highlights on Instagram. 
Life on the road can be challenging, but by converting the space meticulously, the back of a van can be a real, fully functional home, often complete with kitchens (though only the biggest and most ambitious #VanLifers manage to fit in bathrooms, that's what campgrounds are for). Design and decoration are important, not only for functionality but also for the all-important social media profile. It makes sense — the more money van lifers can make from their travels, the longer they can keep driving.
PHOENIX spoke to three van adventurers to learn more about life on the open road.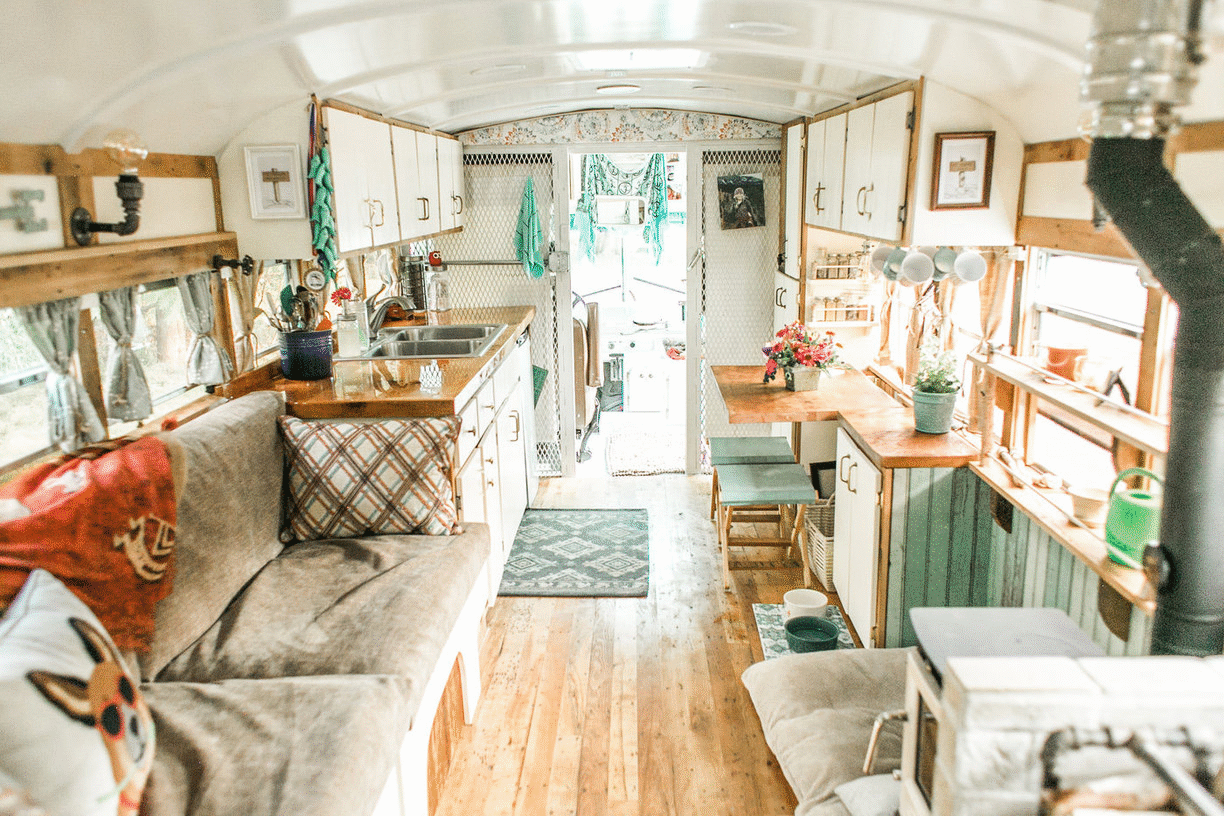 Meg and Ben Poirier, USA
Our tiny living adventure began with the desire to continue our path of living simply and more deliberately. We wanted a new challenge to pursue together to test our comfort zones! Our goal was to explore the U.S. and decide where to have roots as we develop our entrepreneurial business ventures. It was a reset button of sorts.
We chose our bus because it was mechanically sound, the body was in incredible condition and it had really low miles. In terms of size (it's 31 feet total, 165 square feet of living space), it was a great compromise between a full size bus and a smaller van/short bus. We were able to take it just about anywhere we wanted to around the country, through 22,000 miles and 38 states in 18 months! 
Our building experience was fairly limited but Ben is really savvy with carpentry and DIY in general. We watched a lot of YouTube videos and scoured through dozens of blogs and forums to find the information we needed and piece together our design. Our bus is a true reflection of us, from the inside out. We maintained an open-concept with no full walls to segment the living space.
I find that even the hardest parts of living nomadically in a tiny space can be spun into something positive, something to learn and grow from! I honestly love the mental challenge of living on the road, not knowing quite what to expect out of each day and creating that experience for yourself as you go. It teaches you about yourself and your partner in a whole new way.
Shams, France
I'm an adventure film director and cinematographer and work all around the world, which means I'm location independent and a real digital nomad. On June 2018, I left France to travel the world by living full time in my van! The plan: to not have any plans! I don't have any time limit, any routes, but as I keep saying, if I keep going east, at some point, I should come back from where I started.
I spent a lot of time on different Internet forums and on Instagram to get some inspiration. Then I made a list of what I must have: a hot shower, a heater, a kitchen. I also wanted a 360° view from the bed, a comfortable sleeping area, some nice lights, and huge battery and electricity set-up to be able to work and charge all my equipment. It took me 4 months to complete the process. It's still not perfect, I made some mistakes, but I'm happy and proud of myself as I had no knowledge of this stuff before.  
The best thing about van life is sometimes the hardest: being alone. What I didn't expect is how much feelings and emotions are multiplied. When it is a good day, in a nice spot with an amazing sunset for example, it's the best day ever. When it's raining non-stop and you don't see anyone for one week, you are depressed. These ups and downs are the challenging thing about van life.  
But showers under the stars, new places, incredible views and the amazing people you meet on the way, are reminders that traveling this way is the best thing.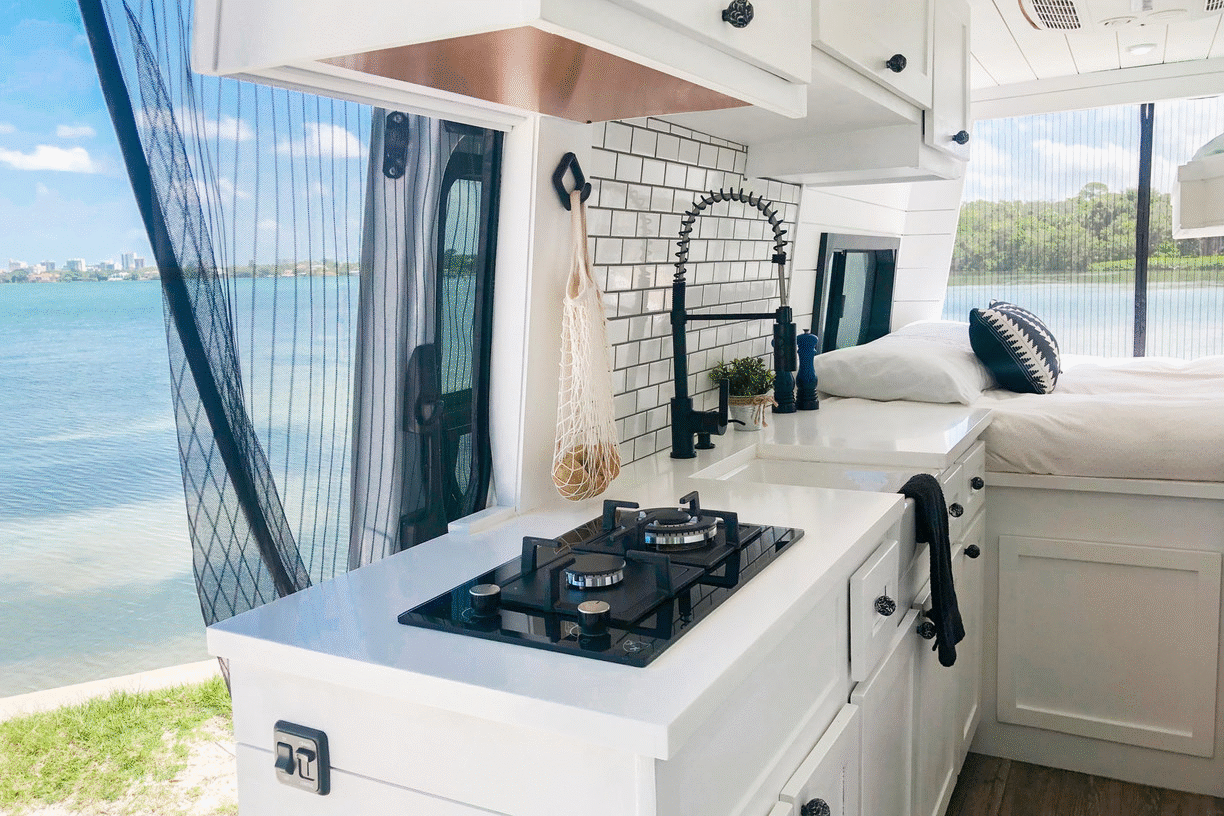 Giana, Jake and Luna Bachowski – USA
We decided to live van life because we wanted the freedom to travel, to simplify our lives and to spend more time together as a family. We had a 4-bedroom home and too much "stuff" that Jake was working long hours away from us to provide. We knew if we minimised and simplified a little, we would be able to go on an adventure of a lifetime, together, now. Not just when we retire, and Luna is grown.
We spent many months online looking at other people's van designs before designing our van. We hired an RV company in Florida to do our rough-in work (electrical, plumbing, installing windows) and then drove the van to NY for my uncle, who's a custom finisher to build out the inside for us. 
The best thing about living van life is that our home is on wheels. We are able to change the views out of our windows everyday if we want to and can live in whatever climate we choose. We have freedom!  
The hardest part of van life is the adjustments involved. It's not so much that it's hard, it's just different and takes adaptation and discipline. We now have to be more conscious of our water usage, prepare for the occasional lack of sunshine that charges our batteries, ensure we have a safe place to park at night (and that it's level ground), and find places to properly dump our tanks and fill up on water.
The pros of living van life greatly outweigh the cons and we have zero regrets making this lifestyle change – we're having a blast and meeting tons of cool people along the way. Hopefully we can inspire others to reach outside of their comfort zone and chase their wildest dreams.
Partner Brand: Grain & Frame 
If living in a van has you craving a kitchen with maximised space, check out bespoke furniture brand Grain & Frame's guide to Kitchen Islands.