With the latest track 'The Walls Are Way too Thin' climbing up the charts, a new EP tantalisingly close, and headline tour selling out fast, we meet the UK artist the industry is comparing to Arlo Parks, Billie Eilish, Lorde, and Haim.
Words Hannah Kane
Photographer Phoebe Fox
Stylist Amy Holden-Brown
All clothes artist's own and sourced secondhand
Holly Humberstone is an old-fashioned storyteller. As befits the role, she had an idyllic childhood, growing up in rural Grantham, Lincolnshire, in the dilapidated servant's quarters of a nearby castle, the second youngest of four vivacious sisters. The crumbling family home, complete with dungeon and fungus-lined cellar inspired the track 'Haunted House' from her upcoming 2nd EP. It's a love letter to her old, inanimate friend that is both hushed and reflective and full of eerie crescendos. This is where Holly sits as we meet on video call for the cover interview, her cats silently padding across the screen in the background.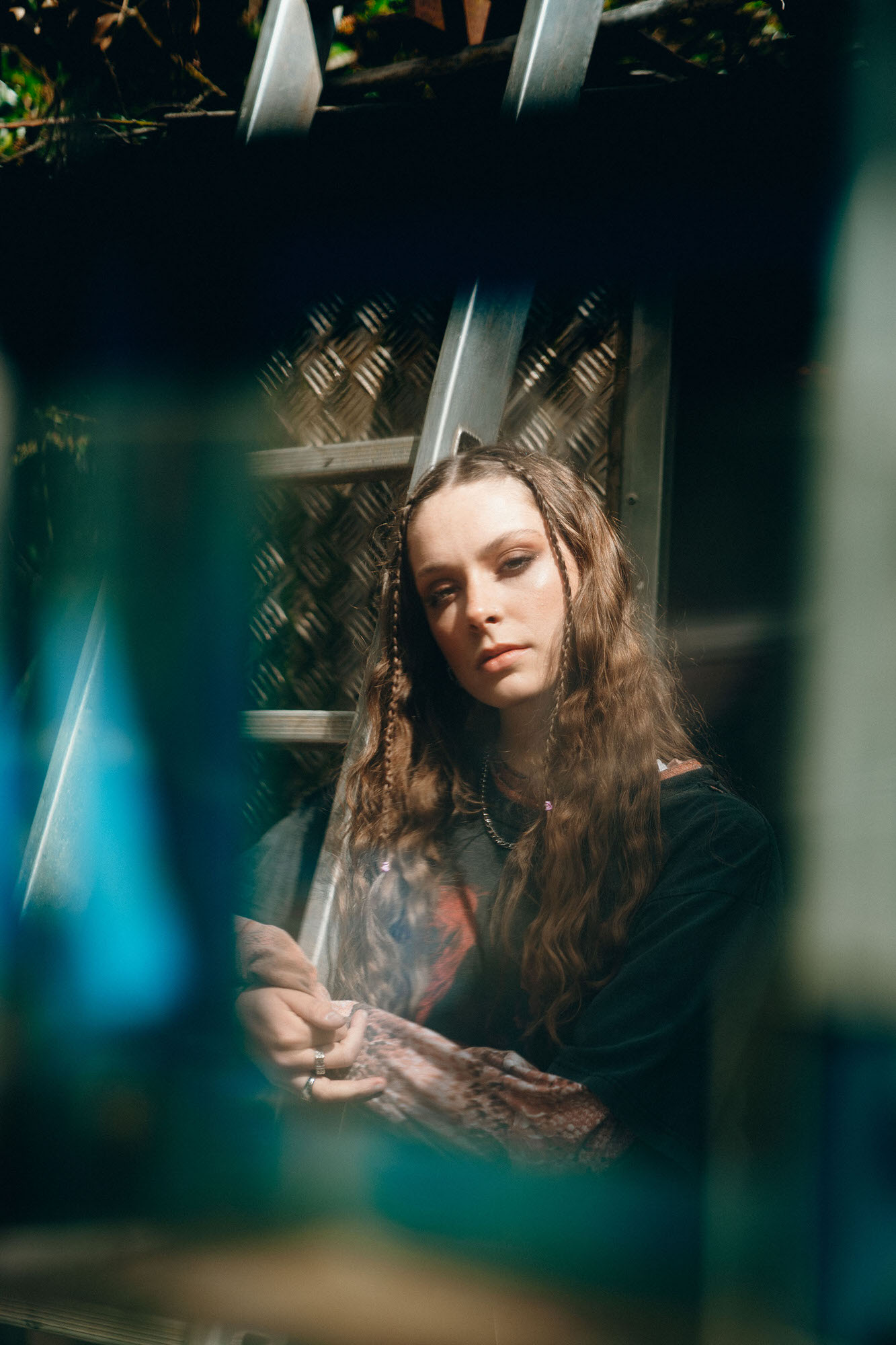 "It's basically one big creative mess of a house," the 21-year-old grins, eyes lighting up her earnest, freckle-covered face. "It was really, really fun growing up because my parents were like, 'use the space to just be creative, do art, do music, just play, make up games, make up dances. Play outside'. There was never a boring day in the house."
Her parents, both doctors for the NHS, banned TV and fanned the flames of their creativity. She remembers how her father would lay poetry books on the piano so she could make up songs and credits her parents with "the most amazing music tastes", exposing her to everything from Led Zeppelin to Pink Floyd and Prince, and at "the other end of the spectrum", artists such as Norah Jones and Damien Rice. 
Her transition to pop star has been an organic process. While still at school she was persuaded to upload songs to her local BBC Introducing show and made her radio debut a week later. She played Falling Asleep at the Wheel for the BBC Introducing stage Glastonbury in 2019. The video was spotted by Lewis Capaldi, who invited her on his European tour at the start of 2020. She went from playing small gigs of 200 to 12,500 at Wembley in a matter of months. The BBC's support remains strong, and the emerging artist recently came runner up in the BBC's Sound Of 2021 and played a heartbreaking piano cover of Justin Bieber's Sorry for Radio 1 that (arguably) improves on the original. 
Humberstone's debut EP Falling Asleep At The Wheel was released last August to critical acclaim and has now surpassed 120M streams. There have been US talk show appearances on Jimmy Kimmel! Live and The Late Late Show with James Corden, as well as the UK's new artist rite of passage, Later…. With Jools Holland. 
Still, Humberstone can't quite believe that this is her life and struggles with imposter syndrome. "It's really crazy to me that this is my job. I'm probably the luckiest person in the whole world, I get to show up and write little songs about my feelings – and that's my job. That's the coolest thing ever!" she enthuses, in-person much lighter and smilier than her music would suggest. 
Having never really considering music as a career, she always used it as a form of therapy – for her, her sisters, and her friends. This Gen-Z self-awareness and her willingness to tackle issues such as mental health have garnered comparisons to contemporaries Arlo Parks and Billie Eilish. 
"It was always my comfort space where I could turn to, to process stuff I was going through. It's been a constant through all of the changes I've been through in the last few years. Growing up and moving out of home, losing grandparents, things like that you go through at this kind of age. It's always been a little safe space that I can take all my anxiety to, all of my worries and just kind of get it out."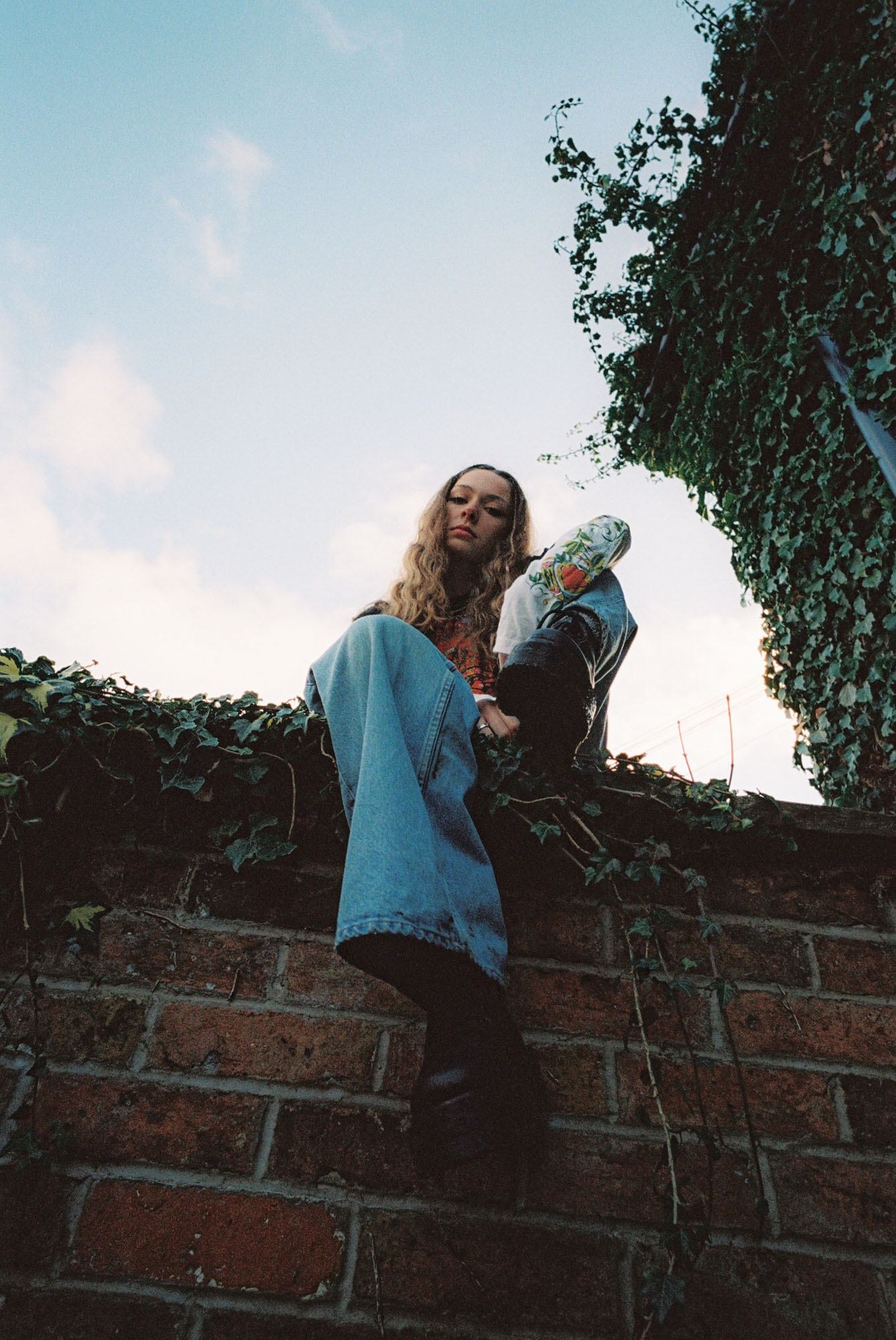 Photographer Jordan Curtus Hughes
Currently at #15 in the Shazam charts and impacting on UK radio is 'The Walls Are Way Too Thin', written when she first moved from "the countryside to "deepest, darkest South East London. It was a massive, massive culture shock," she admits. Having casually packed her bag to move in after a writing session in the capital, she found herself in a damp, mouldy flatshare with no friends. "Not really wanting to leave my room," she continues, "interacting with my housemates became a massive deal, and like, yeah just becoming kind of anxious and introverted. I could hear all of this chaos going on around me. The walls were literally, physically, really, really thin. You know you don't have any privacy at all, and I just felt like I could never fully relax."
To escape she would take the train back up North to Manchester or Nottingham where her friends were at university, let loose, and write out her feelings on the way back. "I'd go out with my friends and just get absolutely pissed and have loads of fun and get on the train… I remember so many hungover train journeys going back to London, just being like, 'oh gosh, back to London.'" She makes a pained expression. "I feel like when you're hungover you can't really filter your thoughts. Also, when you're on a train you kind of have to confront shit because there's nothing to really distract you from everything."
The song feels well-timed coming out of lockdown. She explains, "It's weird, I feel like the song now, to me, and maybe to other people have has a bit of a deeper meaning because even though I felt like I was like trapped in that room, after the year that we've had, I bet so many people have literally been physically trapped in an awkward house share, in London or in another big city."
Humberstone calls 2020's Falling Asleep at the Wheel "a bit of a time capsule" that covered a two-year period of leaving school. The upcoming EP marks the next chapter, "growing up and having to leave all of these things that I really love from childhood behind. 'Walls' is about moving to London. All of these new experiences that I'm going through – falling in love for the first time. Stuff that my friends are going through, break-ups and stuff. I've actually really enjoyed writing from the point of view of one of my best friends, in this next EP, so quite a bit is actually about a break-up she went through. I was her closest friend throughout it all so I felt like I was going through it with her."
Also on the record is the hotly anticipated collaboration 'Don't Leave Just Yet' with Matt Healy from The 1975. For Humberstone, this was one of the silver linings of the pandemic: artists who would normally be busy travelling having the time to work with her. She calls Healy "genius" and says, "obviously that band has been so inspiring growing up, the soundtrack to so many people's teenage years. So, I feel like I was already taking quite a lot of inspiration from him and his writing, but getting to work with him was like such an amazing, amazing experience. Getting to learn from him. His creative process was really interesting." 
There is a growing list of dream collaborations. "I'd really love to write with Phoebe Bridgers, she's my favourite, I love her." She pauses to think. "I think Bon Iver is one of my all-time favourites… Frank Ocean would be sick! Erm, but I'm not cool enough, like. I feel like he's whole new levels of cool", she laughs. "Kanye West as well, like that would be so cool and weird! I think I'd just like to meet him and know what it would be like." 
The mood of the record reflects what she calls a "chaotic" period of time in her life, and one that is still in progress. "I'm sure it's the same for quite a lot of people," she says empathetically, "it's just such an awkward stage, such an in-between phase where you're having to be an adult and you have responsibilities for the first time and you're having to grow up and experience all of these weird adult things for the first time."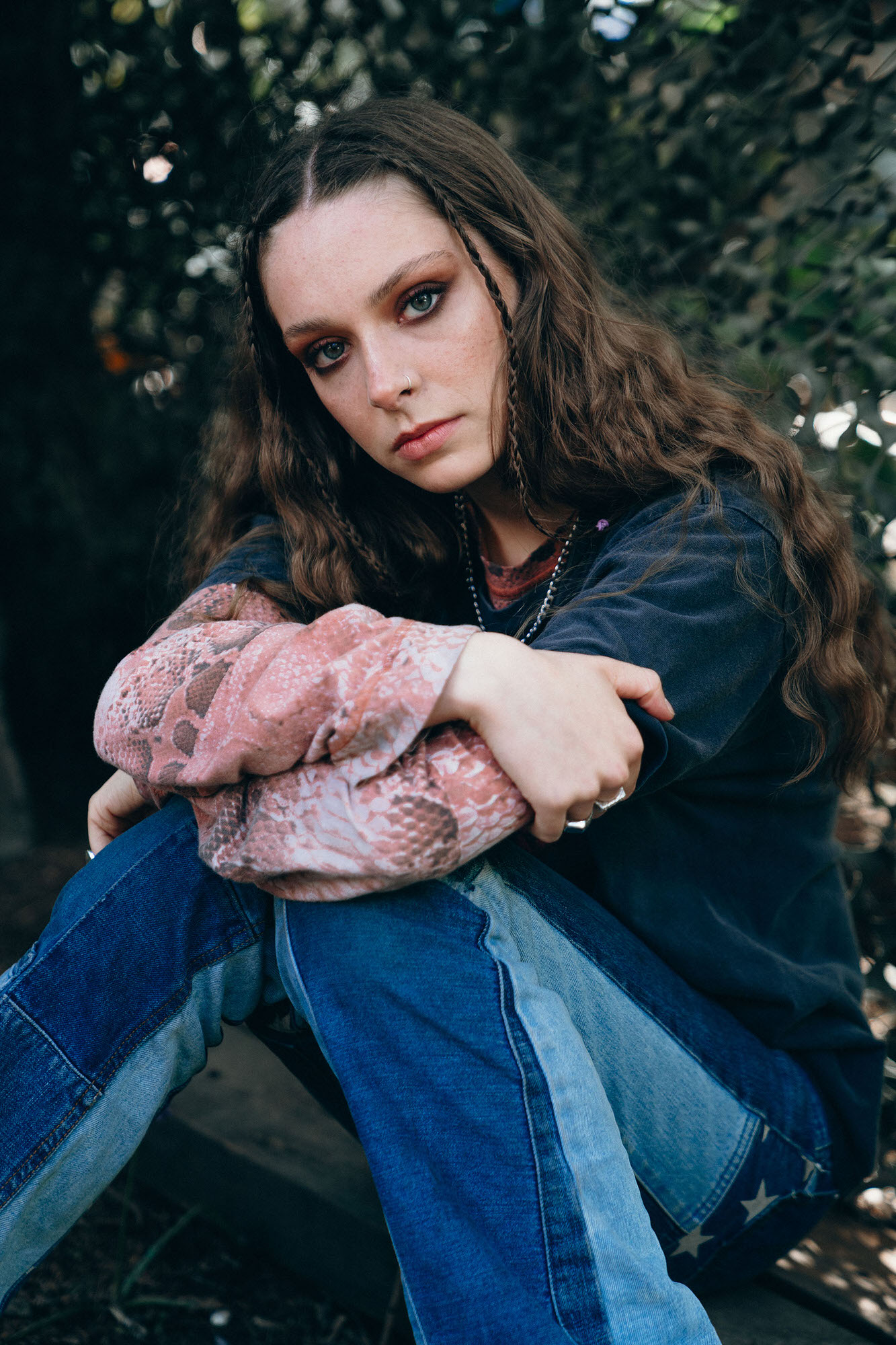 As an artist breaking through in the pandemic, there is finally the chance to meet her fanbase live as she embarks on a UK tour from July to November. Along the way the tour bus will call in at several festivals (remember them?) including Standon Calling in Standon, Boardmasters in Newquay, All Points East in London, TRNSMT in Glasgow and This Is Tomorrow Festival in Newcastle; as well as iconic venues such as the O2 Shepherd's Bush Empire in London to close. Click here to book tickets. 
Ahead of this, PHOENIX is excited to announce Holly Humberstone's Bad British Weather Secret Mini Tour this July. Decipher the coordinates on the tour poster below to see where she is playing next, and let us know on Instagram in the comments if you're planning to go. Eagle-eyed fans will have also noticed cryptic lyrics from new tracks being teased across social media. 
She's fretting already. "I'm so nervous! I'm such a nervous, anxious person. But I think once I get out there you realise the people are actually there to support you, and people are actually rooting for you. Also, hopefully, people will be patient as well with me if I'm kind of rusty after a whole year of not playing live! Hopefully, people will all just be happy to be there and just look past my terrible, rusty guitar playing skills." She admits, she's "not great at reading music," but says self-deprecatingly of her guitar and piano skills, "I can kind of play it sort of enough to write on them and support myself.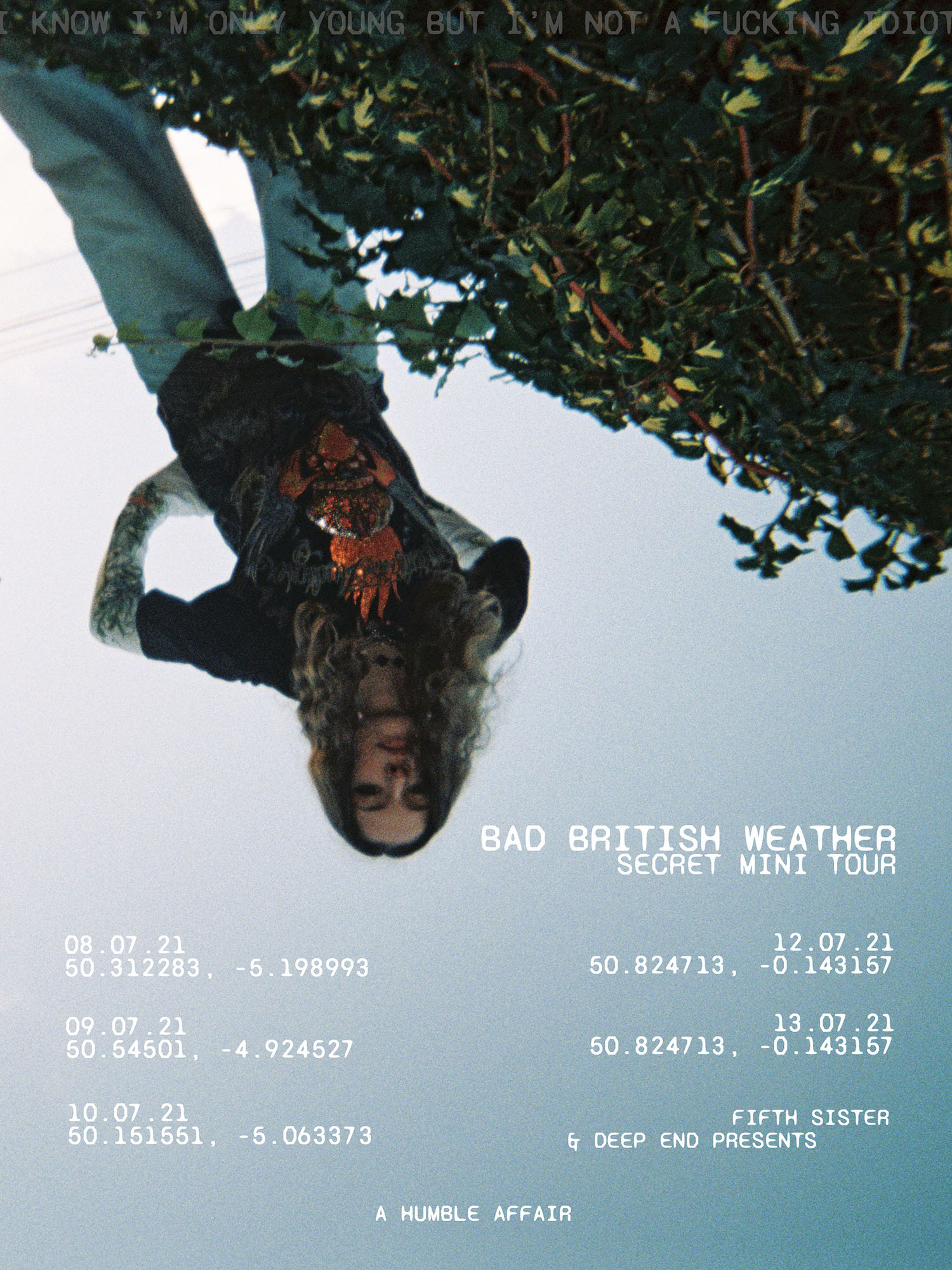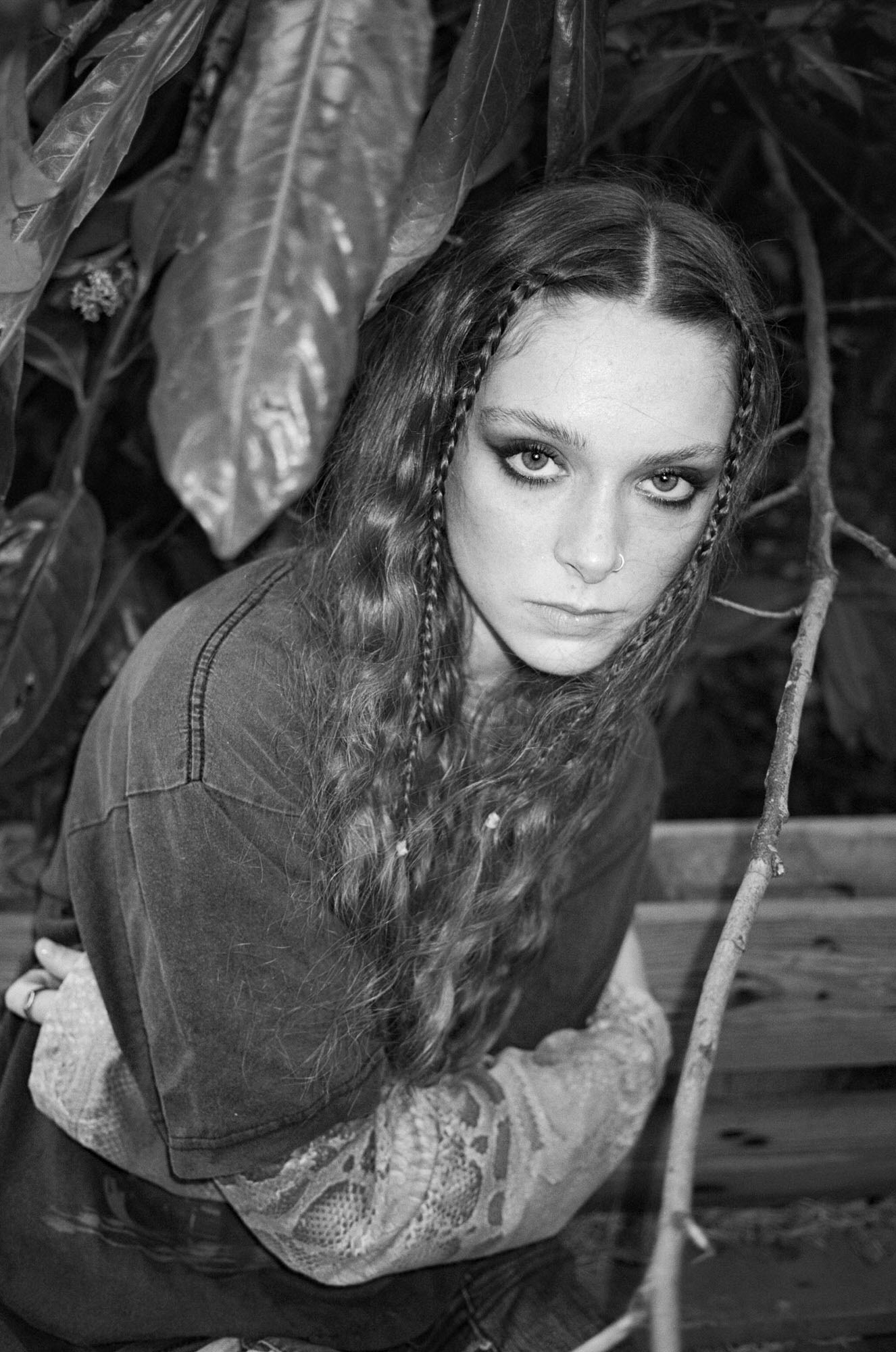 This make-do attitude carries over to her fashion style, at the moment part 90s grunge, part Y2K indie girl, with loose tees, sweatshirts and hoodies layered over distressed denim and DMs or chunky boots. She calls out Grantham as, "the deadest place on earth, it's so boring", but says "with the crappest towns come the most amazing charity shops", and this is where she and her sisters would go scavenging for bargains, sharing clothes between their wardrobes (her tips are to keep an open mind and wash it as soon as you get home). Now she's in the public eye, to make sure that all her outfits are sustainably sourced, she's launched a clever online initiative called 'Fifth Sister Swap Shop', swapping items with fans who will DM her options. In the Covid-free future, she would like to extend the project so fans can swap clothes with each other at gigs. 
Humberstone describes her music as "kind of dark, electronic-y pop, with really cutting lyrics. I think for me the most important thing about a song is having really, really, really personal, vulnerable lyrics. Like I said before, it's kind of my safe space where I feel I can be completely unfiltered. If I do that and I'm being completely honest then it's the best. It's the best therapy for me." 
"So yeah, I write mostly for myself, I guess that's why it's so personal because I'm just trying to figure out how I feel about shit. That's the kind of music I connect to the most." 
No one captures the raw turmoil of youth quite like Holly Humberstone. The upcoming EP documents first love and first responsibilities in an authentic way relatable to all generations.