From Shampoo Bars to Aromatherapy Balms, Shop the Most Effective Products Hitting Beauty Counters this Month
Beautification – without the PR waffle
Words Ellen Watters, Nicole Cherruault, Feride Sahin, Aisha Nozari, Mary-Jane Wiltsher
The Lion & The Fox
The hybrid venue is having a moment, with fashion-boutique-turned-cafés and curiosity-shop-cum-cocktail-bars springing up across the capital. Now The Lion & The Fox is translating the trend to the world of hairdressing, combining an extensive menu of cut, colour and braiding services with a hotly coloured gallery space. Founded by session stylist Tim Pateman and acclaimed photographer Leo Cackett, the salon is tucked away behind Chancery Lane and hung with contemporary paintings and photographs by local artists, so you can nourish your brain and upgrade your balayage simultaneously. There's even a monochrome ceiling mural of Bart Simpson-like heads to get lost in as you lean back into the wash basin. Graduate stylist Angelica sets to work on revamping my colour, treating me to a natural, honey-toned T-section of fresh highlights and a deep conditioning treatment. After a volumising blow-dry I'm feeling ready for festival season, but Angelica's got one more trick up her sleeve: a deftly executed plait that frames my face and tames my flyaway prone-hairline. If this is the evolution of the hair salon, sign us up. A T-section of highlights starts at £40.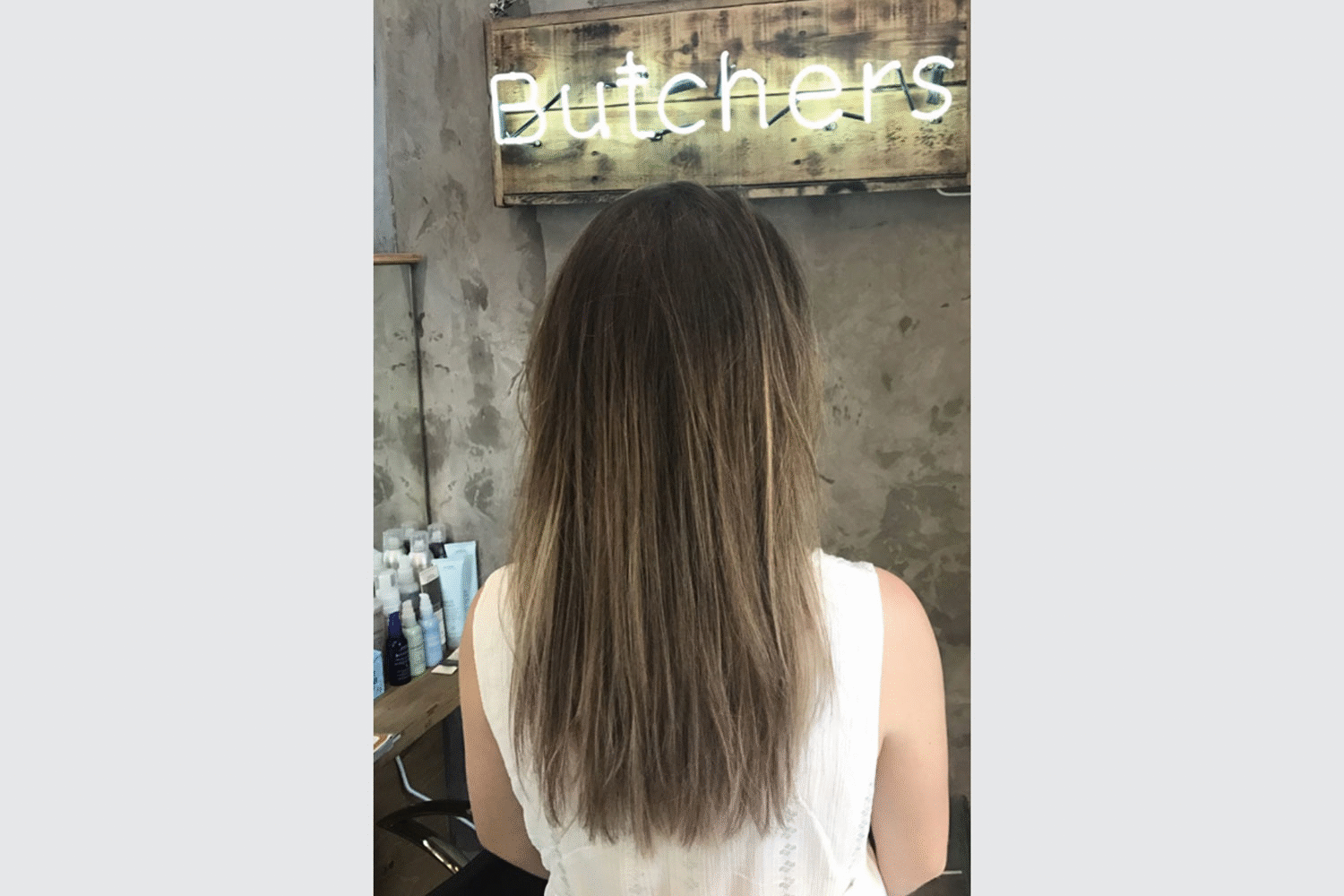 Balayage at Eco-Friendly Butchers Salon
Can hair salons actually help save the environment? Absolutely, if Hackney Road's BUTCHERS is anything to go by. Its très cool, industrial chic interior is crafted entirely from recycled materials: think concrete walls and fittings in wood and steel, with a chilled out, pet-friendly vibe to boot. Hindu medicine-inspired range Aveda provides the products, ticking all the right boxes with its 100% cruelty free plant-based formulas and recyclable packing.
Today I'm here for a headful of Balayage, the more subtle and directional cousin of the end-frazzling dip-dye, whose name derives from the French work to sweep, stroke or paint. Colour services are a big deal at BUTCHERS, with each nuanced shade cherry-picked to suit skin tone and applied freehand with expert precision. After an hour and a half in the chair, I was ready to take my new locks for a spin. Most noticeable is the dimension and shimmer that is symptomatic of this style: I quite literally looked like I'd paddled to East London on my surfboard against a backdrop of golden sands as opposed to being crammed into a sweaty tube carriage. Plus, I'm told it grows out beautifully – perfect for a low maintenance girl like myself.  £135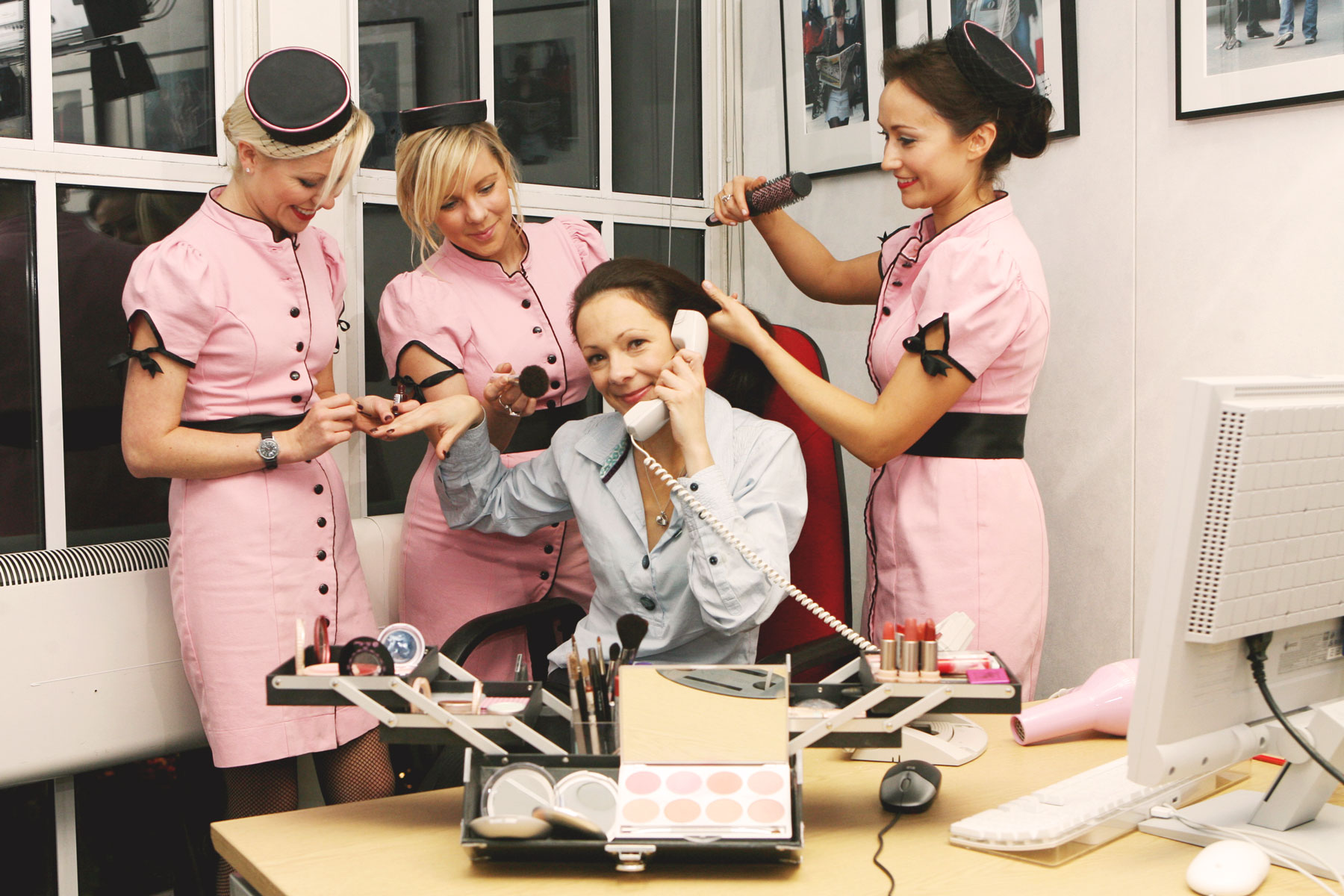 Powderpuff Girls
If you're wondering how our August cover girl Kate Simko achieved her epic Blade Runner-esque 1940s victory rolls and glowing skin, you need to look up vintage-inspired beauty service the Powderpuff Girls. Like the Powerpuff Girls but with better chat and more finesse with a powder brush, these retro-glam connoisseurs have been coiffing, crimping and beautifying clients since 2005, working across weddings, corporate events and parties as well as the most cutting edge editorial shoots. Learn the quintessential beauty tricks of decades gone by, book a manicure or a massage, or go all-out with a full-blown makeover from their team of trained makeup artists and hair stylists.
AA Skincare Shampoo Bars
Proof that your hair regime doesn't have to be hard work – and, more specifically, that you don't have to faff around decanting shampoo into travel-size refillables or elbowing your way through Boots to the mini toiletries– AA's shampoo bars have swiftly become one of our hero summer products. Concocted from a blend of natural ingredients that have benefits for all hair types, AA's bars are formulated to repair, strengthen and protect locks. Simply rub between your palms under warm water to create a luscious silky foam, massage gently into wet hair, leave for a couple of minutes, then rinse. The added bonus? These nifty bars offer twice as many washes as a bottle of liquid shampoo, making them as kind to your wallet as they are to your follicles. £5.95 per bar
Le Mini Macaron Nail Kit
Wave tatty-bye to anything less than fabulous nails with this time-saving wonder-tool from Le Mini Macaron. With gel mania still in full swing, the mani gurus' macaron-shaped LED with fitted USB cable makes for the perfect on-the-go, thrifty alternative to all those trips to the nail parlour, delivering professional looking results in minimal time. Packaged along with a gel nail gloss of your choice, this beauty works simultaneously as an undercoat, colour and overcoat, meaning you don't need to worry about your nails melting in the sun.
NYX Professional Makeup Total Control Drop Foundation
It's 8am, you're attempting to do your make-up while crammed into someone's armpit on public transport, and you manage to be a little over-enthusiastic with your foundation distribution. We've all been there. And, since no one likes the put-on-with-a-trowel look, we're rejoicing at NYX's Total Control Drop Foundation and its genius 'dropper'. Designed for ultra-controlled application, it allows you to aim for areas where more coverage is actually needed, and is small enough to fit in your handbag, making it perfect for speedy cover-ups on the go. What's more, its smooth liquid formula lives up to the product's design credentials, and comes in 24 different shades to suit all skin tones.
Aromatherapy Balms by Scentered
Gloriously calming with their intricately layered scents, portable Aromatherapy Balms by Scentered help to shift your mood across the day, and come in five editions. Try 'De-Stress', with its combination of chamomile, neroli and mandarin, to help soothe a busy mind, or get ready for bed with a lavender and ylang ylang hit of 'Sleep Well'. 'Focus', crafted from a refreshing green herbal blend and rosemary leaf oils, will give you a little morning boost: just apply to your pulse points, inhale deeply, counting slowly to three, and let the essential oils to their thing. 10% of the net profit at Scentered is donated to Women for Women International charity, supporting women survivors of war. Not suitable for pregnant women.