From heart-warming mushroom po' boy to crispy crabless cakes, Lauren Toyota's debut cookbook Hot for Food: Vegan Comfort Classics is a gastronomic bear hug
When the unpublished manuscript of Hot for Food: Vegan Comfort Classics landed on our desks, we knew immediately that choosing which recipes to feature would be no easy task. The first cookbook from acclaimed food blogger Lauren Toyota, this plant-based recipe bible might just mark the moment when vegan goes properly mainstream. Hungover bacon sandwiches? Yessir. Hearty philly cheesesteak? Coming right up.
Best of all is Lauren's take on the favourite seafood dishes of her hometown Toronto, creating fresh authentic flavours to rival those of the Mediterranean coast. Her Oyster Mushroom Po' Boy is a tribute to American TV host Guy Fieri (who she 'equally loathes and [is] enamoured with), and her crispy crabless cakes are 'tried and tested by many former seafood addicts who claim they'd rather eat it these than the real thing.'
Lofty claims to a carnivore's ears, perhaps – but if you don't try it, you'll never know, right?
The first time I had a vegan crab cake I was shook! John and I were eating at Lakeside (Wynn Hotel) in Las Vegas and devoured chef Tal Ronnen's crab cakes in seconds. There was no way I could get access to his secret recipe, but I carefully examined every bite so I could figure it out at home. There are a lot of vegan crab cake recipes made from artichokes or hearts of palm floating around the Internet, and while they're all pretty delicious, ours has been tried and tested by many former seafood addicts who claim they'd rather eat this than the real thing any day!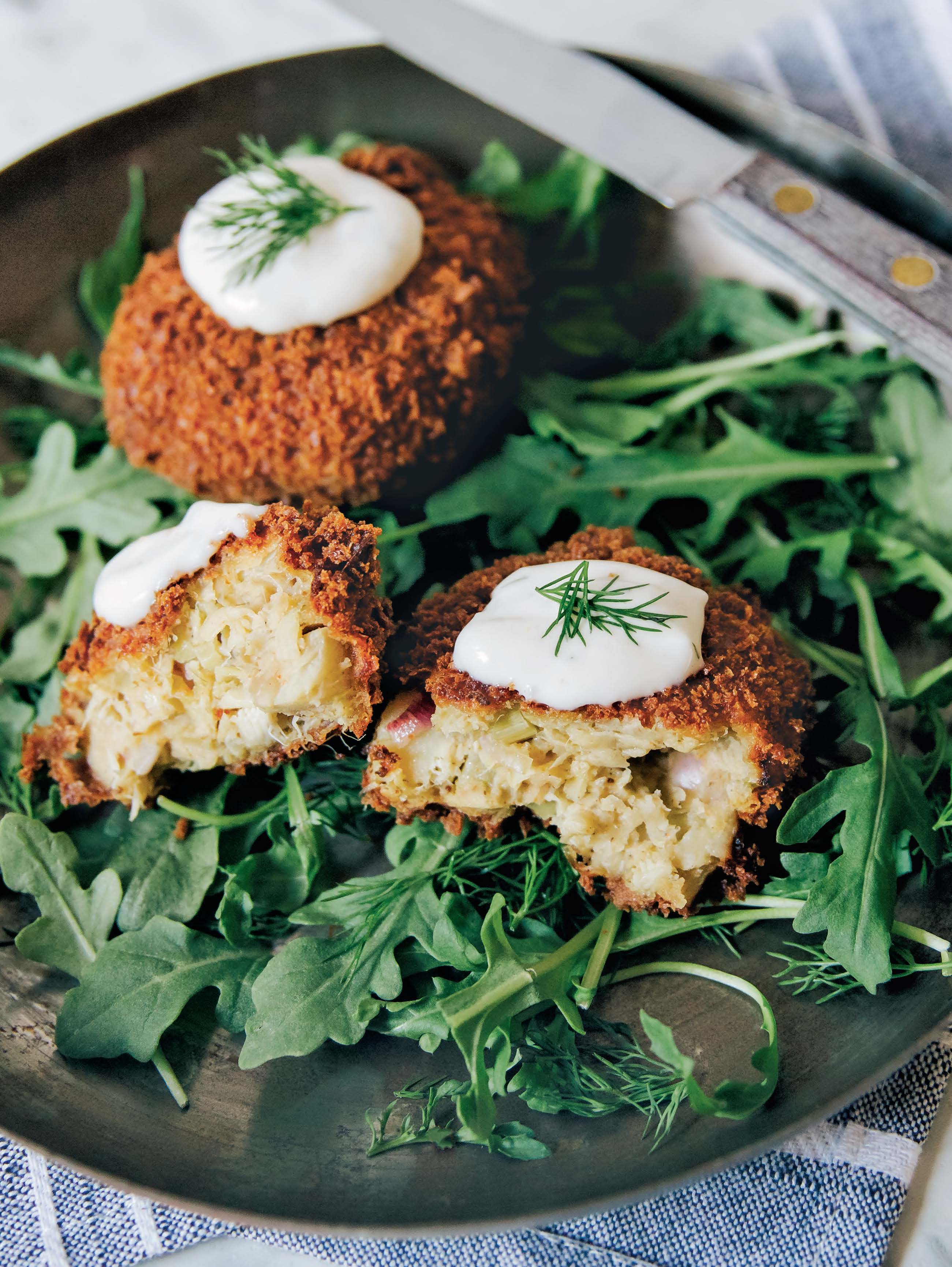 MAKES 10 cakes
PREP TIME 30 minutes
COOK TIME 15 minutes
For the cradles cakes:
2 cups drained marinated artichoke hearts, finely chopped, plus 2 tablespoons liquid
1⁄4 cup finely chopped shallot (about 1 small shallot)
1⁄2 cup finely chopped celery (about 1 stalk)
1 teaspoon freshly squeezed lemon juice
1⁄2 cup chickpea flour
2 teaspoons coconut sugar or brown sugar
1 teaspoon Old Bay seasoning
1⁄4 teaspoon sea salt
1⁄4 teaspoon ground pepper
1 to 2 cups vegetable oil, for frying
For the breading:
1⁄4 cup chickpea flour
11⁄4 cups multigrain bread crumbs
1⁄2 cup unsweetened nondairy milk
For the horseradish-dill aioli:
2⁄3 cup vegan mayonnaise
1 tablespoon vegan horseradish
1 tablespoon freshly squeezed lemon juice
1 tablespoon finely chopped fresh dill
1⁄4 teaspoon ground pepper
Method:
1. To make the crabless cakes, place all the ingredients except the oil and aioli in a large bowl. Combine well with a fork. It's important that the artichokes, shallots, and celery are very small and uniformly chopped so that the cakes will stick together while frying.
2. You should have a 1⁄2 inch of vegetable oil in a large cast-iron skillet or other heavy-bottomed pan for frying. Heat it to a temperature of 350°F to 360°F on a deep-frying thermometer.
3. To make the breading, place the chickpea flour in a wide, shallow dish. Use another shallow dish for the bread crumbs and a bowl for the milk.
4. Take 1⁄4 cup of the crabless cake mixture and press and form it into a thick patty with your hands. Gently place the cake in the chickpea flour and coat all sides evenly. Quickly submerge it in milk and make sure all the flour looks wet. Remove it from the milk and place in the bread crumbs. Using your hands, coat all sides of the cake well in the bread crumbs, then lightly shake off any excess. Set the coated cakes on a plate or baking sheet. Once they're all assembled, immediately deep-fry in batches.
5. Delicately place 2 or 3 cakes in the hot oil. Fry for about 4 minutes until golden brown, flipping halfway through. Gently remove the cakes with a slotted frying spoon and place on paper towels to absorb any excess oil.
6. Serve immediately with the aioli. Leftovers can be heated over medium heat in a pan lightly coated with vegetable oil.
This is my tribute to Guy Fieri, the host of Diners, Drive-Ins, and Dives! I equally loathe and am enamored with his show on the Food Network, as well as with Guy himself. On one hand I want nothing to do with him and what his food stands for, yet on the other hand I want to BE him. I just would never be caught dead in a flame shirt! So I wanted to make a version of a po' boy sandwich because there's always one of these on Triple D. Shrimp, lobster, crab, oysters, you name it, Guy finds it, and they're all over America, not just in New Orleans (where the sandwich originated). So sink your big mouth into this sammich and tell me being vegan ain't the greatest! Welcome to flavor town.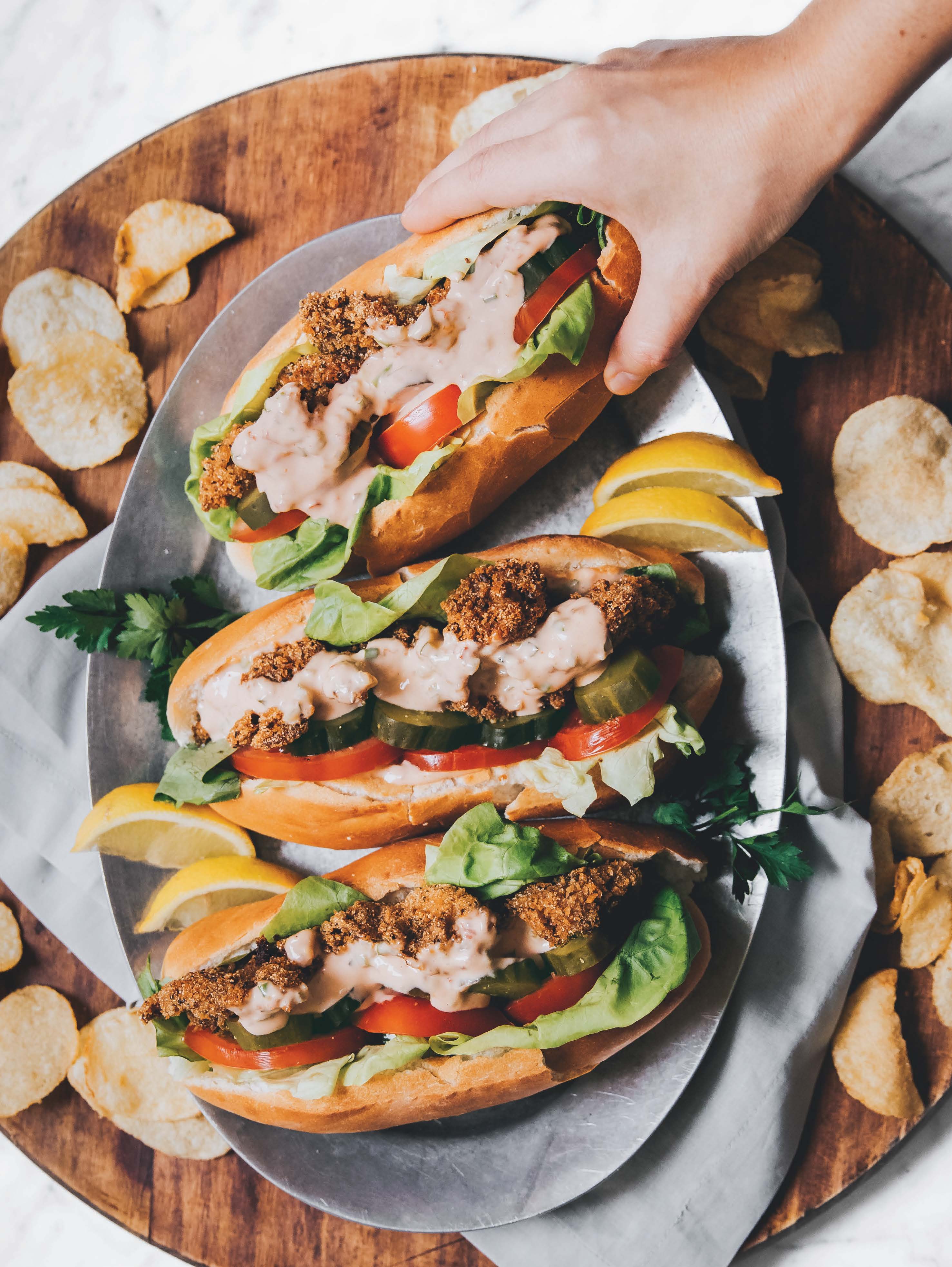 MAKES 4 sandwiches
PREP TIME 45 minutes
COOK TIME 15 minutes
For the fried oyster mushrooms:
2 tablespoons ground flax
6 tablespoons water
1 cup unsweetened nondairy milk
1⁄4 cup apple cider vinegar
2 tablespoons vegan oyster sauce or vegan Worcestershire
2 teaspoons garlic powder
2 teaspoons dried basil
1 teaspoon ground white or black pepper
8 ounces oyster mushrooms (16 to 20)
4 to 6 cups vegetable oil, for frying
For the Thousand Island: 
1 cup vegan mayonnaise
1⁄4 cup sweet green relish
2 tablespoons ketchup
1 tablespoon apple cider vinegar
1 tablespoon sambal oelek (chile paste) or hot sauce
1 teaspoon onion powder
2 tablespoons finely chopped chives
1⁄4 teaspoon sea salt
1⁄4 teaspoon ground pepper
For the breading:
1⁄2 cup panko-style bread crumbs
1⁄4 cup cornmeal
1⁄4 cup all-purpose flour
1 teaspoon sea salt
1 teaspoon ground cayenne
1 teaspoon garlic powder
1 teaspoon dried basil
1⁄2 teaspoon smoked paprika
1⁄2 teaspoon ground pepper
For the sandwiches:
4 hoagie or kaiser-style rolls
The Thousand Island
21⁄2 cups finely chopped romaine lettuce
3 vine tomatoes, thinly sliced
3 dill pickles, sliced into rounds
Method:

1. To prepare the mushrooms, mix together the ground flax and water in a bowl and let sit for 10 minutes to thicken.
2. In another bowl, mix together the nondairy milk, vinegar, oyster sauce, garlic powder, basil, and pepper. Add the flax mixture and pour the marinade over the mushrooms in a large zipper bag, making sure they are well submerged. Refrigerate for at least 20 minutes. Or you can leave it overnight.
3. Heat the oil in a heavy-bottomed pot to a temperature of 365°F to 375°F on a deep-frying thermometer. The oil should be heated to the right temperature just as you're about to bread the mushrooms.
4. To make the breading, mix together all the ingredients in a bowl.
5. Remove a few mushrooms from the marinade and place directly in the breading, coating evenly on all sides using your hands. Place each piece in the hot oil and fry for 2 to 3 minutes.
6. Place fried mushrooms on paper towels to absorb excess oil. Continue to bread the mushrooms and fry in small batches.
7. To assemble the sandwiches, cut the rolls in half and toast, if desired. Spread some Thousand Island on the inside of each roll. Layer the romaine lettuce, tomato slices, pickles, and fried mushrooms on one half of each roll. Add more of Thousand Island, if desired. Serve immediately while the oyster mushrooms are still warm.
8. Reheat leftover fried mushrooms in a 425°F oven for 10 to 12 minutes until crispy.