The West End drag diva gives us a glimpse inside her fabulous festive sac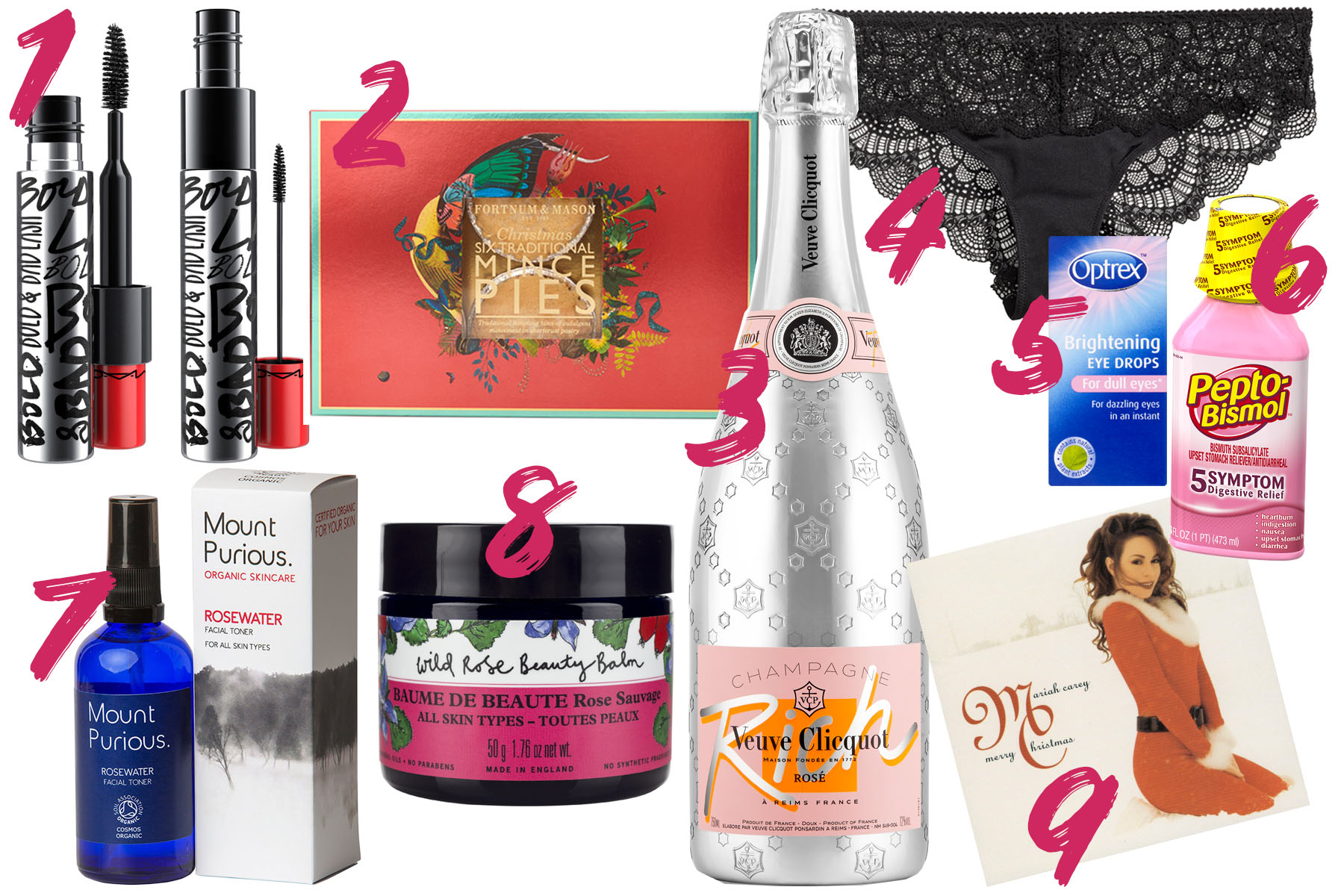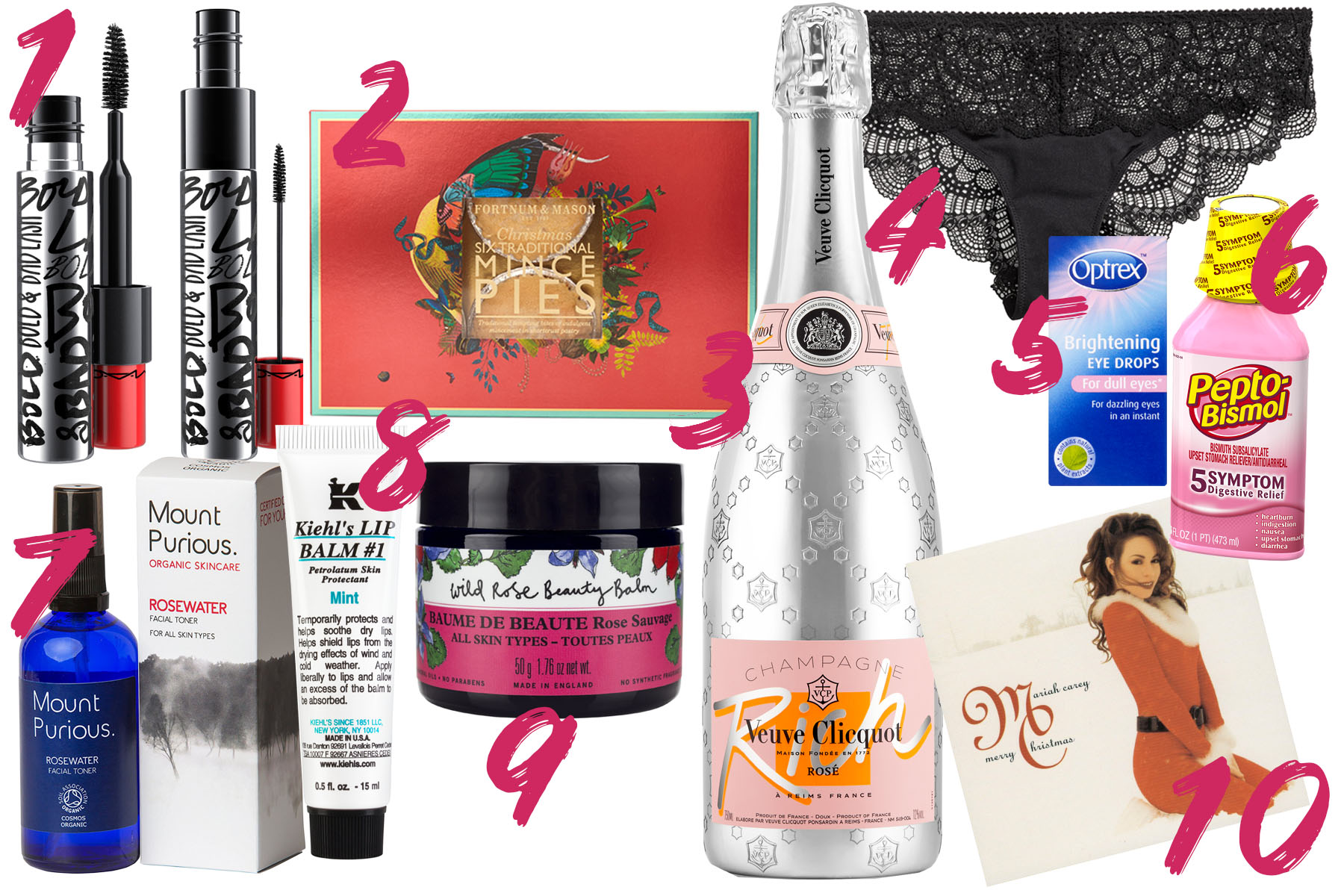 1. Bold Lash Mascara, MAC, £19.50
2. Mince Pies, FORTNUM AND MASON, £12
3. Champagne, VEUVE CLICQUOT RICH COLLECTION, £50
4. Underwear, H&M, £6.99
5. Brightening Eye Drops, OPTREX, £4.29
6. Upset Stomach Reliever, PEPTO BISMOL LIQUID, $6.99
7. Rose Water Facial Toner, MOUNT PURIOUS, £10.99
8. Lip Balm, KIEHLS, £9.50
9. Wild Rose Beauty Balm, NEALS YARD REMEDIES, £40
10. Mariah Carey Christmas Album, AMAZON, £3.99
Upon leaving the gym following five back-to-back body attack classes in the bid to fit into the most provocative sparkly Christmas cocktail dress imaginable, it's important to tone that face (on the way to A&E). I always have some Mount Purious Rose Water in my bag – it is just the tonic you need for tighter, firmer skin. The results are instant and you will look 16 again for your pre-hernia surgery consultation. 
On the subject of roses, Neal's Yard Rose Balm has so many uses, it is just incredible. For me, makeup removal has never been easier. Apply a generous amount to the hands and massage into the face until it is as clean as Nigella's worktops. Makeup strategy sorted: on with a trowel (I like lashings of Mac mascara), then off with the balm.
At this time of year, I also keep Mariah's Christmas album to hand. Nothing gets me into the festive spirit quite like Mariah's vocal gymnastics. She perfectly captures the essence of the season by singing all of the notes on the piano in any given phrase of music. Why sing one note when you can sing 20? 
And I love Fortnum's mince pies. I don't care how buttery or spicy your Gran's homemade mince pies are – none compare to that of Fortnum and Mason. Most importantly, when purchasing them, you are also contributing to the most important sport of the festive season – getting into debt.
Nothing is more essential to aid luring a co-worker into that all important and lip locking "pash" at the office party. One needs a quality lip balm to keep one's lips bulging à la Goldie Hawn in First Wives Club. Kiehl's does the trick. And if the lip balm does its job correctly, you'll need a trusty spare pair of knickers for the morning-after walk of shame.
It's also important for all contact lens wearers to keep well lubricated. You may need some eye drops as you stumble back to work. It's a shame you didn't keep your prescription up to date, though; Callum for Human Resources may not have been so lucky.
Finally, be sure to pack some Pepto-Bismol. This most loyal of tonics will serve you well during the festive carb binge. Wash it down with Veuve Clicquot. Drink it all. All of it. ALL. It's my precious.