How to win at your diary this May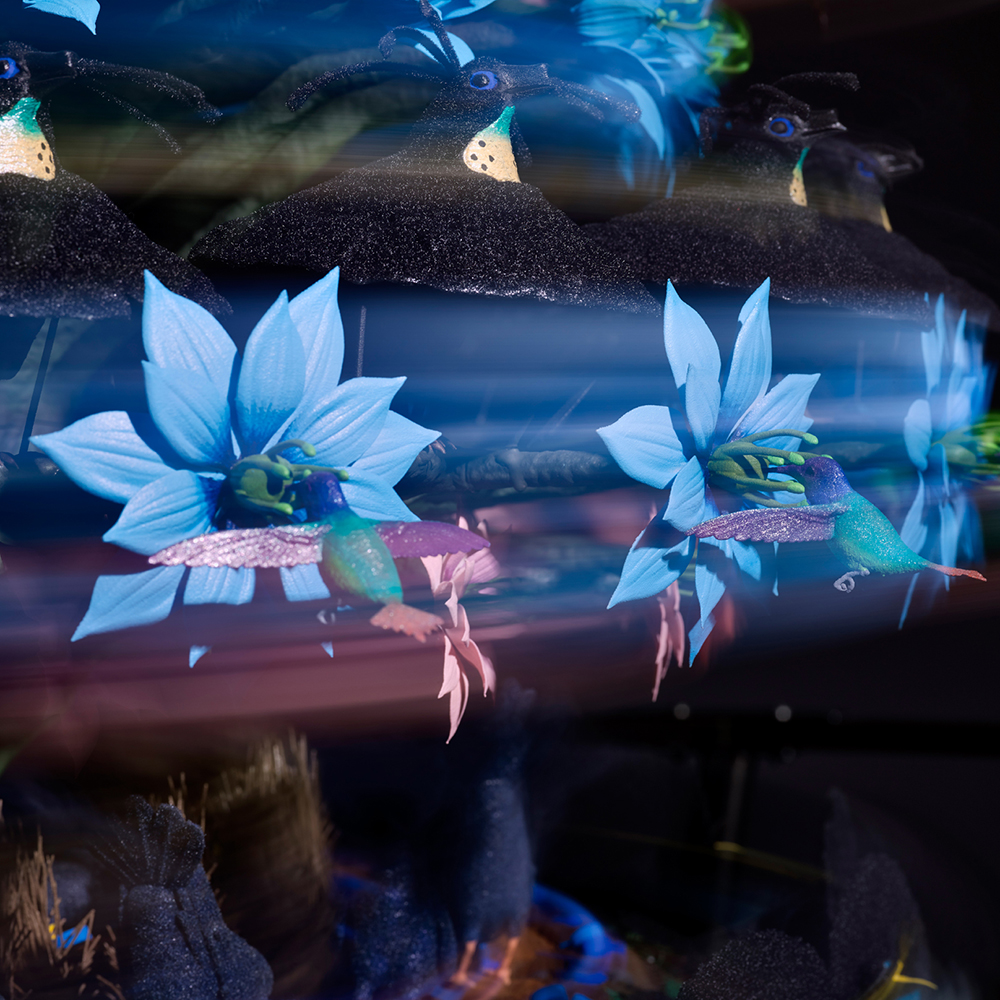 The Centrifugal Soul, Mat Collshaw
A truly intriguing show from Mat Collishaw sees one of the original 1980s 'Young British Artists' continue to innovate. The Centrifugal Soul explores ideas of truth and primal urges through paintings, sculpture and installation, in collaboration with evolutionary psychologist Geoffrey Miller. Using a zoetrope – a pre-film animation device that produces the illusion of motion through rapid movement and light – Collishaw creates scenes of beautiful birds performing extraordinary mating rituals, in an experimental, imaginative and vividly immersive exhibition that will stay with you for months to come.
Blain Southern, 7 April 2017 – 27 May 2017, Free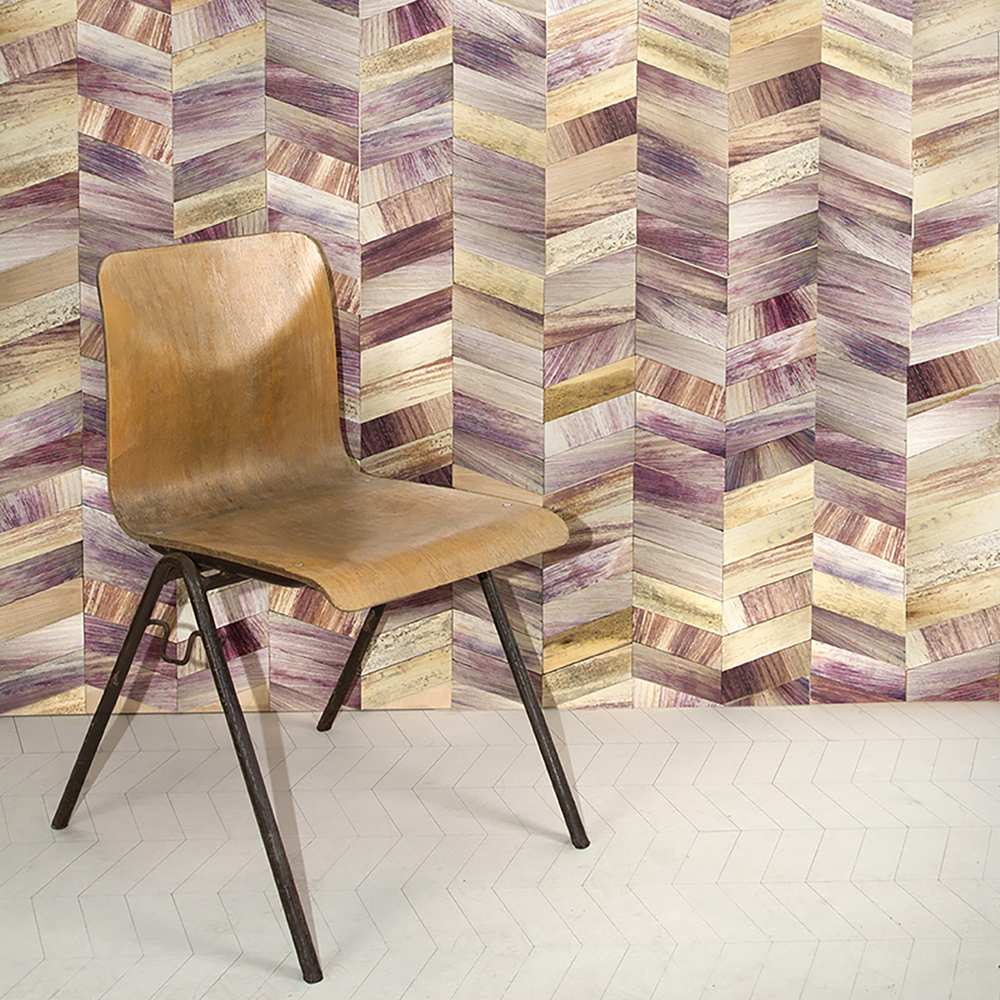 For those familiar with the Dickensian charm of Clerkenwell it'll come as no surprise that this creative chunk of central London plays annual host to one of Europe's best design festivals.  A celebration of design in all its disciplines, CDF is jam-packed with exhibitions, talks and installations over three days this month, blending the area's rich architectural history with the best contemporary design from around the globe. But you don't have to go all in – simply take a wander around EC1 for five minutes and you'll find yourself inundated with all sorts of strange and wonderful structures for instant inspiration.
Clerkenwell, 23 May 2017 – 25 May 2017, Free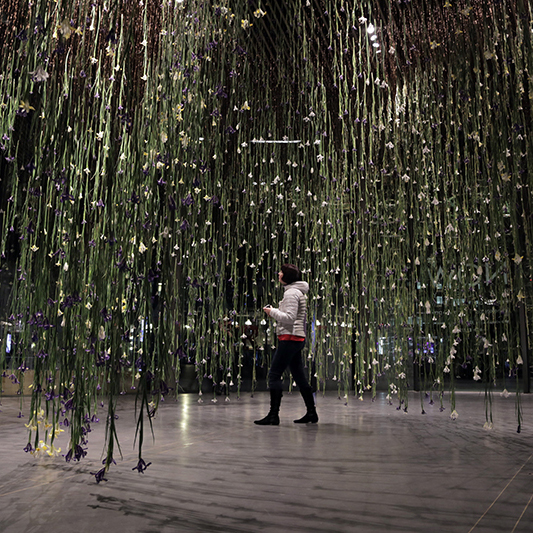 The Iris, Rebecca Louise Law
Law is known for beautiful organic works that represent the delicate texture and physicality of nature, and The Iris is no different. For her latest instalment Law has suspended 10,000 fresh blue, purple and yellow irises with copper wire in NOW's public exhibition gallery space. The cascading irises appear to float weightlessly in the air and the structure is large enough to envelope spectators in a mesmerising celebration of nature's mammoth and ever-changing form. Full to the brim with vivid colours and textures, Law has managed to pack the very essence of spring into an otherwise assuming space.
NOW Gallery, 3 March 2017 – 7 May 2017, Free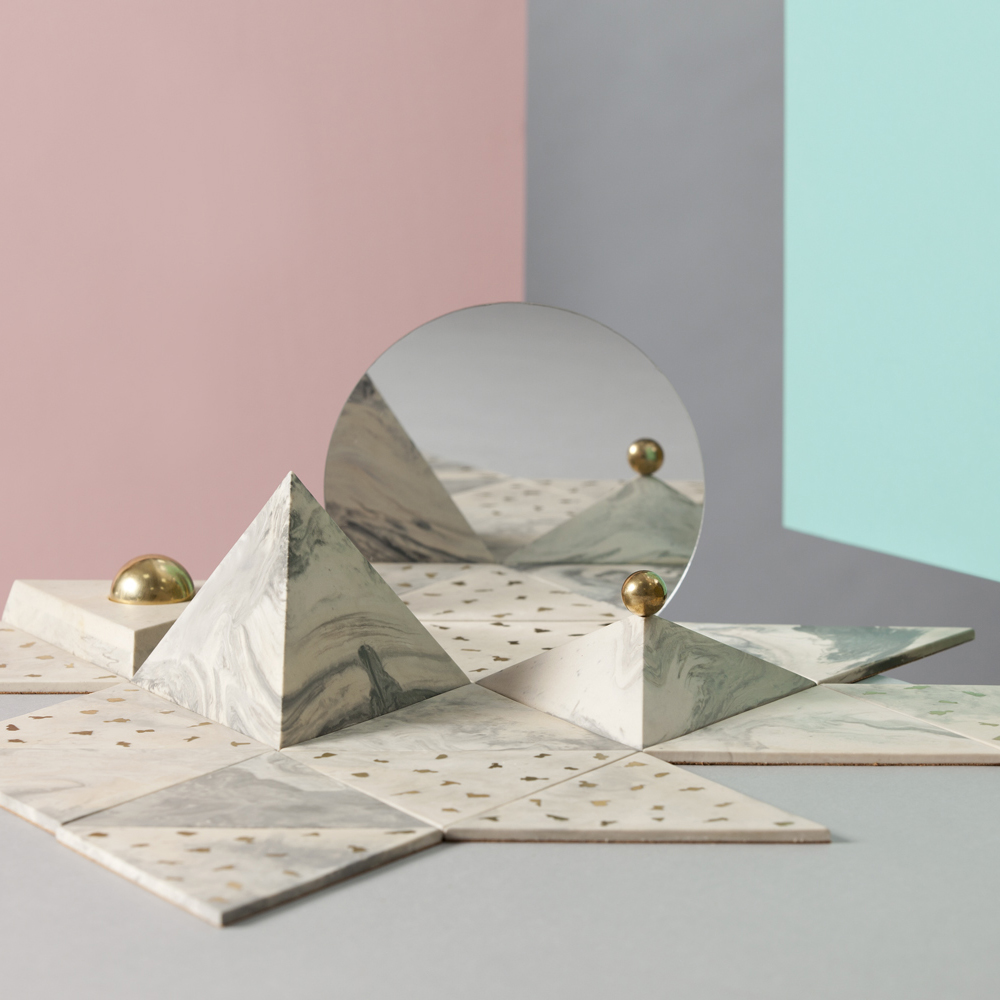 Calling all fans of craftsmanship: it's time to get creative. Whatever your bag – whether ceramics, embroidery, prints, knitting or glass-blowing – London Craft Week has you covered. Now in its third year, LCW returns to the capital to showcase the very best in British creativity. With a carefully curated programme of over 230 events that will merge makers from all over the globe, LCW is a diverse celebration of what we can do with our hands. Get up close and personal with famous designers, brands and galleries all in the name of the handmade. Sure to score big with anyone familiar with a workbench, chisel or apron.
Mayfair and Belgravia, 3 May 2017 – 7 May 2017, £15+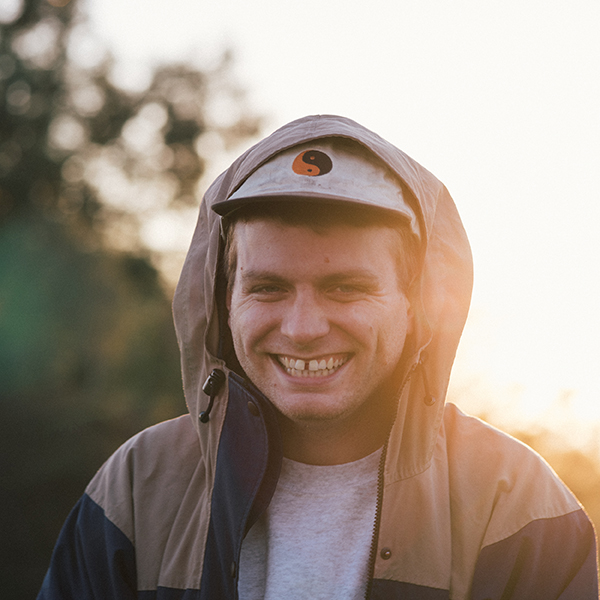 The king of woozy slacker-charm is set to storm South London this month and we'll be front row crooning along to his meandering, distortion-packed tales of self-abuse. For anyone unfamiliar with the gap-toothed charmer, expect lots of bittersweet, guitar-heavy songcraft that's smooth enough to soothe the soul in seconds but still big on snark. Enchanting, hilarious and heart breaking in equal measure – it's safe to say that DeMarco is responsible for some of the best pop songs of the decade. See you in the pit.
Brixton Academy, 30 May, £23

Hailing from street food kings KERB London, The Bucket List is a two-day event dedicated in its entirety to the culinary slam-dunk that is fried chicken. For £20, each ticket holder bags themselves a portion of fried chicken from each Bucket List trader (a list starring some of London's best comfort food suppliers such as Mother Clucker, Only Jerkin and Killa Dilla). Once you've worked your way through the tally of greasy treats, vote for your favourite at the Bucket List Wall of Fame. Plus, for anyone wanting to bring the littluns along to sample the crunchy perfection– you're in luck – under 12s go free.
Kings Cross, 5 May 2017 – 6 May 2017, £20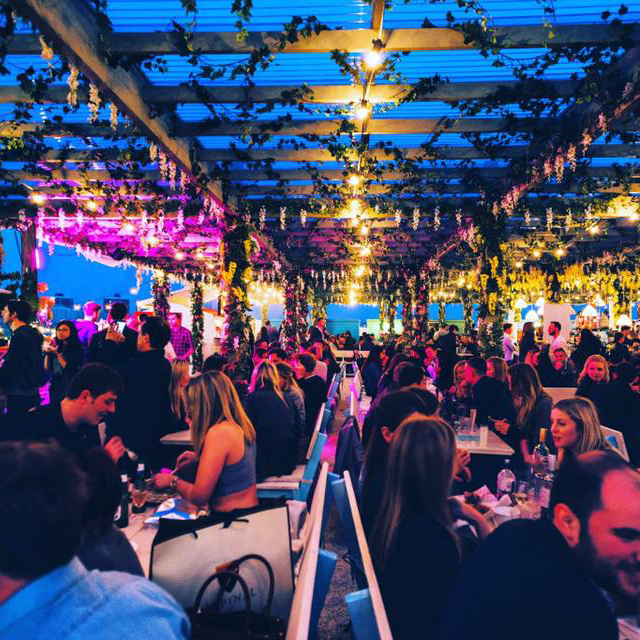 It's official: the days of dimly lit pubs are over. People are finally swapping jeans for cut-offs and Instagram's rife with hotdog legs – what better way to celebrate than by scooting down to you nearest open-air rooftop bar to drink, dance and dine the night away? Our pick of the lot has to be Pergola on the Roof. This sunny sky-high outdoor destination offers spectacular views of London's iconic skyline, plush cocktails, live music and multitudes of gourmet bar snacks. Although Pergola only takes booking for parties of four and over – they operate a first come first served basis for pairs and trios – we've never had to queue for more than 15 minutes. In short: expect to find us here every evening until October.
Woodlane, 3 May 2017 – 1 October 2017, Free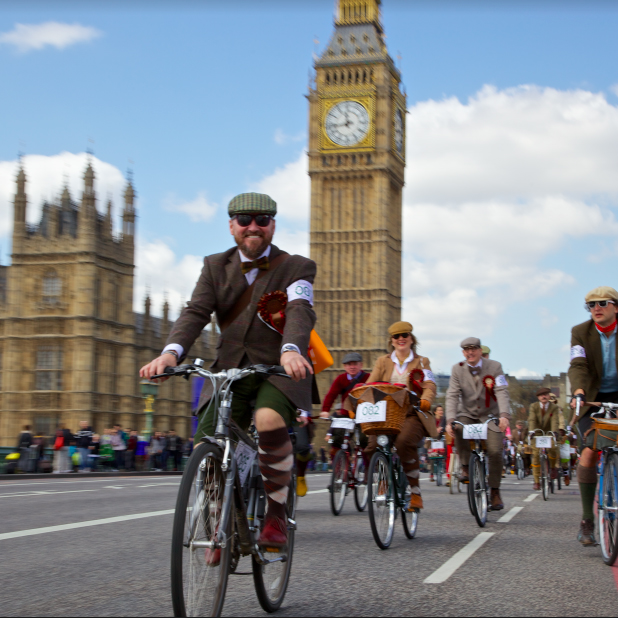 Dig out your finest penny-farthing because The Tweed Run is a bike ride with a difference. Hundreds of racers will be taking to London streets this spring for some tweed-clad vintage freewheeling, meaning for one day only you can expect the capital to have a certain 'country gentry takeover' vibe about it. Participants will be pedalling through the city's iconic landmarks and bringing traffic to a standstill all while decked out in their finest geography-teacher garms. Expect a half-time picnic in one of the capital's beautiful green spaces followed by a 'bit of a jolly knees-up' once all the exertion is out the way. The best part? You don't even have to be a ticket holder to attend the customary closing ceremony.
London, 6 May 2017, £25 with £5 donated to The London Cycling Campaign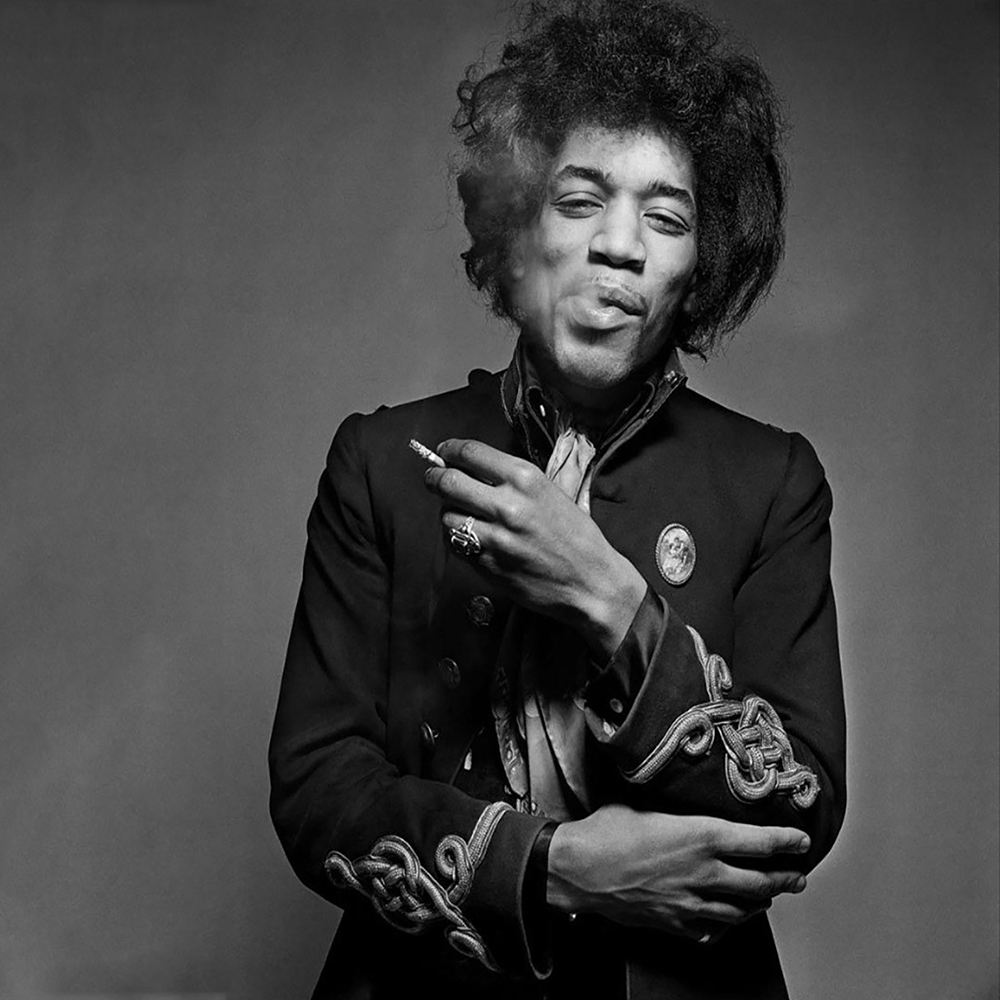 Shavasana Disco Jimi Hendrix Edition
Meditation guru Will Williams is going back to the 60s with his latest event: a guided group meditation followed by a playback of Jimi Hendrix's classic album Are You Experienced? Taking place at Barnes' Olympic Studios and marking the 50th anniversary of Hendrix's masterpiece, the soundtrack will come courtesy of a Dolby Atmos 3D System that some have hailed the best in Europe. In keeping with the soulful good vibes, tickets are free, and available to apply for via ballot.
Olympic Studios,12 May 2017, free, ballot entry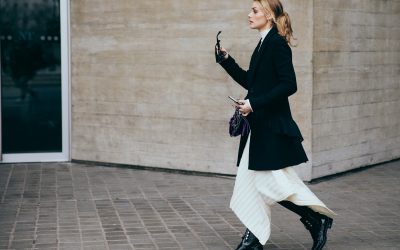 From bloggers to Editors-in-Chief, we round up the best of the street style contingent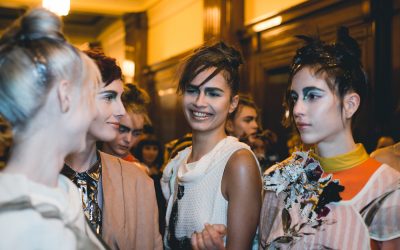 The eco-friendly brand presented a painterly, nature-inspired collection for their second catwalk appearance