The dynamic frontwoman talks production values, the 'ugly beautiful', and why being in 'the band that almost made it' is the best thing ever
Interview Muki Kulhan
Words Hannah Kane
Photographer Jamie Gray at Blood & Co.
Fashion Editor  Nini Khatiblou
Hair  Shukeel Murtaza at Frank
Makeup  Ammy Drammeh
Nail Technician  Jessica Thompson at Frank 
Summer in the city, and the iconic Camden Jazz Café is packed. The crowd jostles towards the front of the stage as Swedish electro-synth band Little Dragon emerges to cheers and whistles. Band members take up their positions: Erik Bodin on drums, Fredrik Källgren Wallin on bass and Håkan Wirenstrand at the keyboards. The petite frame of lead vocalist Yukimi Nagano, decked in a crystal embellished baseball cap and tulle veil, moves forward and she takes the mic. A persistent electronic beat ripples through the hall and Yukimi's voice joins to fill the humid air. She moves deliberately and with a dancer's expression, leading her audience as if in a shamanic trance.
The next morning we meet Yukimi on the set of our cover shoot and watch as she recreates her signature moves for the camera. We're here to talk about Little Dragon's fifth studio album Season High which dropped in the spring, and has seen them touring the new material to critical acclaim from Sonar to Glasto, with dates across the UK, USA and Europe until the end of the year. Highlights from the record include 'High', a laid-back, expansive jam that's made for drifting out over sunshine-filled festivals; 'Sweet', which mixes addictive computer game theme music with breathy, urgent vocals; and 'Celebrate', with its uplifting Oriental melody that descends into one of the most epic, finger-shredding guitar solos we've heard recently.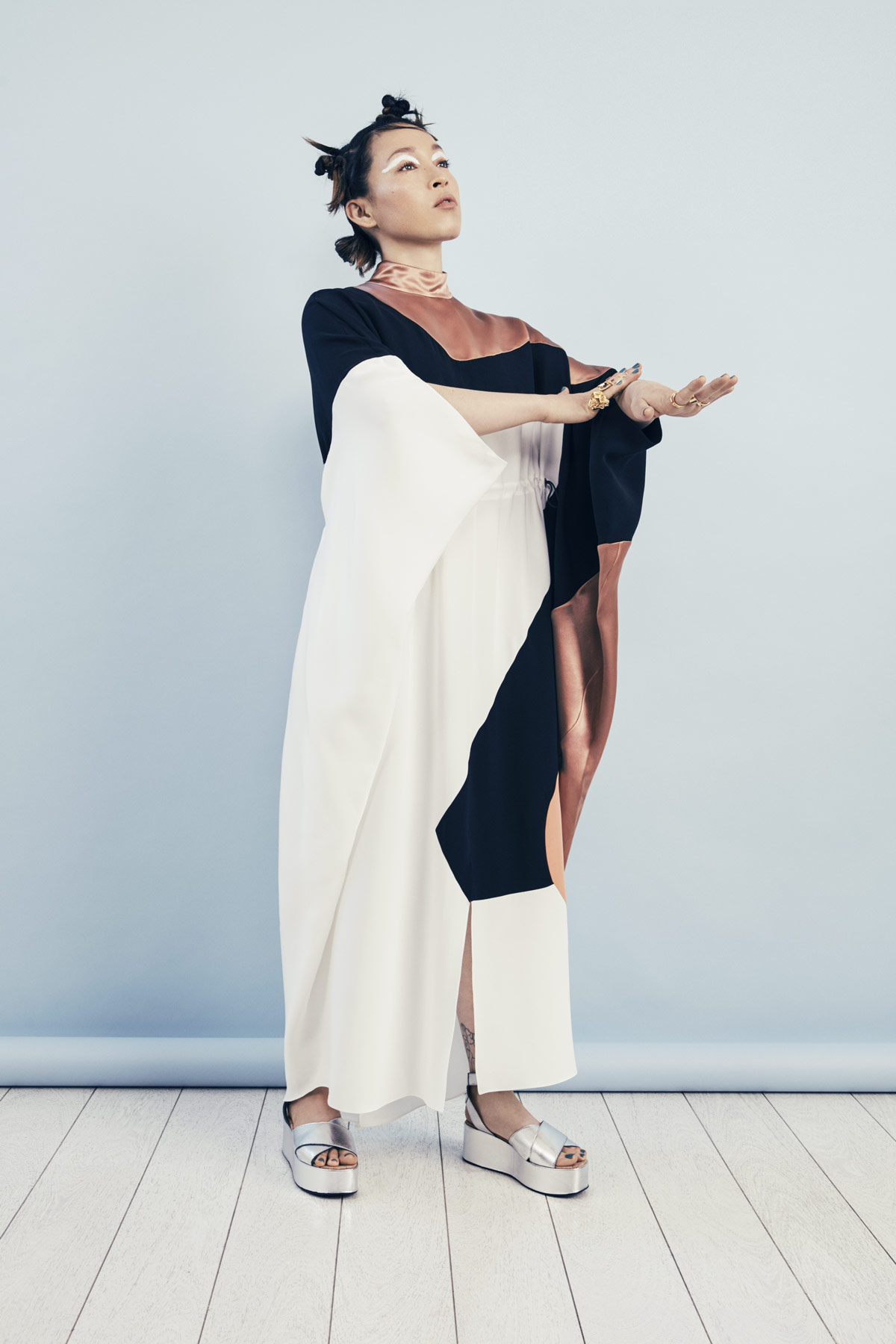 "There's nothing like a good guitar solo that really means something, you know?" States Yukimi, referring to the newly found rock meat on the band's electronic bones. "Sometimes people put guitars all over stuff for no reason, but when it's there we want it to be there, to be uplifting and be there for a reason. So we brought in our school friend who is just a really special musician and artist called Agge." Interestingly, while Little Dragon have featured a spread of A-List collaborators such as Gorillaz (with songs 'Empire Ants' and 'To Binge' on their Plastic Beach album), De La Soul on their triumphant 2017 album And The Anonymous Nobody ('Drawn'), as well as Damon Alburn and The Clash, school friend Agge is the first artist to feature on their own record. "We haven't ever had any featured artists on the album, so it was nice to bring in someone who means a lot to us who is not necessarily like a name or anything, but is a name for us!"
Yukimi has always been drawn to boundary-pushing musicians, from the first Jimi Hendrix records she bought to her all-time musical heroes Kate Bush, Janet Jackson, Fleetwood Mac, Prince and Grace Jones. Born and raised in Gothenburg to a Japanese father, Yusuki Nagano, and her Swedish-American mother, Joanne Brown, Yukimi had a musical childhood alongside her sister Sumie, now a respected folk musician. "My mom played piano and I used to sit on her lap and destroy her playing," she remembers. "That's where my love of Fleetwood Mac comes from."
We'd rather make something that's interesting, maybe a bit ugly, maybe a bit beautiful, maybe a bit strange and surreal, and I think [Ossian Melin] has that about him, which is really exciting.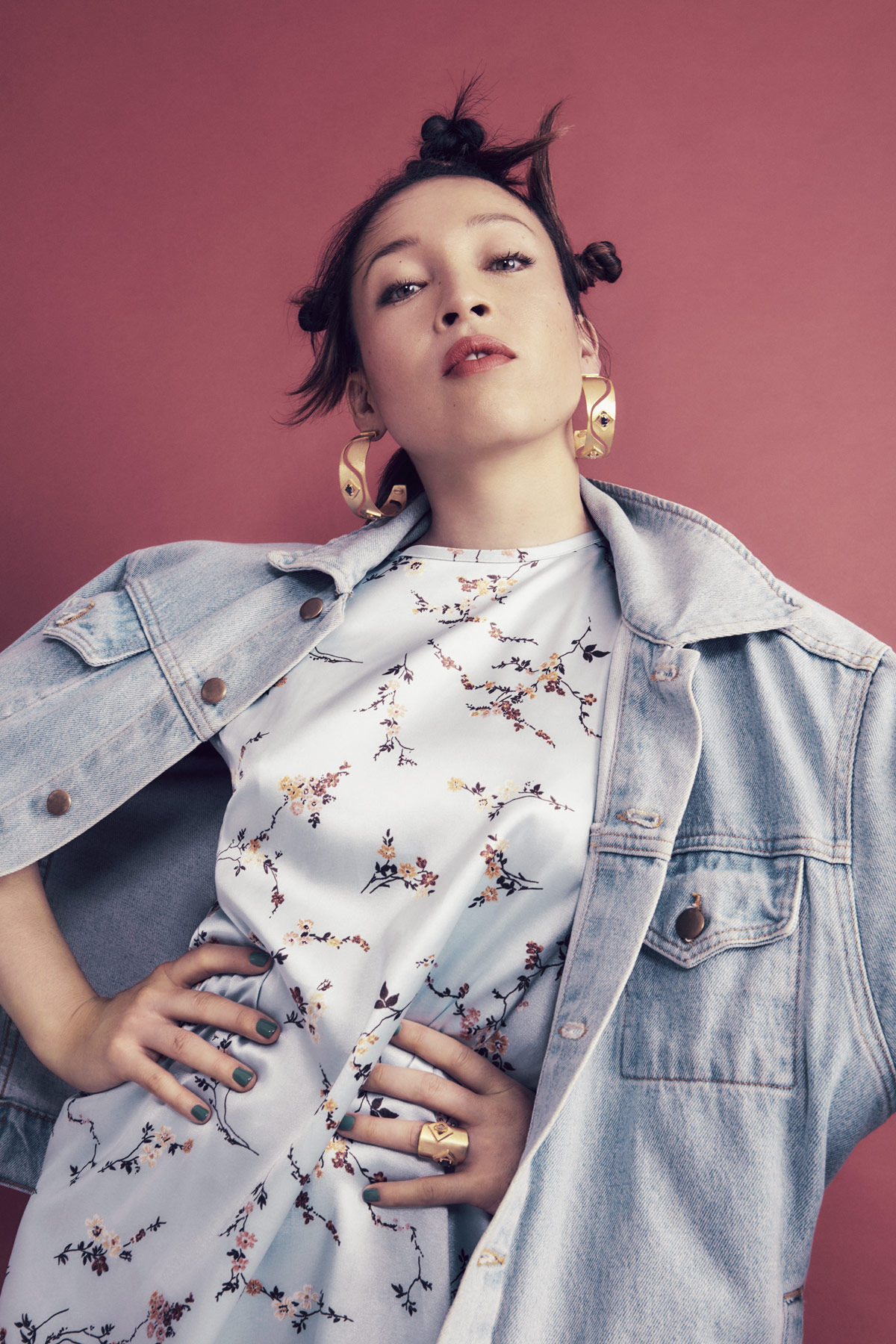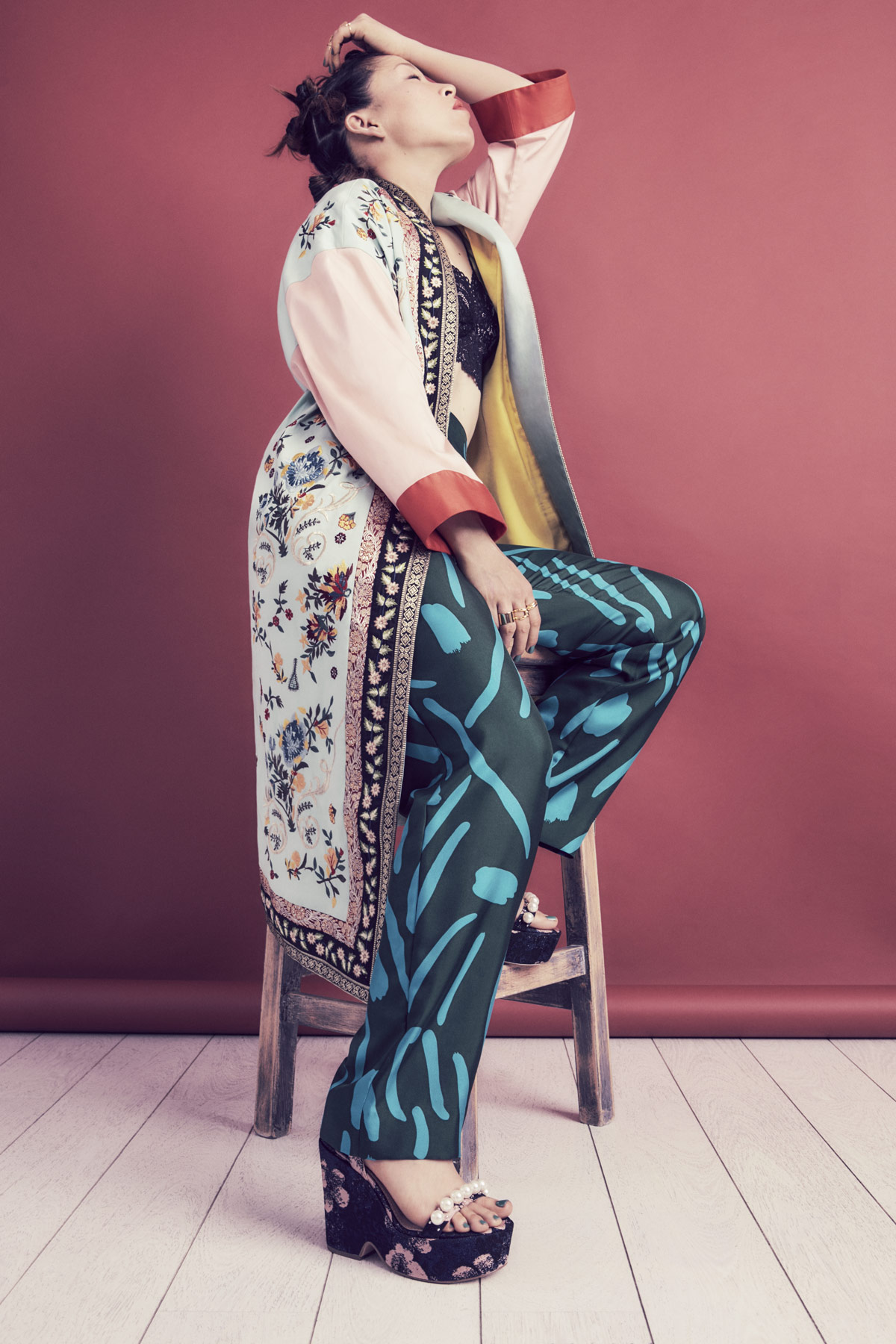 Little Dragon formed in high school in Gothenburg in 1996, and as you'd expect from a relationship spanning over twenty years, they've moulded into a solid family unit. Yukimi describes the band dynamic: "Eric is funny and somehow takes on the role of band leader because he's so neutral – he can lure us in – and he's just really 'up'. Fred I'd say is mysterious, and a thinker, he brings a lot of depth. Håkan is definitely like the Sith Mastermind, he's into technology. He'll sit online and Google how to take something apart. He's deep, technical, curious. He's also the Do-It-Yourself guy, he'll make an instrument from scratch with some wood, or whatever!"
Family remains important outside of the band too, and following their Grammy-nominated fourth studio album Nabuma Rubberband, Yukimi became a mother herself to son Jaxon, who she has successfully kept out of the public eye. By day she swaps the OTT stage costumes for sneakers and comfortable threads, and enjoys the simple pleasures of dancing, taking walks, and experimenting with recipes in the kitchen.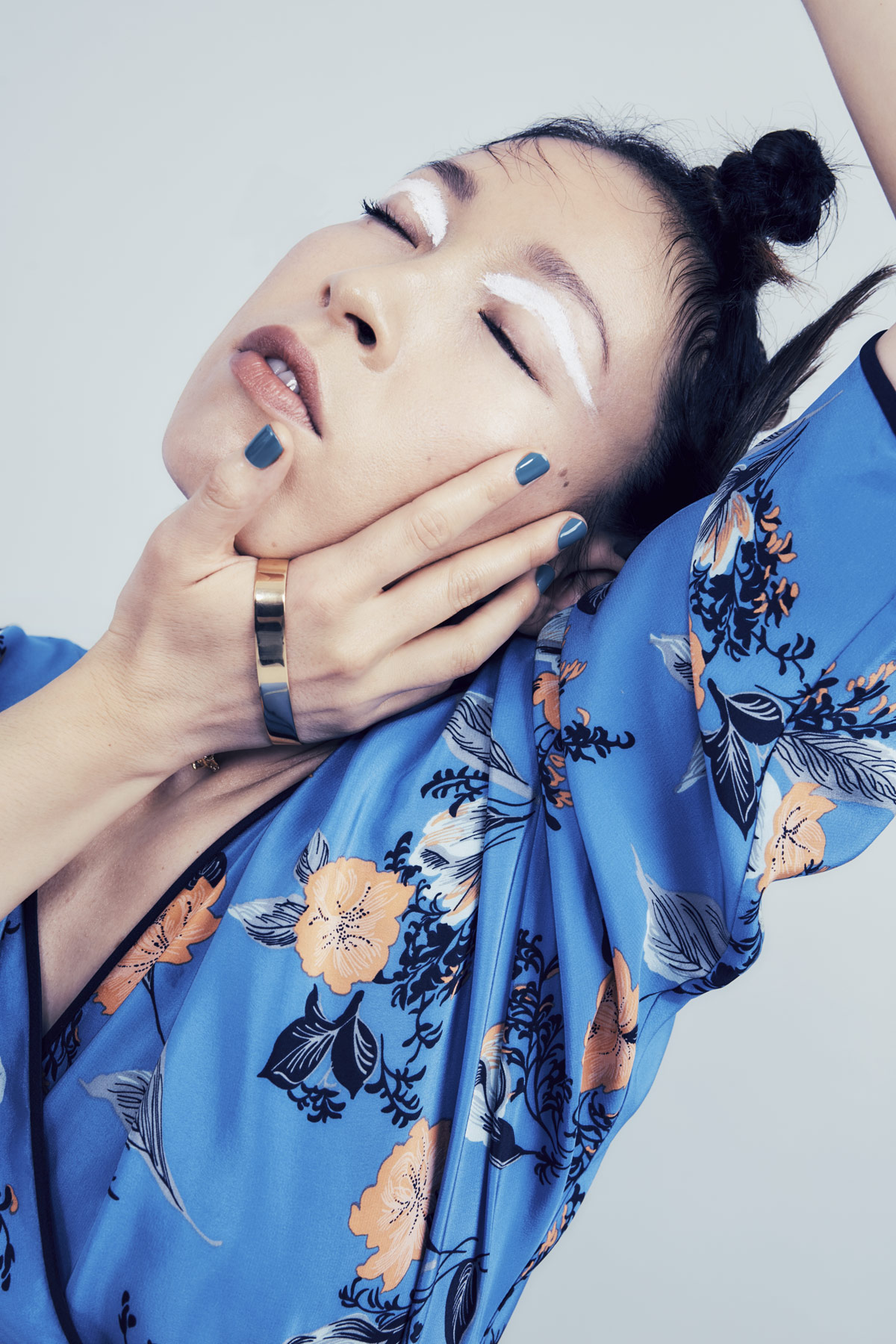 Season High took the band back to the studio, with production coming from fellow countryman Patrick Berger, a Grammy-nominated composer and producer who has collaborated with chart-topping artists such as Charli XCX ('Boom Clap'), Robyn ('Dancing On My Own'), Icona Pop ('I Love It') and Lana Del Rey ('Off To The Races'). "He comes from more of a pop world," says Yukimi. "It's a world that we've been a little bit reluctant to step into in the past, because we've produced all the music ourselves and we wanted to keep hold of that, but there was always something about him we liked. One of his skills is making more arrangements, so he helped us with a couple songs." James Ford, the English electronic music guru known as Simian Mobile Disco "came in towards the end stage of the process, because we had all the songs there, but we just needed that last percentage to finish them off."
The psychedelic, science fiction-influenced videos to 'Sweet', 'High' and 'Celebrate' are a testament to the wealth of creative talent born out of Gothenburg. Laced with Scandi weirdness and raw digital effects, they're an excellent fit for the band. Keeping production close to home is important: "We came to the realisation that we don't have to be in LA to make a cool video, and we don't have to be in London to do a photo shoot," explains Yukimi. "We know so many people in Gothenburg, so let's really use those connections." The film's director Ossian Melin is "a free-thinking spirit – he's on the edge, people really like what he does, and some people hate what he does." Yukimi's philosophy is akin to a concept the French call 'jolie laide', or 'ugly beautiful':  "we'd rather make something that's interesting, maybe a bit ugly, maybe a bit beautiful, maybe a bit strange and surreal, and I think he has that about him, which is really exciting."
It's becoming increasingly apparent that Little Dragon is a self-sufficient band with a clearly defined creative vision. After the global success of the band's biggest hit 'Ritual Union' (played over 29 million times on Spotify to date), but failing to become a household name, one British publication bitchily referred to them as "the band that almost made it", which is subjective to say the least. But Little Dragon are the ones having the last laugh, and consequently adopted the line as their motto. Yukimi refuses to get caught up in fickle music industry hype. "The best advice my mother gave me, was to define what success is for me, for myself." What is that definition? "I think somehow it's kind of simple. It's not necessary to have all the material or wealth in the world, but simply having time and being happy. It sounds very self-help bookish, but it's the truth!" It also helps to have the respect of other artists, with non other than Beyoncé congratulating Yukimi on doing a good job as she came off stage after their Coachella set.
There's no doubt the band will have longevity, and for Yukimi the priority is to keep creating. "We want to be, like, 50, and trying new things, on the edge of new music and not get too comfortable." One thing can be said with certainty, the weird and wonderful world of Little Dragon will never be boring.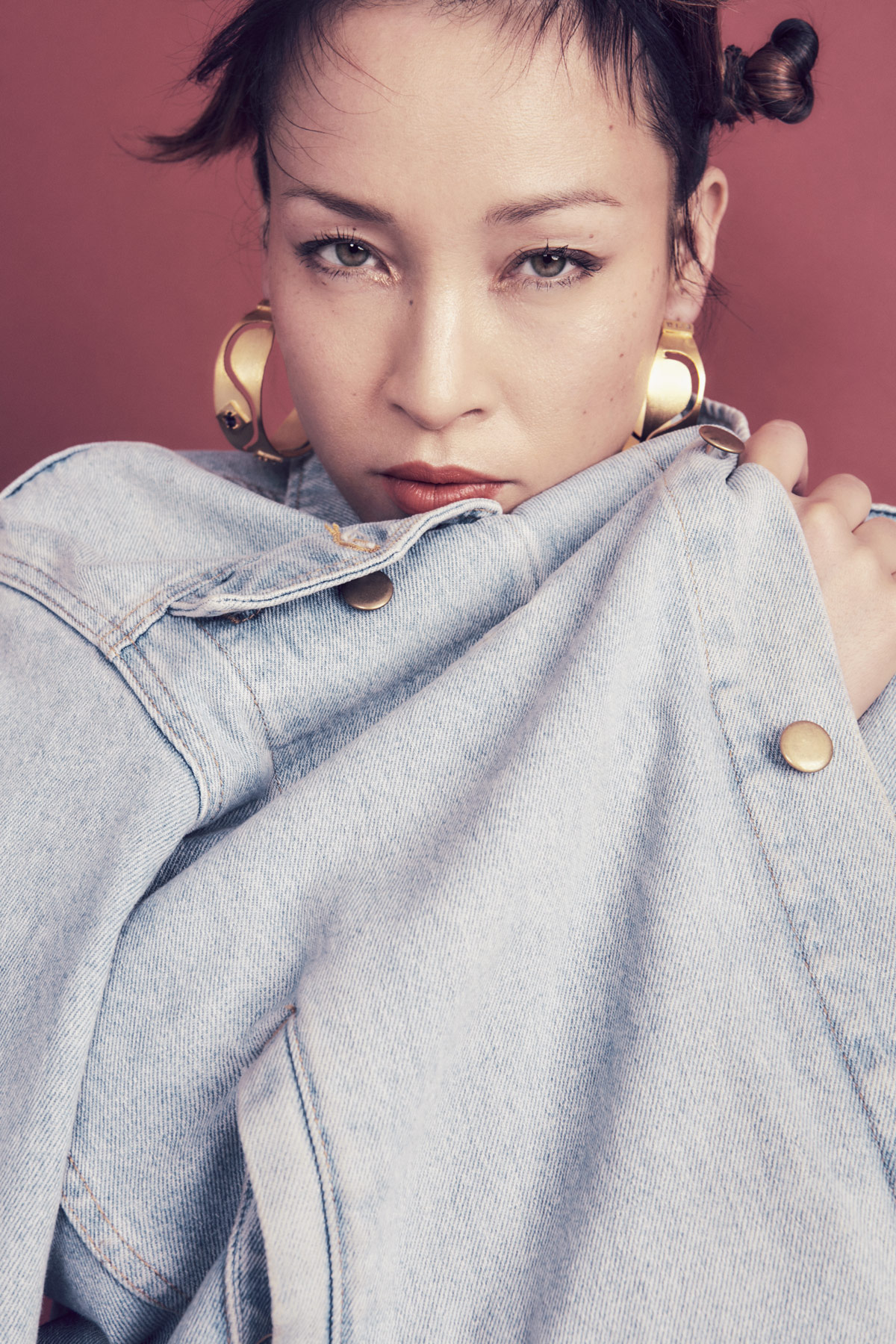 WATCH: BEHIND THE SCENES WITH YUKIMI