Spring into action with a fist-pumping, spirit-lifting feast of fashion, people and ideas
Words   Molly Flatt
Photographer   Clara Copley
Hair & make-up   Tahira Herald
Model Terri Lee at Wilhelmina
Spring often brings with it a new surge of energy, and Just F**king Do It is exactly the vibe we're channeling in the PHOENIX office this month. When I interviewed our cover star Wallis Day – who stars in the Superman prequel series Krypton later this year, and cuts a powerfully beautiful figure in our elegant, androgynous shoot – her action-hero attitude was a welcome blast of LA sunshine on a drizzly mid-season London day.
It wasn't just her palpable love of stunts and spies and outdoor sports that helped me shuck off my mental April showers; she even made me feel a tiny bit better about politics. "I'm a positive person, so if I can see any silver lining in what's going on, I would say that it's the fact that people of the world are uniting for the first time as a human race, as a whole," she enthused. "We're coming together from different ethnic backgrounds, different genders, different religions, and we're uniting for what we believe is right, and it really touches me when I see people empowering other people. It isn't us or them. We're in this together."
This ass-kicking attitude is something of a thread throughout our April issue.
In her feature on 'Third Culture Kids', Amy-Rose McDowell tells the story of the growing number of young people raised into a culture other than their own, and how they turn their adolescent angst into entrepreneurial drive.  In 'A Dummy's Guide To Brexit', Greg Taylor helps us get our heads around the mess that is Article 50 so we can arm ourselves with the facts and fight for our rights. This month's fashion trend page brings you the most smile-provoking pink pieces to liven up that wintery wardrobe, while our Counter Intelligence beauty roundup curates a bevy of little luxuries ready to lift your day (it is, I am sure, scientifically impossible to frown once you're wearing a spritz of Penhaligon's new gin-and-tea scented Lothair). Oisin Lunny's three self-releasing audio heroes are examples of exactly what you can achieve when talent meets tenacity, and his April playlist is a feelgood aural feast. Hell, if Felix Clarke's piece on the sober raving phenomenon doesn't have you skipping to Morning Gloryville for a 6am kombucha-fuelled dance, you're an irredeemable Eeyore.
So push back your shoulders, plaster on that smile and let the sun shine in. We've been waiting long enough.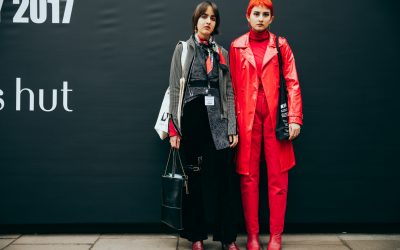 From bloggers to Editors-in-Chief, we round up the best of the street style contingent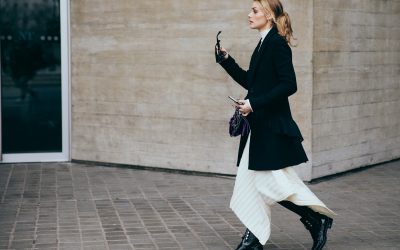 From bloggers to Editors-in-Chief, we round up the best of the street style contingent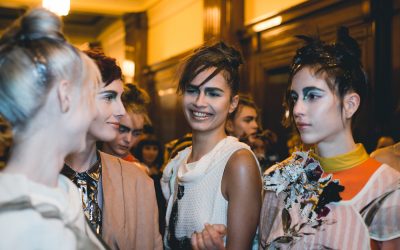 The eco-friendly brand presented a painterly, nature-inspired collection for their second catwalk appearance