'Clubbing Isn't Dying – That's Sensationalist Crap': How Printworks Is Rebooting London's Dance Music Scene
The clubbing juggernaut is returning for a second season – and has some serious parties in store
Interview Millie Feroze
Photography Max Meichowski – Fanatic Creative

Following the colossal success of its launch last year, Printworks – Canada Water's 16-acre music and arts venue – opens its doors for a second in-house clubbing series this October. The epic ten-week programme features a diverse set of artists, extending its mission to breathe new life into the capital's club scene – which is going through a tough transition, to say the least.
The impressive line-up of techno, electro, house and drum & bass includes the likes of Afterlife, Gorgon City, Hannah Wants and Blueprint, with live performances from Recondite, Flaminia and Woo York. With a mix of established and breaking artists yet to be announced, this is shaping up to be the ultimate party destination for the end of the year.

Ahead of the opening show, we caught up with two of the masterminds behind Printworks, Broadwick Live Managing Director Bradley Thompson and Printworks Booker and Co-Founder of LWE Will Harold, to discuss bucket list bookings, stand-out performances… and why clubbing is still very much alive.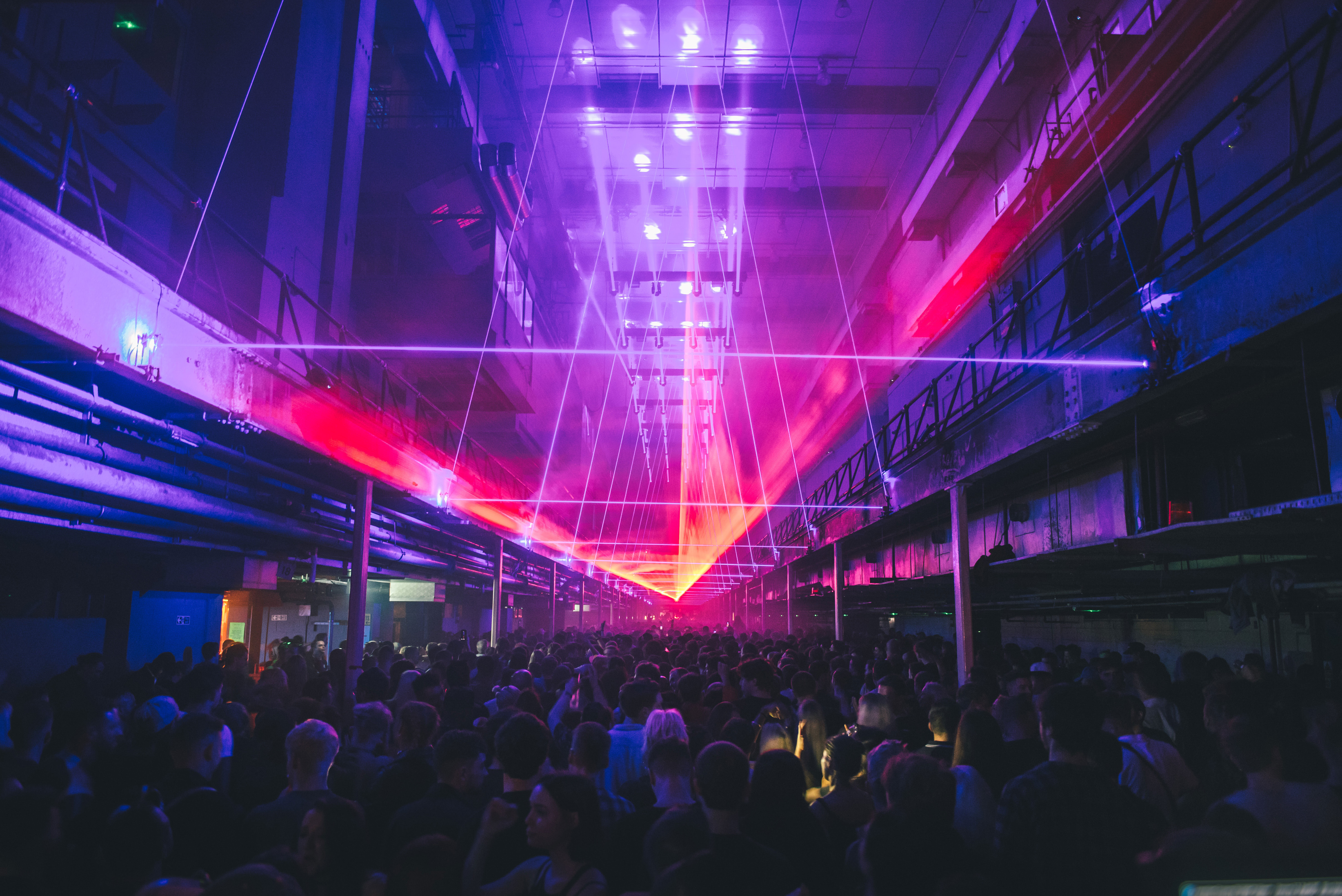 Congratulations on Printworks' second in-house clubbing series. What are the key elements that you take into consideration when curating a programme on this scale?

Will: Point one is to try not to think about the enormity of the task ahead! I begin with a long list of ideas, based on a variety of factors ranging from release schedules to what has been moving me personally over recent months. There's hours of deliberation and debate in the office as we compare people's touring schedules. There'll be certain artists that we might have missed out on booking for the previous series who'll definitely play a date. I guess it's like picking a sports team in that it becomes like a balancing act, trying to give the overall programme the right feel.
Bradley: Yes, getting the balance right is definitely key when you're organising such a long run of shows. You want to have a good mix of established and breaking artists, and also make sure that musically you touch on the right number of genres in order to appeal to different audiences.
Which nights are the stand-out events of the series for you and why?
Will: The opening is pretty stellar with Maceo, Rodhad, Dan Avery and Mind Against, and I think the Afterlife event with Tale of Us is a strong one, as from my perspective it really represents what they are about as artists. Andy C and the 25 Years of RAM party will be ridiculous, there are a few surprise guests and while you don't have to be Sherlock Holmes to work out who they are, it'll none the less be a really special one!
The weight of expectation changes things a bit. The first time around we had no preconceptions of how successful it would be, but now there's a little more pressure
How will this series differ from and build on the success of the first?
Bradley: We've had time to reflect on the things that were good and bad about the first series. It's always hard to completely imagine how a space is going to work without having the public in there, and we learnt a lot in the first three months which has allowed us to make tweaks.
Will: The weight of expectation changes things a bit. The first time around we had no preconceptions of how successful it would be, but now there's a little more pressure and I think people will be more critical, which is only natural.

Musically we have a more balanced programme, which I didn't feel the first series quite achieved. We have a few monstrous shows still to announce which I'm excited about, so keep an eye out for updates. For the closing party there's an act we are yet to announce who I've never booked before – it's a bucket list booking…
Are there any technical developments in store that you can tell us about?
Will: We had a lot of praise for the sound last time around but also a few grumbles. It's an incredibly difficult room to get the sound right in, because of the length and height of the space, combined with the balconies, which create little dead spots. To address this we've spent some time on an improved sound design with an additional 36 speaker boxes to give a punchier sound throughout.
Bradley Thompson: Also we are opening up the Control Room, which is at the back of the main Press Hall at balcony level. We're offering upgrades that give you access to this space and also to the balconies. There are additional bars and toilets up there, but more importantly, it gives you a birds-eye view of the action and really allows you to experience the show in a different way.
What's a typical day for you?
Will: I don't think there is one! But a rough overview would go something like this: up at 7; occasionally do some form of yoga or exercise; get to the office; tell myself that today I'll make a complete 'to do' list before I get sucked into the day (this has varying degrees of success); get sucked into the day, which is a hectic mix of site visits to new spaces or festival site, meetings, emails and phone calls. The average day has a lot peaks and troughs, which I think is what makes being a promoter so addictive. 
How would you describe Printworks' music policy in your own words?
Will: These shows are about reflecting the best of the international electronic music scene. Music with energy works best in that space as it's long and narrow, so techno and drum 'n' bass have created some magical moments in there.
What can be done to tackle the licensing climate damaging London's clubbing scene?
Will: I think we're in a period of transition, although to some extent we always are. Every few years the headlines state that 'clubbing is dying' and I think that's sensationalist crap. It's a scene built on breaking boundaries, pushing new frontiers, and not being afraid to take risks, so why anyone would be surprised at the industry's frenetic pace is beyond me. Yes there will be highs and lows, but without them it would get pretty dull, right?  
Outside of the clubbing series, what events will Printworks be hosting over the autumn-winter period?
Bradley Thompson: We've been looking at a number of non-clubbing events that will take place in the venue and complement our weekend shows. We can't go into too much detail yet, but these will include food and drink festivals, operatic performances, film screenings and much more.
Where would you like to see Printworks in five years' time?
Bradley Thompson: We're in discussions with British Land as they have long-term development plans for the area and we'd really like Printworks to be a part of those. For any new development in the city it's important to have a cultural hub at its centre, and I feel Printworks is fast becoming that space for Canada Water and its surrounding areas.
Printworks London Issue 002 Music Series runs from October 7th to December 10th.
Full details can be found at printworkslondon.co.uk