A Room of One's Own: Look Inside The Fumoir of Luxury Brand Specialist and Vintage Queen Carmen Haid
Because who doesn't love their fumoir?
Words Carmen Haid
Photographer Gerda Carina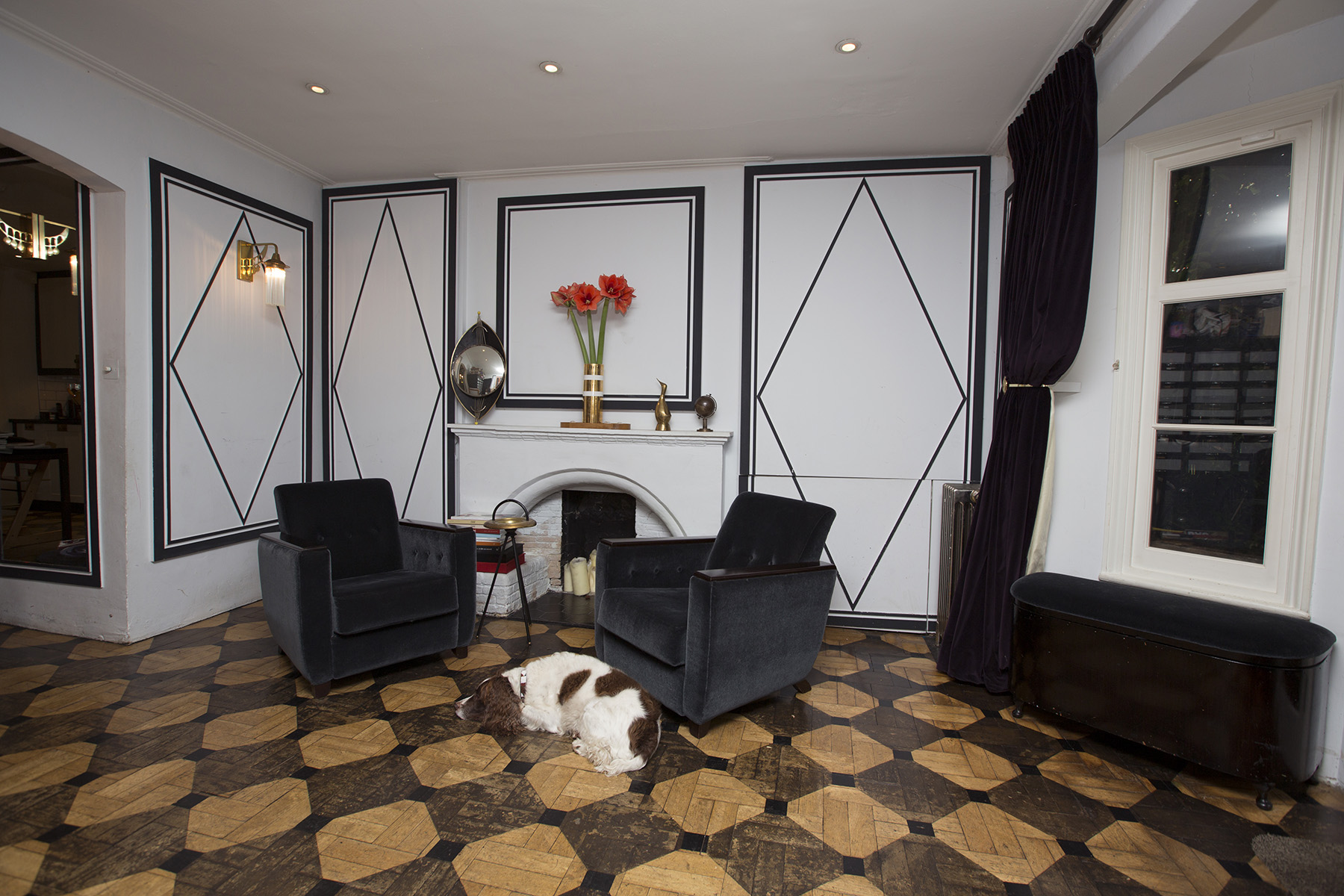 Our new interiors series asks London's coolest and quirkiest residents to give us a glimpse into the favourite room in their home – and explain how they've styled it into the haven it is today.
This month, we're invited into the elegant St John's Wood townhouse of the Austrian-born luxury brand specialist, Carmen Haid. After working in-house for the likes of Yves Saint Laurent and Céline, in 2008 Haid founded Atelier-Mayer.com, a global platform for luxury vintage fashion online. The company swiftly gathered a devoted international clientele, hungry for the luxe vintage treasures Haid cherry-picked from boutiques and markets around the globe.
Haid sold the company in 2014 and now runs her own brand consultancy, which she juggles with yoga teaching, skiing, general globetrotting and three kids. Here's the story of her beloved fumoir and Haid's distinctive Viennese style.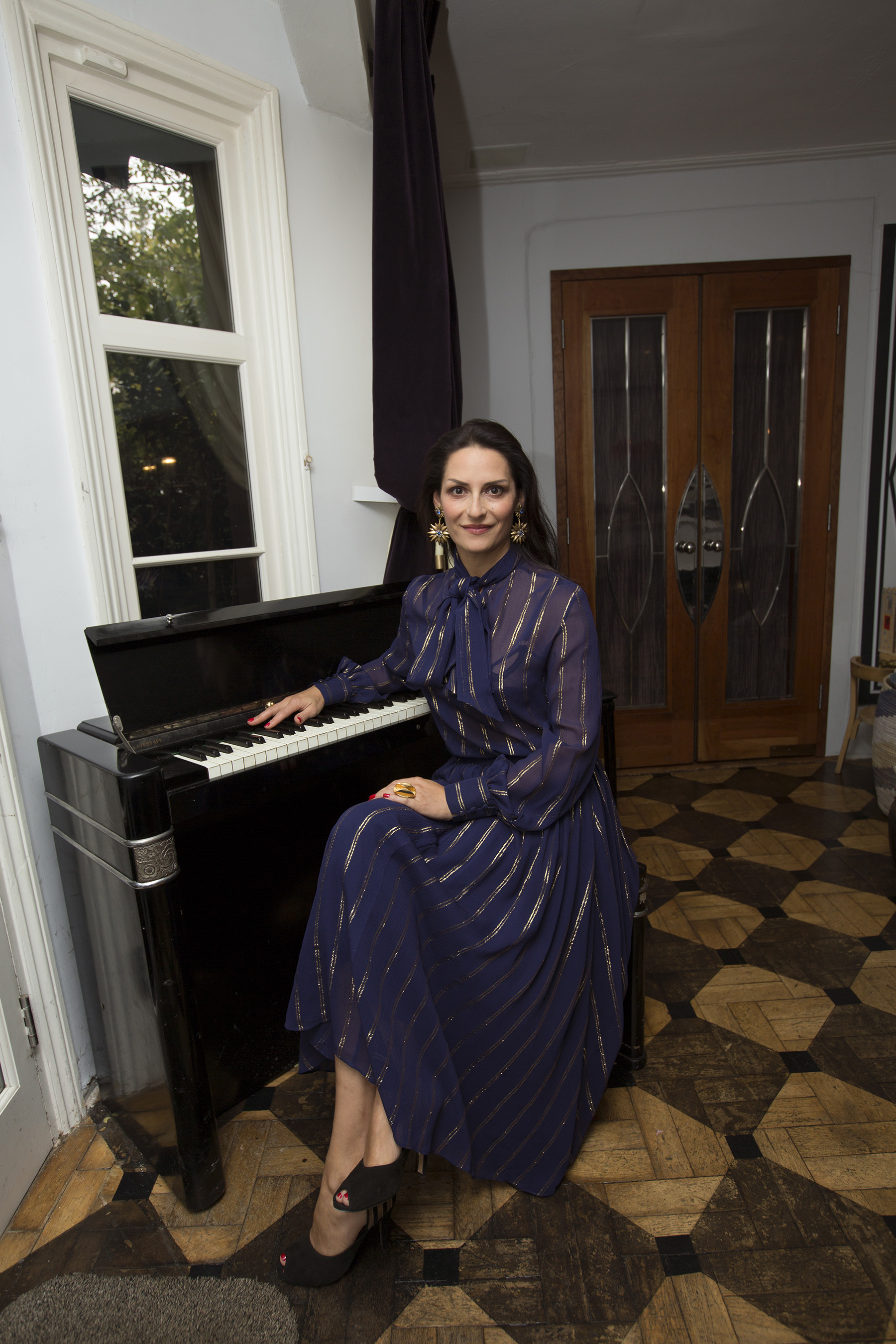 When did you buy the house and why?
I bought the house four years ago because we needed more space.
What do you love about it?
The house is Victorian and it is situated on a quiet, small square with private access. It has a lovely layout and it's the only brown house on the street, so I named it The Chocolate Towers.
What do you hate?
The neighbours. Many of them are just out of date.
Why is this your favourite room?
The fumoir is a playroom for the children during the day, but in the evening it becomes an inviting room to chill out and read.
How has its style evolved over the years?
My style is very eclectic, it's mix and match and travel keepsakes from all over the world. I love in particular the Viennese Secession period at the turn of the century. There were incredible artists who formed a workshop and a big movement back then in Vienna, called The Wiener Werkstatt or Viennese Workshops. Painters, furniture makers, glass makers, textile designers – all were part of it and created some incredible, very collectable pieces of work. Famous artists from the period include Egon Schiele, Gustav Klimt, Josef Hoffmann, Kolomann Moser, Gudrun Baudisch and Carl Auboeck. Their aesthetics underpin this room.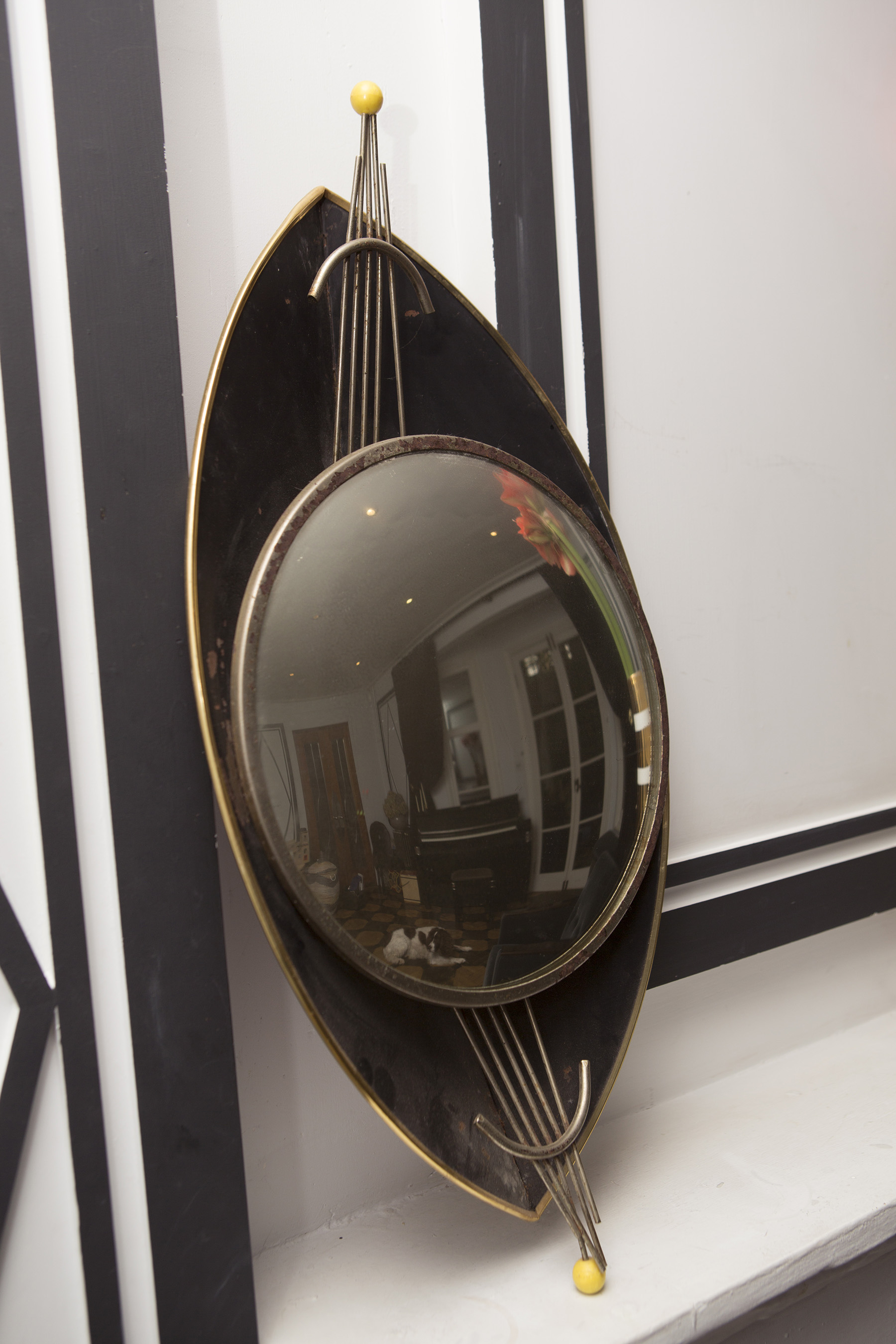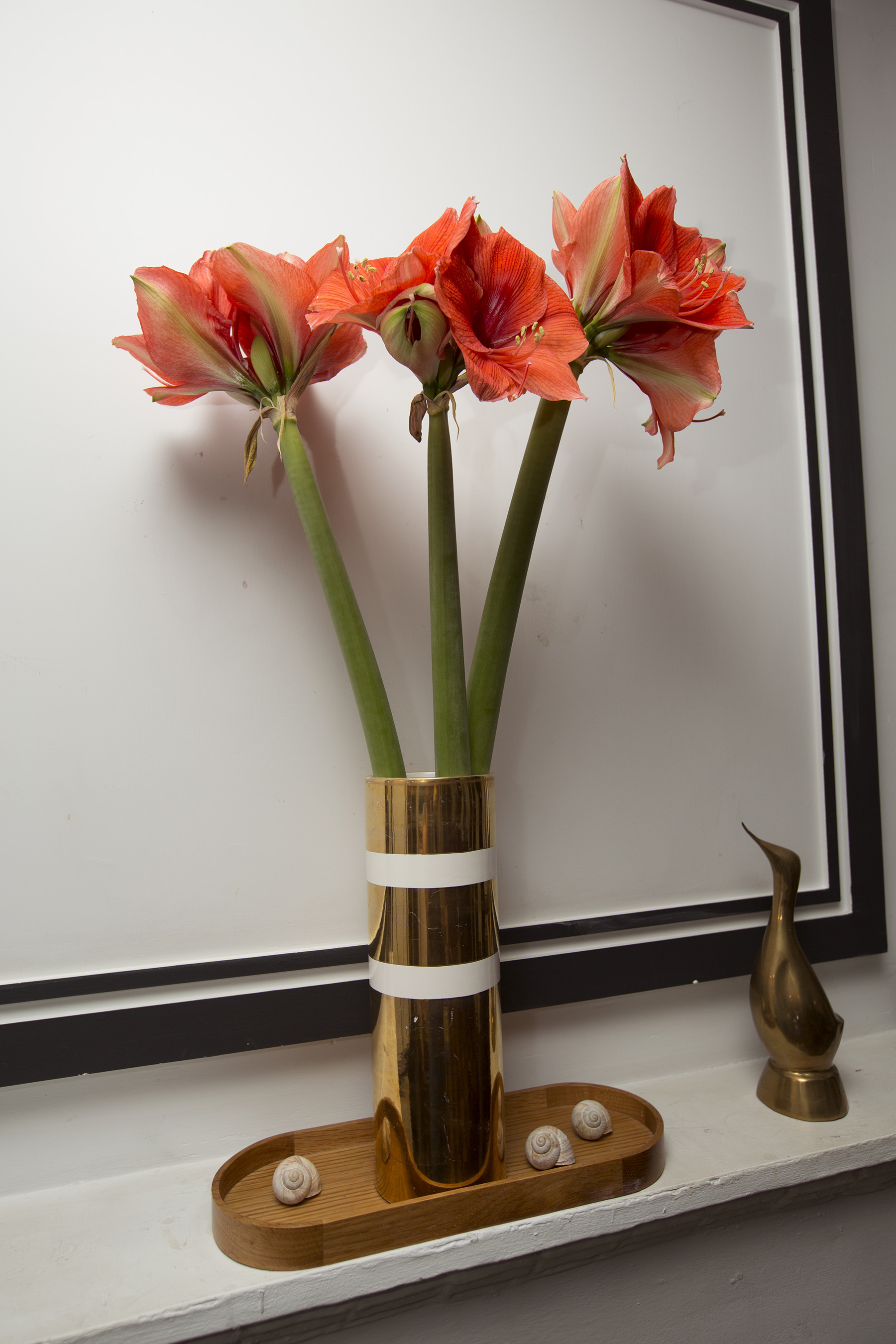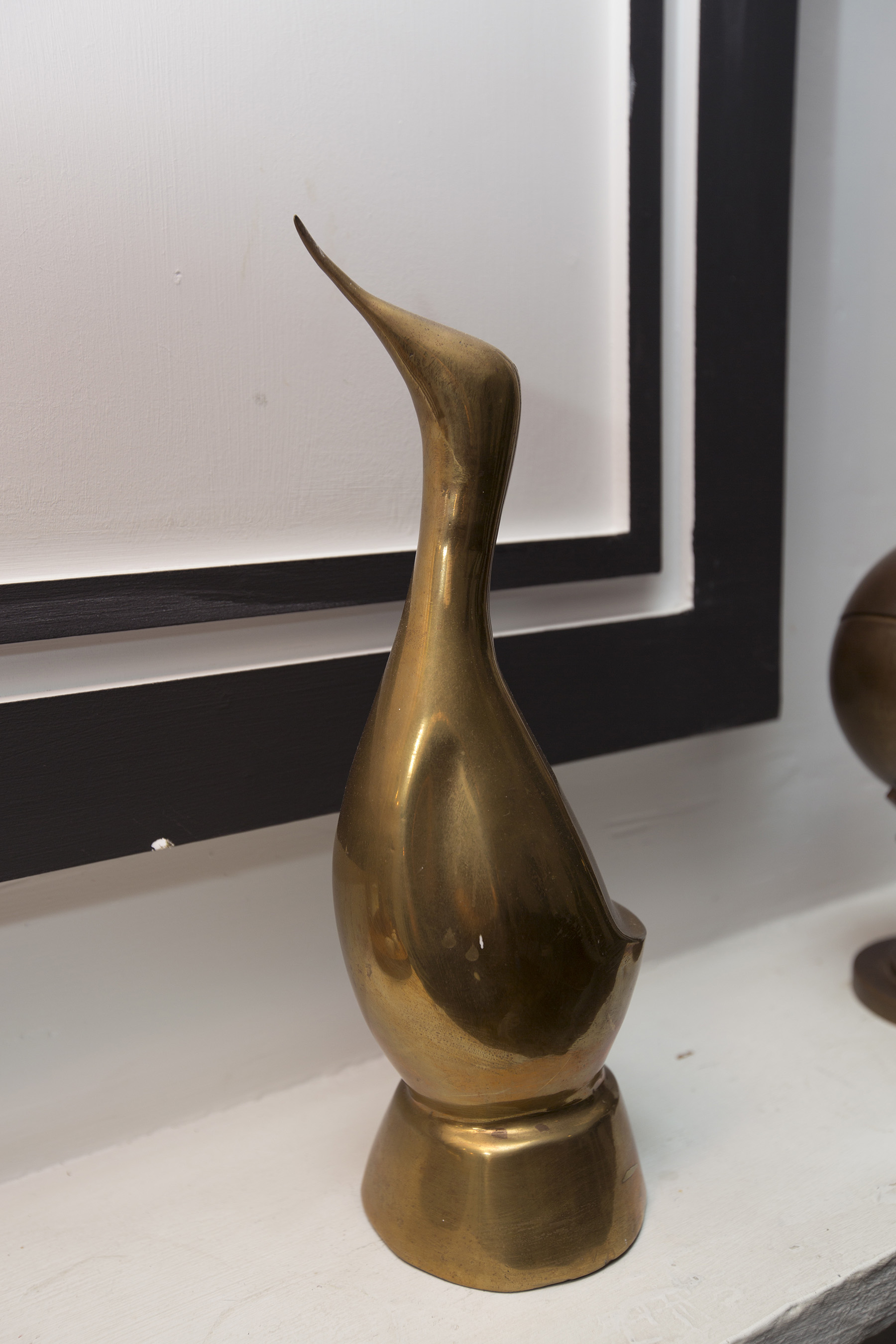 What are your 5 favourite features or pieces in the room?
I have more than five! I particularly love…
• the petrol set of chairs by Jean Michel Frank
• the 1960s golden striped vase by Austrian ceramicist Gudrun Baudisch
• the room paneling, which was inspired by The Wiener Werkstatt
• the tri-pod ashtray and modernist mirror which I bought from my friend Jonathan Ferrari at Modernarium
• the 1920s piano, which still works – but needs a good tuning once in a while!
• the fabulous cigarette dispenser globe which I found on a market in Brazil
• the old shirt cabinet, which now houses hoards of toys I don't want to see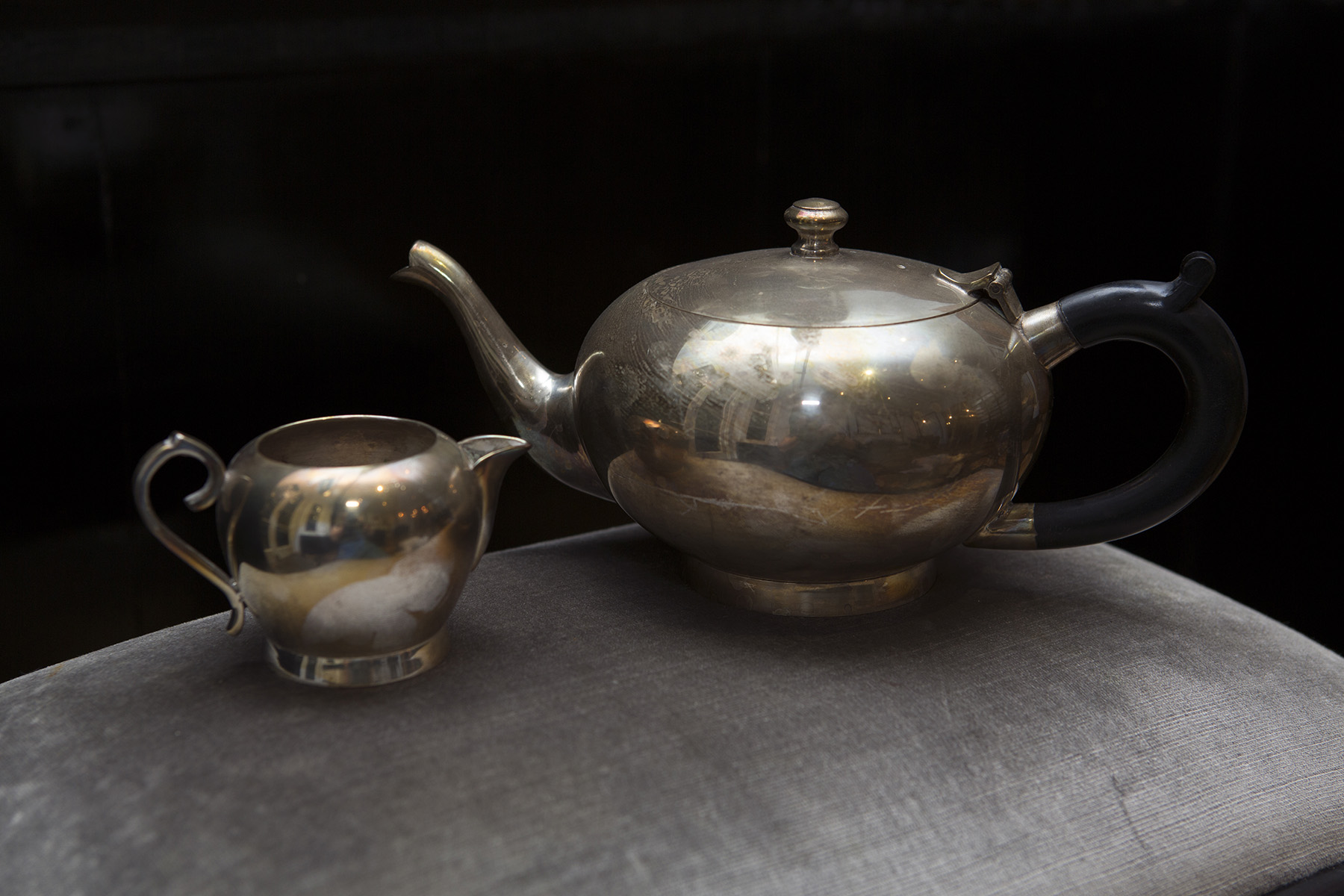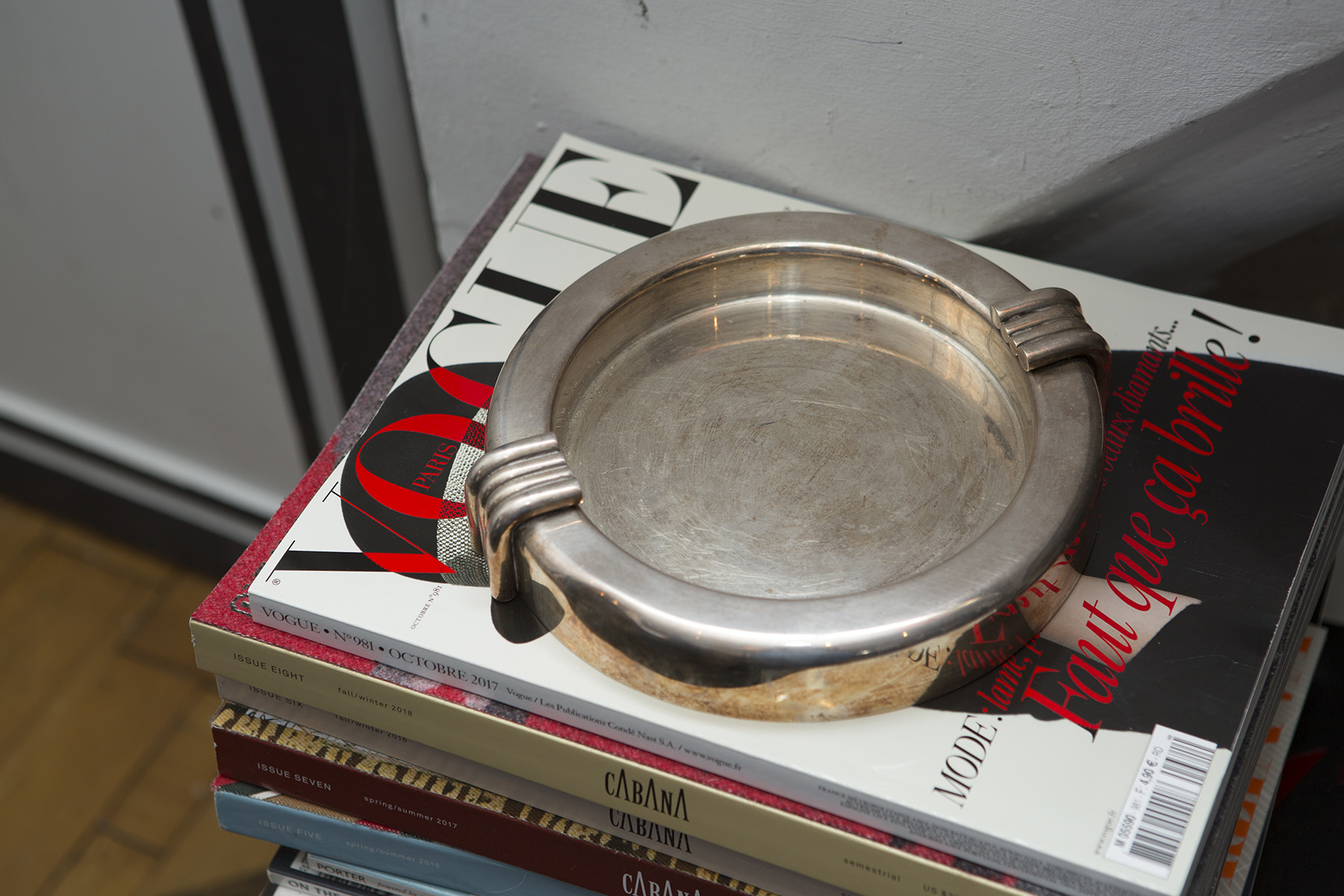 Most memorable moment you've had in this room?
I've had some legendary moments in here during my house parties. The room usually starts as a bar and ends up as a dance floor.
Dream piece you'd like to add to it?
I would like to add theatre-type lights behind the curtains to make it into a mini-stage, as I would love to host a jazz concert evening here soon.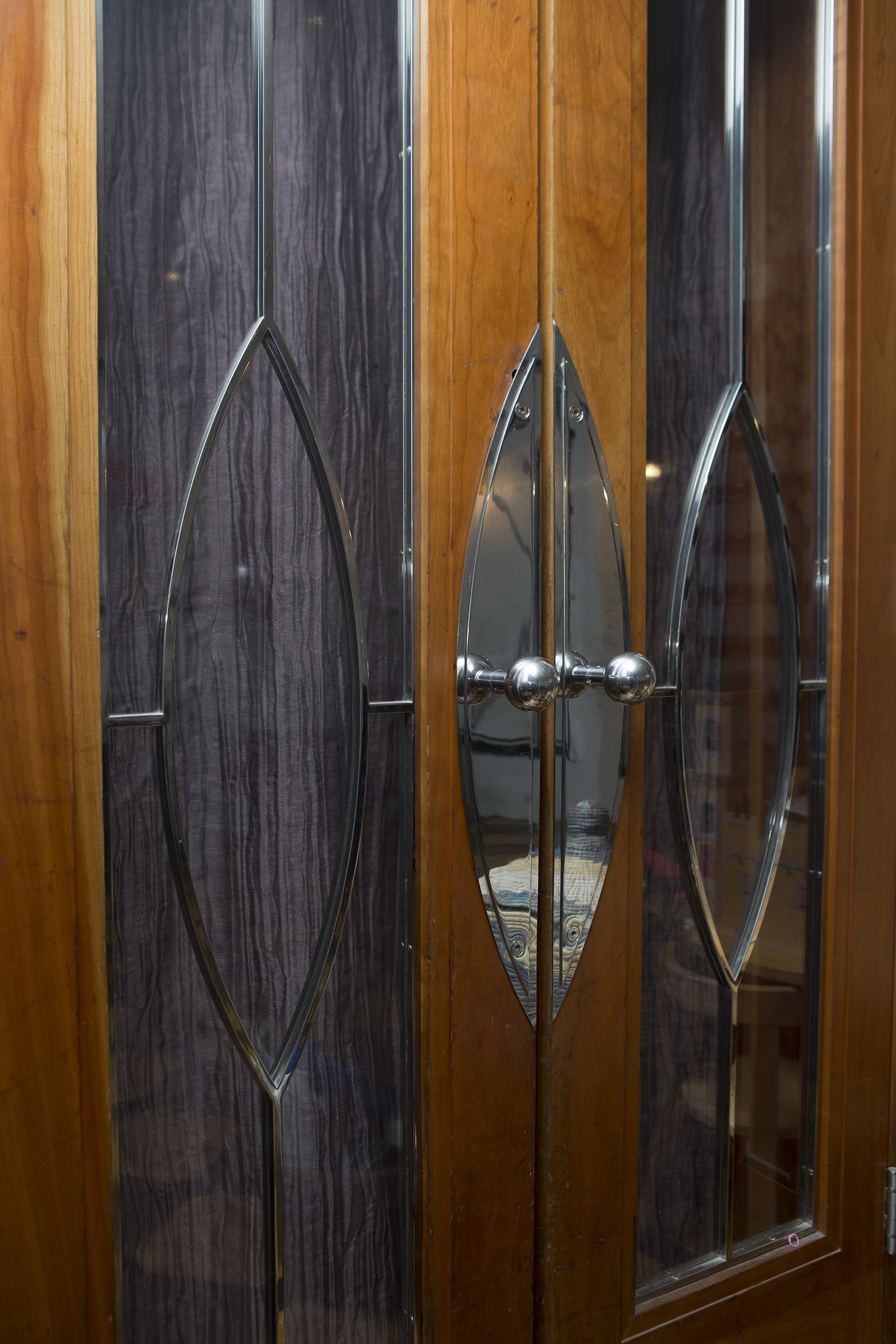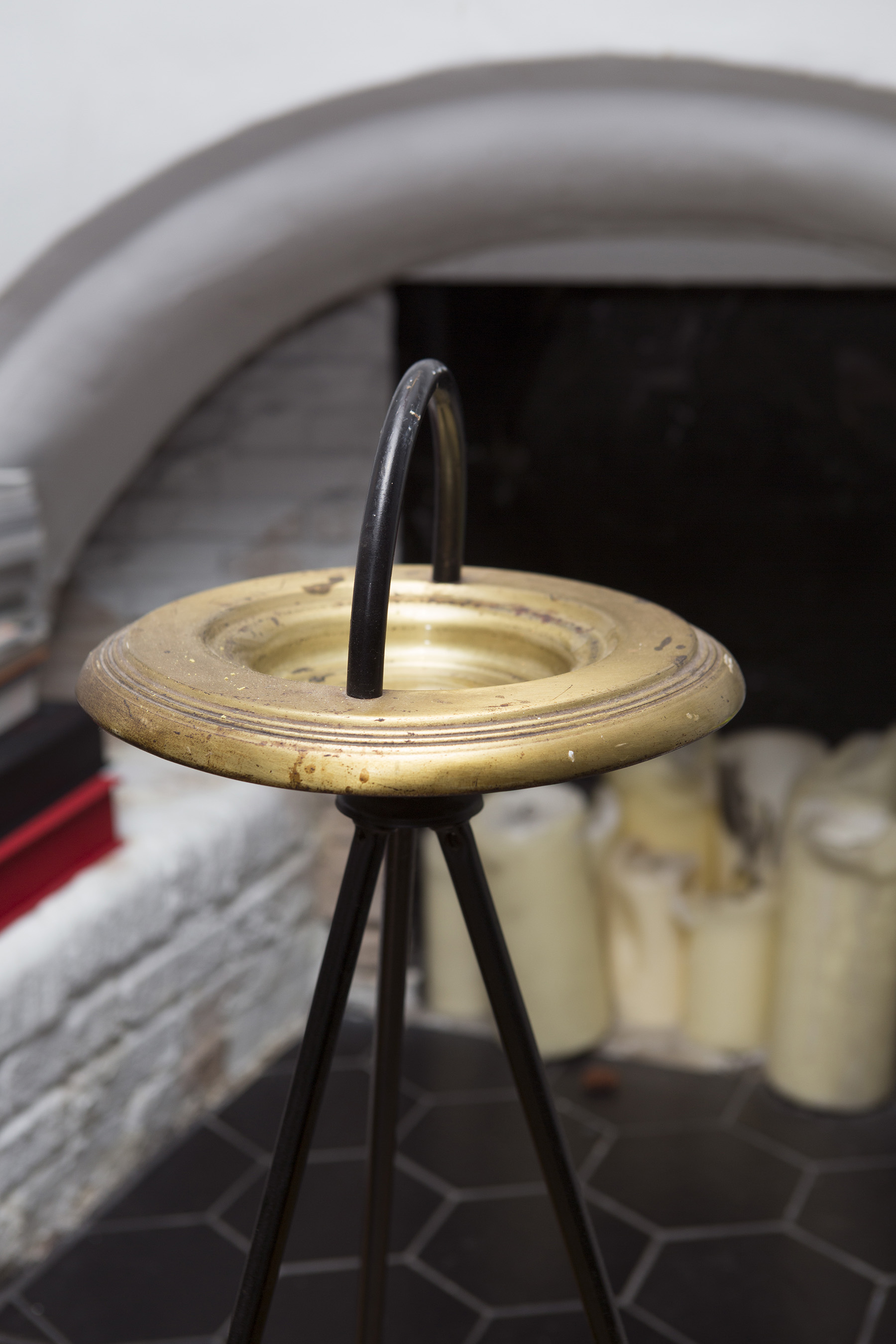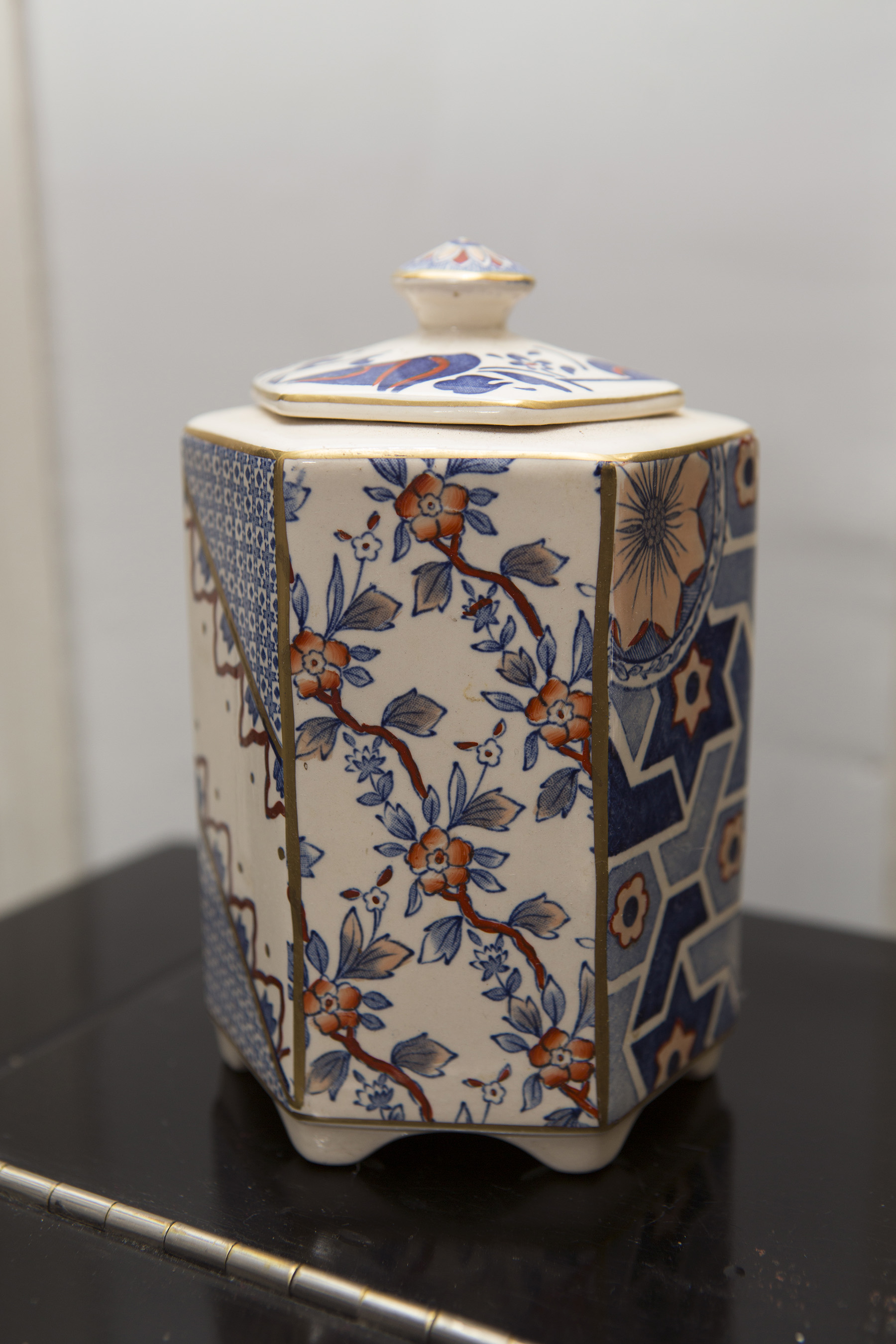 Carmen Haid wearing Dhela AW17 blouse and skirt, Sophie Gittins heels, Lara Bohinc bag and rings.