PHOENIX intern Susie Coen recounts her first time at LFW
First Impressions:
When I arrived at Somerset House, the atmosphere was well and truly buzzing. I was overwhelmed as I glanced from one outrageous outfit to another – highlights included a man dressed in palm print two-piece and staggeringly high heels, and the woman wearing a fairy-inspired mini dress with a snake entwined in her hair. But amongst the eccentric types there were also plenty of impeccably dressed fashionistas, and as I tried to take mental notes of all of these sartorial triumphs I can safely say that leather trousers skyrocketed to number one on my fashion wish list.
Through the sea of platform boots and furry clutches I finally managed to find my way to Freemasons Hall for the Ming presentation, and was delighted to find a well-stocked fridge of Vita Coco and an array of Propercorn snacks. So far I was loving my fashion week experience.
What I wore:
My favourite outfit of the week was my Reformation jumpsuit and black platform sandals  – I even got snapped for a few street style blogs, which was an interesting experience, considering how awkward I am in front of a camera…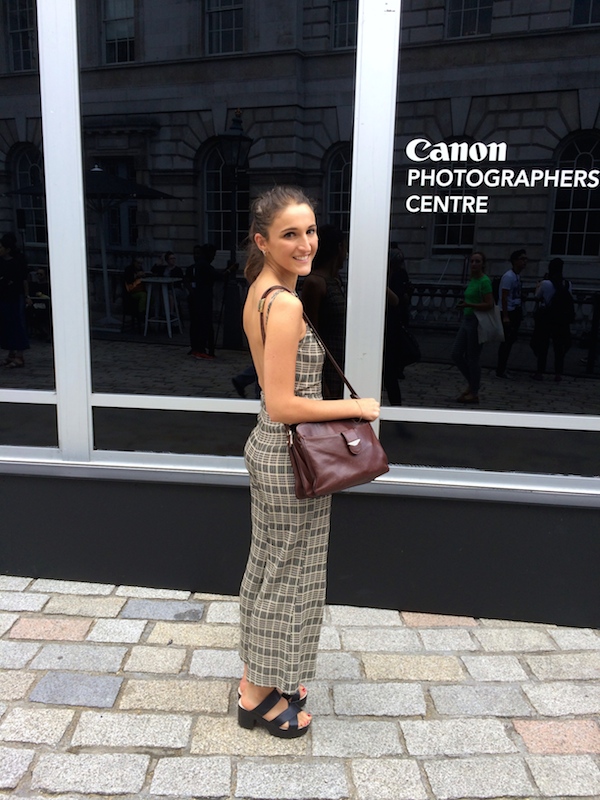 Favourite Presentation:
Up-and-coming designer Danielle Romeril's presentation on day 2 was definitely one of my LFW highlights. I wasn't quite sure what to expect from a presentation (the main difference is that the models remain in the room while show-goers move around them), but overall you get a much better look at the clothes and it continues on a loop for two hours, so it doesn't matter if you are a bit late due to previous shows overrunning – which happened at almost every show I attended!
There were a lot of masculine motifs running through Romeril's range, with the use of khaki, camo and mesh, which were complimented by feminine touches of lace. My favourite piece was a beautiful pair of high waisted suede culottes – however I was less keen on the sandals, which were a vivid reminder of my dad's summer footwear…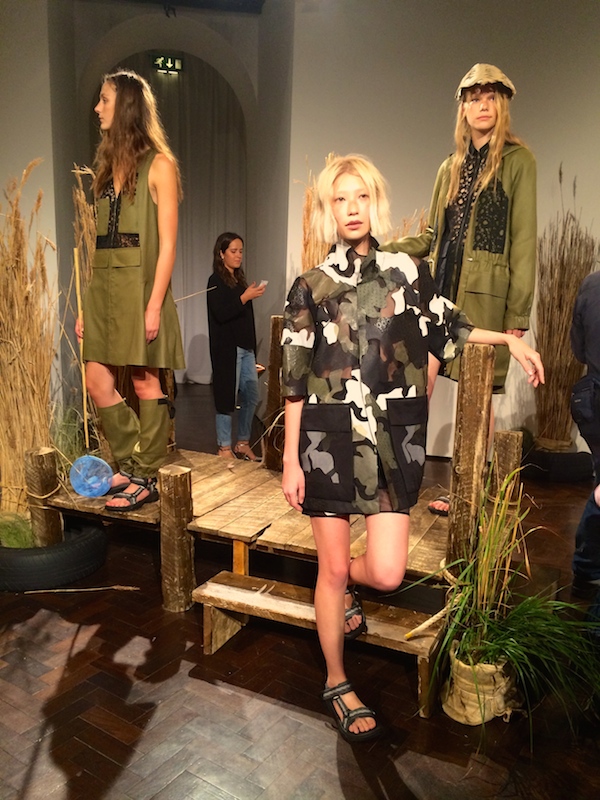 Favourite Show:
The Mother of Pearl show at Claridge's on the morning of day 4 was my overall winner in the show category. There were plenty of spectacular pieces at other shows – such as the embellished necklines by Teatum Jones – but the Mother of Pearl summer range was by far the most wearable in my opinion.
There was a variety of oversized coats and lightweight bombers in dusty pinks, alongside loose fitting prints and an array flannel separates in stark white (which certainly did it for me). It is also worth noting that this was my first time in Claridge's so, naturally, I felt tremendously classy.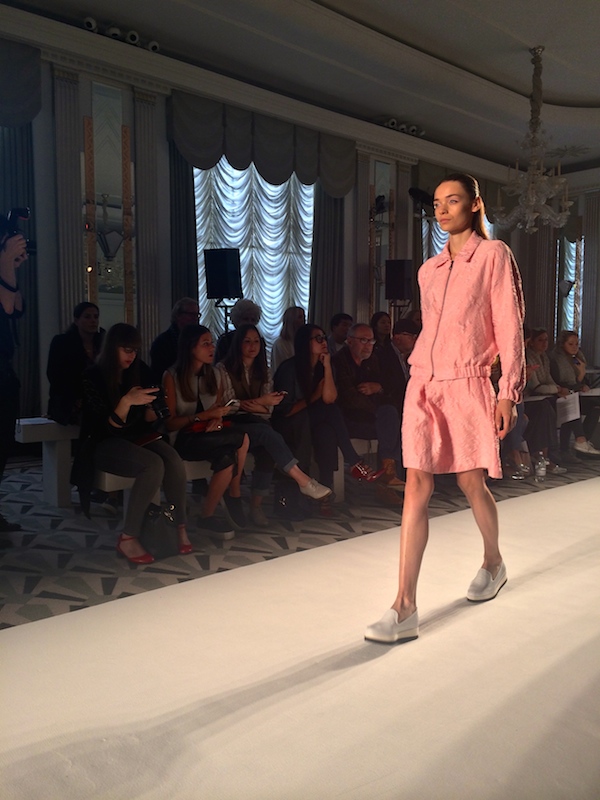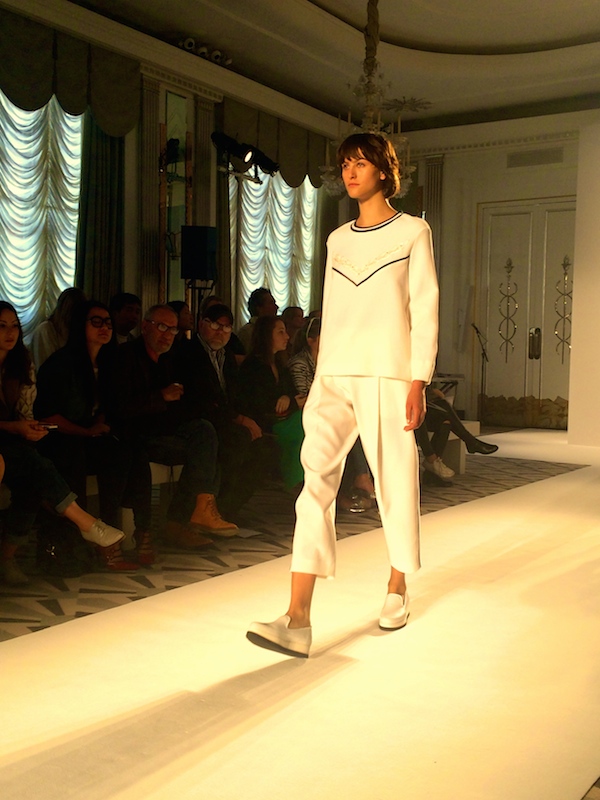 Top Trends:
Loose fits seemed to be the order of the day at the shows I attended, along with open back detailing, crisp tailored styles and an abundance of two-pieces. The colours were mainly muted, with grey, white, black and navy making regular appearances. There was also a variety of rich textures: from pastel blue jacquard at Basharatyanv, to light, flowing fabrics at Daniela Barros.
Celebrities:
I'm not gonna lie, I was slightly disappointed with my lack of celeb action, but I'm pretty sure I saw Man Repeller's Leandra Medine at the Mother of Pearl showing looking achingly cool in a crocheted mini-dress. Despite not meeting any celebrities, the fact I met a woman with the longest fingernails I have ever seen pretty much made up for it. Seriously – there are no words.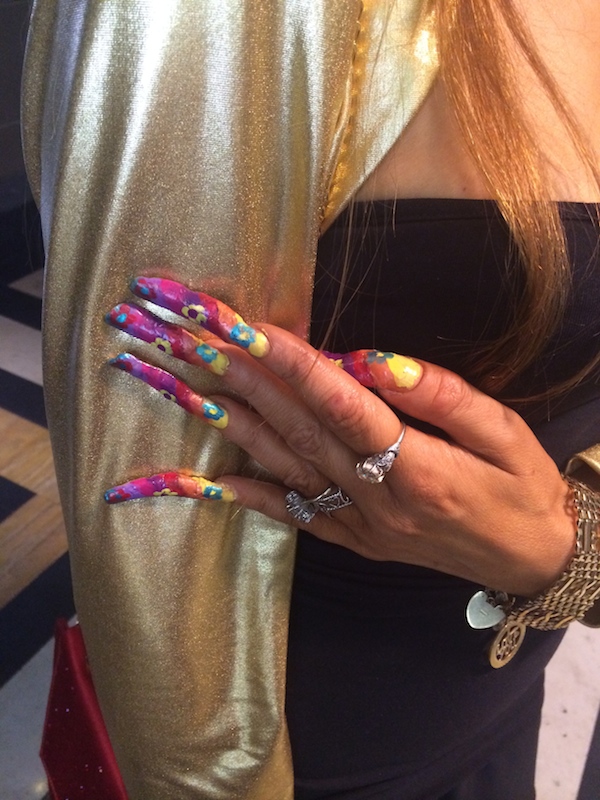 Final Thoughts:
Fashion week was a lot of fun and I am definitely planning to go back next year – I recommend it to all my fellow fashion week virgins. Even if you don't manage to get tickets, its worth the trip to Somerset House just to soak up the atmosphere and watch the peacocking bloggers and fabulous Fashion Editors that descend twice a year to celebrate the very best of British fashion.
Words: Susie Cohen