Michael van der Ham wasn't drinking the champagne at the launch of his recent collaboration with Scottish cashmere brand Brora at their Sloane store, though he certainly has plenty to celebrate. Having dressed both Bjork for her Biophilia tour and Tori Amos for her album cover last year, the NEWGEN-sponsored designer is already in the upper echelons of the up-and-comers. He was recovering, having just arrived back from LA, where he had been part of the British Fashion Council's travelling LONDON show ROOMS – a Who's Who of young British design stars.
Showing her support was last year's Brora collaborator and fellow member of the LA cohort, Louise Gray (pictured below with van der Ham). Her grungy, masculine collection of cashmere jumpers, hats and scarves had sold out by Christmas last year, despite price tags often double that of the main collection.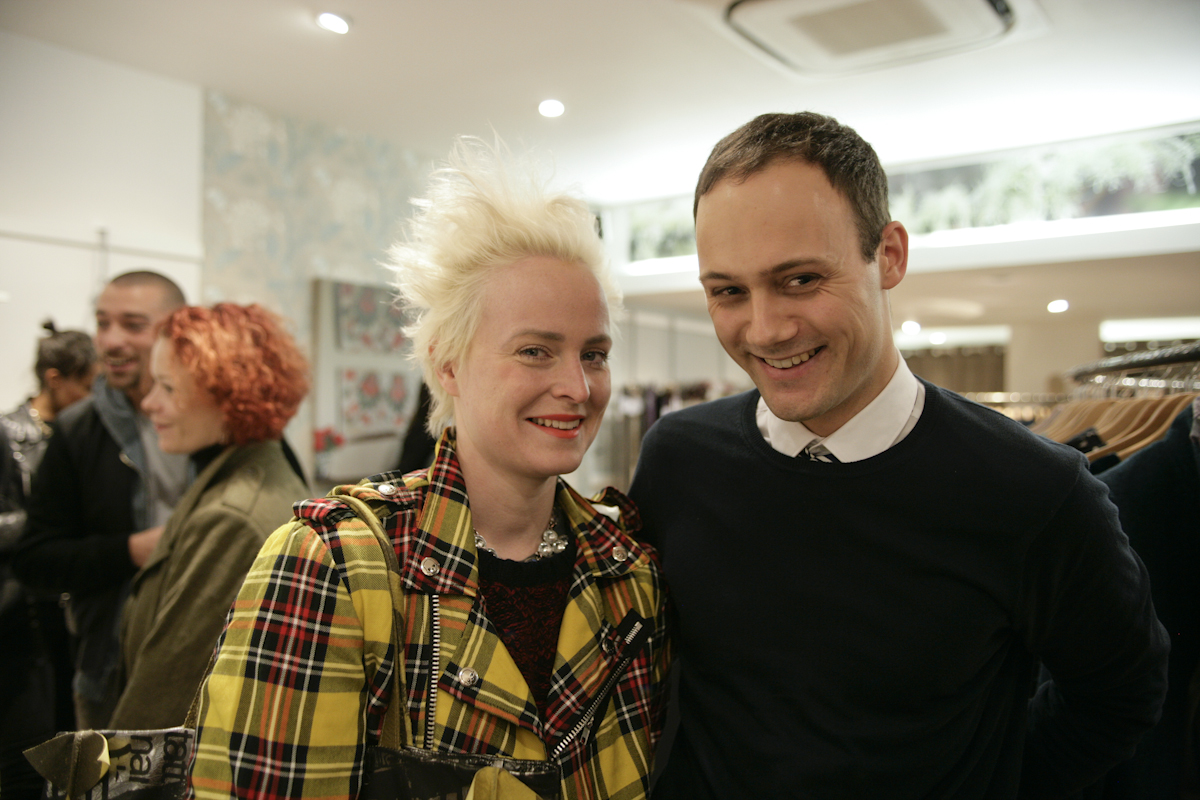 Perhaps with the assurance that a collaboration of this kind would sell in good numbers, Van der Ham's collection far more closely resembles Brora's usual pricing structure, with cashmere jumpers between £300 and £500, mohair pieces under £200 and cashmere gloves at £65. At the announcement of the collaboration, I was unsure as to how Van der Ham's collage aesthetic of contrasting fabrics, shapes and textures would translate to a collection of purely knitwear. His  catwalk alchemy is to make dresses which seem to be several, brought unexpectedly but harmoniously together as one.
Well, for a start, it's not all knitwear; there is a single pencil skirt with a painterly, printed silk panel.  One wonders how hard-won that little concession was, as the designer explained that he'd had a small battle on his hands to get the charmingly mismatched – but still knitted – panels onto the reverse of the cardigans and jumpers.
Armed with a few images of 1930s knitwear and some shapes and colours in mind, Michael visited Brora's historic Scottish mill earlier this year for an intensive two day design session with the technicians and the brand's delightful in-house knitwear designer Gillian Henny.
The resulting collection is a concise offering of jumpers, cardis, hat and glove sets, a scarf and the aforementioned silk panelled skirt. There are two dominant motifs; wide, wavy stripes in unexpected, but cleverly selected shades of lavender, mustard, cornflower and a wonderfully intense orange; and an intarsia knit of an archive Brora print blown-up several hundred times and placed on beanie hats, gloves and across the jumper dress.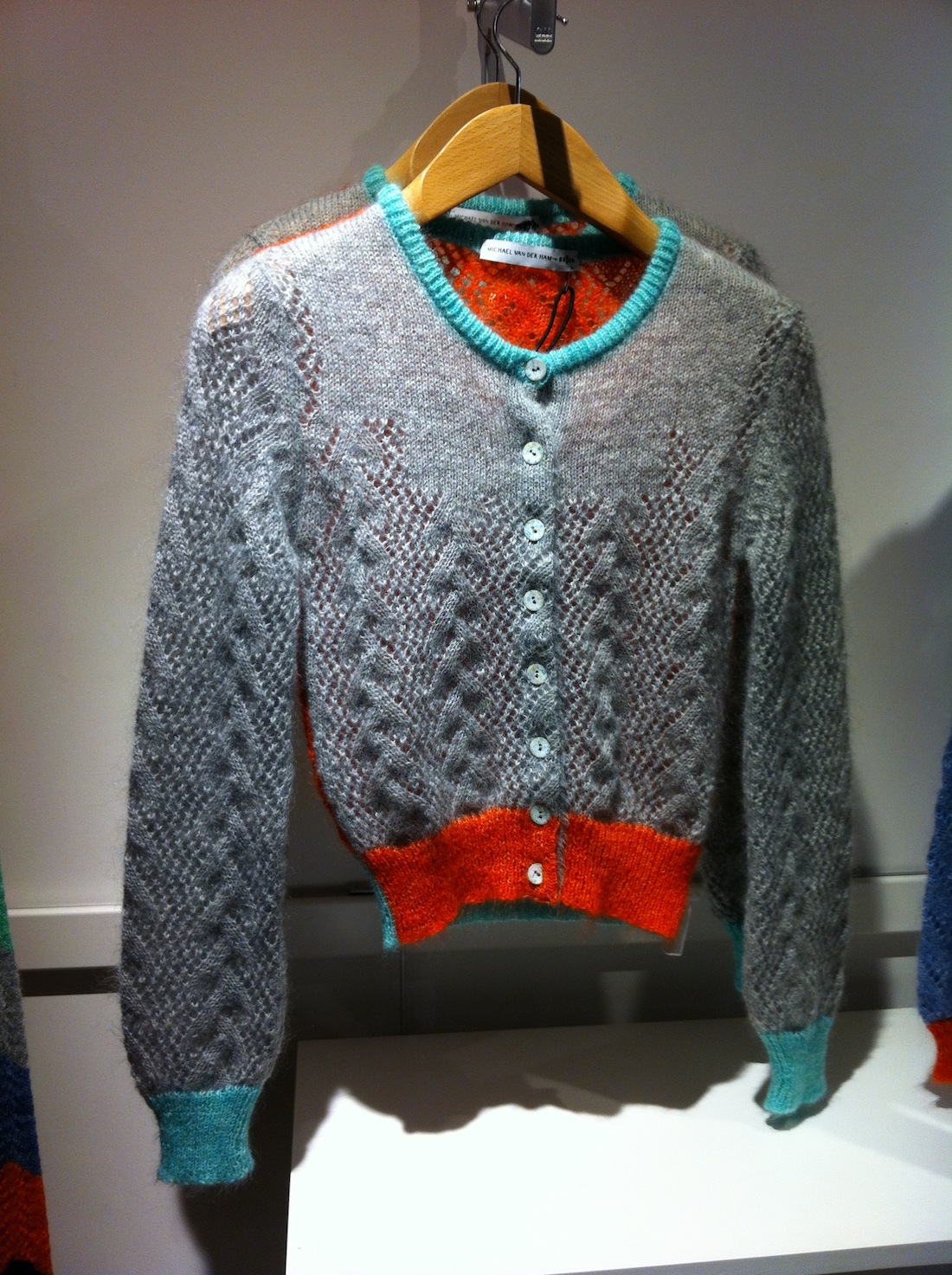 For my money, the 'superkid' mohair cardigan and jumper are the stars of the collection. Created from a beautiful, delicate lace knit and finished with contrast cuffs, hems and ornate speckled buttons, they are luxurious, unique and – for under £200 – a bargain from a designer who is headed only one way; up.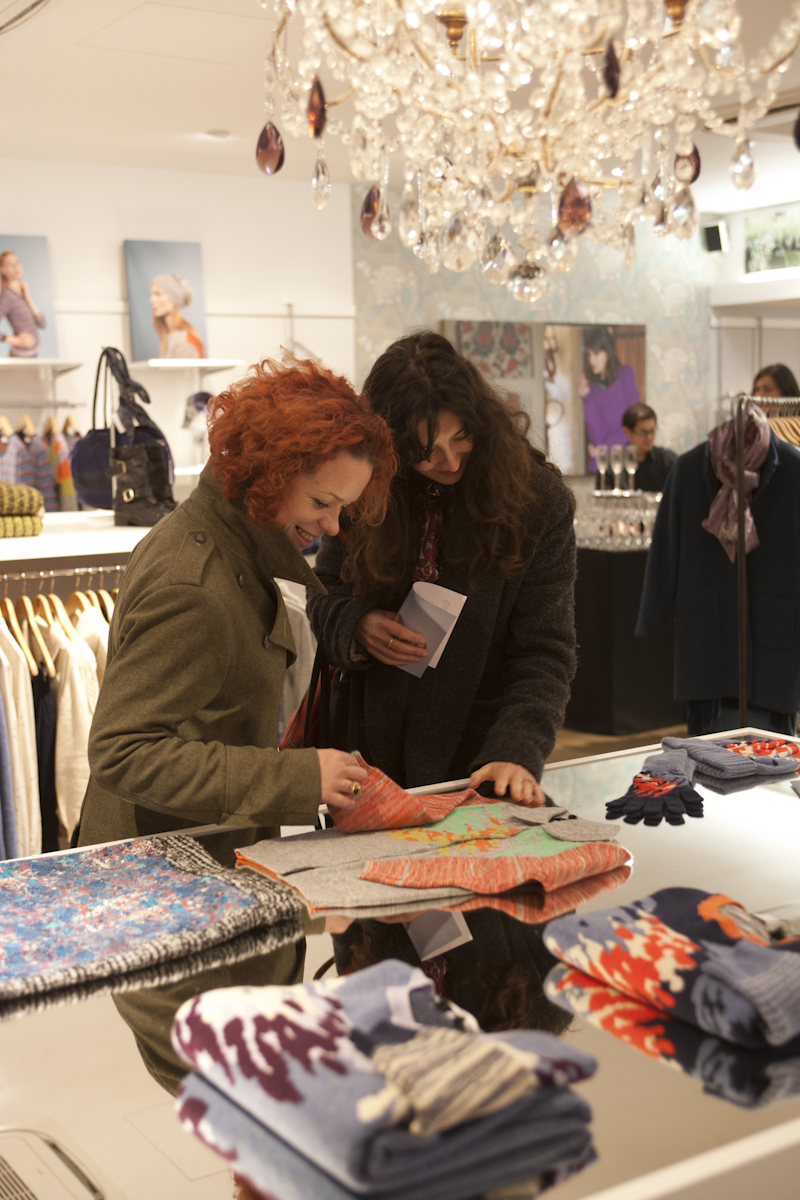 Words and reportage photography: Charlotte Gush