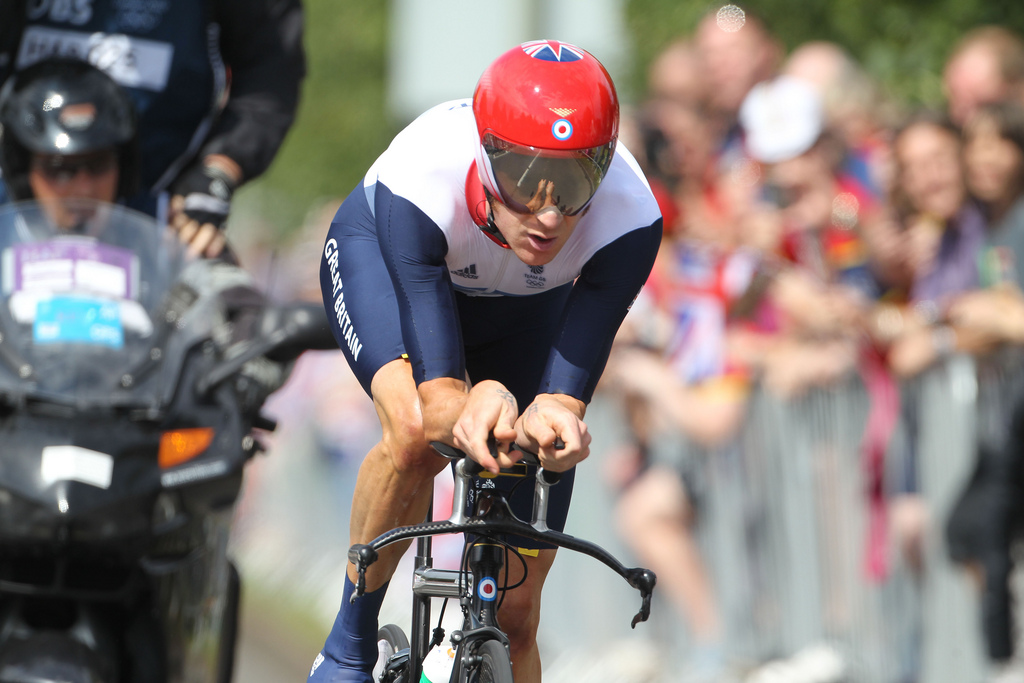 Mod culture has been all over the news this week; whether you like it or not, we are seeing a mini revival.  Fear not though, it's not a turf war on Brighton beach, but in honour of Mod icon Bradley Wiggins, who swapped his scooter for a push bike to become the first Brit ever to win the Tour de France, not to mention Olympic gold last week in the cycling time trials, with the Mod's adopted RAF roundel stamped firmly across his helmet.
Yet even before his stunning achievements, Fred Perry had announced their range of Bradley Wiggins cycling jerseys. Speaking about the collaboration, Wiggins said: 'It's a partnership I could only have dreamed of…..I have been a lifelong fan of the brand, stemming from my following and commitment to the mod movement and what I believe is Fred Perry's unparalleled relationship with subculture'. The end product, which is the first part in a six-part design collaboration with Wiggins, is really a blast from the past, revealing a simplistic retro element the Fred Perry brand really stands for. The three choices of black, white and sky blue pique shirt all have details extracted from cycling jerseys of the past and all include GB team colours around the neckline, a signature 'Bradley stripe' around the sleeves and metal zips for that retro feel.
But what is a mini mod revival without the Modfather himself, Paul Weller? Weller has teamed up with heir apparent Miles Kane for the latest ad campaign for John Varvatos. The images, shot in downtown Manhattan by Danny Clinch, vividly conjure the styling of the 1960s music scene.
Paul Weller, whose long and diverse career spreads from his days with The Jam to a successful solo career, passes on the torch to 26-year-old rock 'n' roller Miles Kane, who says of his shoot with the icon, 'Paul Weller is someone I have looked up to and learnt from, so it was an absolute pleasure and a whole lot of fun.'
Launched in 2000 with a collection of tailored clothing and sportswear, John Varvatos now represents an entire men's lifestyle that includes anything from footwear to bags, belts and limited edition watches. This latest campaign follows 16 seasons conceived by Yard and photographed by Danny Clinch, all of them underscoring the brand's affinity for rock 'n' roll style-makers.
And whilst you're wearing your Bradley Wiggins' pique top, paired ever so nonchalantly with your John Varvatos suit, whilst riding your Vespa along the sea front, why not listen to the strains of up and coming band The Urges? The authentic sixties sound of this Dublin five piece offers up a good old fashioned dose of classic mod rock with their latest song Fire Burning. And what's more, you can pick up Fire Burning on a hefty 7-inch vinyl.
You can catch The Verges at the Sunflower Festival, Lisburn, Northern Ireland, on the 19th August. 
Words: Ben Rebuck
Paraphernalia
[nggallery id=80]
Balenciaga Wool & Silk Roll Sweater – £375.00
Bradley Wiggins Fred Perry Cycling Shirt – £65.00
Mendoza Red & White Stripped Trousers – £100.00
Monkshoe Creeper Black&White – £89.00
Rickenbacker 4001 Bass Guitar – £2799.00
Trojan Mod Reggae Collection Box Set – £49.97
Shopping picks: Declan Higgins